Put the straighteners down, and try these curly hairstyles instead! They're bang on trend for this year
By Lora O'Brien
If you've spent your life trying to morph your curly hair into straight tresses, you'll be glad to know that this year is all about embracing natural hair. And the curlier, the better!
The rising trend for curly hairstyles comes from a variety of sources of inspiration. But I'd say that one of the main ones is Bridgerton. So many of us are following that stylish show, and coveting not only the Regency style dresses, but hairstyles, too.
But not all curly hairstyles have to be so formal!
We asked Nicole Petty, a Hair Care Expert at Milk + Blush to help us navigate some of this year's coolest hairdos. From pixie cuts with texture to long tresses with beachy waves, you'll find a curly hairstyle to suit your hair, below.
Main image: @saraahamadeh Image below found here.
Curly & Wavy Hairdos For 2023
1. Pre-Raphaelite Curls
One of the most gorgeous curly hairstyles we've ever seen was Kaia Gerber's voluminous, pre-Raphaelite waves. But Gerber isn't the only one to rock the look! Sophie Turner, Olivia Rodriguez, and Phoebe Dynevor are all sporting waist-length hair, complete with soft, natural-looking curls.
To achieve the same long hairstyle, you'll want to invest in a quality set of clip in, curly human hair extensions for both length and volume (a minimum length of 22" will be needed). After all, that's what Kaia did! We love hair extensions because they can not only change your hair texture, but color, too! Kaia's is a bit lighter thanks to the extensions. Not sure how you'd look lighter or darker?
Now, back to the curls.
First, curl half of your own hair with a large barrel curling iron. The, do the other half with a smaller curling wand. Work in smaller sections to get maximum volume and be sure to change the direction of the curl for a more natural effect. Then, clip in the extensions.
Blend your own hair in with your fingers, and add some oversized clips around the crown.
Gorgeous!
Image below: @kaiagerber on Instagram.
2. Vintage Waves
Another curly hairstyle trend that was showcased at the Met Gala is old Hollywood style.
In the true 'gilded glamour' style of the early 20th century, Euphoria star Maude Apatow was one celeb who stole the show with her 'do.
Her shoulder-length bob was styled with sweeping waves and tight ringlets framing one side of her face. Finger waves were also a common style, with Lizzo and Laura Harrier sporting them to give a vintage nod to their looks.
On shorter hair, you can use just your fingers and a strong hair gel to create the signature waves. Be sure to have plenty of hair gel, bobby pins or clips to hand to help set the hair.
Add your hair gel into the section framing your face that you want to curl. Take those little gelled twirls of hair and clip them into place with a bobby pin. Wait till the gel has set, then let them loose, and soften with your fingers. Or, if you favour a tighter look, keep the pins in!
On longer hair, use either heated rollers or a thin curling iron to curl small sections of hair and pin in rolls at the crown. Once cool, brush out with a soft-bristled brush and use clips to help reform the waves. Use a firm hold, natural hairspray to set the hair in place.
Image below: @maudeapatow on Instagram.
3. Modern Regency Curls
Love Daphne Bridgerton's look? Now you can have it yourself – with a modern twist! And it's perfect for weddings, too, whether you're the bride, or a guest.
To get the same effect, follow these instructions, below.
First, use a larger barrelled curling iron and be sure to keep all sections equal and curled in the same direction. Once left to cool, brush the curls with a soft-bristled brush to blend hair together and create softer waves.
Then, do a loose ponytail. Wrap it around the elastic, and clip. Pull out a few tendrils for a more romantic look. Add in a statement hair accessory for a special occasion.
4. Disco Glam
The 70s really knew how to add some volume to 'dos. Think: Farrah! So it's no surprise that disco glam hair is officially a thing again! Retro and full of nostalgia, this hair trend is both fun and sexy with heaps of movement. The best part is that this is one of those curly hairstyles that suits all hair types.
Want to adopt the disco glam trend to your current hair? It's all about getting enough volume while keeping movement, which means using hair rollers and applying a vegan volumising product for an extra boost!
Image below: @ashantaaristry on Instagram.
5. 3D Curls
Curly hairstyles don't get bolder and more beautiful than this! 3D curls are all about embracing naturally curly hair, and everything it has to offer. Instead of trying to tame it, ditch the toxic hair straighteners and work with your hair instead. Your curls will really shine and your hair will look beautiful.
A top trick for getting 3D curls to truly pop is to use a strong-hold gel or balm on your tresses. Leave the hair to fully dry, and then gently massage your curls so they're not crunchy from the product.
My top tip? Resist the urge to brush the curls.
Image below: @mollymazs on Instagram.
6. Lobs
Looking to embrace your curls with an added chic vibe? You'll want to pay attention to the lob hair trend. The lob can be worn in lots of versatile styles depending on how the hair is cut. You can chop in lots of layers to give hair a fuller, more voluminous style, and is great for anyone wanting a low effort hairstyle.
Once your hair is washed, perfect the lob by using a styling cream. Then, dry your hair using the diffuser attachment on your hairdryer. If you already have thick hair, opt for a lighter product such as a vegan hair gel to add texture, but less bulk
Image below: @micahbarnes on Instagram.
7. Curly Crops
The pixie cut is so versatile! You can bring bold colours to it (after all, they'll just grow out in a few months). You can slick it back and make it straight and chic. Or, you can add curls!
Scrunch your hair with your fingers while you blow dry, or use a large barrelled curling iron to create some curls, then brush them out.
Wear it one of two ways: tight to your face, or have them tousled for an effortless vibe.
Image below: @shorthairexclusive on Instagram.
8. Curly Bangs 
Bangs are back with a…well, bang! And there are so many ways to cut them in: choppy, blunt, asymmetrical… You can pretty much have bangs any which way you fancy. And a fringe suits all types of curly hair, from subtle waves to ringlets.
To give bangs some texture, use a styling gel and massage it between your hands before running it through your hands. You can leave the hair to air dry for added volume. Or, you could use a diffuser to give hair a boost! Want to add even more change? Why not change the colour up? You can use a change hair colour app to see how you would look after dying your hair, if you're unsure about taking that step.
Image below: @oliviacalabio on Instagram.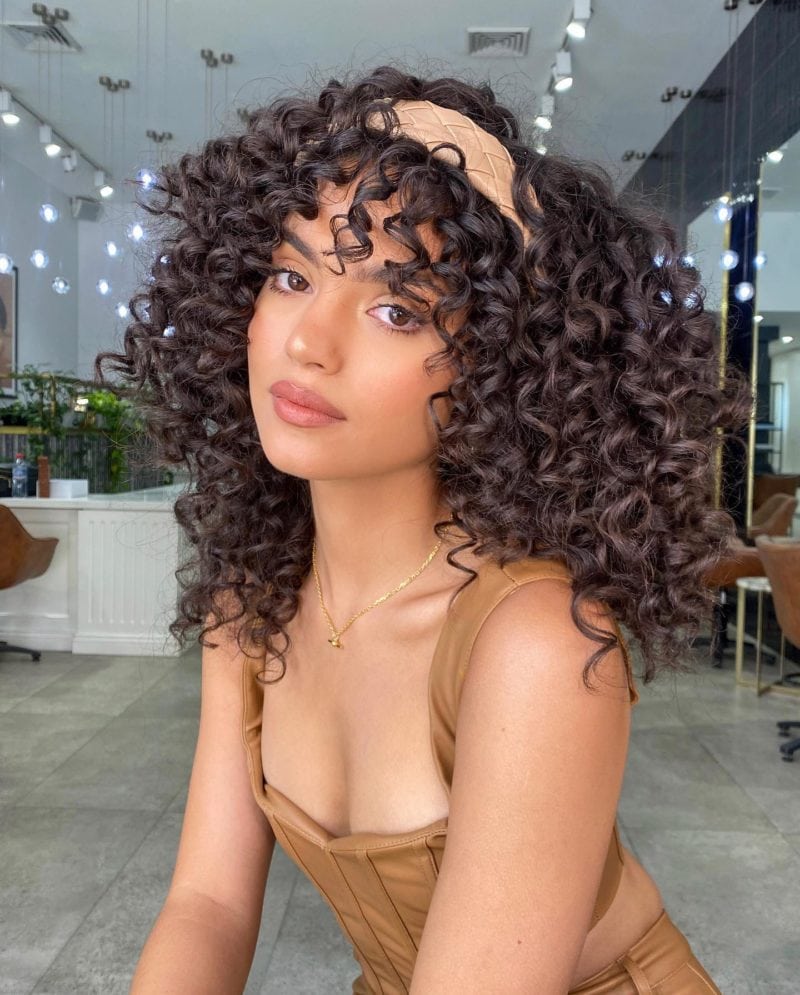 9. 60s Shag
It may be 2022, but our hair is still very much in the 60s, thanks to styles like the shag haircut. Ooozing rock 'n' roll cool, this is one of my personal fave curly hairstyles. It's a casual 'do that is seemingly effortless. Think choppy ends, layers and lots of good old texture!
The best part about this trend is that is works well on almost every hair texture and length, so it's super flexible.
Image below: @brydie on Instagram.
10. Curly Updo
Ah, how romantic is this? A loose updo is one of our favourite curly hairstyles, for sure. Especially with those bangs!
This look works best on seriously thick hair, but it can work for finer hair, too. Just scrunch dry your hair with a styling mousse, then twist your hair up into a bun. Not sure how to do that? Follow this tutorial! 
Then, pull out a few tendrils for a more romantic look. Accessorise with some gorgeous earrings. Done!
Image below: @blurol on Instagram.
11. Beachy Waves
Who doesn't want to look as though they live their lives in an eternal summer?
These beachy waves just scream 'surfer girl'! And this is one of the best curly hairstyles for all hair types. Anyone can rock this look.
All you need to do is spray in a natural, salty styling product like this one by IGK.  Spray it in when you're hair is wet. Scrunch your strands up for a bit of extra volume, and let it air dry. Voila! You're now the Girl from Ipanema.
Image: Pinterest
12. Side Swept
Got thick, curly hair? Lucky you! But I know – sometimes it can be a bit hard to manage, am I right?
A side swept look can help your whole face from looking overwhelmed by your mane.
On wet hair, apply a firm hold gel on one side. Blow dry that side towards the back of your head. And if you really want to make it hold, why not apply some pins to keep it back?
Or if you're feeling really radical – and if you really love this look – shave that side of your head to avoid styling it every day!
Latest posts by Lora O'Brien
(see all)