These wedding hairstyle ideas for long hair are ideal for both guests – and the bride!
By Diane Small
Summer is the perfect time for an ethical wedding. And whether you're a guest or the bride herself, after figuring out what to wear, you'll also be wondering what kind of wedding hairstyle you'd like to have.
To discover what's on trend for this year, I asked Travis Ivan, the bridal specialist at Sunset Plaza Salon. 
"Brides always want to look amazing on their wedding day. But more importantly, they want to look and feel like themselves. That comes down to the bride's individual style preferences. That could be a beautifully soft organic blow out, or an undone upstyle, such as loose braids. Others prefer to wear what is more or less their usual style, but to embellish it with some hair jewelry or flowers.
As for what's trending, I believe hair has always been fashion's biggest accessory. So I predict we will see fewer wedding veils. There's also a lot more hair jewelry being added as an accent this year," he says.
My interpretation of this expert's view is that the more relaxed and Bohemian the hairstyle, the better. I'm talking messy chic, and it can be achieved with any of the classic bridal hairstyles, including the chignon, braids, and more. There's so much you can do with your long mane without cutting a strand! And of course, some hair jewelry can be added to just about any hairdo.
Want to see some gorgeous examples? Below, I've selected 10 of the best long hair wedding hairstyle ideas for any face shape and wedding type. Look through, get inspired and make your pick!
The Best Wedding Hairstyle Ideas For Long Hair
1. Undone & Romantic
Messier styles of popular hairstyles have been popular for some time now. Think messy buns! And instead of perfectly in place hair, undone styles are some of the most popular wedding hairstyle ideas for long hair today. This style is very ethereal: think loose waves swept up into buns, plaits and various other styles. It's a very simple look to achieve, but one that looks even more beautiful with a few loose tendrils or accessorised with flowers.
Image: @hero.hairstylist on Instagram.
2. Glam Ballet Buns
Want your long hair off your face for your big day? One of the most stunning wedding hairstyle ideas for long hair is the ballet bun. This style pulls hair away from the face while also adding volume, giving a sleek finish than can be perfectly garnished with flowers, a tiara or even a comb. It's also super easy to maintain throughout the day. You can relax knowing it'll stay in place if well done. This look is the perfect fit for an ethically done garden wedding.
Image: @beyondtheponytail on Instagram.
3. Vintage Waves
Got a thing for Hollywood glamour? Then you'll love this trend for your wedding! Hollywood-glam waves, otherwise known as mermaid curls, have been a popular trend for some time. I predict this is one of those wedding hairstyle ideas for long hair that will continue well into 2023. To really nail this A-list look, pair this hairstyle with a gorgeous vintage gown.
Image: Blushandpearls.com
4. Half Up, Half Down
Not sure whether to go for an updo or a down 'do? The fun of this wedding trend is that there are so many ways to work it. Whether you incorporate curls or braids or embellishments, you can find a stunning way to style your hair for your big day. This look is very reminiscent of fairy tales. And what better way to celebrate love than with your own happily-ever-after story?
Image: @beyondtheponytail on Instagram.
5. Bridal Ponytails
Clean ponytails are a style that never really tires. No wonder this is one of the most perennially popular wedding hairstyle ideas for long hair! What's not to love? You can wear them with straight or curly hair, wear them low slung or up high. To give your ponytail that wedding-esque vibe, add some volume and texture to it. Tip: secure it in place by wrapping hair round to conceal the band.
Image: @thebobbypinuk on Instagram.
6. Minimalist, Embellished Styles
Not a fan of anything too fancy? You may want to embrace a low effort hair trend. Sweep hair back, and then use minimalist hair accessories, like this clip, below, to give your hair that wedding vibe. It's subtle yet stunning. No wonder it's one of the most popular wedding hairstyle ideas for long hair this year!
Image: @bridalhaircollective on Instagram.
7. Wedding Crowns 
Want to feel like a Queen on your big day? Well, you know the saying: go big or go home with your own crowning glory. Whether you want a crown made of metal or a floral garland, a headpiece is an iconic look, that's for sure! The best part is that this look works with pretty much all of the above looks. Whether it's a atop a low-slung bun, curls or half and half, sporting a wedding crown will be a real statement hairstyle.
Image: WeddingForward.com
8. Tight Buns and Tiaras
Another hair trend for 2022 that will be welcomed by fans of Bridgerton and The Crown is this regency-inspired look. Featuring a bun and a well-placed headpiece, this style is enough to give any hairstyle a regal finish. To get the most from this look, use a natural hair styling product to keep strands in place. Set off the look with a great pair of earrings or a stunning necklace. 
Image: @mariaelenaheadpieces on Instagram.
9. Hippy Chic
This is a casual, everyday look that's made more formal by the presence of a tiara or crown of flowers. It's easy to achieve with some simple texturizing product. Just spray it on wet hair, and scrunch your hair in your hands as you blow dry. This is the perfect wedding hairstyle for nuptials on the beach, or outdoors. After all, a windy or humid day will only made this hairdo look even better!
Image credit here.
10. A Sophisticated French Twist
The French Twist remains one of the most sophisticated hairstyles a woman can sport. It's a neat, slightly retro look that really lifts the face, making it perfect for longer shaped faces. It's also very flexible, and can be adorned with flowers and ethical statement jewelry to make the look more formal, or you can tie it up with a scarf for a more casual look. Those with short hair can even fake this one with a clip on bun! 
To learn how to do the perfect chignon, check out this tutorial.
Image: fabmood.com
With the numerous wedding hairstyle ideas for long hair we've compiled here, we hope you now have a style in mind for your big day!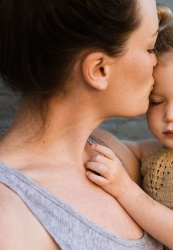 Latest posts by Diane Small
(see all)