By Diane Small
From 50's Teddy Boy quiffs to huge 80's 'dos and punk mohawks, hairstyles have always defined style decades. Having a great hairdo not only allows for self-expression, but defines your style as cool, chic, and up-to-date with the zeitgeist.
If you want to know which hairstyles will make waves for this year, then check out our list of styles from Elite Beauty Society that you and your salon should know how to recreate.
1. The Boyish Bang
Mia Farrow had them in Rosemary's Baby. Flappers sported them in the 1920's. Winona Ryder rocked a choppy version in the era of grunge. Yep, Boyish Bangs have been around for a long time, and yet rarely seem to be completely out of style. Recently, the look has made a major comeback with models like Kaia Gerber and Bella Hadid on the Prada and Tom Ford catwalks. To achieve these Boyish Bangs, of course you'll likely have to hit the salon for a chop, but once you get the cut, keep your look in place with an all natural organic pomade from Raw Hair Organics.
Images: Guido for Redken at Lanvin; Tom Ford FW 2018
2. Loose Waves
Unkempt hair can look deranged when it's not done correctly, but with a bit of styling and the addition of some product, you've got yourself a seriously sensual look. This is shown beautifully on Victoria's Secret Angel Taylor Hill, below: her rather unruly bangs highlight her long natural hair, striking eyebrows and green eyes. If you want to put an emphasis on your facial features just above the nose, then wavy bangs (ideally with long hair) are your best bet. Jon Reyman recommends using all natural vegan salt sprays from companies like Rahua to create a beach like wavy look without hitting the sand.
3. Double Barrettes
One barrette is good enough, but two is even better! To get the look for with long hair, comb it in the middle and place two barrettes on each side parallel to one another. Having the barrettes fasten your hair on both sides just a bit above the ears lets you show off the bone structure of your pretty face. If you have a prominent jaw or cheekbones, then this hairstyle will make it worth your time.  Of course, for the double barrette to work, you can't have unruly frizz popping up everywhere. This all natural leave in hair cream from Art Naturals is perfect to tame those wisps.
4. Scrunchies
Yes, seriously! Way back in the 80's, scrunchies were actually the bee's knees. Now, they're so retro, they're actually cool again. Its renaissance comes largely thanks to celebrity stylist Jet Atkin's line of scrunchies, which are a favourite with celebs like the Hadid sisters and top models like Joan Smalls. Whether you like them or not, scrunchies are back in a big way! Shop for them here.
Photo credit: Mansur Gavriel spring/summer 2018
5. Braids 
The braids that are hottest for this season aren't proper, Wednesday Adams types – think messy, unkempt, loose, sensual versions that act more as adornment for long hair instead of a means of keeping it strictly intact. There are countless braids that you can learn to do; all you need is the time to brush up your knowledge by watching different YouTube tutorial videos to get the look you love.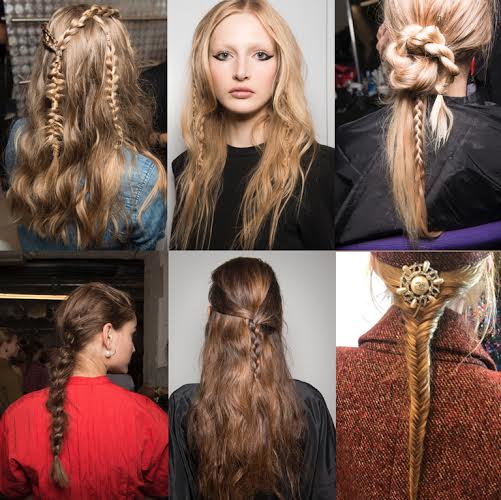 6. Hair Accessories
Beads, pearls, flowers and rhinestones are but a few of the embellishments for headbands shown off by major designers this season. The message here is clear: your hair is your crowning glory, yes – and should be shown off with elaborate accessories that highlight its beauty. No matter how you're styling your hair, there's always a way you can incorporate some form of accessory to make a statement. The easiest way to pull this look off is to simply buy a great headband or floral hair clips.
7. Wrapped Ponytails
Not loving the casual look of the scrunchie-held ponytail? Wrapped ponytails are a more refined option. Seen frequently on catwalks like those at Leowe, Chanel and Ulla Johnson, this look features tight, low ponytails wrapped in lengths of different kinds of fabrics. In fact, on the runways, the ponytails were sewn closed at the top and bottom to keep the look super clean and neat – but a more practical way to sport this look is to wrap only a bit of the ponytail, rather than the whole thing from top to bottom.
Latest posts by Diane Small
(see all)
This site uses affiliate links with brands we trust, and if you make a purchase using a link, we may receive a commission.
Did you enjoy this post? Want to show your gratitude? Please support us on Patreon!