These springtime hair trends are fun, fresh and fierce!
By Lora O'Brien
I don't know about you, but as soon as the sun starts to shine, I'm thinking of ways that I can reinvent my look. There's something about the arrival of a new season that feels like the perfect time for a change. And what better way to boost your confidence than by swapping up your hairstyle?
When it comes to switching things up some of us want to try a new colour, while others prefer to change the style completely. There's not much good I can say about lockdowns, except that maybe it gave us a lot of time to get inspired when it comes to our locks!
Whether you've been inspired by the overhaul of Billie Eilish's hairdo, are looking to lighten your locks to a beachier colour, or you're taking the plunge like Demi Lovato and chopping it all off, there is a style here, below, to suit everyone.
Below, I've found springtime hair trends that will have you looking and feeling like a new woman!
Image below: @kendalljenner on Instagram
10 Springtime Hair Trends We Love
1. French Bobs
What's the difference between a French bob and a normal bob, you may be asking? Well, a French bob is similar to a one-length short bob, but sans any harsh bluntness. It just focuses on your natural texture and easy styling to achieve the signature nonchalance of French style. It's made to hit just at the jawline or above to flatter the face – especially your cheekbones! This is a classic style that's particularly trending for this spring/summer season.
Image: @stefaniexlee on Instagram
2. Mullets
Who would have thought this once-stigmatised 'do would today be rocked by the likes of Miley, Rihanna and other super celebs? Well, if they can do it, so can you. Wear yours long and shaggy, like Miley, or with baby bangs, like Rihanna. To avoid that 'redneck' look, ensure your makeup is either as glam, or as natural, as possible. Just like Riri, below!
Image: @Rihanna on Instagram
3. Dark Roots
While roots may be something we hid once upon a time, it's now cool to let your hair grow out – or even dye it to make it look like it has! Either way, darker roots is another of those springtime hair trends we love. The style, also known as the shadow root look, blends blonde hair with natural roots seamlessly. This is a style that will put an end to dye regular touch-ups, saving you time and cash!
And it's not just for blonde hair. Whether you're blonde, brunette or a redhead, you can adopt this trend by dying your roots a darker shade. There are so many ways to make this style fun! I personally love lilac hair with dark roots. Oh, and if your roots are grey, did you know it's possible to naturally restore your hair back to its original shade? Mayraki Professional has created a new formula that helps do just that – without any harmful chemicals! Worth a try, right?
Image: @ama_s on Instagram
4. Shaggy Layers
She was known for that Gothic black and green hairstyle, but now, Billie Eilish has once again revamped her hair – and it's super on trend! Proving that what goes around comes back around is the shaggy haircut. Popular in the 70's, the style is adaptable on most hair types whatever the texture and length. Cutting in shaggy layers will give your hairstyle multiple styling options and will even look good when left to dry naturally. It gives movement and freedom to any hairstyle, and has a fabulous retro feel to it.
Tip: It's essential to keep your hair in good condition when it's so layered! Try these organic hair oils by Saya Designs.
Image: @billieeilish on Instagram 
5. Curtain Bangs
Some of us have had a bad experience with bangs. Hands up if you've ever stupidly cut in our own, ha! Some of us are daunted by the idea of them because they're a bit of a commitment and the grow-out process can be a little awkward. If that's the case, curtain bangs could be for you!
This style is super popular now, and frankly, always. It's the perfect way to frame the face without opting for a full, blunt style. And the best part is that if you want to style your bangs differently, you can just tuck them behind your ear to switch up your style.
If you're looking to go blonde naturally, did you know that henna will work on lighter hair? Yep, seriously!
Image: @spaceykacey on Instagram
6. California Blonde Hues
Nothing says 'summer's coming' quite like beachy blonde, California hair. And no one does that hair quite as beautifully as Hilary Duff! She's rocking not only one of the hottest hair colours for the coming season, but also one of the trendiest cuts. That would be curtain bangs, as mentioned above. The perfect combo! And if you want your blonde to stay blonde, check out these toning shampoos!
Image: @hilaryduff on Instagram
7. Blunt Bangs
When it comes to bangs, they can look super cute. But if you're looking for something that will really make a statement, you might want to opt for thick, blunt bangs. Whether they stop at your brows or hang just above, the fashion-forward style is bound to make an impression.
The style works best with naturally straight or thick hair, as you'll want them to be as sleek as possible to really make an impact. Why not use an eco-friendly wooden hair brush to keep your locks in place?
And if you're wondering which shape face blunt bangs suit, you're in luck if you have a heart-shaped or oval face. But don't write blunt bangs off if you have a rounder face: you can still rock this style! Just make your bangs curve in the middle to be more flattering.
Image: @erickinvisible on Instagram
8. Redheads
When it comes to those bright hair colours, red is a shade that is really shining right now. Whether you like it in a subtle auburn or a bold cherry, red is for sure going to get you some attention this spring! If you're thinking about going red for the first time – do it! There is the right shade of red to suit all skin tones and style. It's super flattering for everyone, really. Looking for the best natural hair dyes to get the shade of your dreams? Check these out!
Image: @omg.mags on Instagram 
9. Centre Parts
How you part your hair can make or break a style. Some like their parting off to the side, while others opt for a bang. But the centre part is one of the springtime hair trends we love. And anyone can do it! It's a simple way to give your existing haircut a new lease of life and is easy to style. A centre part is also a great way to frame the face and highlight facial features, as the gorgeous Hailey Bieber proves, below.
Image: @jenatkinhair on Instagram 
10. Ultra Short
Another of the springtime hair trends we love is the pixie cut. I mean, what better way to shed the last year than by cutting off your locks? Whether you're going from long hair to something drastic, or are taking your pixie cut even shorter, ultra-short hairstyles are going to be big this year. And if you want a buzz cut, you do you, boo!
Image: @mia_rae on Instagram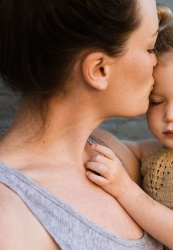 Latest posts by Diane Small
(see all)