They look great – if you know how to treat them! Here's how to care for hair extensions naturally
By Diane Small
Getting hair extensions is a great way to have thicker and longer locks. They come in a range of application styles, colours, textures, and densities. You can choose between permanent and temporary hair extensions. The former are glued or taped in by a professional, and last around 6-8 weeks. The latter usually clip in and are worn for special occasions.
Human hair is best for permanent extensions, since it can be dyed whenever you feel like changing up your look, and looks most natural. It's fine to use synthetic hair extensions to clip in for big events. Personally, I've been wearing tape in extensions for years, and am really happy with them. The only problem? Since they're made of human hair, they tend to really dry out over time.
But I don't let this drive me away from sporting the luscious locks I've always craved. When it comes to caring for my artificial tresses, I just need to ensure I learn how to care for hair extensions properly. And naturally, of course!
So if you're wondering how to care for hair extensions, be they semi-permanent, permanent, flip in or clip in human hair, I've got some great tips that will make maintaining your mane a breeze.
How to Care for Hair Extensions Naturally
1. Brush Carefully
Brushing your extensions every morning is as important as brushing your teeth. Brushing at least once daily keeps the strands from tangling, but remember that patience is key and handling hair gently is important.
Start detangling hair and extension strands from the bottom and work your way up gradually. Don't be afraid of brushing close to the scalp, as you need to avoid matting near the roots. Just do it gently, by holding on to the attachment part of the extension as you brush.
Also, make sure you use the right brush or comb so that you don't end up doing more damage than good to your tresses. Avoid combs and hard bristled brushes and use round roller brushes or soft bristled ones instead.
2. Shampoo Gently
Detangle your hair before showering or shampooing. Be extra careful as hair breaks easily when wet. Using a gentle, SLS free shampoo is essential if you want to keep your hair and extensions in peak condition. Even if you're on a budget, don't scrimp ­–buy the best and try reducing the quantity of product you use each time. We particularly like Saach Organics, which has a wide range of shampoos for different hair needs, including coloured, blonde, dry and thin.
Make sure your shampooing technique is as gentle as can be on your extensions: tilt your head back and work the shampoo in gently from top to bottom, cleaning in ­between bonds gently. Work in sections so that your hair stays manageable. Rinse thoroughly in the same manner.
If your extensions are clip ins, you will still have to shampoo them, but not as frequently as your own hair–once a month is fine if you wear them for special occasions only, or once a week if you wear them daily. Be sure to dry them flat and style them later, or blow dry them on a low setting. Store them away from sunlight–as with your own hair, they can change colour if they are exposed to UV rays!
3. Condition With Care
It's important to care for hair extensions by using a good nourishing conditioner. But it's also essential to refrain from using conditioner near the roots and bonds if your extensions are permanent or semi-permanent. Focus on conditioning the strands from around the middle to the ends. Rinse hair thoroughly to avoid product build ­up. Follow up with a leave- ­in conditioner like Mayraki Repair if required, but make sure you don't apply it on or near the bonds.
4. Dry and Style Carefully
Once out of the shower, dry the hair extension roots immediately. Use a towel to dab at the roots; never rub vigorously. Do not wrap hair in a turban or tip your head upside down to dry hair as doing so can damage the extensions and your natural tresses.
Avoiding heat will lengthen the life of your extensions, but if you're fond of blow ­drying and other heat ­styling techniques, use a heat protection spray on your hair and extensions first. Simply dab on an enriching, natural product like Sudtana's Bergamot Mint & Turmeric hair treatment wherever the heat will be on your hair, but do concentrate on the ends. Comb through and let the spray set for 5-6 minutes before straightening. Ensure your hair is dry before you apply heat. Wet hair makes the heat more intense and this can really damage your locks. Try to pull at your hair as little as possible as it goes through the straighteners.
5. Avoid Causing Stress
Whether you exercise, go swimming, colour your hair or merely sleep on them, your extensions and hair can become stressed. Follow these tips to ensure healthy locks:
Never go to bed with wet hair
Tie your hair in a loose braid or low bun before going to bed and before exercising or swimming
If possible, wear a swimming cap to prevent sea water or chlorine damage
Rinse hair with clean water before and after going for a swim to reduce damage
Keep hair covered with a hat or scarf when sunbathing or indulging in outdoor activities
Avoid DIY hair colouring, chemical colouring, or re ­bonding as you could end up damaging both your own hair ­ and the extensions. Use a gentle, non-toxic hair dye if you must (see our list of the best ones here), and of course, leave the job to professionals. This is true not only for permanent and semi-permanent extensions, but also clip ons.
That's my best advice on how to care for hair extensions naturally. Got any tips of your own? Let us know in the comments, below!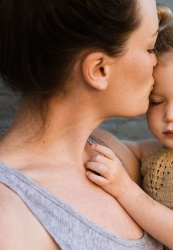 Latest posts by Diane Small
(see all)