Having a crap hair day? Check out some of the best scarf hairstyles for any season, right here!
By Diane Small
Scarves are often pretty low on our list of priorities when buying accessories. I mean, if someone asked you what kind of fashion accessory you may want for, say, your birthday, chances are you'd ask for jewellery or a handbag, right? Who wouldn't?
But the truth is, scarves are super useful! They can obviously be tied around your neck to keep it warm, but additionally, there are loads of scarf hairstyles you can rock!
They're great for hiding bad hair days, and are also fantastic for weaving in to the most gorgeous hairdos. You can rock all kinds of scarf hairstyles, no matter what kind of hair you have: thin or thick. Afro textured or poker straight. Naturally long or cutely short.
Of course, no matter what style you choose to adorn with a scarf, it's going to look better if you have healthy hair. Be sure to always use quality products like those from Juuce, which are perfect whether you want a heat shield, a smoother, or a quick conditioning treatment. 
Then, all you need is a scarf!
Here, below, we've found some of the best scarf hairstyles, and have instructed you on the kind of scarf you'll need to get each look. Newbie? Learn about different kinds of scarves and how to fold them here, before you get started.
Image credit for image below here.  
15+ Of The Best Scarf Hairstyles
1. Boho Chic
Whether you have short hair, long hair, thin hair or thick hair, this boho hairstyle will work for you! Find a beautiful scarf – preferably a large one. Fold it into a long rectangle. Place it on the crown of your head, and tie it behind the nape of your neck, under your hair. Allow the ends of the scarf to trail down one shoulder. Romantic!
Scarf needed: Large square or long rectangle
Image: @acrownofcoils on Instagram
2. The Bad Hair Day Cover Up
Having a bad hair day? This is an easy solution! Done properly this looks fantastic, and perhaps a touch vintage. Choose the scarf to match your outfit and you're ready to go in minutes. Simply pick up your hair from the back. Take a square scarf and fold it in half diagonally. The, place it just above your hair line, and tie it under your hair. 
Scarf needed: Large square
Image: @boutique_she_dz on Instagram
3. Front Bow Headband
This is another wonderfully vintage look! You'll need a long scarf. This will work no matter what hairstyle you're wearing – hair up in a ponytail, or loose. But that being said, it does look best with bangs. Just place a long scarf at the base of your neck, and tie a bow in front. Done!
Image: @rebellevintage on Instagram
Scarf needed: Medium to long
4. Total Turban 
Piling your hair under a turban is the best way to hide unruly hair, roots in need of a touchup, and hair in need of styling! But the truth is, tying a turban isn't easy. Which is why so many people simply choose to buy one that's already formed. If you'd like to learn more about various turban options, just click here.
Scarf needed: Long and wide, or a pre-made turban
Image: @ceeceescloset on Instagram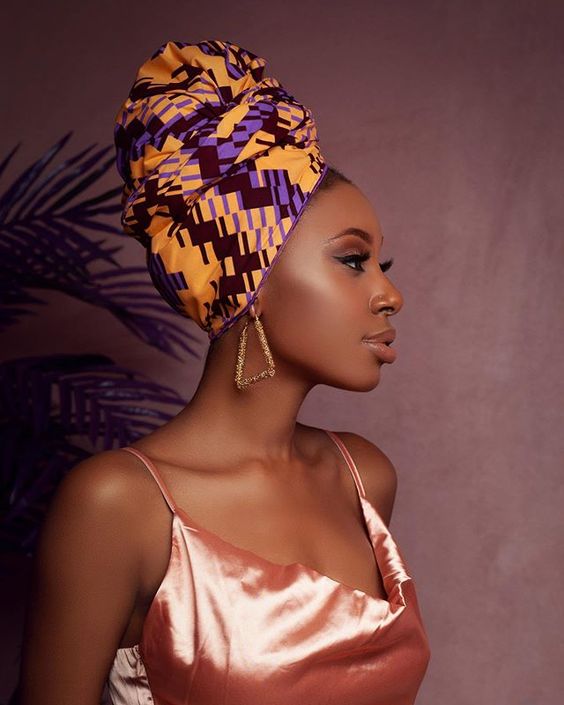 5. Bandanna Style
This is perfect when your hair isn't behaving. You'll need a large square or long narrow scarf. For the square, fold in both corners towards the middle, making a long strip. Tie the two ends under your hair, at the nape of your neck. Or if you prefer, put the knot up, on the top of the crown.
Scarf needed: Large square or long and narrow; ideally a bandana!
6. Big Bow At The Back
Love yourself a bit of 80s vintage? This big bow at the back is a great way to pay homage to the era! You can either tie this at the top of the elastic of your ponytail, or – as in the photo – you can tuck the ponytail under the elastic and hide the loose ends with this huge bow.
Scarf needed: Almost any type will do! Square, long, or rectangular.
 Image: Emma Fällman Stockholm
7. Jet Set Elegance
This was a popular style in the 1950s and 60s, and always makes me think of Grace Kelly driving her convertible. It's an easy one to do, too. Simply place a long scarf on the crown of your head. Wrap around your neck once or twice, and tie a bow.
Scarf needed: Long
Image: @beautyspock on Instagram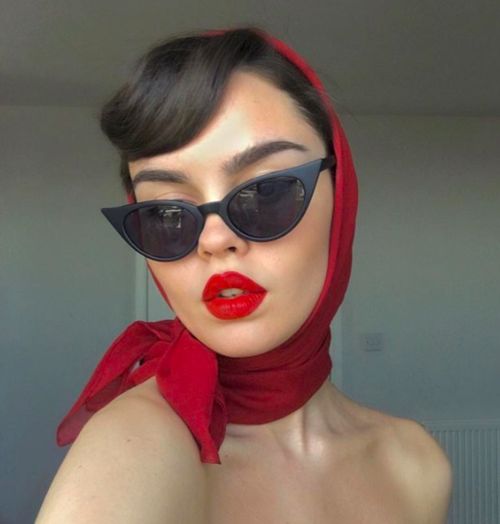 8. Simple Knotted Ponytail
Add a little flair to a simple ponytail by wrapping the scarf around the elastic. For the best effect, the scarf should be as long or a bit longer than your hair. It ends up giving a classic and very stylish look. 

Scarf needed: Long and narrow
Image: @fabmoodbeauty on Instagram
9. Embellished Updo
This is a great one for keeping all those little baby hairs in place when you've created a messy updo! Create any kind of loose updo you like: topknot, high ponytail, sloppy bun, you name it. Then, place the scarf at your crown, and wrap it around your head. Tie the ends behind your 'do, and secure with a few bobby pins if you feel the need.
Scarf needed: Any kind. You can fold a square one into an oblong shape, or use a long narrow scarf.
Image: @wadha_aljeri1 on Instagram
10. Braided In A Braids
If you have a little time, then try rolling up a long scarf and adding it into the third section of the hair as you start to braid your it. It will become entwined with the plait, and looks fantastic with any kind of medium to long hair style. Still not sure how to do it? See a tutorial on how to get the look here.
Scarf needed: Long and narrow
Image: @alexgaboury on Instagram
11. 50s Pin Up
We love this gorgeous vintage look! Achieve it by first creating an updo if you have long hair, or teasing the back of your hair if you have short hair. Fold in the corners of a large square scarf to create a wide rectangle. Place the widest part at the back of your head, and scrunch in the tapering ends a bit before you tie the ends into a knot. Looks especially amazing with bangs!
Scarf needed: Medium sized square
Image: @dreamypinupgirl on Instagram
12. The Headwrap
This is kind of like the turban, but not nearly as voluminous, nor as complicated.
Take your scarf and place it at the base of your skull. Then, pull the two ends round to the front and cross them over. Keep wrapping and crossing until you're ready to tie. Tuck the ends under the scarf, ensuring all your hair is covered.
Scarf needed: It's best to use an oblong scarf when going for this look.
Image: zenabaroudi.com
13. Hippy Style
This is one of the easiest scarf hairstyles to achieve! Take a long scarf and fold it to the width that fits your forehead. Place it on the front of your head, and tie it at the back. That's it!
Scarf needed: Any long scarf
Image: @diklalevsky on Instagram
14. Wrapped Bun
If it's one of those lazy days around the house, why not try this 'do? Create a low bun and tie a scarf around its base. Any scarf, long or short, will do the trick!
Scarf needed: This is a casual look; any scarf will do, really.
Image: @okevaaa on Instagram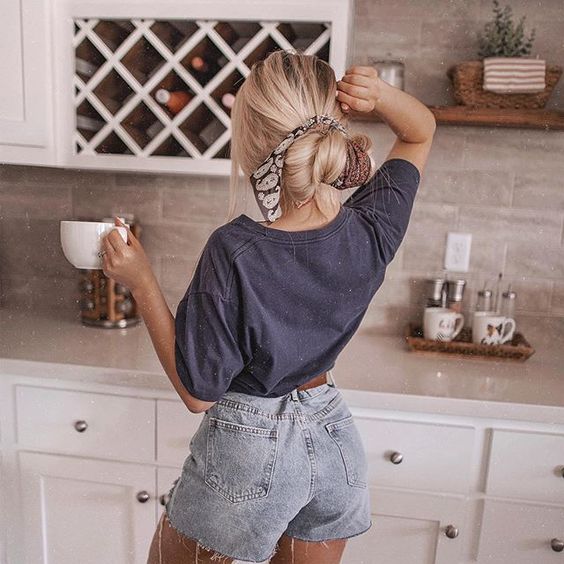 15. The Babushka
This is one of the most super classic scarf hairstyles from Eastern Europe. And the posher the scarf you use for this, the better! Simply take a large square scarf, fold it in half diagonally, and set the widest part on your crown. Tie the ends under your chin, and if you like, use a few bobby pins to ensure the scarf is kept in place.
Scarf needed: Large square
Image: @doncziv on Instagram
16. The Beach Towel Twist
You know how cool and clean you look when you get out of the shower and wrap a towel around your wet hair? Well, you can totally repeat that look, but in colour, with one of these light, thin towels by
Anaskela.
They're made using  fibres spun from recycled
plastic
, and are super absorbent, quick-drying, and sand-repellant, too. To get the look, bend over, pushing all your hair in front. Place the towel at the base of your neck. Wrap the two ends around each other, and fling your head up.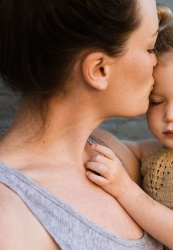 Latest posts by Diane Small
(see all)