Wondering how to dye your hair darker? We have 10 great tips!
By Diane Small
When it comes to hairstyles this year, things are getting dark.
Whether it's the gorgeously rich chestnut hue that Kaia Gerber has been blessed with, or the jet black shade that crowns Zoe Kravitz, it seems darker hair suits most skin tones, and can add some serious drama to your look. While (for me, anyway) blonde hair screams 'beach,' or 'starlet,' dark hair, on the other hand, conveys other messages: mysteriousness, intellect, Gothic darkness, and even downright witchiness. No wonder it's trending!
The only downside? It can be hard to dye your hair darker at home. Sure, there are plenty of products on the market that you can use. But getting an even, glossy colour throughout your mane isn't as easy as you think, and browns and blacks aren't like trendy rainbow hair hues – these need to be consistent and natural looking. Think: rich girl hair. Heiress. Class.
Another major issue? Dark hair dyes can contain some seriously nasty ingredients, that aren't vegan friendly and/or were tested on animals. A lot of those chemicals are impossible to avoid if you want your hair colour to stay, but the less of these there are in your hair colour, the better:
Resorcinol
This receives a nasty 8 out of 10 for danger at the Cosmetics Safety Database. It is classified by the European Union as harmful, irritant to eyes and skin and dangerous for the environment. It may also disrupt hormonal function, and lead to  hypothyroidism.
Ammonia
Ammonia is irritant to the skin, eyes and respiratory system, and can cause asthma and breathing difficulties. However, it is much less toxic than PPD, and only receives a rating of 3 out of 10 for toxicity at the Cosmetics Safety Database. Still, many companies are phasing out this harsh ingredient, which compromises the integrity of the hair shaft, too.
Persulfates
Sodium, potassium and ammonium sulphates are present in hair dyes and bleaches, and are used in concentrations of up to 60%. However, concentrations of only 17.5% have been shown to irritate skin, and persulphates are also toxic when the fumes are inhaled, they cause asthma and lung damage. However, the Cosmetic Ingredient Review Expert Panel has concluded that they are safe for occasional use, provided that the skin is rinsed well after.
Hydrogen peroxide
Hydrogen peroxide is used in hair bleaches. It is corrosive, and has been banned from cosmetic use in Japan and restricted in Canada. Animal studies have shown it has toxic effects on the nervous system, respiratory and digestive systems at low doses. Other studies on animals have also shown that regular use of hydrogen peroxide can damage DNA, possibly leading to cancer.
Lead acetate
This is present in some hair colouring products used for gradual darkening, and is another potentially toxic chemical. Lead has well-known damaging effects on the brain and nervous system.
4-ABP
This ingredient has been linked to development of cancer.
Worried your brand may contain some of these? A good tip for those living in the Americas would be to buy European or Japanese brands: the EU and Japan have banned many toxic ingredients that are still permitted elsewhere. Click here to see more information about that. Otherwise, there is natural henna that can dye your hair darker: for example, Saach Organics makes burgundy, chestnut and black dyes from plants.
Want to know more? I asked the hair pros at Madison Reed for some tips on how to dye your hair darker, no matter whether you're covering up grey roots, or changing your colour completely. Here's what I learned.
How to Dye Your Hair Darker
1. Blonde? Go for Lowlights 
Going darker doesn't always mean completely changing your hair colour. If you like where your hair is now and want to take a more subtle approach to going to a darker shade, try placing some sporadic lowlights in your hair. Wondering what's a lowlight? It's basically a highlight, but in a darker shade, and it goes on the inside layers of your hair, while highlights are usually placed on the outside. This technique can give your hair loads of depth and dimension, making it look thicker.
2. Try Going Darker in Stages
"If it's your first time going dark, the general rule of thumb is to take it in baby steps. Going dark is a big change, and has the potential to make you look like a completely different person. If you are a creature of habit, try taking the colour one shade at a time, and gradually work your way to your goal," says Ally Paige from Madison Reed.
3. Try a Semi-Permanent Gloss First
"If you're looking for richer, more vibrant tone, but you don't want to go with a completely different colour, a semi-permanent gloss is perfect." Ally says. "It gives you just the right shine and richness you might be and can be the perfect alternative to going for a complete change." This is a great introduction to darker shades. If you love it, of course, you can go permanent. But if not? It's just a question of waiting a few weeks for it to fade.
4. Consider Your Skin Tone
Your skin tone is pretty easy to determine. Just look at the veins on the insides of your wrist in natural lighting. If you see a blue-violet colour, you have a cool undertone and would suit bluish or silver tones. If you have a slightly more greenish colour, you have a warm undertone and gold or red are the undertones you need. It's really important to consider what tone you are before choosing a hair colour, otherwise you will look washed out, and the dye you use won't look natural. Need some examples? Cool undertones should go for more primary colours, like platinum blonde or jet black (think Gwen Stefani or Katy Perry), whilst warmer skin tones should aim for colours with reddish or honey undertones (think Jessica Alba or Angelina Jolie).
5. Choose Your Colour Wisely
Before you dye your hair permanently, why not try on a wig in the shade you want? It will give you the full picture of what your new look could be. On the other hand, checking how hair swatches look against your skin is probably an easier option. Put the swatch right up to your face in a good light to see how it matches your skin tone. Remember to be sure to get as close to a natural light as possible; some colours look different when the sun hits them!
6. Pick a Hairstyle That Works
A darker colour can add a whole new dimension to your hair, but with the right style, you can achieve an even bolder and more beautiful look. A deeper colour typically usually adds the appearance of more weight to your hair, so if you like to keep your hair from your face, try some face-framing layers. If you want to try a short haircut with your new colour, check out this guide to matching your face shape with an appropriate cut, and make your move from there.
7. Don't Forget Your Brows
You might be so excited to finally colour your hair that you've completely forgotten a very important detail: your eyebrows. Yup, those need a little taking care of too! It's very likely that if your hair is naturally light, you may have to dye your eyebrows, too. This isn't easy to do at home, and you should never, ever use hair dye for this purpose! Instead, as a beautician to use a specialist eyebrow tint to match your hair. It will make an incredible difference to your overall appearance. Alternatively, if you don't want to put dye near your eyes, you can always use a darker brow pencil to fill your eyebrows in temporarily every day.
8. Use the Right Shampoo & Conditioner
Going darker can also mean  a completely different hair care regimen, if it's far from your natural colour. Where getting away with certain shampoos and conditioners were okay once, now you will want to keep that colour in place. Hair care products that are designed to keep your colour from fading are the key to making your look last! Such products will also keep your hair healthy and glossy.
9. Keep it Gentle
Colouring your hair can give you beautiful results, but keep your hair healthy and hydrated during the process. It's essential to keep away from hair dyes that contain parabens, ammonia, resorcinol, gluten, PPD and other harsh chemicals that can not only leave your hair dry and damaged, but can cause health issues, too. If you're going to  go darker, do it right and keep it healthy and strong with a natural hair dye, like one of these brands.
10. Treat it Right
No matter how gentle your darker hair colour is, it's still a chemical product that stresses your tresses! For that reason, it's important to treat your locks extra-well now, and to lay off the heat styling once in a while. Let your hair air dry whenever possible, and consider taking a hair supplement that will strengthen stressed hair follicles. Nutrafol is good one, with consistently positive reviews on Amazon. Also try deep treating your hair with an extra-moisturising natural mask once a month to really let it shine.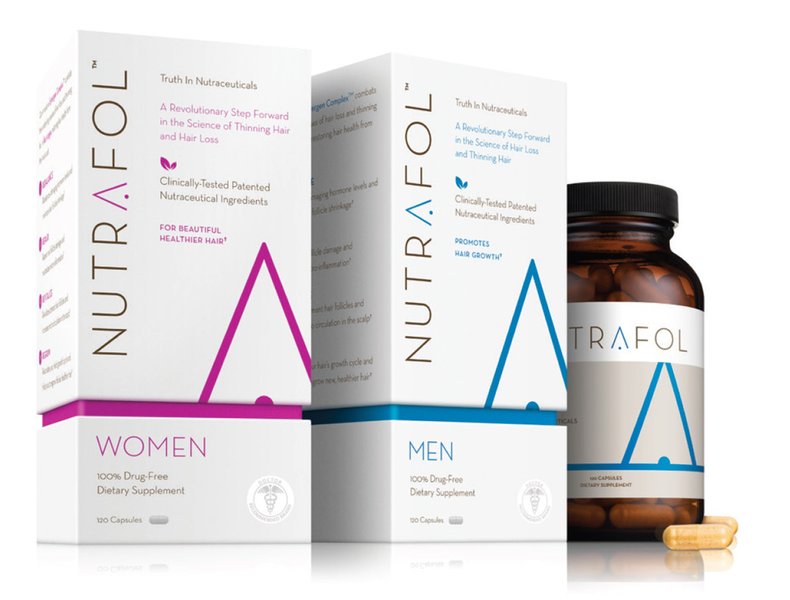 Main image credit: Kaia Gerber Instagram