By Chere Di Boscio
Subtle Energies received rave reviews on Eluxe in the past, and when a new box of products arrived, it was like my birthday and Christmas all rolled into one.
The reason I adore this brand is fourfold: one, it's all natural, even organic at times. Two, the  creams are so aromatic and delightful, they practically serve as perfumes. Three, it's based on Ayurvedic principles, which I try to follow. The idea here is that you have a 'type', or dosha, which dictates what you should eat, drink and put on your skin. My dosha is Vata/Pitta, which means I need rich, hydrating food and products. (You can find your dosha here.) Finally, it works. Many of these products are amongst the best I've ever tried, 'eco-friendly' or not.
/find-your-dosha/
Here's my review of the latest batch of Subtle Energies skincare.
Personally, I'm a bit lazy about washing off makeup. It's not that I don't do it religiously every night; it's just that I hate splashing around with water and drying off–I'm a 'wipe-off-with-a-tissue' kind of girl. Normally, I use crealine based products, but I was intrigued by the Juhi Replentishing Milk Cleanser by Subtle Energies. This is also a wipe off product, based jojoba seed, patchouli and rosewood oil and scented with Sandalwood and Juhi Jasmine. The milky texture is moisturizing, and the oils draw out impurities and makeup perfectly. My tissue was covered in makeup within minutes, and after a few applications, it was all removed without a trace. Even the 50 factor sunblock I wore all day was completely gone, all without a drop of water. I followed this up with Pure Indian Rose Hydrosol toner, though I didn't really need to–my skin was already clean.
To ensure my skin remained hydrated, I ended the routine with Mogra and Indian Rose Gold Cream–a product that truly sets the standard for organic skincare.  Infused with Mogra jasmine and rose oil for nourishment, a youthful glow is also guaranteed by another high-end ingredient: nothing less than 24k gold. Gold is known for its anti-inflammatory properties, and this cream not only soothes mature skin, it smells richly and deeply of an exotic garden, so much so that I wish Subtle Energies would create a perfume based on these ingredients!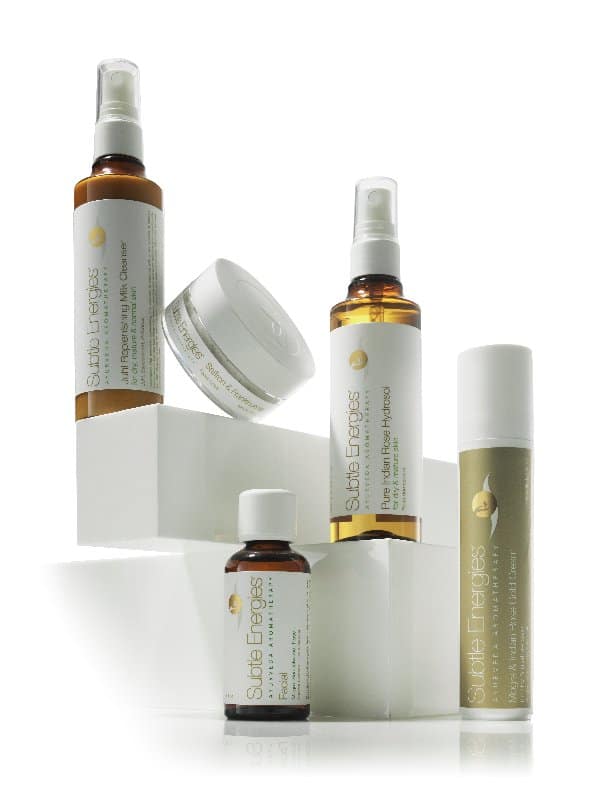 The same could be said for the deliciously scented Night Cream Double Cream body lotion. Housed in a thick glass container that looks great on any bathroom shelf, the ingredients of this indulgent lotion are similar to the Gold Cream, but rather than gold, Sandalwood oil is added as a key ingredient. Not only does this miraculous product smooth my (usually rough) elbows and heels, I didn't need (or want!) to put on perfume afterwards, it made me smell so good!
The verdict? Subtle Energies creates skincare that's honestly so good, it's the first brand I actually want to start selling directly on the site–I figure Eluxe readers deserve only the very best. Watch this space! But until then, you can see more about the brand by clicking here.  
Latest posts by Chere Di Boscio
(see all)