By Chiara Spagnoli Gabardi
There's long been a debate about real fur vs faux – which is better for the environment?
Those in the 'real' camp say there's no such thing as eco friendly faux fur. They claim that at least animal fur is a renewable resource; that it biodegrades, and that faux fur is made from nasty acrylics and plastics that just end up in landfill.
Those against fur, of course, state that faux fur doesn't use dead animals for mere fashion; that since animal fur is treated with heavy dyes and chemicals including chromium and formaldehyde (both of which are highly toxic), it actually doesn't biodegrade so easily. They also argue that the bodies of fur animals are just wasted since they're not eaten, and that their, poop and blood are dumped into our water systems as waste.
Well, finally, the debate on real vs faux fur is over. And guess what? Faux fur wins! Here's why.
Eco-friendly faux furs are on the rise
Yes, faux fur IS absolutely the more ecological choice – when it's made from sustainable materials. And increasingly, that is the case.
Take these designers below, for example. They're largely using recycled or all-natural materials to get that warm, furry effect – without the killing.
The transition from real fur to artificial fur was bound to happen, given the increasing amount of investment and research in this field. For example, the French Faux Fur Institute's Open Fur design contest encourages design students to work with recycled fabrics and sustainable materials to create new forms of faux fur, such as that created from recycled bottles or cotton fibres.
Those cruelty-free fur designs are especially popular with younger consumers – new data reveals millennials don't want to purchase from companies that harm the planet. In fact, young people in their thirties and below consider sustainability a main issue in their lifestyles, whether it concerns what they eat, how they dress or what means of transportation they use.
Yvonne Taylor, senior manager of corporate projects at PETA (People for Ethical Treatment of Animals) UK, explained how today's youth is more ethical than previous generations, because of the campaigns by animal rights groups they have witnessed. "Items that were once a status symbol are fast becoming a badge of shame," she said. And youngsters in their twenties are even more fervent when it comes to the topic of the environment and animal cruelty.
Global research conducted by Masdar shows that Generation Z wants more action for a sustainable future, and that includes the shift from real to fake fur. But you don't need to be a teen to appreciate gorgeous eco-friendly faux fur. These five brands below are a mere taste of how faux fur is more sustainable than the real thing – but given widespread rejection of fur by consumers and designers alike, we predict many more designers will be following in their footsteps soon.
The Italian designer Daniele Calcaterra works closely with manufacturer Ecopel, which has developed a faux fur material made from recycled plastic bottles. Through a collection system internalized at the company's mills in Asia, the company can now give used plastic bottles new life – rather than them being dumped in landfill or oceans.
The regenerated fiber developed from the process is introduced into a new cycle of circular-economy production thanks to Calcaterra, who creates glossy, furry, eco-friendly creations with the material. And for those who cry out that recycled plastics used in clothing only creates microfibre pollution in the ocean when they're washed, consider this: winter coats rarely, if ever, get washed – and you can opt for a 'green' dry cleaner instead, keeping your coat clean without any ocean pollution whatsoever.
There is no denying it – fur is cruel. 85% of the fur industry's skins come from animals living in captivity in factory fur farms, as Stella McCartney well knows. The vegan designer prioritises  the welfare of the animals above all, but also points out that fur requires numerous toxic chemicals for preservation and dyeing, which can be extremely harmful for the natural environment and workers.
That being said, the decision to include faux fur in her own designs has not been without much debate – Stella didn't want to encourage people to use real fur by making a 'fur look' chic. Ultimately, she concluded that by offering a luxury Fur-Free-Fur product that's a great alternative to real fur, she could demonstrate that no animal ever needs to be harmed for fashion. She clearly placed a 'Fur-Free-Fur' label on the outside of faux fur garments, just in case anyone has any doubt about what the coats are really made from.
Although she works ethically with a few select mills, and ensures that all her materials are produced in an environmentally sound way, her coats themselves are not biodegradable, as they're made from a blend of acrylic, polyester and ethically sourced wool or mohair. But on her website, Stella urges her customers to care for their items responsibly, washing rarely, and  never throwing them away – the faux fur can easily be upcycled into pillow cases, toys or even rugs, with a bit of creativity.
Lifelong animal lover Tiziano Guardini has created a wide variety of plant-based furs since he began his career as a fashion designer. He experiments with a plethora of unique materials, including hemp, straw and even pine needles, to create different 'furry' effects, and the results are quite remarkable. His latest collection uses frayed denim to create a kind of Afghan shearling effect.
Guardini is among the designers to recently lend their voice to the anti-fur movement, which has been growing steadily. Back in 2017, luxury powerhouse Gucci pledged to go fur-free, followed by Michael Kors and Jimmy Choo – and now Jean Paul Gaultier has been the latest (of many) big designers to renounce fur. Yoox, Selfridges and Net-a-Porter have also adopted a fur-free policy that bans all accessories, apparel and footwear made from animal fur, and Guardini couldn't be more pleased.
"Western countries do not need to use animal furs but some fashion houses continue to do so. I'm hoping that by creating a sustainable alternative such as denim fur we will be able to show people that fur alternatives are just as beautiful and aesthetically pleasing as the real thing," he told The Independent.
Small Ukrainian brand Ksenia Schnaider cares about the environment and animals. They also really, really like denim. So it kind of makes sense that their faux furs are made from recycled denim.
The brand started as a Ukrainian love story, founded by Ksenia Schnaider, a fashion designer, and her husband Anton Schnaider, a graphic designer in Kiev, the capital of Ukraine. The duo were so into each other, they not only wanted to spend every spare minute together, but wanted to work together, too. After thinking a bit about how to make that possible, they launched Ksenia Schnaider – and the rest is history.
Today, they experiment with denim, fraying it, shredding it and playing around until they find the right 'furry' texture for jackets and embellishments. Their styles and techniques have been a huge hit with consumers and the media, and they've been featured in loads of international magazines from Vogue and I.D to Eluxe!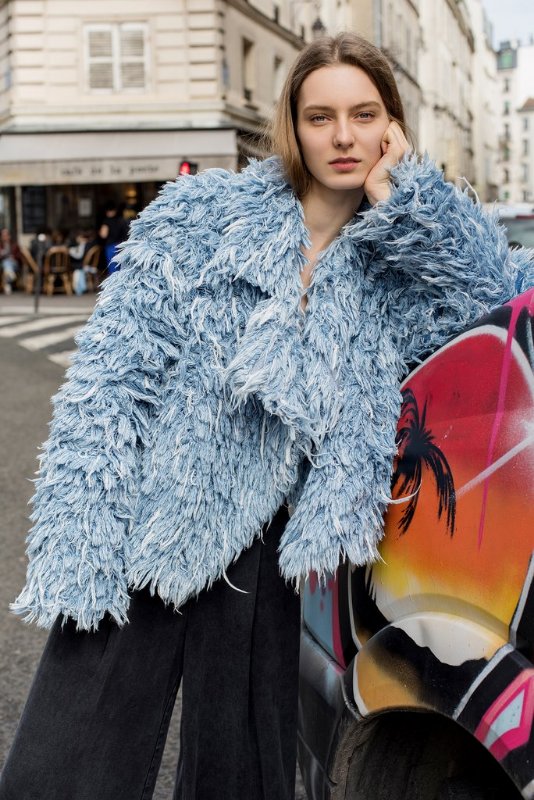 Another young designer who's dreaming up eco friendly faux fur made from upcycled, shredded denim is Nathalie Ballout. The Swedish-Lebanese creator caused a stir when her first collection challenged conventional ideas of clothing by demonstrating how  currently available materials can be distressed, deconstructed and reconstructed into unique pieces that mimic fur, feathers and wool. Nathalie's unique vision has garnered her the recognition of Vogue Talents, who chose her to show her work at Milan Fashion Week SS19.
Main image: House of Fluff. Learn more about them here.
This site uses affiliate links with brands we trust, and if you make a purchase using a link, we may receive a commission.
Did you enjoy this post? Want to show your gratitude? Please support us on Patreon!