These eco friendly faux fur brands prove that when it comes to fake vs real fur, fake always wins!
By Chiara Spagnoli Gabardi
Long, long ago, before the invention of the loom, wearing animal fur was pretty much the only way for a human to survive cold winter weather. Unfortunately, (very) old habits die hard. Still today, fur is still seen as the ne plus ultra in luxury fashion.
While some argue it's still the warmest option for freezing climes (which is not true), others kill animals to use their fur in completely superfluous (and extremely impractical) ways. For example? In handbags and shoes, or worse, for mere trinkets (yes, Fendi, we are referring to the 'Karlito' key fob).
It's a bit depressing that some find Gucci's 'Chewbacca' fur slippers appealing. And I cannot fathom how anyone with a conscience could plunk a shearling bag down on coffee-stained bistro table. Luckily, increasing number of luxury consumers – and designers – are shunning fur when they realise its true moral and environmental cost.
Why We Need To Say NO To Fur
Understanding that hundreds of thousands of animals are killed to feed the vanity of a handful of people has turned more and more people away from this Stone Age habit. But still others need to know exactly what goes on in the life of a fur animal. Here are the options.
Either an animal, such as a wolf, is trapped in the wild. It's not uncommon for such animals to literally chew their legs off to escape the traps. Or, other wild animals, such as baby seals, are clubbed to death, while coyotes, are shot from helicopters.
That's probably the most merciful scenario. In most cases, sadly, fur animals are raised in tiny, miserable cages and killed while they're still young, when their fur is softest. And by 'killed', I mean usually electrocuted by electrodes placed in their anuses, so the fur isn't 'spoilt' by cuts or bullets.
Is any coat or bag really worth torturing any innocent animal for?
Image below: Maison Atia
But…Isn't Fur Eco-Friendly?
There's long been a debate about real fur vs faux. Which is better for the environment?
Those in the 'real' camp say there's no such thing as eco friendly faux fur. They claim that even though it's cruel, at least animal fur is a renewable resource. They say that it bio-degrades faster than fake fur, and that faux fur is made from nasty acrylics and plastics that just end up in landfill. And that is often the case.
Those against fur, of course, state that at least faux fur doesn't slaughter tens of millions of animals each year for mere fashion. They assert that animal fur and leather is treated with heavy dyes and chemicals including chromium and formaldehyde (both of which are highly toxic). These products pose many dangers to both the environment and those that work within it.
Those against fur also argue that the excrement from fur farms harm the environment. One million pounds of feces are produced annually by U.S. mink farms alone. One dangerous component of this waste is nearly 1,000 tons of phosphorus, which pollutes nearby rivers and streams. But that's not all.
There's also water pollution in the form of nitrogen and phosphorus from animal waste, air pollution from incinerating animal carcasses and releasing pollutants such as carbon monoxide, nitrogen oxides, sulphur dioxide and hydrochloric acid.
Fewer Emissions?
Are you worried about CO2 emissions from the production of clothing? Then you need to know this!
A 2013 a report carried out by CE Delft (an independent research and consultancy organisation specialised in developing innovative solutions to environmental problems) found that it takes at least 4 times more energy to produce a real fur coat than a faux fur coat.
CE Delft's findings also confirmed that the making of one mink fur coat emits 7 times more CO2 than the making of one faux fur coat.
I think finally, it's safe to say the debate on real vs faux fur is over. And guess what? Faux fur definitely wins!
Image below: Stella McCartney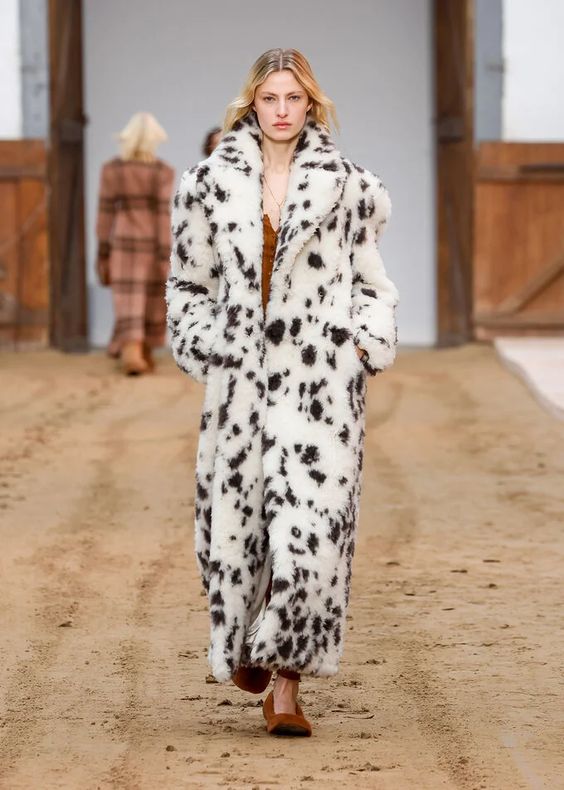 Eco Friendly Faux Furs Are On The Rise
Yes, faux fur is absolutely the more ecological choice – IF it's made from sustainable materials. And increasingly, that is the case.
Take these eco friendly faux fur designers below, for example. They're largely using recycled or all-natural materials to get that warm, furry effect – without the killing.
Their designs are especially popular with younger consumers. New data reveals millennials don't want to purchase from companies that harm the planet. In fact, they consider sustainability a main issue in their lifestyles. This could be regarding what they eat, how they dress or what means of transportation they use.
Yvonne Taylor, senior manager of corporate projects at PETA (People for Ethical Treatment of Animals) UK, explained how today's youth is more ethical than previous generations: "Items that were once a status symbol are fast becoming a badge of shame," she said. And those in their teens and twenties are even more fervent when it comes to the topic of the environment and animal cruelty.
But you don't need to be a teen to appreciate gorgeously sustainable fake fur. These eco friendly faux fur brands below are a mere taste of how fake can be more sustainable than the real thing.
Given widespread rejection of fur by consumers and designers alike, we predict many more designers will be following in the footsteps of faux fur creators soon.
Eco Friendly Faux Fur Brands We Love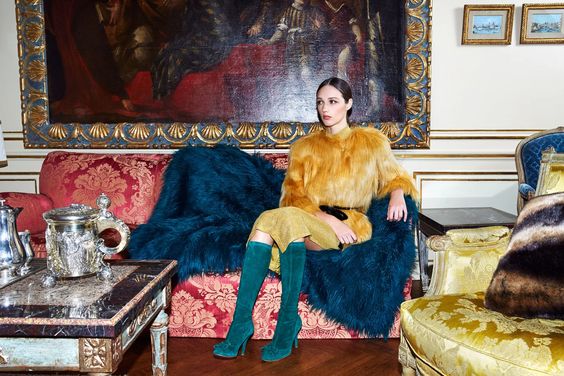 Known as the 'faux fur brand for cool girls', Maison Atia is co-headed by none other than designer Chloe Mandel, the wife of Smashing Pumpkin founder Billy Corgan.
The super-chic brand has started to use Koba, a soft, fluffy fabric that's 100% made from plants and recycled water bottles. Recent collections have featured sustainable faux fur coats made with the stuff, that were also lined with soft, organic cotton. And in case you didn't know, Koba consumes up to 30% less energy and produces up to 63% less greenhouse gas than conventional synthetics.
Materials: Koba
We love: The fact that this eco friendly fake fur brand supports an animal shelter in Chicago. For every coat sold, they ensure an animal is adopted! Awww…..
Price range: High
There is no denying it – fur is cruel. 85% of the fur industry's skins come from animals living in captivity in factory fur farms, as Stella McCartney well knows. We love that whether she's designing vegan shoes, clothes or bags, this vegetarian designer prioritises the welfare of animals above all.
That being said, the decision to include faux fur in her own designs has not been without much debate. Stella didn't want to encourage people to use real fur by making a 'fur look' chic. Ultimately, she decided to put a 'Fur-Free-Fur' label on the outside of faux fur garments, just in case anyone has any doubt about what the coats are really made from.
Stella urges her customers to care for their items responsibly, washing rarely, and never throwing them away. Her faux fur can easily be upcycled into pillow cases, toys or even rugs, when they're at the end of their lifecycle.
Materials: Upcycled materials, Ecopel
We love: How real these look. But never fear – the Fur-Free-Fur label will let people know you're not a dick!
Price range: High
Plastic is disgusting. It's a cancer on this earth. But once it's created, what can we do with it? Burning it is super toxic to our air. Burying it is toxic to the land. So maybe the best thing to do is to repurpose it.
And that's exactly what Issy London does. Every piece in the Issy London faux fur collection is crafted from recycled fibres that began their journey as plastic bottles. Dangerous waste that might've gone to landfill or polluted our oceans.
A beautiful solution, and practical, too!
But of course, remember: don't wash your coat often, or microplastics will enter our waterways!
Materials: Recycled plastic bottles
We love: The softness and lushness of these coats
Price range: Medium
Lifelong animal lover Tiziano Guardini has created a wide variety of unique plant-based furs since he began his fashion career. The Italian designer experiments with a plethora of unique materials, including hemp, straw and even pine needles, to create different 'furry' effects. The results are quite remarkable! His latest collection uses frayed denim to create a kind of Afghan shearling effect.
Guardini is among the designers to recently lend their voice to the anti-fur movement. Back in 2017, luxury powerhouse Gucci pledged to go fur-free. Their decision was then followed by Michael Kors and Jimmy Choo and Jean Paul Gaultier, amongst other top designers. Yoox, Selfridges and Net-a-Porter have also adopted a fur-free policy that bans all accessories, apparel and footwear made from fur. And Guardini couldn't be more pleased!
"Western countries do not need to use animal furs but some fashion houses continue to do so. I'm hoping that by creating a sustainable alternative such as denim fur we will be able to show people that fur alternatives are just as beautiful and aesthetically pleasing as the real thing," he told The Independent.
Not only is Guardini's one of the best eco friendly faux fur brands due to his unique fabrics, but it's also sustainable as everything is made to order.
Materials: Hemp, straw, cotton, fabric scraps and more
We love: The innovation behind these materials
Price range: High
Ukrainian designer Ksenia Schnaider cares deeply about the environment and animals. She also really, really likes denim. So it kind of makes sense that her faux furs are made from recycled denim.
The brand started as a Ukrainian love story. It was founded by Ksenia Schnaider, a fashion designer, and her husband Anton Schnaider, a graphic designer in Kiev. The duo were so into each other, they not only wanted to spend every spare minute together, but wanted to work together, too. After thinking a bit about how to make that possible, they launched Ksenia Schnaider. And the rest is history.
Today, they experiment with denim, fraying it, shredding it and playing around until they find the right 'furry' texture. Their styles and techniques have been a huge hit with consumers and the media. They've been featured in loads of international magazines from Vogue and I.D to Eluxe!
Materials: Upcycled denim
We love: Supporting Ukrainian designers!
Price range: Medium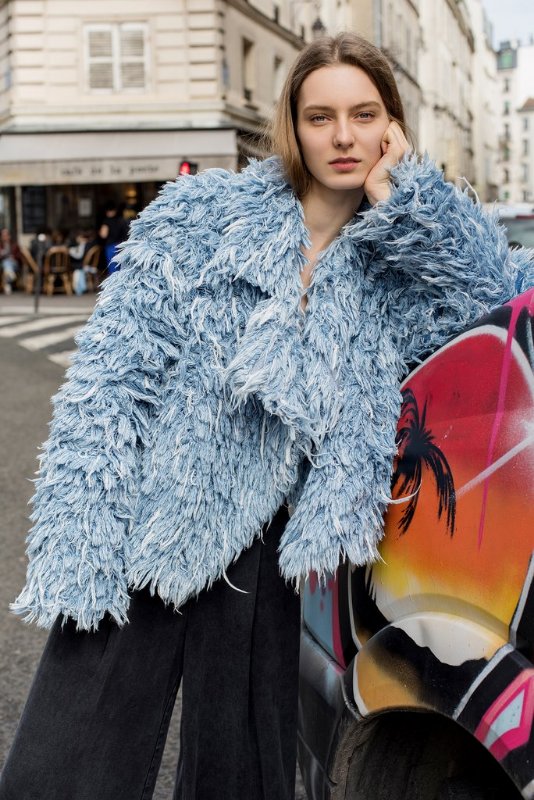 This brand is so ethical, it's, well…unreal! First of all, this Australian-based coat maker pays wages far above the living standard to all who make their garments. Secondly, they're just as concerned about their environmental footprint as they are their social impact. They have consequently developed some eco-friendly faux fur fibres made from a blend of hemp and PET recycled water bottles.
Their fabric scraps are even recycled into new products, including pieces in their Mini-Me kids' products and accessories. Unreal Fur's fashion-forward designs have made the brand vastly popular with customers around the world. Today their coats are now sold at various global retailers, including Free People, Farfetch and Bloomingdale's.
Materials: Hemp and upcycled PET bottles
We love: The bright hues used in many of their fake fur styles
Price range: Medium
We've long loved this bang-on-trend brand. But when we discovered they're now using cactus leather to make the most glamorous 70's inspired, faux fur trimmed coats, well…that's just whole other level stuff!
In case you didn't know, cactus leather is 100% organic, grows abundantly, biodegrades, and has the feeling of fine leather. But that's not all! House of Fluff is using another eco friendly faux fur material: Biofur.
This is made from plant-based or recycled textiles, and all pieces can be recycled or have been treated with an additive to help any synthetic fibers decompose naturally if they should end up in a landfill or the ocean.
What, no microplastic particles with any wash? How great is that?!
Materials: Recycled fabrics, BioFur
We love: How House of Fluff combines cactus leather with sustainable fake fur to make their 70's style trench coats. We also love their gorgeous, fluffy blankets for the home.
Price range: Medium
London based Culthread is a producer of ethically made vegan coats. Its founder, Rina, says: "I founded Culthread because I searched in vain for the perfect coat – one that not only looked amazing, but fit just right, had inside and outside pockets, a hood, and was guaranteed free from all animal derived products. I loved the idea of having something different and special, without compromising on warmth and functionality. Culthread coats are either one off,uniquepieces, or made insmall limited editions."
Today, the brand's sustainable outerwear is all handmade from eco friendly fabrics like British waxed cotton, and luxurious faux furs made from recycled fabric. These jackets are guaranteed to be warm, thanks to their Thermore insulation. It's eco-friendly, as it is comprised of 100% post-consumer recycled plastic bottles.
Materials: Recycled PET bottles, waxed cotton, recycled fabrics
We love: This brand's focus on sustainability. They've been given many accolades for that!
Price range: Medium
If you ask me, Jakke is one of those eco friendly faux fur brands that deserves more recognition! Not only do they make ultra-chic fur coats, but they're super sustainable, too.
For example? It takes approximately 30 plastic bottles to make one of their recycled polyester faux fur coats. These plastic bottles would otherwise end up in landfill or the ocean.
Plus, Jakke knows that microplastics are a problem when you wash your coat (which is probably rarely). So they've teamed up with eco-friendly dry cleaners OXWASH, who have given their customers customers a 20% discount with the promo code JAKKE20.
Materials: Recycled faux fur made from plastic bottles
We love: This brand's focus on sustainability. They've been given many accolades for that!
Price range: Medium
10. Bonus Brand: Ecopel
Ok, it's not so much a brand as it is a manufacturer of eco friendly faux fur. But Ecopel is probably the biggest global producer of fake fur fabric that's crafted from recycled plastic bottles. As mentioned above, it's being used by quite a few eco-conscious faux fur designers.
Ecopel collects used post-consumer waste in order to transform it into soft, fluffy fabrics. These not only eliminate the need for new acrylics and polyesters, but also prevent plastic bottles from ending up in landfill.
Getting the texture and sheen of real fur is pretty hard to do. So Ecopel is still refining aspects of their product, such as colours and textures. But we have high hopes for this exciting new sustainable faux fur, as does Stella McCartney. Just check out her coat below, which uses Ecopel fur!
Do you know of any other eco friendly faux fur brands? Let us know in the comments, below!
Latest posts by Chiara Spagnoli Gabardi
(see all)