Rock stars, 'It' girls and top models are all fans of Maison Atia. Here's why.
By Chere Di Boscio
It's a pretty lofty statement saying Maison Atia's faux furs are for the cool girls, but when you consider that not only do customers include Kate Moss, Gigi Hadid and Inez van Lamsweerde, but also the fact that the co-founder is married to a rock star, well – their reputation is sealed.
Founded by Chloé Mendel (daughter of designer Gilles Mendel and wife of Smashing Pumpkins frontman Billy Corgan) and Gustave Maisonrouge, Maison Atia makes vegan furs inspired by rock 'n' roll chic – in fact, their latest collection was inspired by the refined edginess of the 1970s and David Bowie.  
Maison Atia uses traditional techniques to create carefully crafted and timeless pieces that push the boundaries of what faux fur can look and feel like. The first truly luxury faux fur brand, they presented their Autumn/Winter 2019 Collection at a solo presentation during NYFW recently.
Here, in this exclusive interview, Chloé and Gustave talk sustainability, rock icons and saving puppies.
Meet Maison Atia – The Faux Fur Brand For Cool Girls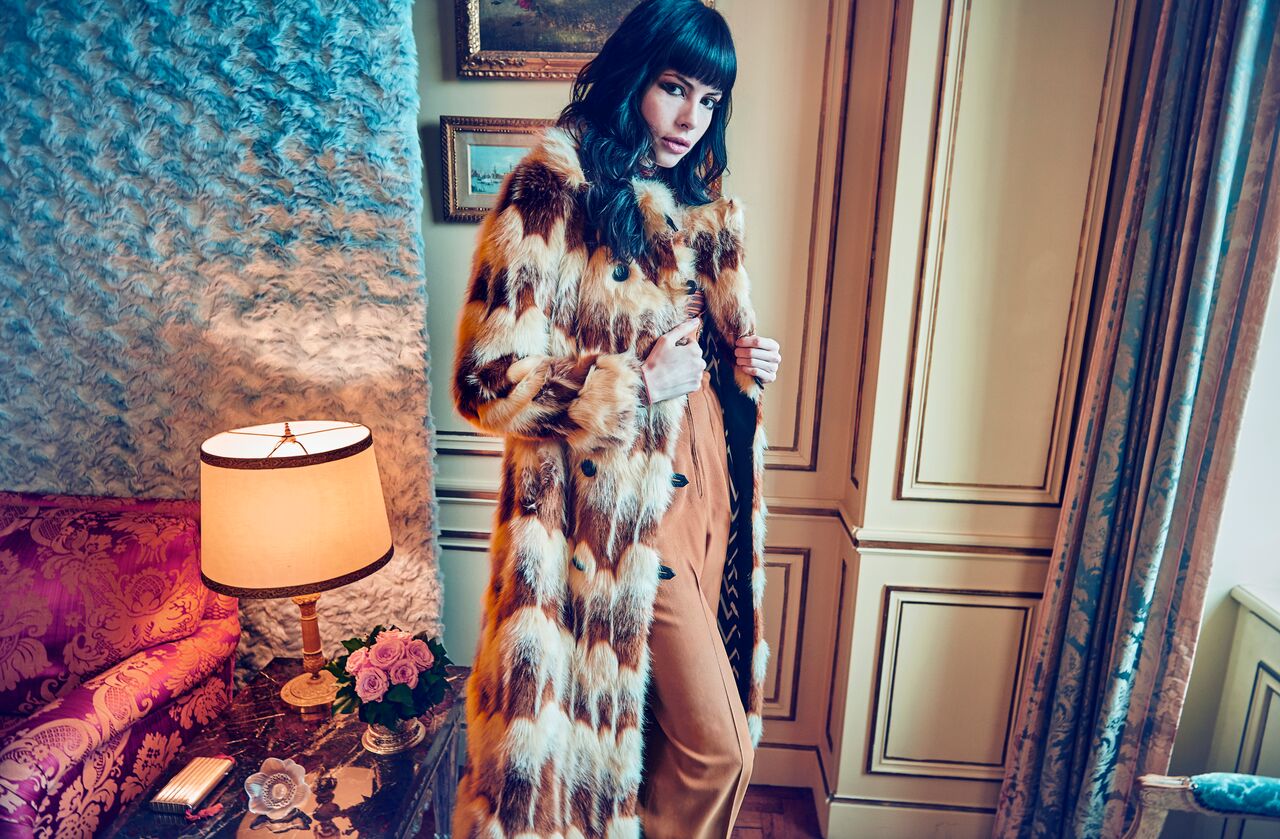 What inspired you to create this brand?
(Chloe):It started a few years ago while working at the J. Mendel Atelier. In my father's studio, I would fantasize on how cool it would be to take these haute couture furs and translate them to faux fur. I mean, maybe incredible faux furs existed and I just didn't know?  
So we did some shopping and realized there weren't many options. No real luxury brands focused on faux fur, outside of a few chic novelty Stella McCartney pieces. I was about to be a first time mother, so I only found the time to focus on this concept after the birth of my son Augustus Juppiter, who is now three years old.. and voila! Here we are! 
What are your views on 'real fur' in general?
(Gustave) Chloe and I are fundamentally open and respectful of all views, and do not like to be judgmental. In addition, with Chloe's family heritage, it would be hypocritical of us to do so. But we are both animal lovers, so it is important to us that we only work with cruelty-free materials – it's a great feeling!
How do you answer critics that say fake fur is bad for the environment?
(Gustave) We work hard at minimizing waste: from our first capsule collection, Chloe made the slap bracelet concept cool again by using all the smallest piece of fabric leftover from our coats. We have now added small pochettes with the same approach, and we will continue to expand our upcycling processes.
We also partner with FabScrap to recycle any other unused fabric. We believe in the 'Lean Closet' approach, and encourage our customers to purchase fewer and better quality items, and enjoy them for many years.
We are also working with textile companies that use recycled materials for our collections, and are investigating new sources that use organic cotton to create the artificial fur.  And we are of course encouraged to see that companies such as Modern Meadow continue to innovate – they developed excellent quality artificial leather via yeast fermentation! So the future keeps getting brighter.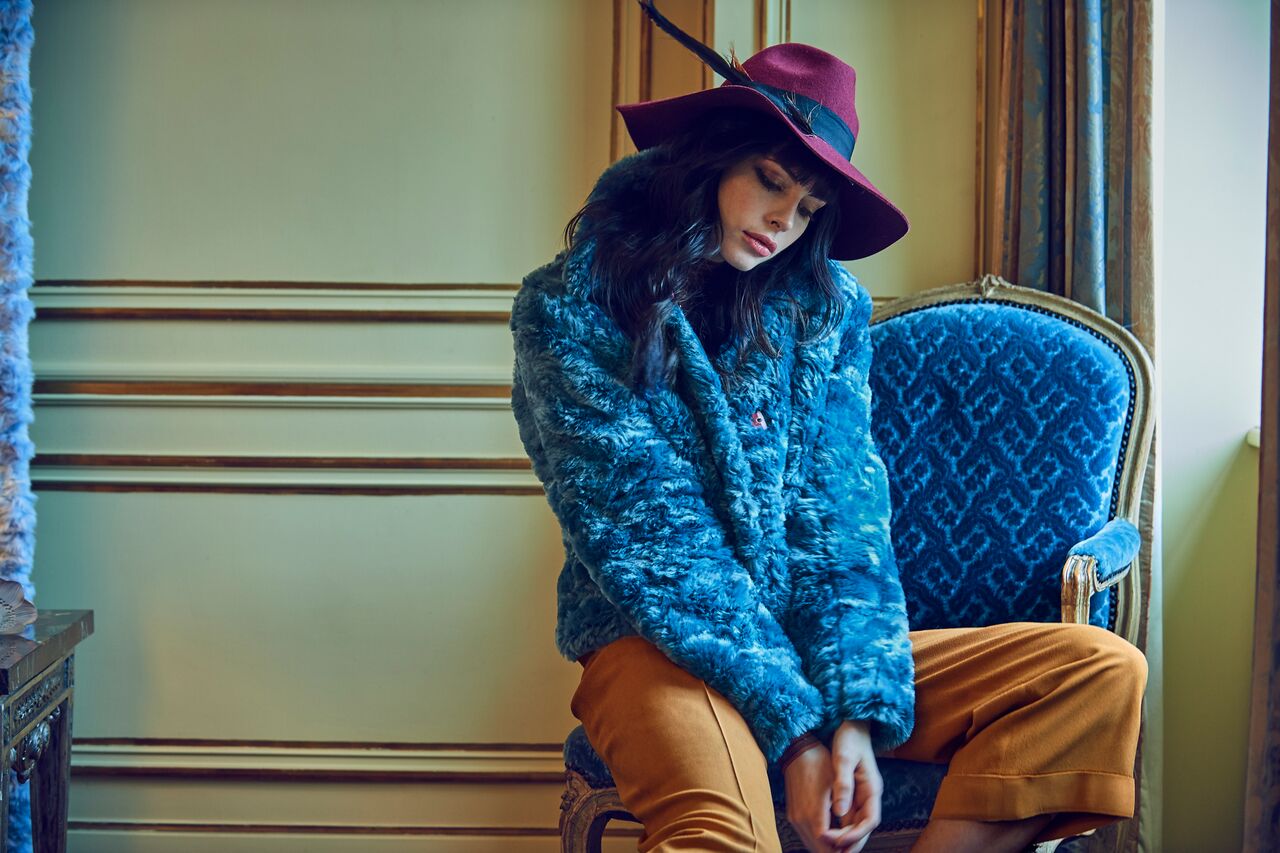 Where do you find inspiration for the designs?
(Chloe) I love old movies, am fascinated by both the Art Deco period and the bohemian approach of the 1970s, whether in movies, music, collectibles and fashion. In my mind, the two eras are very related. This AW19 season I took inspiration from my icons such as Jane Birkin, Charlotte Rampling, Anna Mae Wong and David Bowie. I love their sense of style; they are passionate, powerful, free, yet always effortlessly chic. I constantly research these periods and am in awe of all the creativity that one can find in every single detail. It's my way of saying thank you by celebrating the style and their work.
How would you describe the typical Maison Atia customer?
(Gustave) The Maison Atia woman is Chloe: quietly confident, engaged, thoughtful, with a sense of purpose and desire to make the world a better place. She doesn't take herself seriously, listens to others but is always herself. She does not try to be the center of attention, but everyone is attracted to and intrigued by her. She loves to discover and learn, looks for inspiration around herself. She is youthful at heart no matter her age, enjoys design and quality, and believes that timeless elegance will always be in fashion.
Tell us a bit about your charity initiative
(Chloe) I live between New York, LA and Chicago with my partner Billy Corgan. Billy has been involved with PAWS Chicago, (a leading no-kill animal shelter) since the very beginning, when he adopted the cats Mr. Thom and Sammi. He introduced me to that incredible organization about 7 years ago and from that moment I knew I would be involved and commit to rescuing homeless pets.
PAWS Chicago's No Kill model is built on community engagement, raising awareness about pet homelessness, encouraging prevention , adoption care and volunteering. Thanks to their efforts, incredible statistics like the euthanasia rate for the city of Chicago have been reduced by 87% in the last twenty years! 
So when Maison Atia was born, I was so happy to help even more, not only in spreading the word on the amazing work they do, but also in concretely helping save even more animals. We launched our 'Buy a Coat, Save a Puppy' campaign right from the beginning, and we held our first popup in Chicago this past October in their beautiful facility on N. Racine Ave. It felt great seeing our Maison Atia creations worn by all these animal lovers, and we even created our first dog coat for one of the organization's supporters!
Do you have any pets or animals yourself?
(Chloe) Of course! I adopted over time four cats and two dogs, they all get along and live in our Chicago home. And Gustave joined the fun! Last year, to celebrate the Lunar New Year of the Dog, we organized with PAWS Chicago to have a chihuahua for adoption at our Selima Optique popup in New York.  Gustave ended up taking him home, and little Clef has since become our official mascot.
Are you vegan in your own life?
(Chloe) Being a young mother of two small children, I eat a clean, organic, farm-to-table diet and listen to my body. I have never been a fan of labelling, but we generally keep everything plant-based at home. We stay away from refined sugars, processed foods, and junk. Coming from a Waldorf school, it has always been important for me to know where my food came from, and how it was grown.
Do you believe wearing fake fur encourages the use of real fur?
(Gustave) I know that some brands pretend to use faux fur and actually use animal skins – ironically and counter-intuitively, faux fur materials can be more expensive than animal skins. But the profile of customers shopping for faux fur has changed over the years: originally, faux fur was associated with lower quality, trying to imitate fur, so price was a key motivator.
In the last year, many luxury brands have joined Stella McCartney in deciding to go fur-free, including Chanel.  So, on the high end, faux fur is no longer associated with poor quality. We love the glamourous look and feel of the high quality material that we use in our creations, but our aim is not for our creations to look like real fur.
I personally believe that today, the customer attracted to high end faux fur is not trying to pretend she is wearing a real fur – she simply does not want to wear an item that involves killing animals. So no, I don't believe that wearing fake fur encourages the use of real fur.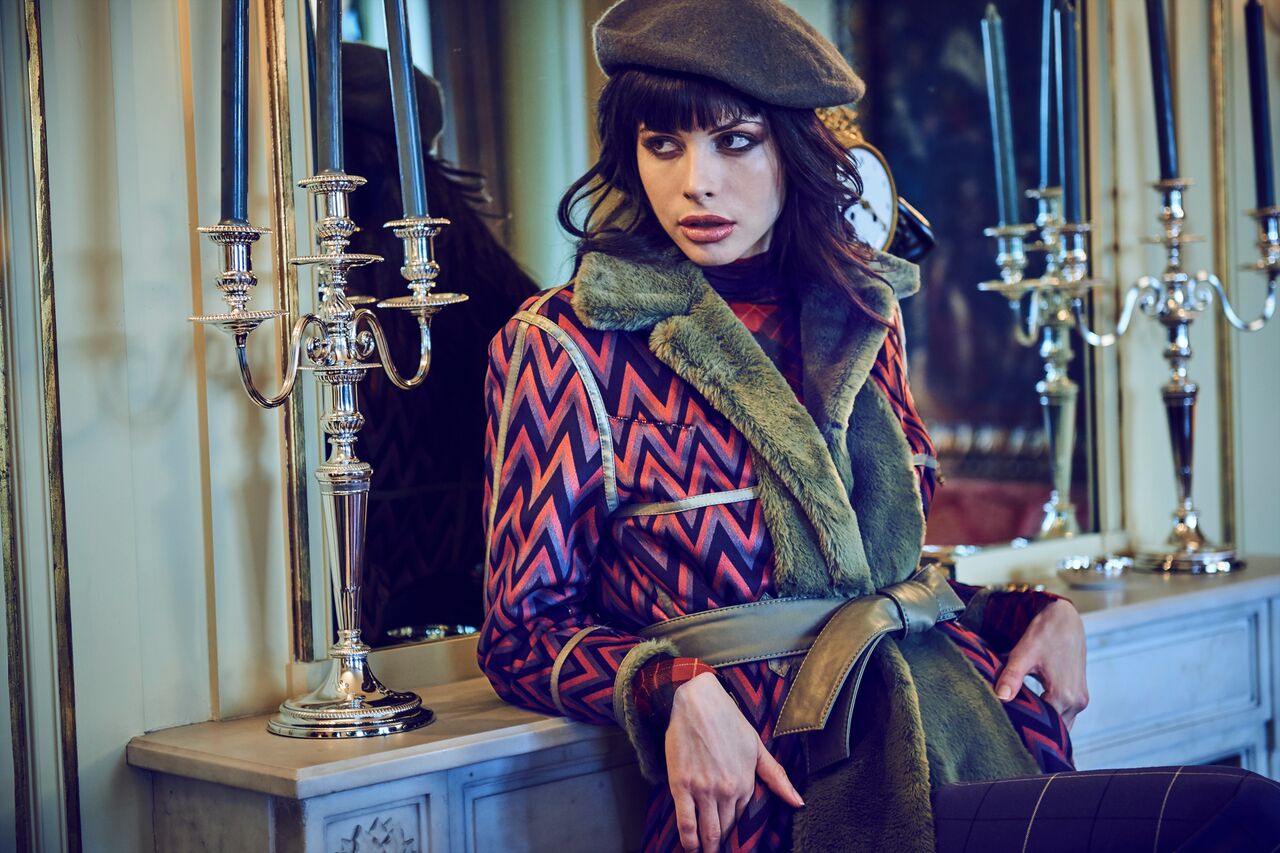 Where do you see the vegan fashion movement going in the future?
(Chloe) From food to fashion, the vegan movement is becoming more mainstream. There are more open discussions on the impact that animals such as cows have on the environment, and more people have become sensitive, without being extremist, to the treatment of animals. An increasing number of fashion startups are based on a vegan approach, you can now ask for vegan models, and some media platforms are also focusing on vegan lifestyles. So we see this movement continuing to expand.   
Any last words?
(Chloe) We love to see confident women wearing and enjoying our Maison Atia creations – what better reward than hearing that they love it and that their friends compliment them on it! Of course, when we see Kate Moss, Gigi Hadid, Inez van Lamsweerde or Laura Brown wear our coats and post about them,  we know we're on the right track! We can't wait for the Autumn – Winter 2019 Collection to hit even more cities and ski resorts.
Latest posts by Chere Di Boscio
(see all)