By Andrea Feick
I must confess: as a resident of Paris, the closest thing I get to anything organic is possibly some salad, and the only animals I ever see are cats, dogs, and pigeons (often on a plate!). I could never understand why people would want to leave the comforts of the city for the bugs and inconvenience of regions beyond. Frankly, the idea of immersing myself fully in nature was a bit daunting.
Luckily for me, Be Tulum's blend of luxury and the environment made the transition from city to jungle much easier than expected.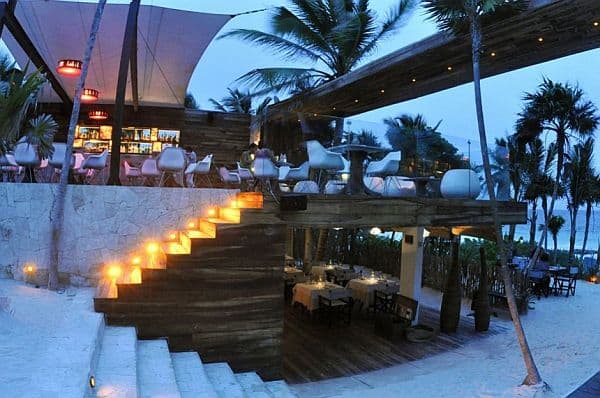 This is one resort that fully comprehends that comfort need not be sacrificed for sustainability: Be's spacious rooms are structured around locally harvested wood and stone; beds are fitted with thick white linens, and there are splashes of luxurious touches, like floor-to-ceiling windows, to show off the rich emerald shades of the surrounding forest. In-room Jacuzzi tubs invite guests to get playful in steamy bubbles after the sun has set, but there are other options too, like listening to the beautiful music on the beach, or watching a film projected on a screen stretched out under the stars.
Of course, nobody here stay indoors too much: just beyond a short stretch of jungle lies an expansive, private beach paradise, completely isolated from neighbouring hotels. Guest spend their days here, relaxing with airport novels (or iPads!) on daybeds beneath shady shelters crafted from local twigs–sun protection doesn't get any more organic than this!
The hotel's commitment to the environment is far more extensive than that, though. Linens and towels are only replaced on demand; toilet paper is not disposed in the loo, but is set aside in small baskets to be composted later. Recycling baskets for plastic, paper and organics are scattered throughout the grounds, and Be Tulum uses grey water for cleaning the grounds and hydrating the plants.
Sustainability is also very much a part of the cuisine. The first-class kitchen produces tasty Mexican and international dishes based on the freshest, locally produced food possible–order a pina colada and watch  your  waiter literally knock one off a nearby palm; the fish you dine on was probably swimming in the ocean mere hours ago. The cook also maintains his own organic herb and vegetable garden, where you can admire the local produce.  
Curious, I decided to pass by and see what I had just eaten for lunch. I found bunches of lettuce and bursts of basil and coriander, all perfumed by hyacinth blossoms, which are made into tea. Butterflies and exotic birds flitted among the colourful foliage.
A sign nestled inside the garden says: "Feel free to talk to these plants. They understand." And now, I think I do too.
For more information, please click here.
Latest posts by Chere Di Boscio
(see all)