Who needs petrol based bikinis when these cotton or hemp swimwear brands let you swim in plant based fibres?
By Arwa Lodhi
It seemed like such a great idea, buying bathing suits made from recycled plastic. Loads of sustainable ethical brands bragged about all the recovered fishing nets and drinking bottles they'd spun into sexy swimwear. But then we learned about microplastic pollution from clothes, and all that changed: now we know that every swim in such garments sheds microfibres of plastic into the ocean. So, what's the solution?
Cotton or hemp swimwear, it seems.
I know what you're thinking, though: cotton or hemp swimwear has issues: it's going to get wet, and sag. Or worse yet, fall right off my body. And to that, I say, think again.
See, it really depends on two things: the design cut of the bathing suit, and whether there's also a bit of elastic thrown into the style. You won't find bandeau tops made from hemp that stay put, for example. But I can say with great confidence that I've personally tried two of the hemp swimwear brands below, and lo and behold – no sagging, and certainly no unexpected nudity!
Cotton and hemp swimwear is certainly a bit different from its synthetic-fabric sisters; it doesn't dry out as fast, and you won't find any neon colours in these natural fibres, nor will you find push up bras, zig-zagging strings or 60's style cutouts, for example. Because yep – those would cause the suit to sag when wet! But what you will find are soft materials that are just fine in water.
Unfortunately, there aren't yet too many companies making cotton or hemp swimwear, but I've managed to find a few pioneers making super stylish bathing suits that look great wet or dry, and do absolutely no harm to the oceans.
Cotton Or Hemp Swimwear Brands Saving The Seas
Ethically made in Peru, these stylish suits are made of 97% GOTS certified organic cotton and 3% elastane to avoid sagging. We love the striking one piece, below, whose straps can be moved around to change the style of the bathing suit – but if you're more a bikini-loving girl, this innovative brand makes those, too!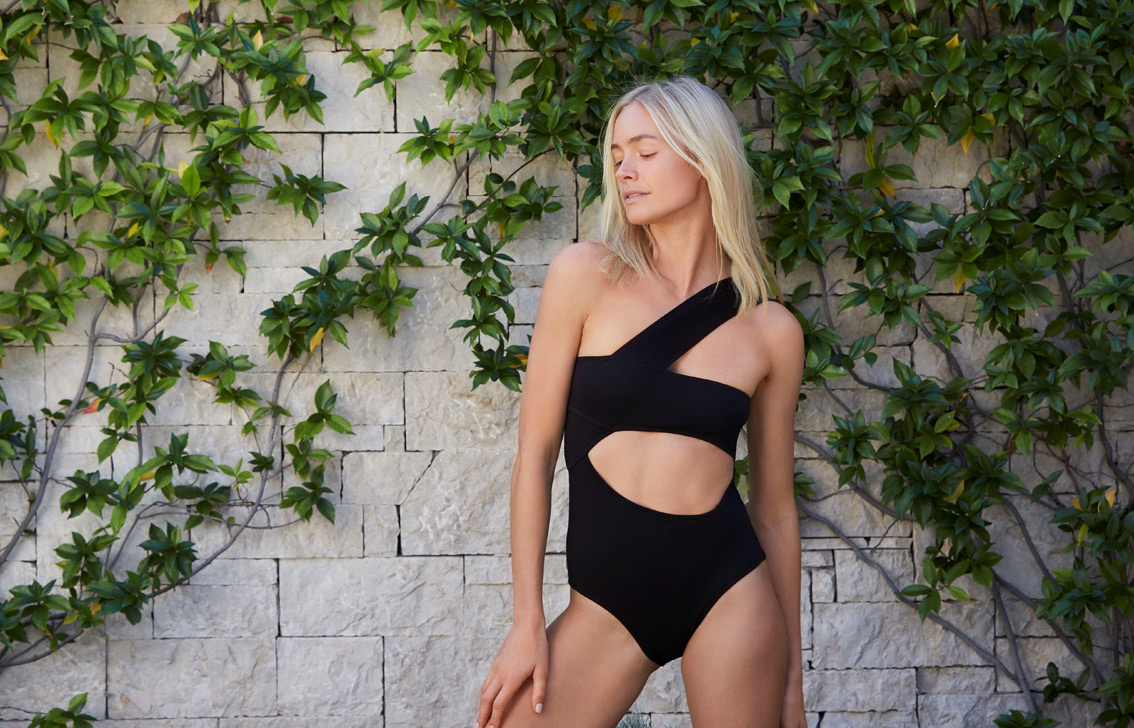 Breaking away from the modern tendency to create swimwear from polyester and other synthetic materials, Natasha Tonić launched in August 2017 with the intention of changing women's swimwear for the better. Their hemp based swimwear is not only super soft against the skin, but is also anti-microbial, UV resistant, durable and a healthier choice for you and the oceans.
Swimwear doesn't get much more eco-friendly than this! Hemp Huggers uses 54% hemp, 43% organic cotton and 3% Lycra, to create tie-dyed hippy-chic suits for Boho babes. In keeping with their Earth-loving, hippy-ish ethics, the brand loves to use tie dye in its designs! Hemp Huggers also makes other hemp-based clothing, too, like skirts and shorts.
Frustrated because you can't seem to find a bathing suit that fits you just right? Ambika Boutique has the solution: custom-made, cotton swimwear that's guaranteed to fit just the way you want.
Constructed from breathable cotton with 2% elastic to avoid saggy bottoms, their crochet bikinis are made to be worn in rivers, streams, waterfalls, lakes and seas – but the tops also look chic with a pair of capri pants or a skirt.
Calling all Boho Babes: this cotton/hemp swimwear was made for you!
YanLove makes all her bathing suits with 100% plant based dyes…and lots of love. She says: "The plants, whether wild foraged or garden gathered are steeped in time with my hemp/cotton fabrics, culminating in living color intentions printed by the energetic plant material married to the hemp fabrics, producing one of a kind designs."
I've worn this suit below myself, and can attest that the fabric is as soft as a baby's bottom, and despite the naturalness of the dyes, they never fade with water or wear.
Ok, this brand may not make cotton or hemp based swimwear, but it does create the fabric for its surfing and bathing suits from a plant based material, so we can definitely include it here.
This innovative material is called Yulex, and it's an eco-friendly alternative to Neoprene. The fabric, which has a texture similar to that of rubber, was first designed in Mexico to replace traditional tropical- or petroleum-based rubber in consumer, industrial, and medical products. It's made from the residual agricultural materials used as a feedstock for bioenergy, and takes much less energy to produce than most similar textiles.
SLO Active isn't just eco-friendly, though: it's ethical, too. For every piece bought, the brand donates to one of their ocean partners. In fact, they donate 3% of their annual revenue (not just profits) to their partner charities (which include Project Aware and other charities focused on cleaning up the oceans. They plan to increase this figure to 5% within 5 years.