Looking for the best eco friendly swimwear for your holidays? Look no more!
By Chiara Spagnoli Gabardi
How would you define eco friendly swimwear?
There are many takes on this.
Most people would immediately say it would involve organic materials, such as hemp or organic cotton. But here's the thing: if you wear swimwear made out of 100% organic cotton or hemp, they get soaked, sag…and possibly fall right off. Especially if you are swimming! If you want your suit to keep its form and stay on your body, you will need some kind of synthetic, such as nylon or elastic.
So what's the most ecological way to obtain those materials? Through recycling, of course! The only problem? When washed, these materials DO shed microparticles of plastics. We're not gonna deny that. But the sad reality is that most recycled plastic ends up being a product that doesn't get much use. Think: plastic bags or packaging. After all that effort, all that recycled plastic just gets thrown away after one use.
So it seems to us to be a wonderful idea to create something much more long lasting from discarded synthetic materials. Something like…swimwear!
From Waste To Wow
Luckily today, there are loads of stylish, sexy brands using not only recycled plastic bottles, but also nylon fishing nets, carpets and other recyclable textiles to create sleek, sexy eco friendly swimwear for every body type.
These brands are helping to clean up the oceans (many actually upcycle ocean waste in their creations) to bring eco friendly swimwear to the masses.
From the teeniest, weeniest bikinis to outfits that are a bit more modest, here I've selected what some of the best sustainable swimwear options for any beach holiday, any time, anywhere. Now grab your basket bag, SPF, and enjoy the gorgeous weather!
The Best Eco Friendly Swimwear For Your Holidays
Our favourite dress brand has launched an eco friendly swimwear line, and the best part? It really is geared towards all body types!
Made mainly from ECONYL® regenerated nylon (mainly fabricated from recycled fishing nets and carpets), these stunning, highly original swim suits come in a wide variety of bang-on-trend styles and patterns.
Why we love it: This is a highly size-inclusive eco friendly swimwear range. We also love their retro 'boob tubes', seem above. So 70s!
When two friends decided to make eco friendly swimwear from rubbish (including discarded fishing lines, carpet fluff and plastic bottles), a beautiful idea was born: Koru Swimwear. Given the essential role upcycling plays in the business, it's rather appropriate that the word Koru means "new growth, strength and peace" in Maori.
The eco friendly swimwear brand also uses only bulk dyed fabric processed without water waste or pollution, ensuring the oceans are kept as pristine as possible.
Why we love it: Koru also offers a capsule range of sustainable summer clothing and jewellery
This designer creates not only eco friendly swimwear, but loads of other clothing that's perfect for summer. Though she's best known for her colourful bathing suits, Mara Hoffman also creates the most gorgeous, floaty summer dresses, jumpsuits, kaftans, tops, shorts and beach cover-ups, too.
Why we love it: No matter if it's a bathing suit, kaftan or top, Mara Hoffman ensures her creations are naturally dyed, and 100% vegan friendly, too.
La Isla (also seen in our main pic) is one of our favourite eco friendly swimwear brands, mainly for their highly unique and beautiful designs. These include touches such as drop or cap sleeves on their sustainable bikini tops, or tassels on the ties of their bottoms. Their styles are made mainly from recycled PET bottles, and to reduce waste, you need to pre-order your suit.
What we love: The brand donates a portion of their proceeds to charities, including Jean-Michel Cousteau's Ocean Futures Society and Youth Emerging Stronger.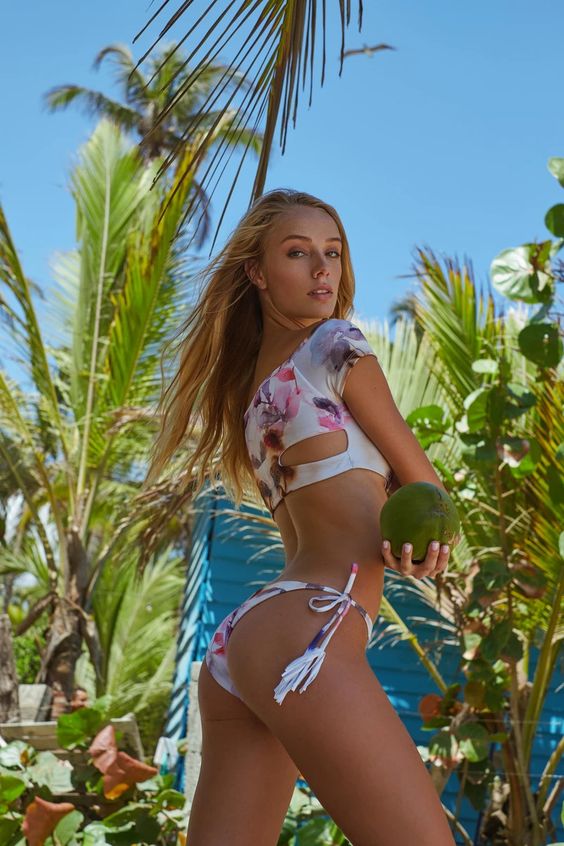 Manakai Swimwear is Maui's first high-fashion, low-impact, made-in-America swimwear brand created from regenerated nylon . Their newest collection uses an eco-friendly techno fabric made with ECONYL ®, a 100% regenerated nylon fibre made from fishing nets and other waste that is polluting the maritime world.
Why we love it: What we love even more is that many of these eco friendly swimwear designs is actually two in one!  Just turn it inside-out and you have a whole new outfit! Plus, we love how Manakai collaborates with artists. For example, their She's One of a Kind collection was designed in conjunction with Cosmic Collage to make awesome art on their swimwear.
Vitamin A produces eco friendly swimwear that can best be described as the water-ready equivalent of Audrey Hepburn's classic Little Black Dress. In fact, the brand has created what it calls the "Little Black Bikini". This is no ordinary swimsuit: its seams lie flat against the skin, avoiding unsightly bulges and 'elastic tattoos.'
Why we love it: This is one of the pioneering brands in eco friendly swimwear. The founder designed the brand's main fabric herself: EcoLux™ — the first premium swim fabric made from recycled nylon fibers.
Since then, the company has incorporated several more sustainable high-performance fabrics along with eco-conscious textiles like organic cotton, linen, recycled cotton and Tencel®. All materials are certified to meet the global Oeko-Tex standard for safe textiles.
Summerlove is a brand that was born in and inspired by the easygoing beach culture of  California. Designer Vanessa Rivers is adamant about spreading awareness of environmental issues, and uses VITA, a sustainable techno-fabric made with eco-nylon, to produce her collections.
This 100% regenerated polyamide fibre is made from pre- and post-consumer materials such as fishing nets, carpet floss, and other waste diverted from landfills. But the sexy, side-tied styles they result in are far from rubbish! In fact, so flattering are SL's styles, they use their customers as their models. Don't believe us? Check out each model, below: they're real people like you and me…but maybe a bit curvier. And with better swimwear!
Why we love it: This is one seriously sexy eco friendly swimwear brand for women who are proud of their curves!
Image below: @misssophiedixon
This extraordinary sustainable swimwear brand came up with the idea of recycling plastic bottles and transforming them into fashionable eco friendly swimsuits that glorify the female silhouette. The eco-conscious label is making a difference in the marine world, where waste  – especially plastic – is an increasingly large issue. Even the brand's shipping policies are eco-friendly, since their packaging uses EcoEnclose, produced from 100% recycled content.
Why we love it: Bare Beach is a PETA approved brand, which is great. It's also ethically made in the USA 
This eco friendly swimwear brand, founded by Corinna Dickenbrok with the intent of promoting slow fashion, supports family-owned production chains, ensuring integrity and transparency. Of course, fair wages are always paid to its workers. And the health of the planet is always in the mind of Dickenbrok when she creates her styles.
For example? Vanilla Sand proudly uses natural materials like organic cotton, and also employs recycled materials, such as those made from reused fish nets and PET bottles.
What we love: The brand plants a tree in the Amazon for every purchase.
Instead of creating more synthetic fabrics, this eco friendly swimwear brand has chosen to upcycle existing nylon. Specifically, they use ghost fishing nets, ocean-bound plastic and textile remnants. The result? High-quality, soft, sustainable fabrics, out of which their sustainable bikinis are made.
By recycling already existing nylon, they do two great things. First, they avoid creating more nylon and further filling our landfills. Secondly, they are also able to clean up the oceans and save natural resources that are required in production of virgin nylon, like water and oil.
What we love: Each item is made ethically in Bali. Remnant's seamstresses receive double the minimum wage, free health insurance, and work in a happy family-like environment.
Latest posts by Chiara Spagnoli Gabardi
(see all)