By Chiara Spagnoli Gabardi
'Eco friendly swimwear' used to be something of an oxymoron – as most bikinis and swimsuits are made from nylon, elastic and/or polyester, it seemed the only eco options were saggy-bottomed crocheted numbers. But no more. Today, there are loads of stylish, sexy brands using eco-friendly fibres and recycled textiles to bring sleek, sexy swimsuits for every body type.
From the teeniest, weeniest bikinis to outfits that are a bit more modest, we've selected what we think are the best swimwear options for any beach holiday, anywhere.
This Bali-based brand offers a retro 70's vibe with its handmade crochet styles. All workers receive a fair wage and great working conditions, and no chemically treated materials are used in the creation of these intricately crafted pieces. To compliment these 'wild woman' styles, EcoGypsy also makes these fabulous ankle cuffs from objects found on the beaches of Bali. Gwyneth Paltrow and all the Victoria's Angels are already huge fans!
When two friends decided to make swimwear from rubbish including discarded fishing line, carpet fluff and plastic bottles, a beautiful idea was born: Koru Swimwear. Given the essential role upcycling plays in the business, it's rather appropriate that the word Koru means "new growth, strength and peace" in Maori. The brand also uses only bulk dyed fabric processed without water waste or pollution, ensuring the oceans are kept as pristine as possible.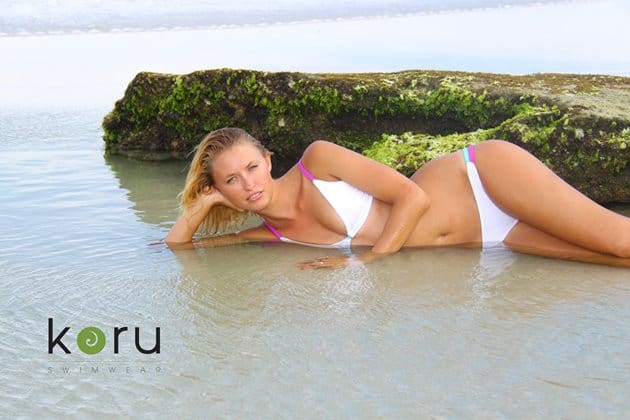 According to their website, Aqua Green's mission is to demonstrate leadership in style whilst providing fashionable, excellent quality and planet friendly products for the conscious consumer. There can be little doubt that this mission has been fully accomplished, as evidenced by the Eco Swim sustainable-minded swimwear collection. All items are made in America, from recycled nylons and other ecofriendly materials and technologies.
Manakai Swimwear is Maui's first high-fashion, low-impact, made-in-America swimwear brand created from regenerated nylon . Their newest collection uses an eco-friendly techno fabric made with ECONYL ®, a 100% regenerated nylon fibre made from fishnets and other waste that is polluting the maritime world. What we love even more is that each swimsuit is actually TWO – just turn it inside-out and you have a whole new outfit!
Aguaclara is the result of a sibling venture. Peruvian sibs Jorge and Liliana Villalobos initially conceived the business as a small small manufacturing workshop, creating custom-made pieces from sustainable fabrics. But after almost 20 years,  it's turned out to be one of the world's leading brands of eco-swimwear, due to its unique fabrics, flattering cuts and interesting embellishments.
Latinas know from sexy swimwear, and La Isla is just that–an eco-friendly brand that's all about sunshine, sexiness and sustainability. This  Colombian made swimwear is so sexy, in fact, it was just featured in the famous Sports Illustrated sportswear issue. Each piece is produced ethically through fair trade standards, and La Isla supports many environmental and social charitable organisations such as Children of the Americas and Jean-Michel Cousteau's Ocean Futures Society.
Vitamin A produces swimwear that can best be described as the water-ready equivalent of Audrey Hepburn's classic Little Black Dress. In fact, the brand has created what it calls the "Little Black Bikini". This is no ordinary swimsuit: its seams lie flat against the skin, avoiding unsightly bulges and 'elastic tattoos.' This fabulous eco-glam item is made out of an innovative superfine matte jersey made with recycled nylon fibres, making every holiday even better than a Roman Holiday!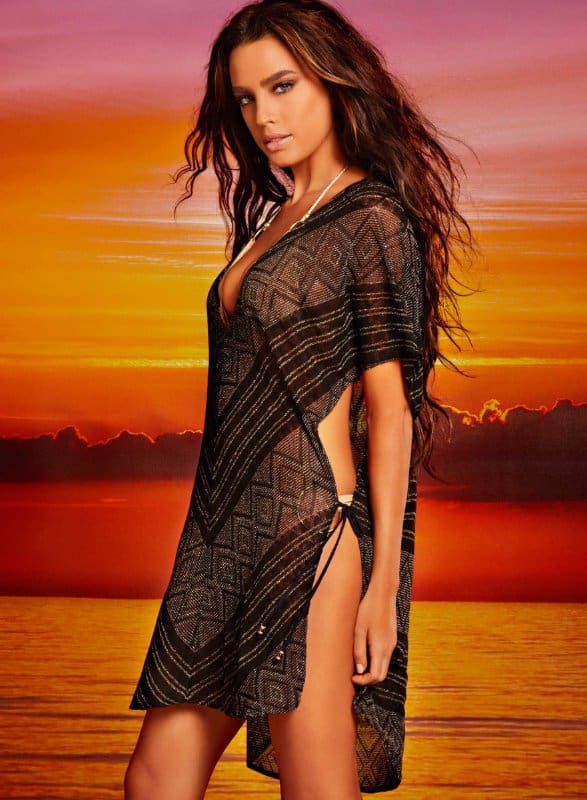 Summerlove is a brand that was born in and inspired by the easygoing beach culture of  California. Designer Vanessa Rivers is adamant about spreading awareness of environmental issues, and uses VITA, a sustainable techno-fabric made with eco-nylon, to produce her collections. This 100% regenerated polyamide fibre is made from pre- and post-consumer materials such as fishing nets, carpet floss, and other waste diverted from landfills–but the sexy, side-tied styles they result in are far from rubbish! In fact, so flattering are SL's styles, they use their customers as their models. Don't believe us? Check out each model, below: they're real people like you and me…but maybe a bit curvier. And with better swimwear!
These soft, hemp bikinis are meant the free spirit who's a bit of a hippy chick. They're perfect for dozing in the sun, splashing in the waves and walking outside, surrounded by nature.  Designer-in-Chief Jane Ellerington conceived her brand with the goal of merging her passion for creating clothing and conscious living. Her collections all use low impact dyes and natural fabrics and are targeted for those wandering souls who love the seaside and wish to pay tribute to it with sustainable living. Unlike plastic or petrol based fabrics, Yan Love Experience's garments won't hurt your health in any way. Want one of these babies? Head to @theyanloveexperience on Insta and order away!
Bare Beach is an eco-friendly swimwear, co-founded by Rachel Power. This extraordinary brand came up with the idea of recycling plastic bottles and transforming them into fashionable swimsuits that glorify the female silhouette. Bare Beach is a Peta approved brand, made in the USA and it enhances all female silhouettes. The eco-conscious label is making a difference in the marine world, where waste — especially plastic — get dumped on a day to day basis. Also the shipping by Bare Beach is eco-friendly, since the packaging of the swimwear uses EcoEnclose, produced  from 100% recycled content.
This site uses affiliate links with brands we trust, and if you make a purchase using a link, we may receive a commission.
Did you enjoy this post? Want to show your gratitude? Please support us on Patreon!