By Chiara Spagnoli Gabardi
The latest summer trend this year is, thankfully, a rather ecological one: straw bags! They're simple, chic, and made from biodegradable materials, so all good. The only thing is: it's surprisingly tough to find one without a leather strap or leather detailing, which is a bummer for we vegans craving to rock this style.
I had to dig around a bit, but I managed to find 12 of the cutest little all vegan basket bags for summer. There's definitely at least one here you'll love!
Cult Gaia's 'Ark' bag soared to stardom last year when it launched, thanks to the popularity it gained with social media influencers. Ever since, the brand keeps reinventing some traits of this handbag to keep the design fresh and surprising. The bamboo semi-circled shape is a classic, and inside the bag is spacious to store all your essentials.
Planning a summer holiday to an Italian beach? This is the perfect tote! But the Jacksons don't stop there: you can choose from all kinds of cheeky embroidered messages on their jute bags, from Merci and Just Married to a cartoon poodle or French bulldog.
The epitome of sun-soaked style, a woven straw bag is a light, seasonal substitute for your classic leather carryall. Whether you're complementing your weekend wardrobe with stylish ease or adding just a touch of texture to your most elevated look, this ornately woven basket is essential for the sunniest of seasons.
Kayu's bags are all handcrafted by artisans who use traditional techniques, that have been passed down from one generation to the next. The most popular style this year is the mini Lolita, which is woven from straw and trimmed with piñata-inspired fringing. This sweet little bag comes in beige and navy, and has practical drawstring top that you can pull tight when you are at the beach, to keep all your belongings sand-free.
Woven from natural palm fronds, this Sara bag is softer to touch than most straw bags, and is just big enough to fit everything you need for the summer: a bottle of water, phone, book, keys and sunscreen.
Prefer your basket bag colourful rather than beige? The Rona tote bag by Ulla Johnson is made with a natural straw fibre handle and sophisticated bead finishings. It's entirely handmade, using unique processes to form a sturdy silhouette. Besides being an elegant accessory to have, it is also a practical one, as it is fully lined in canvas and features internal pockets, so you can keep all your essentials safe.
Caba straw and printed cotton canvas are the main elements of Muun's Casa chic basket tote. This spacious, light and refined bag is the perfect fit both for casual beachwear and a fancy night out on the town. The durable straw comes with a printed cotton-canvas pouch that can be used as a lining or removed entirely for a more streamlined look.
We instantly fell in love with this piece of woven, wearable art! Arteli's pieces represent sustainability, ethics, respect, and style all harmoniously woven into breathtaking handbags. Their Canasto bag is the perfect fun summer accessory, with its beautiful flowers and Colombian palm leaf base.
This Noosa Bag by Ellen and James is big enough to carry around all your essentials, and how cute is that little white pom pom? Every piece is handmade so rejoice if you notice some slight variations between the bags, this just means yours is 100% one-of-a-kind!
10. 
How adorable is this design? Made from a combination of straw, raffia and linen, it features the very tropical them of toucans! Topped with a colourful tassel, this straw bag will look super summery slung across your body, no matter what your outfit.
This simple, clean lined and classically chic Morocco Straw Basket Bag is the ultimate summer accessory that can serve for multiple circumstances. The hand woven purse looks elegant with any summer dress, and comes with short handles and an inside drawstring bag with one pocket.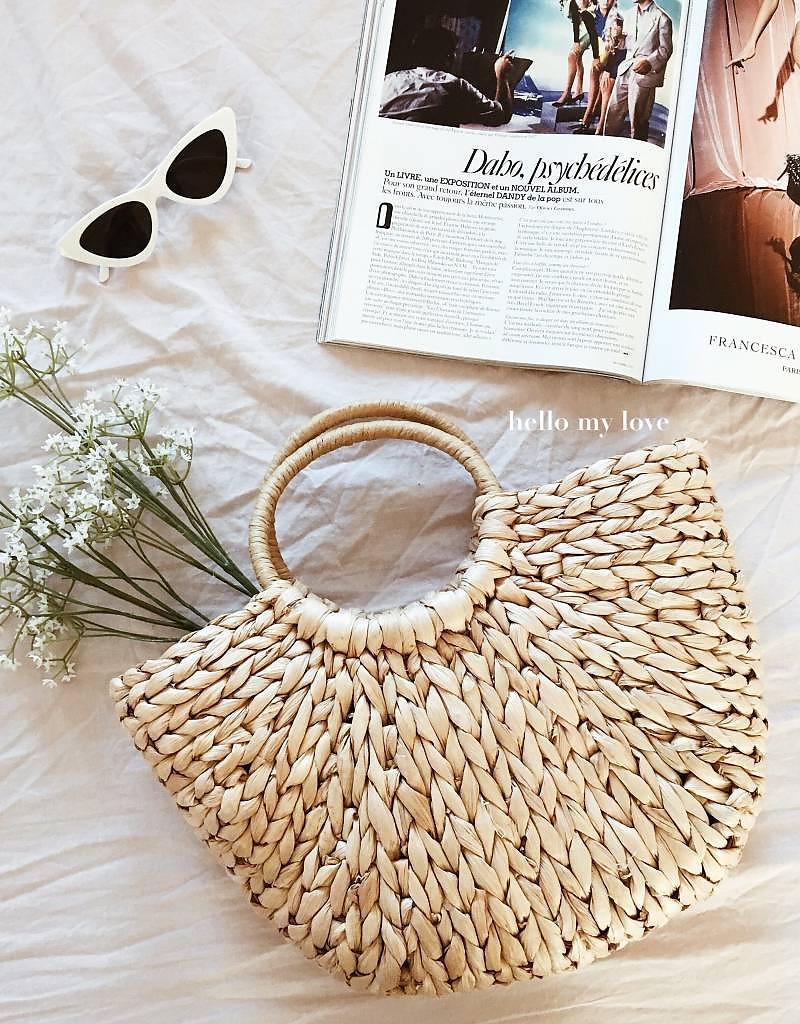 Whether you're complementing your weekend wardrobe or adding just a touch of texture to your most elevated look, this cute circular tote is perfect for the sunniest of seasons – and you can feel good about buying it, too, since artisans in the Philippines are fairly paid to weave each bag, thus helping to promote and protect the legacy of Manila craftsmanship.
Adorable! This sweet little Frutta pouch was ethically made in the Philippines by Kayu. It includes raffia watermelon themed embroidery and tassel, shell embellishments and an optional chain strap to keep it safe on your wrist.
The circular shape of Muuñ's 'Rosa' bag will look so pretty with all your summer dresses. It's hand-woven from durable Napier grass straw using traditional Ghanaian weaving techniques and framed by a thick black grosgrain band. The cotton-canvas pouch that sits inside is removable and the strap can be tucked away.
Inspired by the transformative effects of beautiful fabrics, Colombian designer Johanna Ortiz creates ethically made clothing and bag collections that reflect her native culture, with their feminine ruffles and Boho chic flare.
Thick, recycled cotton rope is given a new life by this innovative brand! We love the cheery, canary yellow shade, but this bag comes in a more practical black, too.
Main image: Aranaz
This site uses affiliate links with brands we trust, and if you make a purchase using a link, we may receive a commission.
Did you enjoy this post? Want to show your gratitude? Please support us on Patreon!