These sweet vegan straw bags are an eternally chic summer style that will be in your wardrobe for decades!
By Chiara Spagnoli Gabardi
Styles may come and go. But one trend that never seems to fail when the weather heats up is that of vegan straw bags.
And no wonder! They're simple, they're chic, and they're made from biodegradable materials, so all good. Sporting one of these hanging from the crook of my elbow always makes me feel a bit like Audrey Hepburn in Roman Holiday.
Of course, they come in all shapes and sizes. And they suit all kinds of situations, from cocktails on roof terraces and exotic beach holidays to veggie shopping at the market.
The only thing is: it's surprisingly tough to find one without a leather strap or leather detailing. Which is a bummer for we vegans craving to rock this style!
I had to dig around a bit, but I managed to find some of the cutest all-vegan straw bags for summer 2023.
Whether you're after a beachy tote, a chic clutch, or a highly Instagrammable clutch, you'll definitely find one of the best vegan straw bags for you, here below.
Image below: Cult Gaia Bamboo Ark Mini Top Handle Bag.
The Best Vegan Straw Bags For Summer
Cult Gaia's 'Ark' bag soared to stardom as soon as it launched, thanks to the popularity it gained with social media influencers. Ever since, the brand has kept evolving its handbags into innovative, organic shapes.
One of our favourite vegan straw bags for summer is their Naima Tote Bag. It's hand woven from natural grass fibers and features a straw base with feet. A brass chain trims the open silhouette finishing off as the handle.
Perfect for holidays at the most elegant resorts!
Price: $300
Planning a summer holiday to an Italian beach? This is the perfect tote! 'Ciao' of course means both 'hello' and 'goodbye'. But the Jacksons don't stop with that message: you can choose from all kinds of cheeky, embroidered words on their jute bags, from 'Merci' and 'Just Married' to 'Smile'.
There's also a an adorable cartoon poodle or French bulldog bag for all the animal lovers out there.
Price: $90
The epitome of sun-soaked style, this mini bag, made from black rattan, can be dressed up or down. Whether you're complimenting your weekend wardrobe with stylish ease or adding just a touch of texture to your most elevated look, this ornately woven basket is essential for the sunniest of seasons.
It's just big enough for your 'going out' essentials: phone, lippy, keys, cards. Why not tie a scarf around the handle to give it a more personalised touch?
Price: $161
Who says the best straw vegan bags are always totes? This sweet satchel proves otherwise! And its eco-credentials are impeccable.
Working directly with artisans in Bali to create unique, hand-woven and hand-crafted accessories that have history and meaning, Stelar is re-imagining indigenous skills that have been passed down from generation to generation. The intention of the brand is to create long-term positive impact and sustainable livelihoods within the communities that most rely upon them.
Price: $225
This simple, clean lined and classically chic Morocco Straw Basket Bag is the ultimate summer accessory! It can serve in multiple circumstances. For example? The hand woven purse looks elegant with any summer dress in the city. But it could also be a beach bag. Or even a shopping tote!
It comes with short handles and an inside drawstring bag with one pocket.
Price: $30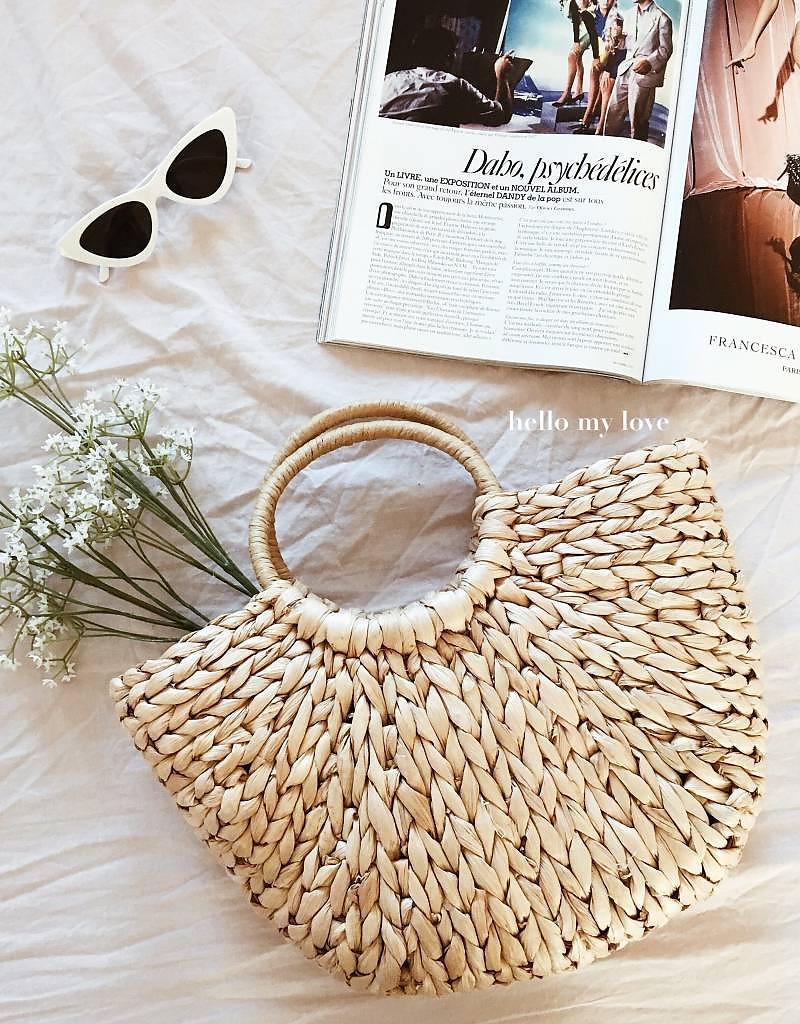 This is one of my favourite vegan straw bags for summer. Why? Because it's two accessories in one!
It comes with an exclusive floral scarf. You can remove it, and tie it around your neck or as a ribbon in your hair for versatile styling options. Plus, the bag was handmade from all-natural woven straw using a traditional Filipino basketweaving technique.
Price: $80
I think this is my favourite of all the vegan basket bags for summer! Made of natural raffia with a navy striped detail, it's slightly oversized, carrying everything from sunblock to sandals.
I would have thought this was just a 'beach bag'. But when I saw someone in the street pairing a similar bag with an office outfit, my mind completely changed. This will be my go-to summer bag for all occasions!
Price: $171
This vegan bag boasts a touch of glam, thanks to its glittery silver (or gold, you choose!) strap. The brand's carefully sourced fabrics and prints channel a fun and youthful vibe into a fashion forward collection.
And best of all? At just $49, this is one of those straw bags for summer anyone can afford!
Price: $49
Looking for the perfect straw vegan clutch bag? Look no further!
This envelope shaped number will go with everything in your closet, from little black dresses and heeled sandals, to jeans and sneakers. We love the embroidered flowers that give this bag a very special, artisanal touch. And since it's under $50, that makes it one of the most affordable straw bags on our list!
Price: $49
No matter where you're going this summer, the Grace Bag wants to come with you! It's ideal for the city, beach, or market.
The Grace shape is the perfect clutch for summer lunches or elegant evenings. It was meticulously hand-crocheted by women artisans. The crochet lies atop natural straw fabric, and it's all topped off with a brass seashell. Simply twist the shell to open the bag
Price: $295
Which is your favourite straw vegan bag here? Let us know in the comments, below!
Main image: Aranaz
Latest posts by Chiara Spagnoli Gabardi
(see all)