These ethical fashion brands loved by A listers will surely be on your lust list soon, too!
By Chiara Spagnoli Gabardi
The age of sustainability has finally transformed red carpets into green carpets. Today, it is difficult not to find a celebrity who's flaunting their green cred by donning Fairtrade gold jewellery, a chic vegan handbag, or an ethically made dress at a gala ceremony.
This was initially made possible thanks to the efforts of Livia Firth, at EcoAge. The wife of British actor Colin Firth and a strong eco-advocate, Livia worked with top couture designers to encourage them to create gowns in upcycled, recycled or biodegradable fabrics for A-list celebrities. It seems some of the stars were impressed, and took sustainable fashion on board in their real lives, too!
Of course, it helps that there are increasing numbers of sustainable luxury brands entering the fashion market, impressing even the pickiest of fashionistas with their beautiful designs. Here below are just a few of the ethical fashion brands loved by A listers. Do you know of any we missed?
10+ Ethical Fashion Brands Loved by A Listers
This is probably one of the best known ethical fashion brands loved by A listers. Thanks once again to the nudges of Livia Firth, this prestigious jewellery brand has begun to use mainly Fairtrade gold, ethically sourced gems and Kimberley Process certified diamonds to create their stunning pieces.
The result? Conscious celebs from Cate Blanchett, Marion Cotillard and Emma Watson have been proudly displaying Chopard's jewellery on the red carpet, and most recently, Rihanna even designed an ethically-sourced collection, inspired by her homeland, Barbados.
Image: Chopard
There are countless famous owners of Matt and Nat handbags, such as Natalie Portman, Sir Paul McCartney, Olivia Wilde and Adrian Grenier. And why? This vegan brand is loved for the way it recycles plastic bottles (they're used to line the bags) and avoids any animal products in the creation of their accessories, which includes not only bags, but shoes, belts and wallets, too.
Image: Matt and Nat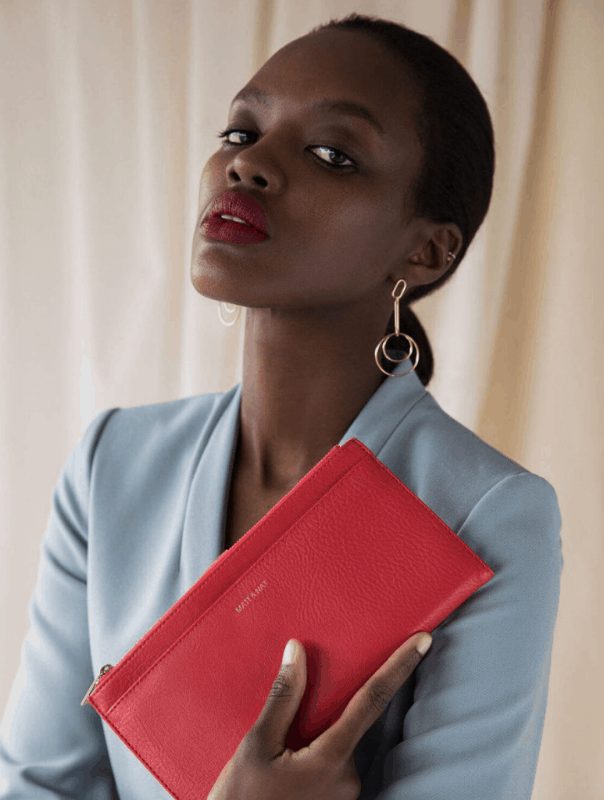 Kate Hudson, Gwyneth Paltrow and model Natalia Vodianova are all friends with Stella McCartney, it's true. But it's not only out of loyalty that these fellow A-listers wear Ms McCartney's creations – they also share her love of sustainability, too. One of our favourite looks by the vegan designer has got to be this white ensemble, worn by Amal Alamuddin-Clooney prior to her wedding to gorgeous George.
Image: Getty
Eco-chic label Amour Vert has conquered a strong celebrity fan base that includes Blake Lively, Olivia Palermo, and Dylan Penn. All of these stars adore the simple, French-girl chic of the label, which incorporates all natural and organic materials into their casual, everyday-wear designs.
Image: Olivia Palermo Instagram
This Los Angeles based brand is one of the best known of all the ethical fashion brands loved by A listers. It has long been one of Eluxe's favourites for its use of dead stock, recycled and natural materials, as well as for its easy, breezy, Cali style. No wonder Karlie Kloss, Emily Ratajkowski and Vanessa Hudgens – who wore one of the label's famous maxi-dresses whilst shopping in Beverly Hills – are fans.
Click here for image credit
Meryl Streep does it. Ashton Kutcher loves it. Apparently Charlize Theron even does it at work. Yep, we're talking knitting! We Are Knitters is the European DIY label that allows you to create your own garments with their knitting and crocheting kits. Yarns are always made from non-synthetic materials like Pima cotton or alpaca wool, and we love that the label collabs frequently with celebrity knitting lovers, like Krysten Ritter, who created several patterns for the brand.
Image: We Are Knitters
Luxury vegan accessories brand Jill Milan is no stranger to the red carpet, since a variety of celebrities have taken their bags to gala events. Anne Hathaway, Kerry Washington, Eva Longoria, Jennifer Lawrence and Carrie Underwood are just a few who have flaunted these beautiful handbags at film premieres, awards ceremonies and even Presidential Inaugurations.
Image: Jill Milan
Pop sensation Britney Spears is a fond fan of the vegan leather handbag brand Melie Bianco. This label is exemplary in the way it's cruelty-free and animal friendly, choosing to use PU material instead of dead animals. PU has a lower ecological footprint than leather, yet has the same look and feel, as you can see from Britney's Melie Bianco tote, below.
Image: FameFlyNet
One of the most sustainable and ethical fashion brands loved by A listers is British label People Tree. This casual brand has been a favourite with many a conscious celebrity – but especially Emma Watson, who designed a collection for the label.
People Tree began as a clothing catalog which featured hand woven and natural dyed fashion items made by women from Bangladesh, and eventually expanded to become the eco-friendly and ethical clothing empire that it is today. They always work with Fairtrade certified producers to create garments made from natural materials that are meant to last for decades.
Image: People Tree
Gunas was launched in 2009 by designer and animal lover Sugandh G. Agrawal, who wanted to create a super-stylish, cruelty-free bag brand in New York City. Her mission was accomplished both in terms of sustainability and style, attracting a celebrity clientele around the world, including Fergie, Natalia Imbruglia and Australian songwriter, actress and model Sophie Monk, pictured below.
Image: Gunas
The ethical, New York based brand is well known for its modern luxurious designs, which include dresses, pants and shirts infused with the heritage of the world's master artisans.
The brand is deeply committed to forging partnerships that promote business growth in global economies, reviving ancient techniques like Javanese Batik, preserving the hand-operated jacquard loom for silks, sourcing the finest cashmere from nomadic herders in Mongolia and promoting sustainable employment. No wonder Reese Witherspoon, wearing Maiyet below, is a fan.
Image credit here.
One of our new favourite brands, Amur is fast becoming a favourite with A-listers around the world, including Demi Moore, Elizabeth Hurley and Olivia Palermo, amongst others. Made from natural fabrics like organic cotton, silk, linen and hemp, the brand is well known for its frills and draping – the latter is mainly thanks to a cellulosic fabric called cupro, which is made with leftover linter from cotton production. Recycled plastic water bottles are spun into fibre and used to make Amur's lace, satins and other trims.
Image: Elizabeth Hurley Instagram
Originally a producer of luxury scarves, Norwegian brand Holzweiler's designs exploded in popularity, encouraging the label to expand into men and women's clothing. Today, their collections pay close attention to sustainability by using exquisite, high-quality natural materials, creating playful basics and blending progressive ideas with classic ideals.
Holzweiler collections also incorporate many collaborations with contemporary artists from around the world, making them a favourite with celebrities like Gigi Hadid and many more.
Image above: Flameflynet pictures
Latest posts by Chiara Spagnoli Gabardi
(see all)