By Diane Small
Johanna Riplinger is a fashionable woman of the world who also wants to save the world through fashion. German born, American by nationality, Parisian by choice, the designer currently enjoys working in the City of Light, where she designs gorgeously feminine collections from organic materials.
Her eponymous label  combines ecological sustainability and sustainable labour practices with luxurious high fashion to create clothing that appeals to women as cosmopolitan as she is. Launched at Berlin Fashion Week in  2013, the label perfectly combines Johanna's  German work ethic with her acquired  French "art de vivre" with  some practical American business sense thrown in.
Like one of our favourite textile dyers, Cara Marie Piazza, Riplinger uses only natural and herbal dyes derived from  natural plants including dried flower petals collected from Indian temples, where these flowers had been given as offerings. The story of this journey of flowers from the fields, passing through the hands of devotees via the solemn and peaceful realm of temples to the talented craftsmen and women, is told silently with each one of the rare and unique  pieces in her collections.
Colouring textiles in this his way ensures that the water preserves its original purity, and contributes to healthy living for everyone involved in the process from the dyers, artisans and tailors to the final owner, the woman wearing the styles.  This respectful procedure throughout all the steps of production makes the entire lifecycle of each item in the collection sustainable and represents a significant symbolic difference in a highly polluting industry – not to mention a unique beauty in the increasingly homogenous, big business-dominated world of fashion.
Putting such effort into the production process takes time: the fabric, pleated to dye, meter by meter, creates unique colouration effects and patterns, reminiscent of  the delicacy and  diversity of rare flora species. All materials used are also naturally derived: silk, linen and organic cotton. The cut and tailoring of each style is intended to flatter a woman's feminine silhouette, embracing her the way she is and underpinning her sense of esteem and empowerment.
The natural beauty of Riplinger's clothing is perfectly captured by the lens of Sarah Dulay's camera. Her shoot of Riplinger's clothing, along with eco friendly accessories by Royal Blush and jewellery by Jasmina Jovy, portrays the model as being completely in harmony with – even complimenting – the surrounding natural beauty of the Cape Town bush.
CREDITS
Photography Background : katebackdrop
Hair/Makeup: NewHairLine
Model: Jasmina, Base Model Management Cape Town  
Human Hair Wigs: addcolo
Eco  Accessories: Royal Blush by Jana Keller
bridesamaid dresses: luckymaids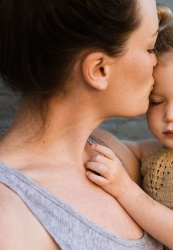 Latest posts by Diane Small
(see all)