Whether you're plagued by a gluten intolerance or not, these gluten free vegan recipes will make you love food again!
By Lora O'Brien
Gluten free vegan recipes are more necessary now than ever. And that's because gluten intolerance is more common now than ever.
Not too long ago, people were suffering painful stomach upsets without ever really knowing the root cause. They'd get cramps, bloating, spend a lot of time in the loo, and could even suffer from skin disorders, headaches and other malaise, without understanding why.
Today, it has been estimated that a whopping 99% of the people suffering from either a gluten intolerance or celiac disease are never diagnosed as such. But it's official: gluten intolerance is a growing problem.
No one is sure why, but it's been said that GMO foods may have something to do with it. In any case, with gluten being hidden in so many things, it's essential for those who are intolerant to ensure they stay feeling well by avoiding it whenever possible. But given the fact that there are so many people who are actually gluten intolerant and don't know it, it may be a good idea for anyone who doesn't feel optimally healthy to try going gluten free for awhile.
Expert Advice On Gluten Intolerance
We spoke with Ed Gaynor, a doctor for Bupa UK, who shared his advice on the best ways to manage food intolerances and what to do when they flare up.
First up, what is gluten?
Gluten is a protein found in many grains such as wheat, semolina, spelt, kamut, rye and barley. Oats do not inherently contain gluten, however due to cross-contamination in the processing methods, it should be assumed that oats contain gluten unless purchased as certified gluten-free.
It is often hidden under names such as hydrolysed vegetable protein, modified food starch or vegetable protein.
Gluten is also used as a stabilising agent in many packaged and processed foods such as salad dressings and mayonnaise.  It's in beauty products, makeup, shampoo, lotions, medications and supplements.
What's the difference between an allergy and intolerance?
There's a lot of confusion about the difference between these two things. An intolerance can be just as disruptive to your everyday life as an allergy. Symptoms usually appear after you've eaten a certain food and in some cases, they can come on hours after eating. This can make it much harder to work out if the symptoms you're experiencing are being caused by a particular food, or by something else, like stress or anxiety.
A food allergy is slightly different. Your immune system reacts to a particular food, and you may experience mild or severe symptoms. These may include a swelling of your lips, mouth and face and various parts of your body can be affected.
How are food intolerances diagnosed?
Diagnosing a food intolerance can be challenging! It can't be diagnosed like a traditional food allergy by a blood test or skin-prick test. Your doctor may ask you to complete a food and symptom diary. Once potential foods are identified, a dietician can help you remove these from your diet for at least 6-8 weeks to see if your symptoms improve. If there is no improvement, your doctor will re-assess if they think food intolerance is responsible for the symptoms you're experiencing. Alternatively, if your symptoms don't ease up, you may be able to re-introduce the foods into your diet.
Who's more likely to suffer from gluten intolerance and IBS?
Younger people and women are more likely to suffer from IBS. In the United States, for example, there is a 2:1 ratio between women and men. The reason for this is currently unknown.
Is there anything we can do to prevent symptoms from flaring up?
There is no single, best-prevention strategy. But there are a number of things that you can try. If one doesn't work, then try another or combine with a strategy to tackle stress or anxiety. It can often be helpful to involve your GP or a dietitian with this. Here are some things you can try:
1. Make changes to your diet
If your main symptom is bloating and excessive gas, try reducing 'gas producing' foods. Some of these include beans, onions, celery, carrots, raisins, bananas, apricots, prunes, sprouts, wheat, alcohol and caffeine. If you're still experiencing bloating after reducing or removing these foods, going lactose-free may help. Lactose is found in all animal milks. There's now a wide range of alternatives you can try such as soya, almond and rice milk.
If pain is your main symptom, I'd recommend trying a low FODMAP diet. FODMAPS are a group of carbohydrates that are rapidly digested and poorly absorbed in the gut, which can lead to a build-up of gas (wind). Adopting a low FODMAP diet has been shown to help those with IBS. I'd suggest speaking with your GP before starting.
Other strategies such as removing gluten (wheat) from your diet, or gradually increasing dietary fibre can also be helpful for some people.
2. Identify if and why you're stressed
Stress and anxiety can be both a cause of IBS and make your symptoms worse. You should try and identify the source of your stress or anxiety and get plenty of rest. Sometimes behavioural cognitive therapy can help as well.
There are many ways to deal with stress – all of which are very personal to those affected. Try to identify what thoughts or actions lead you to feel stressed or anxious. For example, if you're worrying about not completing tasks at work on time, think of strategies to reduce these stressful thoughts or actions. Work with your boss to give you enough time and resources to complete any task set and keep them in the loop if you might not be able to meet the deadline.
You should also make sure you have a good work-life balance and get enough sleep. Recognising that you can't always control how your body feels is essential to living a healty lifestyle.
3. Work out how your body responds
Gluten intolerance symptoms in most cases can be controlled or reduced, but not completely cured. If no cause has been found for your symptoms, you should try to find strategies to help deal with your pain when it flares up.
Working out how your body and gut responds is important. If you find that certain food or drinks help, then use them early. Remember to continue living your life and get support from your friends, family and GP.
25 Gluten Free Vegan Recipes That May Surprise You
Luckily for us, many health bloggers and chefs have created a lot of gluten free vegan recipes that may surprise you. Whether you're after some hot pancakes drizzled with syrup and topped with berries for breakfast, or a gooey, cheesy quesadilla for dinner, or even homemade pasta, there are plenty of awesome recipes out there for living a happy, healthy, GF life!
Image below: Cream Carbonara Pasta with Shiitake Bacon. Get the gluten free vegan recipe here.
1. Chocolate Peanut Butter Chia Parfaits
If you like to start the day with something sweet, wake up to these gorgeous parfaits! They're packed with fruit ('nanas), protein (thanks to the PB) and antioxidants (the chia seeds). If you want to make this even healthier, replace the chocolate chips with cacao nibs
Get the recipe here.
2. Apple & Cinnamon Overnight Oats
Many people with gluten allergies suffer when it comes to oats, but oats are such a wholesome and filling breakfast you really don't want to miss out! Oats are naturally gluten free but it's more the cross contamination that can make them a problem, but it's easy to ensure your oats are gluten free with brands like Alara Organic so readily available.
Get the recipe here.
3. Vegan & Gluten Free Banana Pancakes
Make a stack of these oh so fluffy and delightful pancakes any day of the week and say hello to food porn. For real, you'll devour these. The blend of flours used are completely gluten free, so you won't suffer whilst eating these. And the fun part? Choosing your selection of toppings! Will it be syrup? Jam? Or just some 'nanas?
Get the recipe here.
4. Gluten Free French Toast Recipe
Ahhh French Toast! Warm pieces of bread, dipped in egg – or in this case, NOT – topped with flaked almonds, berries and maple syrup…are you salivating yet? Because I sure as heck am! This is a gorgeous, moist, gently sweet recipe that's perfect for brunch. And that strawberry sauce topping? Oh. My. Gosh!
Get the recipe here.
5. Lemon Chia Seed Granola
Granola is one of the simplest gluten free vegan recipes to make, but most of us tend to buy it because, well, laziness. But, it costs you a pretty penny, and that doesn't make sense when you just as easily make it at home. Prepare this in larger batches and store it in lock tight containers for the week ahead.
Get the recipe here.
6. Gluten Free Zucchini Bread
If you're not willing to give up on your morning toast, never fear: there are still ways to enjoy bread without suffering afterwards. This GF zucchini bread is so versatile! You can cut a slice of it and toast it with peanut butter and banana for breakfast, or enjoy a chunk with your soup or even smash some avocado over it.
Get the recipe here.
7. Creamy Cauliflower Soup
The healthiest way to consume soup that will make you feel great is to make your own gluten free vegan recipes. That way you're in full control over what goes into it, and there's no hidden nasties lurking within! And it's actually so easy to make, it's almost impossible to go wrong. This creamy dish by Bianca Zapatka is a real winner!
Get the recipe here.
8. Garlic & Chive Dinner Muffins
I don't know about you, but sometimes I just crave a delicious, warm muffin that is a little more savoury than it is sweet. The texture alone on these muffins is addictive; light, soft and super fluffy. You could eat these on their own or serve them as a side with stews and soup instead of the bland bread roll. That's if they stick around that long!
Get the recipe here.
9. Gluten Free Potato Pancakes
How fancy do these potato pancakes look? You could get away with serving these up to guests as a starter, and you won't have to worry about gluten allergies as these babies are 100% gluten free and vegan friendly. Make a heartier meal out of them and serve them alongside some salad and grilled tofu – yum!
Get the recipe here.
10. Gluten Free Tofu Egg Salad Sandwich
Sandwiches need not be a nightmare for those of you with gluten allergies. There are SO many available brands out there who sell GF bread, such as Biona and Cru8, but it's also super easy to make your own at home. And then you can make lots of these bomb 'egg' salad sarnies for everything from work lunches to picnics!
Get the recipe here.
11. Garlic Teff Croutons
Sometimes you just want to add a little texture to meals like salads and soup, and so these garlic teff croutons are going to be a life saver! Plus, they also provide a little protein and fibre boost.
Pairing them with a salad like this, which is a mix of sweet and savoury with the mango, avocado, raisins, tomatoes, chickpeas and lemony-tahini dressing, works perfectly.
Get the recipe  here.
12. Vegan Power Burger with Beet Slaw & Horseradish Sauce
How delicious does this look? The slightly sleet beetroot slaw and tangy horseradish sauce take it to the next level. Crunchy ribbons of cucumber add a delightful crispness, and for real, this burger will be the best damn thing you've tried for a while.
Whilst the buns are gluten free, you could wrap them in lettuce cups if you'd prefer to ditch the starch.
Get the recipe here.
13. Leek & Asparagus Quiche
It can be tricky finding a pastry that's gluten free, and if you've ever tried making your own then you'll know it can be at times a tricky process to nail. So aren't you overjoyed you've found this recipe?!
The pastry crust is made from gluten free flour and oats, and then all kinds of veggie goodies go inside. You could make this for dinner and serve with salad, but it will also store well so you can take it to work the next day.
Get the recipe here.
14. Gluten Free Popcorn Tofu
Similar to popcorn chicken (ew) these tofu bites are coated in a delicious gluten free breadcrumb mix and then baked to perfection. What makes these even more delish is the tangy dip recipe that goes alongside these golden bites!
Get the recipe here.
15. Basil Jalapeno Corn Fritters
I just LOVE corn fritters. They're simply delicious, and who doesn't crave the crisp and fresh taste of corn? This is another one of my fave gluten free vegan recipes.
These fritters have a little bite thanks to the jalapenos, and they work so well with the basil and black pepper. Serve these with some salad, the condiments of your choice and you've got one heck of a meal! (just make sure that corn isn't GMO, obvs).
Get the recipe here.
16. Gluten Free Vegan Cauliflower Pizza
Yes, you CAN enjoy pizza without gluten, thanks to the miracle that is cauliflower! I know what you're thinking: it's not the same as regular pizza dough. And to an extent, that's true. If you like your pizza all puffy and 'Chicago style' – this may not be for you. But if you're a fan of the crispier, more authentic Italian style base, you're gonna love this! Use whatever toppings you love, alongside this vegan Parmesan 'cheese' recipe.
Get the recipe here.
17. Butternut Squash Black Bean Enchiladas
Cha cha cha! These GF enchiladas are packed with roasted butternut squash and black beans and are then seasoned with dry spices and smoky sauce. After baking, they're crisp on the edges, whilst being tender on the inside. The best part? This whole recipe has just 10 ingredients.
Get the recipe here.
18. Gluten Free Ravioli
This may be one of the most surprising gluten free vegan recipes. But yes, you CAN impress your friends by making your own GF ravioli! It's easier than you think, and you can fill these babies up with anything from hummus to sauteed mushrooms and onions….in fact, the possibilities are endless!
Get the recipe here.
19. Vietnamese Spring Rolls With Tofu
Confession: this is my favourite of all the gluten free vegan recipes here! These are easy to make, full of nutrition, and come with some very more-ish sauces! Spring rolls are the perfect lunch go-to: and if you're craving something a bit heavier, you can deep fry these if you wish.
Get the recipe here.
20.
Quinoa & Butternut Squash Cakes
If you're a vegan it's sometimes hard to find meat-free alternatives at summer events like BBQs.  Coupled with the need to eat GF, eating out with friends can be really difficult, if not downright impossible. So why not make your own 'burgers' and take them along?
These quinoa and butternut squash cakes from Simply Quinoa look like a burger and will be filling either on their own or inside a GF bun. My top tip? Make a nice vegan mayo to dip these in!
Get the recipe here.
21. Infinite Zest Cookies
Lemon is such a wonderful, refreshing flavour and so it makes the perfect counter-tartness to any sweet treat. These zesty biscuits will become a household staple – they're THAT good, trust me! My favourite way to eat them? Dunked in a cup of Earl Grey.
Get the recipe  here.
22. Baked Banana Bread Almond Donuts
Who doesn't love banana bread? Sweet bananas and crunchy nuts – hell to the yes! This recipe is not only gluten free, it's also made only with whole food ingredients – no refined sugars or other nasty stuff, so they're pretty good for you as desserts go. Of course, everything in moderation, but I'm about to go make and eat three of these guys.
Get the recipe here.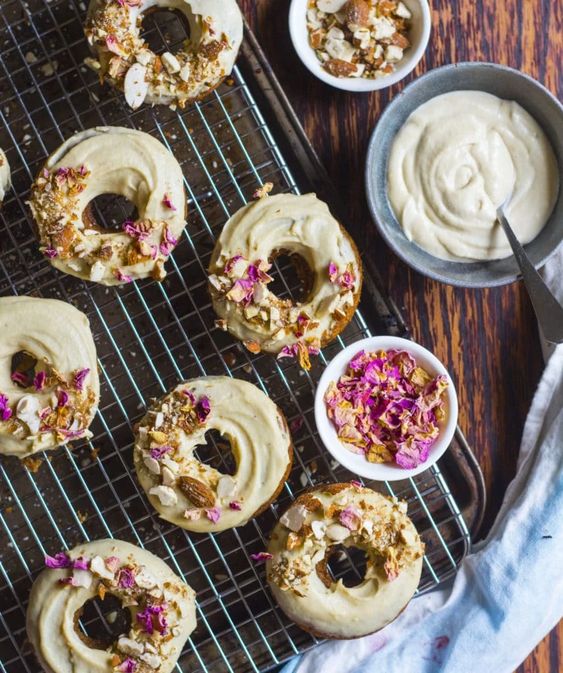 23. Maple Oat Mixed Berry Crisp
With summer slowly coming to an end, it's the perfect time to use up those ripe berries and turn them into a delicious dessert. This maple oat berry crispy combines the juice of your berries and naturally sweetens it with a little maple syrup before topping it with oats. It's super simple but tastes SUPER yum! Especially when it's hot.
Get the recipe  here.
24.
Gluten Free Vegan Brownies
These delicious bites will really have you convinced you're devouring something insanely bad for you, but rest assured these chocolate brownies are all good! Using a gluten free flour blend as well as almond meal, all sweetened with maple syrup, these will be a guaranteed household favourite!
Get the recipe here.
25.
Lemon & Pistachio Cake
If you're living a healthier life, green is a colour you're used to seeing. But in a cake? Rest assured, this cake is packing a serious punch in all the right ways. This recipe from Desserts With Benefits  is not only gluten free but sugar free, as well. So go have your cake and eat it, too!
Get the recipe here.
Latest posts by Lora O'Brien
(see all)