By Sophia Hussain
Experience absolute bliss with the help of the most gorgeous blooms  in the world! Did you know that using the rose–in the form of rose water, rose oil and even the petals from the flower – is a centuries-old beauty secret for achieving ethereal glowing skin? Aiding skin cell regeneration, soothing dry or sensitive skin are just a few miracles this gorgeous flower can perform.
Women in North Africa, the Middle East, Asia, and Eastern Europe have been using roses for their anti-ageing, anti-inflammation and aromatherapy qualities throughout the ages, and now you can too, with these wonderful rose based beauty products – and they're all natural, of course!
Rose Fragrances
Ethereal and eternally romantic, the sophisticated, velvety scent of rose is imbued with wonderfully calming and uplifting properties. Hundreds of damask rose petals are blended here with organic rose geranium, organic cedarwood and pink pepper to create a beautifully subtle, natural scent.
Conjure up sultry Persian nights with this lush, exotic scent by Pacifica. Based on only natural ingredients, this light, soothing scent is classically feminine.
Rose Facial Care
This milky cleanser is designed for the most sensitive of skins. Just apply it all over your face, then wash off with a damp cloth or cotton ball. Removes all traces of makeup and leaves your skin refreshed, clean and smelling sweet.
Did you know that there are 30 rose blossoms in each tube of these creamy concoctions? Of course Dr. Hauschka Rose Day Cream quenches dry skin with  precious extracts of rose petals and wild rosehips, which help to balance the  skin and retain moisture. No wonder it's a firm favourite with the likes of Gwenyth Paltrow and Madonna.
Based on 100% pure organic rose water, this hydrating and toning facial mist is the perfect companion for a long flight, a hot day, or dry rooms in winter, when the radiators are on full blast!
A luxurious cream moisturiser packed full of organic goodness and created to rejuvenate, condition and protect the skin. The naturally active ingredients have all been carefully selected for their skin-kindness and include rosewater blended with damascena roses in jojoba oil, calendula in olive oil, sesame with carrot oil, vitamin E & rose essential oil. Trevarno Organic's intensely nourishing and natural moisturiser is perfectly suited for drier and more mature skins.
This rich blend of exquisite ingredients contains Indian rose to deeply hydrate the skin, and to restore balance. Boosted by 24k gold dust, this not only smells incredible, it's one of the most luxurious Ayurvedic creams in the market, and the gold tube looks lovely on the bathroom shelf!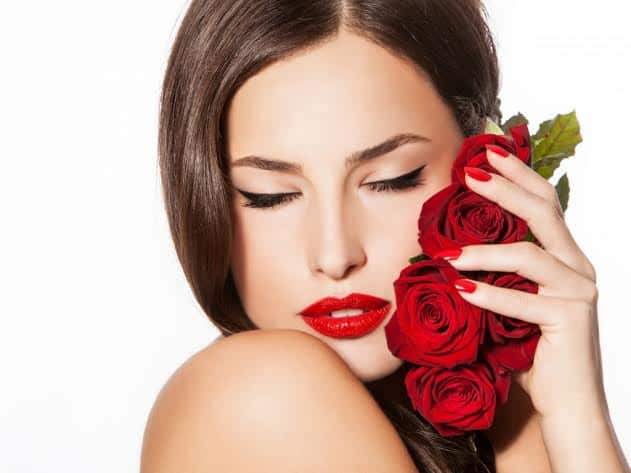 The Rose  Bath
Did you know that LUSH, famous for their bath bombs, actually uses a lot of mysterious, potentially toxic 'fragrance', as well as other artificial ingredients in their products? That's why you can smell them a mile away. GK Natural's bombs are more subtly perfumed, but are guaranteed to infuse your bath with 100% natural ingredients.
Cleopatra would have adored this luxury ritual! But any lady can create their own spa indulgence with these two versions to pamper your body to reveal soft firm skin. 1001 Roses Luxury Milk Bath by Shiffa contains 100 rose petals from rosa centifolia and rosa damascene for a euphoric experience.
Floral and fresh, this all natural, highly concentrated soap comes with a hint of sweetness. It's 100% vegan friendly and soothes and moisturises even the driest of skins. Soap doesn't get much gentler than this, and of course, whilst this may lather a bit, there's absolutely no nasty SLS!  
This rich oil goes right into the bath water, transforming your humble tub into a cauldron of heady aromatherapy. When you emerge, you smell like a garden in bloom! Moisturises and protects the skin, keeping it petal-soft, too. Ren is actually "loco for roses", and produces wonderful Moroccan Otto Rose Facial Wash, Body Wash, Body Cream and more. Absolutely free of harsh chemicals and rich with rosy fragrance, no wonder all of Ren's Rose based beauty products get 5/5 from many reviewers on Amazon–as well as a big thumbs up from Eluxe!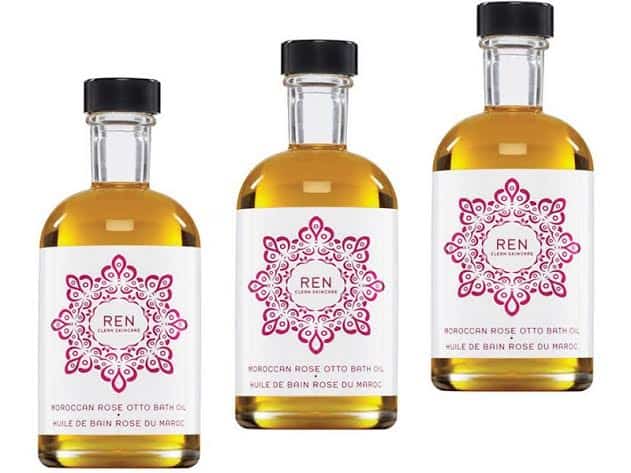 This French made brand uses only certified organic ingredients. The sea salt, ethically sourced from the Atlantic Ocean, removes dead skin cells whilst the natural rose oil scents and moisturises the skin.
This SLS free shampoo combines an aromatic essential oil with Dr Organic's blend of bioactive, natural and organic ingredients. The luxurious shampoo has been formulated to revitalise the hair and scalp whilst nourishing, cleansing and hydrating your hair's keratin fibres and follicles.
Rosy Body Care
Top natural brand Trinity's Rose Hand Cream is a best seller, and no wonder: it offers serious skin softness, soothed cuticles and even stronger nails, all with a soft rosy scent.
Weleda's  wild roses are grown organically in Germany and their rose absolute essential oil comes from Turkey. With three tonnes of rose petals in just  one litre of essential oil, that's a whole lot of floral goodness working hard to keep you whiff-free (and deliciously scented, too!)
Complete your soothing bathing ritual with the "scent of thousands of roses".  This Rose Body Lotion by Urtekram contains nourishing fine rose geranium oil for a relaxing nurturing experience.  Wellbeing meets extra care here, when you spoil your hands with almond and jojoba oil, shea butter and evening primrose oil, while the scent of thousands of roses surrounds you. Also, 25% of the total ingredients are from organic farming!
Non-branded images and main: Dr Hauschka
This site uses affiliate links with brands we trust, and if you make a purchase using a link, we may receive a commission.
Did you enjoy this post? Want to show your gratitude? Please support us on Patreon!