By Diane Small
I first discovered sustainable German fashion brand Farrah Floyd at a gym, of all things. She was being profiled in a documentary about sustainability in fashion on the German ARD channel, which was later internationally broadcasted on Fashion One TV. I was just channel surfing in a hotel gym treadmill when I heard the presenter mention the words 'zero waste' and when I saw the clothes, I nearly slid right off the machine. I was hooked!
Using only certified organic materials, Farrah Floyd is a Berlin based womenswear label that seriously cares about sustainability. The brand combines quality materials with quirky design to create pieces that are comfortable to wear, and anti-seasonal – meaning every collection is uniquely designed in a way that goes against passing trends and has a timeless, urban feeling to it. All of these American made pieces can also easily be mixed and matched with other items in your wardrobe.
The brains behind the brand isn't actually named Farrah Floyd – it's actually Bojana Draca, a young designer who has presented at industry events such as the Greenshowroom, Ethical Fashion Forum Brand Preview, and Milano Unica.
Trained in fashion and textile design and holding a Master's Degree in Sustainability in Fashion, Bojana combines interesting sartorial concepts with finely honed technical skills and sustainable design strategies to create the Farrah Floyd brand. Her latest collection, called the Savage Boulevard, offers a sophisticated study in texture, colour and form.
Linen tops frame the face with precisely cut corners; a vegan leather blouse is perforated with perfect cubes; cotton palazzo pants drape over velvet boots, black velvet makes multicoloured silk panels pop on a body hugging dress, and a sky blue ensemble is contrasted with cherry red accessories, for example.
Monochrome on the one hand, colourfully printed on the other, the new Farrah Floyd collection is like no one previous to it. The designer selected her favourite zero waste pieces to make a strong statement, with a resulting vibe that is elegant, urban, playful and just a little bit sassy.
 Besides having created seven collections, Bojana's professional achievements include receiving Bronze in the Creative Conscience Awards (2012) and she also placed in the semi-finals for the (Eluxe supported)
EcoChic Design Award
 in Hong Kong in 2013.
With her strong collections and zero waste techniques drawing increasing attention on her label, I'll bet that Bojana's Farrah Floyd will soon be one of the forerunners in the world of sustainable fashion.
For more information, please click here.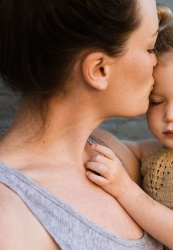 Latest posts by Diane Small
(see all)