By Charlie Ross
As the recent Couture Fashion Week in Paris proved once again, Haute Couture is a stunning example of how slow fashion will never lose its foothold in the industry. Haute Couture is the antithesis of fast-fashion; the unsustainable churning out of trends and products at a frightening rate. Instead, it reinvents the classics, placing emphasis on exceptional quality dressmaking methods to produce incredible, custom-fitted, high-end designs.
But this year saw a surprising shift in emphasis from one leading designer in particular: Karl Lagerfeld. His sustainable couture collection showcased not only exceptional, slow-fashion quality and craftsmanship, but designs created from more ecologically-sourced fabrics and trimmings too. And we can only hope where Lagerfeld leads, others will follow.
"Sustainable fashion shouldn't look like some sloppy, demonstration stuff," he said (rather ignorantly, given the plethora of amazing sustainable fashion, as shown often in Eluxe). And sloppy is certainly not a word you could use to describe anything Chanel. Yet here, set against a calm, natural oasis of cool grass, still water and a wooden pavilion were high fashion garments made from jute, hemp, cork, fused paper and cotton. Even the beading, sequins and jewellery were created from raffia, wood and straw. Dresses featured long capes and puffed sleeves. Layered and two-piece creations were popular for both day and eveningwear, with camisoles tucked into skirts and jackets over shirts. Accessories like cork wedge shoes and hemp bum-bags, were kept simple.
Above: Chanel SS16
The Dior collection was no less stylish, and also showcased a more back-to-nature feel. Classics, like the signature Dior jacket were updated with eco-evoking prints of honeybees, flowers and birds. Designs featured straight skirts and wide-legged trousers, with cropped jackets and stiff silhouettes that crafted a streamlined, simple look.
Equally attractive was George Hobeika's signature collections, featuring superior craftsmanship, with captivating floral embroidery and elegant details. Dainty pastel dresses and delicate fabrics brought liquidity and rhythm to the stage. This ethereal collection included both long and short hemlines, crop tops and pants with fine cuts, with each new piece as stunning as the last.
Above: Georges Hobeika SS 16
The renowned Haute Couture label Ralph and Russo featured creamy pastels in cràªpe, organza and lace in their collection. Off-the-shoulder necklines, flamboyant billowing sleeves and long trains were all seen on-stage, with tasteful embroidery enhancing the femininity of the garments. What I loved most about this selection was the drama of each dress; perfectly balanced with sensual and youthful vibes. The focus on techniques like hand-painting was evident, and wonderful to see.
Above: Ralph & Russo SS 16
Valentino, another Haute Couture favourite, enthralled with a goddess-inspired collection. Ethereal, Grecian-inspired models walked barefoot down the runway, wearing incredible serpentine headdresses and interesting foot jewellery. With most of the dresses being floor-length, the designers executed stunning craftsmanship with pleated, painted and even woven and knotted details on different fabrics like velvet. These exotic dresses incorporated timeless classic trends in mellow and sober colours, creating a fashion high point in the realm of Haute Couture.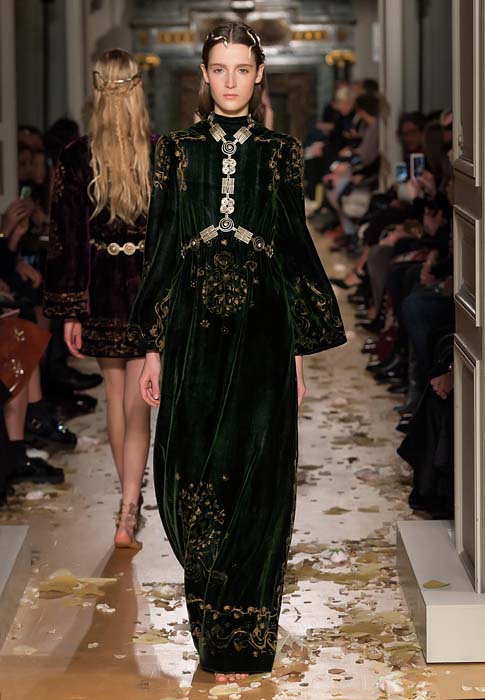 Above: Valentino SS 16
In an industry saturated with fast fashion trends, it was refreshing to see this fiery restoration of clever designs and techniques from bygone years. We know that fashion is a volatile industry, and that fast, mass-market fashion apparel can never compare with the classic and lasting beauty of slow fashion designs. And with designers like Karl Lagerfeld are looking at more sustainable options, others will too.
Responsible fashion should foster ecological and social integrity. As Lagerfeld says, "Sustainability is currently a fashion topic and an expression of our times," so it cannot be ignored. For too many influential people in this industry, eco-fashion is still considered a niche – and rather unfashionable – market, mainly because of the (erroneous) idea that it is expensive and not luxurious enough. However, the existing fast fashion trend cannot continue forever, as it isn't sustainable in terms of resources, raw materials or the labour involved.
Above: Details of Ralph & Russo's SS 16 collection
There are signs that the tide is turning. Aside from the ecological impacts of a product, there are a growing number of consumers who have begun to realise that fast-fashion garments are low-quality and quickly outdated. And since these clothes quickly make their way into landfill, the money spent on them is far from worth it. This realisation is prompting more and more conscientious customers to make wiser purchases: garments of superior quality, which have been made with honesty and integrity.
Haute Couture truly embodies slow fashion: quality over quantity, attention to detail, exacting dressmaking – beautiful results. When you combine this with eco-friendly fabrics and ideas, fashion giants like Dior and Chanel could produce a huge force for change in the fashion industry. And while the stunning and individual pieces produced by the couture houses are likely to remain out of the reach of the majority of us, an ethos of fabulous and responsibly sourced garments can be embraced by us all. Because when every designer – whether niche or mass-market adopts sustainable practices to create their collections, all these efforts become slow fashion. And that's good news for everyone.
About the writer: Charlie Ross is founder and director of Offset Warehouse. She sources the globe to develop the most beautiful, hand-crafted and fairly-sourced fabrics and haberdashery. From banana textiles to recycled polyester, Offset Warehouse sells the broadest range of innovative, ethical textiles in the UK – possibly the world – in quantities accessible from one metre.
Latest posts by Chere Di Boscio
(see all)