Want to get rid of wrinkles? Looking to lighten dark spots? These organic serums work for all skin types!
By Lora O'Brien
We all want flawless skin that positively glows thanks to the slew of products we use, right? Our shelves are stacked with copious products that all promise to make our skin dreams come true. And yet some of us lack one of the most important beauty items: an organic serum. And if you don't have a clue what a serum really does, well, you're not alone.
Some of us think a serum is the same thing as a face cream. Some think it's the same as using an oil. The truth? A serum is a beauty must-have that comes before a moisturiser, and just after the skin has been both cleansed and toned.
But what can organic serums actually do for our skin, at what age should we start using one and why is it best to select a serum with organic ingredients? We asked Diane Elizabeth, founder of Skin Care Ox, a product review site focused on organic skincare, for her advice. Here's what she had to say.
First up: why do we even need a serum?
A serum is a skin treatment that is made from highly concentrated and potent ingredients that have been selected and designed to tackle a whole realm of skin issues, such as dryness, redness, wrinkles, dullness, rosacea and even breakouts, that perhaps a simple cleanser and moisturizer duo wouldn't handle effectively solo.
How are serums different from creams?

The main differentiating factor between a serum and a facial cream is the consistency. Serums usually have a water or an oil base, therefore they have a thinner consistency than creams. Creams are not only thicker, but are designed to add moisture and provide the surface of our skin with a barrier. Serums are more concentrated than creams and work to penetrate deep beneath the surface of the skin to target underlying skin issues.
At what age should we start using them?

As soon as possible! There are serums for just about every skin issue. If you're young, you can invest in a serum to treat skin conditions such as acne or dryness. You can also use serums that work to prevent signs of ageing and protect against sun damage (vitamin C serums are particularly great for this). The sooner you start to use serums, the better your skin will age over time.
If you are older and are already battling fine lines and wrinkles, it's not too late to add a potent serum (or two) to your daily routine. While some people choose to layer multiple serums on top of each other, I typically recommend to use one serum during the day and another at night. This helps to prevent any potential negative reactions as a result of combining two powerful products.
What should we look for in a serum?
As we age, our skin loses its ability to retain moisture and collagen production slows dramatically. Look for serums that treat these issues with potent ingredients like:
hyaluronic acid (for moisture)
vitamin c (for collagen production)
antioxidants (like green tea, resveratrol, vitamin A, and flavonoids).
What does 'organic' mean in skincare, really?
There are a lot of misconceptions about organic skin care. When a beauty product carries the label "organic," it just means that certain ingredients in the product were produced organically. Organic itself means produced without the use of pesticides, synthetic fertilizers, genetically modified organisms (GMOs), sewage, ionizing radiation, as well as antibiotics and growth hormones.
It's important to note that while a product may use some organically produced ingredients, it may also contain a ton of harmful ingredients which are not organic. There are no current standards in the U.S. cosmetic and beauty industry which outline when a product can or cannot carry the labels "clean," "natural," and "organic." It is still up to the consumer to research the brand, the product ingredients, and the validity of the organic claims.
Why is organic important in skincare?
According to a study by the Environmental Working Group, women in the US apply an average of 168 chemicals to their faces and bodies every single day. Additionally, it is very possible for many of those chemicals to be absorbed through our skin and into our bloodstream. This includes pesticides, as well as known potentially carcinogenic and toxic ingredients like parabens, phthalates, petrochemicals and PEG compounds, ethoxylated ingredients, propylene glycol, chemical preservatives, and many other undesirables.
By using clean, organic, and natural beauty products which do not contain harmful (and potentially carcinogenic) chemicals, women can greatly reduce their chemical load and improve their overall health. Additionally, many of these chemicals are also highly irritating and can exacerbate skin conditions such as eczema, rosacea, dry skin, and more. By choosing organic products, women can take an important step toward improving the long-term health of their skin.
Eager to learn more when it comes to choosing the right serum? Check out our top 10 serums for all skin types and budgets, below.
Our 10 Best Organic Serums for All Skins
Ever look in the mirror and find yourself wondering whether you should schedule in a facelift? Ditch the needle and get it from a bottle instead! This Boosted Contouring Serum by Tata Harper has been described as "a daily facelift made from a blend of natural and organic ingredients that join forces to reinforce your skin's structure around the neck and jawline".
The brand promises that your skin will feel firmer after just five minutes (whoa!) and says your skin will look and feel lifted after just seventeen minutes (whoa gain, right?) . Over time, you'll notice your fine lines and wrinkles will be replaced by a more youthful look.
Organic: 94%
Price: $200
Best for: Suitable for all skin types, but ideal for dull, mature skin.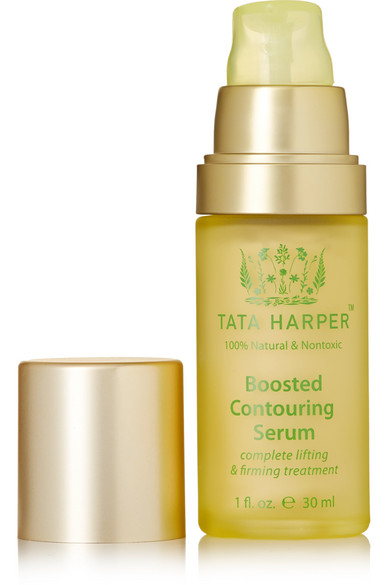 Skin feeling dry or lacking life? This brightening botanical treatment has been specifically formulated to increase cell turnover and improve the texture of the skin. Organic argan and camellia oils are the base of this serum, whilst silky broccoli seed and prickly pear oils provide it with its velvety texture. Botanical actives such as gotu kola, algae and wheatgrass help to soothe irritation and enhance the tone of skin, whilst papaya, pumpkin and mushroom extracts helping to maintain a luminous appearance.
Organic: 65.3%
Price: $59.00 
Best for: For normal, dehydrated, mature, dry or dull skin.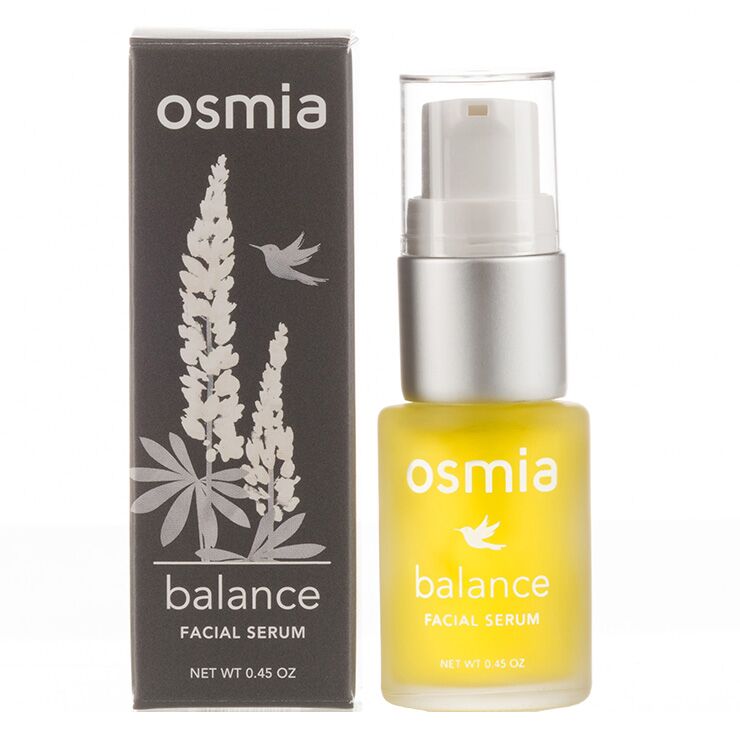 Overstressed skin combined with environmental elements can steal your glow and make skin both dull and dry. This plant-powered formula has been created to nourish skin and to reduce discolouration thanks to the botanical actives, whilst jojoba seed oil helps skin to retain moisture to keep skin hydrated. It's worth noting that this serum is highly concentrated, so a little really does go a long way.
Organic: 88.4% 
Price: $75.00 
Best for: All skin types.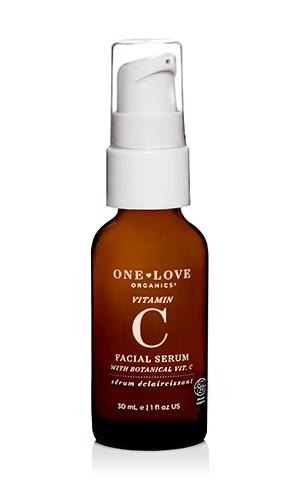 This is a PM serum, so it's used as part of your nighttime routine. The potent blend of vitamins works together synergistically to reduce lines and wrinkles, increase firmness and elasticity and even out skin tone. The results of this serum will help to restore a youthful, healthy glowing complexion to even the most tired, neglected skin.
Organic: 94%
Price: $60.00
Best for: Normal, dry, oily and combination skin types
Over 99% natural, this serum features a super-ingredient: hyaluronic acid! It works wonders on normal to dry skin. Its main promise? To plump up fine lines and to hydrate skin from the inside out. Don't doubt this serum – hyaluronic acid is, after all, the stuff that fillers are made of, and yes, it does penetrate the dermis! Organic pomegranate extract is also added to soften and protect your skin. Another thing we love about this organic serum is the gorgeous, rosy scent!
Organic: 35%
Price: $40.00 
Best for: This is one of the best organic serums for normal to dry skins
This serum harnesses the potent healing properties of Chaga, a rare mushroom that grows in the wild on birch trees and is loaded with medicinal properties that work to heal, protect and restore the skin. Chaga mushrooms contain high levels of melanin, which when applies to the skin, helps to reverse previous sun damage.
This serum also speeds up collagen production, which will help to diminish lines and wrinkles, whilst also increasing skin elasticity and tightening skin.
Organic: 95% 
Price: $110.00 
Best for: This is one of the best organic serums for skin in need of a boost, or blemish/acne prone skin.
A vitamin C serum has the ability to transform your skin rapidly. The vitamin C naturally found in our body works to protect us from UV sun damage, brightens our skin, reduces pigmentation and increases the production of collagen (which slows down as you age), so it makes sense to use a topical serum that can help to benefit skin, too. This concentrated serum helps to brighten skin, boosts collagen health and minimises the look of fine lines and wrinkles.
Organic: 95% 
Price: $22.50 
Best for: This is one of the best organic serums for those who live in a sunny region or who need strong protection from pollution
If you're a sufferer of rosacea, you may notice that you also suffer from dry skin that is easily inflamed. So this recovery serum by Rosemira Organics is designed especially for you!
Organic argan, blueberry and acai berry oils combine with an infusion of herbs. All ingredients deliver a moisture and nutrient boost to the skin. Broken capillaries are repaired, and moisture is restored . The serum also helps to soothe irritation and correct the reddish appearance of rosacea. Your skin will have a more even tone and supple texture.
Organic: 100%
Price: $79.00 
Best for: This is one of the best organic serums for all skin types. Dry skin with mild to moderate rosacea particularly benefits.
As you'd expect from such an established natural brand, Dr Hauschka's Night Serum is packed with organic ingredients that are known to help stimulates the skin's natural cell renewal process overnight. Two of the key actors in this process are organic rosen apple flower extracts and hydrolates, which act to maintain the moisture levels to reveal smooth nourished skin when you awake the next morning.
The serum also contains citrus peel extracts for their natural skin brightening effects; of course, they also add a delicate citrusy scent to this reasonably priced product. Only a tiny amount (a few drops) of this concentrated formula is required to cover the entire face and neck.  On the skin, the serum feels light and leaves a refreshing, somewhat firming sensation.
Organic: 100%
Price: $48.00 
Best for: This is one of the best organic serums for all skin types. Dry skin with mild to moderate rosacea particularly benefits.
A combination of plant based bio technological extracts, antioxidants, sea algae, essential vitamins, remodelling, stem cells, growth factors and lifting herbs and 3 different sized hyaluronic acid molecules (low, medium and high molecular weight) in this luxurious serum are said to help save  the skin.
The serum doesn't feel very moisturising, and leaves the skin with the same hydration as before application. But it's good to know that it's getting to work on growing healthy new cells to bring out a fresher, brighter skin over time.
Organic: Over 50%
Price: $282
Best for: A very high tech formula that promises great results.
Latest posts by Lora O'Brien
(see all)