Sick of lash extensions? Got thin or broken lashes? These are the best natural lash serums to help them grow!
By Chiara Spagnoli Gabardi
Since the dawn of time, women have used the flitting of long lashes as a flirting tool. Eyelashes frame – and enticingly, hide – the eyes. They connote a certain softness and beauty in both sexes. And the longer and thicker, the better!
No wonder over the last few decades there's been an explosion in the popularity of lash extensions and fake lashes. While these can look quite gorgeous, the truth is, they're a pain to maintain. Sleep on your side, and you can crush the delicate fibres. Some might be allergic to the glue. And if you're using temporary false lashes, they can be super tricky to apply.
That's why more of us are starting to lean towards lash serums. These enhance the fullness and length of our existing lashes. This is important, because as we age, our hair and lashes loses strength, length and fullness. That's true for what's on your head, as much as what's over your eyes. It's not uncommon for brows to thin out as well as lashes – and they can even turn grey!
Fortunately, lash serums can help restore the vitality to your lashes – and in many cases, brows, too.
Are Most Lash Serums Safe? 
Unfortunately, not all lash serums can be trusted. That's especially true if they contain harmful chemicals that can lead to allergic reactions, as well as dry, itchy or red eyes. Perhaps the worst chemical of all the synthetically created ingredients in lash serum is Ethylene Oxide, which is a known carcinogen. This is commonly used as a preservative. Near your eyes. No thanks!
In other cases, non- natural eyelash serums can even change the colour of your iris! For some reason, the FDA has approved Latisse. This is an eyelash growth serum that does work, but often causes allergic reactions, darkening of the eyelids and iris colour changes due to the presence of its active ingredient, LUMIGAN®.
On the other hand, there are plenty of natural alternatives with ingredients that can do wonders for your lashes. And indeed, they've been used for millennia!
Historic Success With Lash Growth
For example, the beans and seeds of the castor plant have been found in Egyptian tombs dating back to 4000 BC. Even back then, they were used as a means of growing lashes, hair and brows. One ancient Egyptian medical text from 1500 BC also shows how doctors at the time would use this ointment precisely to protect the eyes! So, this is one ingredient of natural lash serums that will not only do no harm, but it could do your eyes some good, too!
So how do you know your lash serum is safe, and better yet, actually works? Well, we've done the work for you! Check out some of the best natural lash serums, below. We promise: these all work (the Eluxe staff has tried and tested ALL of them ourselves!) and will not irritate your eyes.
Image credit below: @fxknthugglife 
The Best All-Natural Lash Serums
If you're looking for a natural lash serum that works on both eyelashes and brows, you'll find it in Plume's Lash & Brow Enhancing Serum. This product is formulated with nine botanical actives that nourish hairs at the root. This allows them to grow stronger and healthier. Your beauty routine will benefit from the effects of the aloe, hickory bark and other natural ingredients that promote gorgeous long lashes.
Their blend of active ingredients also encourage the hairs around your eyes to enter (and remain in!) the growth phase. Which means longer lashes and brows for, well, longer!
Price: Around $95
Staff comments: I've always had long lashes so wondered why I would need a natural lash serum. But since this was an Eluxe freebie, I gave it a go. My lashes didn't seem to get longer, but they did get thicker, which is great! I also noticed more fullness of my brows after six weeks. I really don't need mascara anymore! – Chiara (me!), writer
This brand uses a scientifically studied peptide that alters the hair growth cycle for the best. In other words, it makes your lashes grow like crazy!
Don't believe the hype? Well, all of the RevitaLash reviews speak for themselves. We actually got an email from a fan of the brand, so we decided to add it here. But that's not all! Apparently, Meghan Markle swears by the brand as her go-to eyelash serum. And RevitaLash has earned over 25 prestigious awards from mainstream magazines, including Glamour, InStyle, and Allure.
Oh, and btw: the brand's not just famous for their eyebrow and eyelash serums. Their Thickening Conditioner and Shampoos have also gained raves!
Price: Around $100
Reader comments: Hey Eluxe! I can't believe you haven't included Revitalash in your roundup. I've been using this for around 3 months and already my eyelashes are insane! The wee tube lasts around half a year. Well worth the money! – Anna K, reader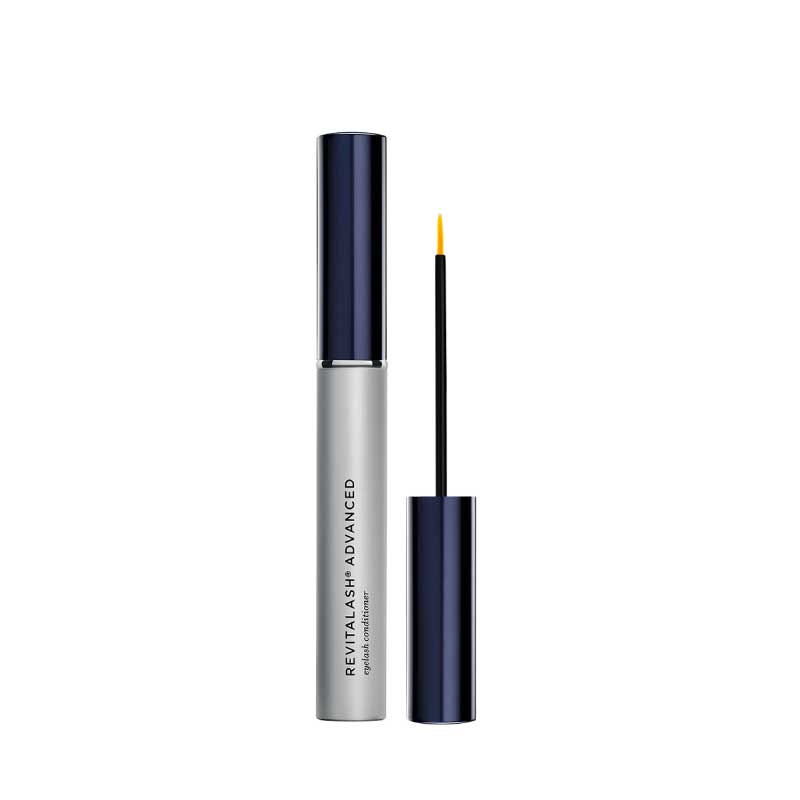 This is a brand that is leading the way in the field of vegan beauty, and it doesn't cease to surprise with its Enhancing Lash & Brow Serum. This e.l.f. Cosmetics product is formulated to promote the appearance of longer-looking lashes and fuller brows in the course of very few weeks, thanks to the antioxidants in its sulfate-and paraben-free formula.
The main ingredients include Larix Europaea Wood Extract, Camellia Leaf Extract, Castor Seed Oil, and Panax Ginseng Root Extract. And at under $10, this is undoubtedly one of the best natural lash serums for those on a budget!
Price: $8
Staff comments: I used lash serums before, and had great results. The only problem? The one I used cost nearly $100, which is way out of budget for me to use regularly. Unfortunately after around 6 months, the benefits I gained from using the serum disappeared. So I was pretty darn happy to try this out, and even happier when I saw it worked as well as the expensive stuff! e.l.f. has won themselves a regular customer! – Emily, intern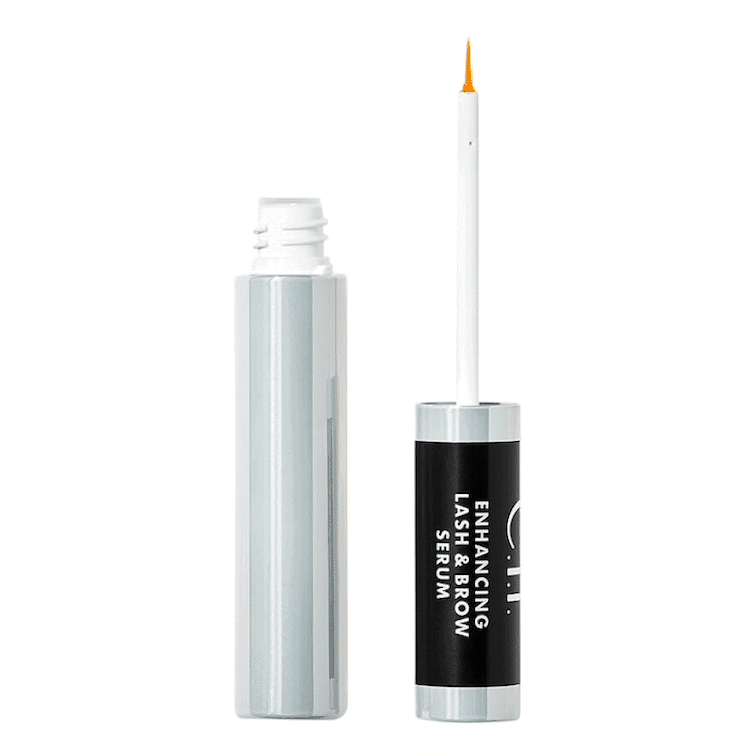 Time to bat your eyes in style, thanks to this vegan lash serum by Vegamour. Their formula contains clinically tested phyto-actives that promote longer, thicker looking lashes. In fact, their ingredient list was created specifically with red clover and mung bean, because these two botanicals have been proven to prevent hair loss of all kinds.
It also contains amino acid peptides, which have been proven to help build strong cells around the dermal papilla, thus regenerating the hair follicles.
Price: From $60
Staff comments: I was really excited to try this, as I broke off some of my own lashes with a crappy eyelash curler. I needed my lashes to grow back FAST as they looked ridiculous. Fortunately, after just 6 weeks, they looked normal again! – Chantal, writer
If you simply want to plump up your lash line, or even if your lashes are really in bad shape from lash extensions or lash glue, Grande Cosmetics' serum is for you!
This is another of those natural eyelash serums that features a blend of vitamins, antioxidants, and amino acids to promote the appearance of fuller, bolder looking lashes in just 6-8 weeks. Literally 100% of those surveyed found full improvement in 4 months of use! Each tube provides a 4 month supply.
Price: $65
Staff comments: Since I was given another product to test, I gave this one to my mom. She's been abusing her lashes for years with extensions and it was time for her to stop! Now, she's around halfway through the tube and she's delighted with the growth. Her lashes are definitely longer, and look amazing with just mascara (no falsies!) -Lora, writer
Fragrance-free, hypoallergenic and free from parabens and other harmful chemicals, Mayraki's  awesome lash & brow restoration kit features soothing plant extracts and moisturising B-vitamins to help make your lashes grow.
The hero ingredients are clinically tested peptides that have been proven to boost your eyelash growth cycle for fuller lashes. It contains 3 bottles of Growing Serum (3ml x 3) and 1 bottle of Nutrition Serum (5ml x 1). And of course, it also works on eyebrows.
Their research shows that eyelashes will significantly increase by as much as 27% after just two weeks of use and up to 70% in just 38 days. One of the best best natural lash serums for sure!
Price: $90
Staff comments: I first applied this to my my brows. Specifically, my right side brow, which was thinning. I was filling it in with pencil and was considering getting microblading done. After four weeks, I noticed some new hairs growing in at the top of my brow (where I was losing the hair). I still use a bit of makeup, but it's clear that the right side is now matching the left side a lot more. I also used this on my lashes. They were long to begin with, but now they're thicker, too! – Chere, editor
This milky elixir coats, protects and strengthens lashes and brows to boost their growth. Use as a repeatable 3-month course for best results. Just brush it on in the morning before your mascara, and in the evening after removing makeup.
Price: Around $35
Staff comments: I love this all natural lash and brow gel! You can use this on your brows as a brow gel. It will help them grow, AND keep them in place! – Kat, brand consultant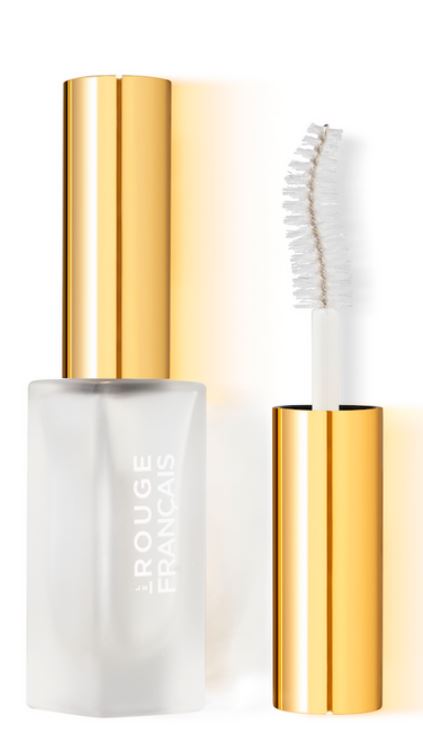 There's nothing silly about this. It works! Silly George activates the hair follicle to promote rapid eyelash growth, making them longer, thicker and fuller in as little as 1 week. Best results are seen at around 6 weeks. After that time, you just switch to a maintenance routine to keep your lashes full and long for years to come.
This very same serum also toughens up the epidermal junction (where the lash grows out of the eyelid), helping prevent the newly grown eyelashes from falling out.
And, don't forget the serum works in the same way for your brows!
Price: $78.99
Staff comments: To be honest, I'm not used to writing reviews of products. But I was happy to try this product since it was sent to me. All I can say is, is this: after around a month of using this, someone asked me where I got my eyelashes 'done'!  – Pam, webmaster.
Hairburst Lash and Brow Serum's formula is based on 98% natural ingredients. It's 100% vegan friendly, and is free of all nasty chemicals like parabens and fragrance.
The nutrient-rich, deeply conditioning formula awakens dormant, non-activated hair roots to improve the length, thickness and strength of sparse lashes and brows. Complete with a specially shaped brush applicator wand, you can expect longer natural lashes and thicker-looking brows with healthy hair growth that lasts with regular applications.
Price: $45.60
Staff comments: I really like how this applicator is in a mascara wand form rather than an eyeliner type of applicator. This is one of the best natural lash serums for those who find the serum tends to drip in their eyes (this one never will!) It took me around 6 weeks to notice a change in my lashes, but they're now definitely longer, if not denser! – Diane, writer
Got doubts this is one of the best natural lash serums? Well, this Aussie label's eyelash enhancing serum sold out in its first week!
This product is 100% vegan and cruelty free. It's packed with vitamins, minerals and peptides that help to condition, strengthen and stimulated the growth of eyelashes. It works by activating the hair follicle to promote rapid growth, making your lashes fuller in only 7 days. By the time you get to 6 weeks, you'll really see the difference! Make sure to take progress pictures at Day 1, 30 and 60 so you can see the difference for yourself.
The ingredients are so gentle, FYNE is safe for sensitive eyes and contact lens wearers. Bonus: They also make lash-growing mascara!
Price: Around $32
Staff comments: This beauty product was sent from Australia and arrived within the week. Pretty good! Honestly, I never thought I'd be using a lash serum. I just didn't think they worked. This product proved me wrong. I literally noticed more thickness in around 3 weeks! No need to be modest about it – I now have gorgeous lashes. I need this product forever! – Anna, intern
Latest posts by Chiara Spagnoli Gabardi
(see all)