If you don't want animal hair or silk on your eyelids, it's vital to know where to get vegan friendly fake lashes!
By Diane Small
Stunning lashes can't be achieved with mascara alone. In fact, no other lash product – from topical growth drugs to professional extensions – delivers instantaneous results like the perfect pair of falsies. False lashes are the secret beauty product of celebs, models, and even women in mascara ads. They're also a must for cocktail parties, weddings, dates, profile pics, and any time you want your eyes to really pop.
But did you know: many fake eyelash brands are actually using FUR for their lashes! What? Seriously! Horse hair and mink fur are the most popular, but many fake eyelash brands are made of silk – which is also not a cruelty-free material, since the silkworms are boiled alive for their silk cocoons.
So what's a vegan beauty addict to do?
Here are our top vegan friendly fake lashes brands, made from three different and added some fab application tips. Now, get fluttering, you animal loving beauties!
How to Get Vegan Friendly Fake Lashes
Pure Paper Lashes: PaperSelf
Want to go even more dramatic? Try the most vegan friendly fake lashes around: paper lashes! Not for the shy, Paperself Lashes are so attention-grabbing, you'll have people leaning in close to get a better look! Peonies, sea creatures, horses, spiders and lace are among the incredibly intricate designs offered. They may look pretty fancy, but they're actually quite easy to apply. To show you how, the brand has created a video to guide you, which you can see here:
Au Naturale: 100% Ethically Sourced Human Hair
It may seem weird, but other kinds of vegan friendly fake lashes are made from human hair! This gives not only the most natural look to your fake eyelashes, but it's also the material that's least likely to irritate your eyes. Au Naturale's lashes are what their name implies – the most natural way to get longer lashes fast.
Don't Forget the Glue!
When applying vegan friendly fake lashes, you'll also need a vegan glue. Not only is eyelash glue generally full of nasty, harmful substances, many of them are also tested on animals. The best option for non-toxic, vegan friendly eyelash adhesive is True Glue, which is apparently the first ever dermatologist-tested, PETA- and vegan-certified eyelash glue. It's also infused with USDA-certified organic blue chamomile to soothe the delicate skin of your eyelids, and is free of formaldehyde, parabens and synthetic fragrances, as we mentioned above.
How to Apply your Vegan Friendly Fake Lashes
STEP 1:  Before you start to apply, measure the length of the false lash to make sure it fits your eye shape. Clip the lashes with nail scissors to ensure they fit. It's better to clip off the longer ends than the shorter ones–start there.
STEP 2:  Take both edges of the false lash and bend them in to create a "C" shape and hold for a couple of seconds–this will ensure they mould to your eye shape better.
STEP 3:  Apply a fine line of glue with a toothpick along the edge of the lashes.
STEP 4:  Wait a few seconds or so for the glue to become more tactile and sticky before placing onto your own lash line. Blow on the glue or gently wave the lash around in the air to speed this up. This is the best way to keep the strip from slipping when you're trying to apply it, and will prevent the glue from gooping out into your eye, too!
STEP 5:  Apply the lash to the base of your natural lash line on top of your actual lashes, not on the eyelid at all. The glue dries clear so don't worry if it gets a bit messy.
STEP 6:  Apply mascara last so you can integrate the natural lashes with the false ones, making sure they mesh into each other. Don't curl lashes first, and this may cause the fake lashes to pop off!
STEP 7:  If you see a gap showing on the eyelid skin between your natural lashes, just fill in the gap with a liquid eyeliner.
Removal Tips:  Always remove false lashes before taking off rest of your eye makeup. First pre-soften the glue with a cotton swab that's been soaked in an oily makeup remover like pure coconut or almond oil. Use  a dabbing motion along the lash line. With eyes opened, peel off the false lashes at tips of the outer corner. Then close your eyes and slowly, slowly peel them away from your own lashes, working from outer to inner corner, towards the nose.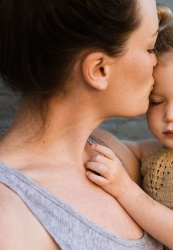 Latest posts by Diane Small
(see all)