Got the chills already? These warming vegan stew recipes will help!
By Lora O'Brien
We all know the routine – as the days get shorter and colder, our food gets hotter and heartier. There's nothing more comforting than a comforting meal to thaw the body after it's been battling wind and rain all day long. And what fits the bill better than a nice stew?
Though it may be called something else, each culture has its own kind of stewish recipe that's passed down through the generations. For example?
The Hungarians have their goulash; Moroccans have tagines, Americans have chili; Indians have curries. And as I know so well, the Irish have their famous stew.
But in my humble opinion, some of the best stews come from the Middle East. There, exotic ingredients like sour grapes, pomegranate seeds, cinnamon and saffron come together to do amazing things with the humble eggplant and chickpeas. I've included a few Iraqi and Persian recipes here, but Lebanon is another nation with a great tradition of stews.
But first: let's not confuse stews with soups. They're different! The former normally can contain flour of some kind to thicken them, are meant to be  slow cooked over longer periods of time, and are designed to be served with something carby. Think: noodles, rice or bread. Stews also normally contain meat and vegetables. But let's face it – take out the meat, add some veggie stock, and most recipes are fairly easy to adapt from there!
Here, I've found 32 deliciously filling vegan stew recipes from around the world that are like a big hug for your tummy.
30 Warming Vegan Stews To Try
1. Hearty Vegan 'Beef' Stew
This vegan beefy stew is made pretty much like a tradition British one, minus the, y'know, beef! Using plant-based ingredients, it delivers the same hearty comfort alongside deep flavours. Perfect served alongside some dumplings or creamy mashed potato for a wintry evening meal!
Get the recipe here.
2. Spanish Chickpea & Sweet Potato Stew
I personally love sweet potato in vegan stew recipes. It not only bulks the dish out but it adds a lovely, gentle sweetness too. Chickpeas can be a little dull, so they're been well and truly spruced up in this stew. The harissa gives it a fiery kick, whilst a touch of maple syrup adds a subtle, sweet tone. Throw in a bunch of spinach to wilt and serve with brown rice and you've got perfection in a bowl.
Get the recipe here.  
3. Persian Pomegranate & Walnut Stew
First and foremost – the colours alone in this dish are so darned beautiful. We eat twice; first with our eyes, second with our mouths, right? And this dish ticks both boxes.
Secondly, this stew has deep historical roots. In fact, it's a vegan version of the centuries old Persian chicken dish called  fesenjan, but here, tofu replaces the chicken. Serve this up with some hot Persian bread on the side. This is definitely one of the most exotic and tastiest of all the vegan stew recipes here!
Get the recipe here.  
4. Ghanan Veggie Stew
The inspiration for this dish came straight from the African nation of Ghana itself, where onions, garlic and peanuts feature in many dishes. The veggies here  need to be chopped really finely and then softened in a hot oil with chilli added. Spinach and some type of bitter green such as arugula works perfectly wilted into this dish. I personally think this is one of those vegan stew recipes best served on a bed of rice.
Get the recipe here.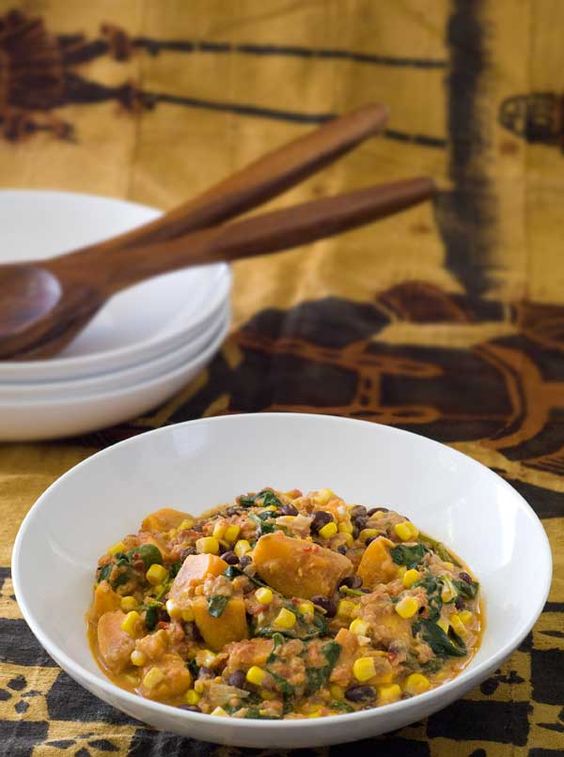 5. Vegan Chili with Homemade Sour Cream
This is  a recipe you need in your winter foods repertoire. It's even more delicious when it's topped with a dollop of (vegan) sour cream.  Whilst most would serve this with some rice as a side dish, personally, I love my chili on a piece of (vegan) buttered toast. Try it!
Get the recipe here.  
6. Sweet Potato & Peanut Stew with Kale
There's just something about bright foods during autumn months that just seems so aesthetically pleasing, and this sweet potato and kale stew is just what you need on a cold autumn day.
The addition of peanut butter may seem odd, but it adds a real infusion of creaminess and protein. The other antioxidant rich ingredients will work wonders to protect your immune system over cold and flu season. It's one of those vegan stew recipes that's a real immunity booster!
Get the recipe here.  
7. Vegan Irish Stew
An absolute classic in Ireland, Irish stew is packed with all the veggies the Emerald Islanders seem to love: potatoes, parsnips, carrots and cabbage. But of course, despite the brownish colour, this version is fully veg-friendly. Serve it up with some Irish soda bread and you've got yourself a full, filling (or should I just say 'fulfilling'?) meal.
Get the recipe here.  
8. Vegan Chicken & Dumpling Stew
Yep, you read that right – not 'chickpeas'. I actually wrote 'chicken' stew. Do I even need to mention that the 'chicken' itself is 100% vegan? The rosemary dumplings are tender, whilst the vegan chicken and veggies all simmer in a rich, herby broth. This is one of the best vegan stew recipes for 'meatless Monday' where you can discover how you can still enjoy 'meat dishes'…without the actual flesh.
Get the recipe here.  
9. White Bean & Cabbage Stew
Sweet and simple! This is basically a super-dense minestrone soup, but without the pasta. I think that a nice drizzle of olive oil and a few squeezes of lemon wouldn't go amiss with this recipe, which I would serve with a hot toasted baguette.
Get the recipe here.  
10. Cashew Cannellini Bean Spinach
I love any recipe that has cashews in it. They're by far my favourite nut and are so, so versatile. And they taste even better toasted! Tomato passata (liquid tomato puree) makes up the base of this stew and is mixed with a bit of cashew butter to make it creamier.
Spinach is thrown in for nutrients and cannellini  beans give it an extra protein hit. Then it's topped with toasted cashews. Lots of cashews, in my case!
Get the recipe here.  
11. Fennel & Chickpea Provencal
A taste of the Med in a pot! Sweet fennel, tangy tomatoes, protein rich garbanzo beans and bold olives go into this tangy stew, which actually reminds me a bit of Moroccan tagine. For that reason, I'd serve this up with lashings of olive oil, over a bed of couscous.
Get the recipe here.  
12. Kimchi Stew with Tofu & Shiitake
A Korean classic, kimchi itself is bursting with powerful flavour, but somehow, it's even further enhanced by mushrooms. There are so many different textures here, from the crispy tofu, the chewy  shiitake mushrooms and the crunchy kimchi. This stew feels really exotic, but is actually so simple to put together.
Get the recipe here.  
13. Peanut Lentil Stew
This stew is is a popular African dish. It's high in protein, but be careful – it's also high in calories. The peanuts add a nice crunch to contrast the softly cooked veggies, whilst the red lentils bulk up the dish. So sure, it's calorific, but a little dab'll do ya – this is a seriously filling stew!
Get the recipe here.  
14. Spicy Bean Stew
The perfect part of this stew is that you can make it as spicy or mild as you like. You can simply add more chilli powder or fresh chilies to suit your preference. And if you have friends coming over, you can literally throw the ingredients into a pot and let this simmer away as you get yourself dolled up. A meal that practically cooks itself? Hell, yeah!
Get the recipe here.  
15. Iranian Eggplant & Chickpea Stew
Dang, but those Persians know how to make a good stew! Here, the soft eggplant and chickpeas work perfectly together to offset the sticky, sweet dates and apricots. This all blends with the fragrant perfumes of cumin, cinnamon, nutmeg and turmeric. Crunchy roasted cashews are scattered over the top to finish it off. Serve this over some basmati rice, and you're in heaven!
Get the recipe here.  
16. Smoky White Bean Potato Stew
If you love smoky flavours AND potato dishes, then this is one of the best vegan stew recipes for you. It's made with simple, easy to find ingredients and even the most culinary challenged of us could whip this up, no problem. The hardest parts are soaking the beans overnight and broiling the peppers – the rest is just throwing it all into a pot and waiting patiently.
Get the recipe here.  
17. Moroccan Tagine
There's really no need for a vegan version of this perfumed Moroccan stew, as it is normally vegan anyway. I was pretty surprised to see 'vegan versions' with weird things like tofu and seitan in it – that's just wrong! The basis for a good, traditional Moroccan tagine is root veggies and chickpeas, as are both featured here. Serve with some couscous and fresh mint sprinkled onto and it's a perfect winter meal.
Get the recipe here.
18. Gingery Coconut Stew with Brussels & Rutabaga
Ruta-what?! Rutabaga may sound like a made up word but it's actually a type of swede. If you can't get your hands on one you can easily use parsnips or turnips instead. Rutabaga is traditionally used in European cooking but it's had a makeover in this Asian themed recipe. This dish is naturally sweet from the coconut and carrots, with a little zing  from the lime and spiced with ginger.
Get the recipe here.  
19. Vegan Gumbo
This is an easy take on that most famous of dishes from Louisiana, gumbo. Gumbo normally contains a whole damn zoo's worth of animals: crab, bacon, beef, fish, shrimp…often all in one pot! So, how could we make this one of our vegan stew recipes, you may be asking?
Well, this version still uses the whole array of spices that go into gumbo, but none of the meat. What's most essential here is okra, a truly southern American veggie. If you can't find it locally, sub in zucchini instead.
Get the recipe here.
20. Cowboy Stew
This cowboy stew is made from scratch and absolutely loaded with flavour! The dish is a one pot wonder, made with beans and other pantry staples such as BBQ sauce, diced tomatoes and sweetcorn. Made in just under 20 minutes, it's quick, easy and super satisfying!
Get the recipe here.
21. Chipotle & Black Bean Stew
This recipe is so easy to make due to the fact you throw everything into a crock pot and let it do its thing, and the bonus is that your house will smell insanely good whilst it cooks. Quinoa, chipotle, diced tomatoes and the cilantro garnish add some Latin flair. I'm a huge fan of Mexican food, so no surprises that this is one of my fave vegan stew recipes!
Get the recipe here.
22. Butter Bean & Root Veg Stew with Dumplings
Sure, vegan stew recipes are delicious, but they really go to the next level when there are dumplings involved! These doughy balls go soft and gooey when mixed with the stew. They're just oh so delicious and filling!
This recipe makes the most of seasonal, autumnal veggies and it's pretty cheap to make as potatoes, carrots and parsnips are so  readily available. So when it's cold outside, warm yourself up with this vegan take on a traditional winter dish.
Get the recipe here.
23. Korean Mushroom & Tofu Stew
Combine your love of vegan stew recipes and tofu together with this Asian infusion. Also, if you're afraid that Korean food may set your mouth on fire, never fear – this recipe is only slightly spicy, so it's perfect  if you're not able to hand too much heat (I'm with you, so don't worry)!
Get the recipe here.
24. Mushroom Bourguignon Stew
Beef Bourguignon has been renowned for years as a hearty, warming meal, but it traditionally features braised beef. No surprises there!
Today, that popular French dish has finally had a veggie makeover – and now features mushrooms instead! Mushrooms are great because they have a meat-like texture when cooked. Serve with thick chunks of fresh sourdough to truly soak up all the delicious juices!
Get the recipe here.
25. The 'Anything Goes' Spiced Veggie Stew
Another of those vegan stew recipes that's great for clearing out the cupboards. The best thing about most stews is that you can basically throw any veg you have on hand into them. And this recipe more than proves that. Just raid that fridge and get creative! You can easily make this one of your favourite vegan stew recipes by just using the veggies you love the most.
Get the recipe here.
26. Turmeric Roasted Cauliflower Chickpea Stew
This dish may be one of those vegan stew recipes you've never seen before, but don't let first impressions fool you. It's one of the healthiest meals ever, as it's full of delicious, healthy spices. There's turmeric (great for keeping colds at bay), cinnamon, cumin and paprika. These spices give it a real warm and earthy taste. Everything about this dish is satisfying, and I guarantee it will leave you warm from the inside out.
Get the recipe here.
27. Iraqi Inspired Seitan & Eggplant Stew
Told you the Middle East had some of the best vegan stew recipes! Bring a little bit of the exotic into your kitchen with this innovative dish. This stew is highly aromatic with its perfume of warm spices and will fill you up with its chunks of seitan that act as a meat-substitute.
Get the recipe here.
28. Vegan Mushroom Stroganoff
A tangy, 'creamy' sauce smothering chunks of earthy mushrooms? Bring it on! This is another dish that's kind of does and kind of doesn't qualify as one of our vegan stew recipes. But how could I leave it out? Stroganoff is the ultimate mix of comfort and warming food – best served over a bed of thick noodles. Yum!
Get the recipe here.
29. Vegan Hungarian Goulash
Goulash is usually a pretty simple, cheap meal to make. Traditionally, it's basically just beef and potatoes slow cooked and thrown over some wide noodles, maybe with some sour cream on top. I selected this recipe mainly because of all the vegan goulashes I found, this one came closest to the original recipes I knew. Not least for its inclusion of that Hungarian favourite: paprika!
Get the recipe here.
30. Stewed Fruit
You didn't think I was going to do a list of vegan stew recipes and leave you without dessert, did you? Veggies are not the only things that can be stewed! Fruit is also amazing (and easier to digest) when it's cooked slowly.
Lovely Jamie Oliver suggests you add some powdered sugar 'to taste'. But to make this healthier, why not nix the sugar altogether? After all, fruit is pretty sweet anyway, right? Serve this up many ways: on pancakes or waffles, with cereal, or best of all, with a scoop of vegan ice cream.
Get the recipe here.
Latest posts by Lora O'Brien
(see all)