By Katrine Carstens
For a city so full of diversity, London has very few eco-accommodation options indeed. Eluxe Magazine has covered the city's most lauded hotel, One Aldwych, and some of the bigger chains, like Raddisson, have some properties that have been granted accolades from the Green Tourism Awards for their eco-innovations: The Lancaster keeps bees on their roof, for example, and The Cavendish uses energy efficient lighting and locally sourced food where it can.
However, there is one eco-hotel in London that focuses on recycling and upcycling, with chicly sustainable results.
Quirky pods at Qbic Hotel, London
The Qbic design hotel is based on a brilliantly simple concept. Take an unused building, equip each room with a specially designed cubic pod containing everything you need from a hotel room, combine this with funky art made from upcycled materials and hey presto – you have a hotel with a winning idea.
The Qbic Hotel pods are a curious mix of quirky and streamlined. The units themselves are white, the mattresses extremely comfortable and brightly coloured motifs are splashed across the headboard space. This sets off the white to create a space that is fresh, yet cosy. Little touches in the rooms, like bedside lamps made of garden hoses and a clothes horse of dimensions I have certainly never encountered before, make this hotel a unique experience.
The bathroom is sleek and functional with a few decorative oddities like giant bath brushes and a plunger. The pod arrangement does the job perfectly and everything worked flawlessly.
On the ground floor the comfortable and idiosyncratic lounge area features a variety of design furniture that keeps your eye wandering and your mind wondering. Local artists have been invited to display their creations which gives lends an air of art gallery to the space.
Qbic has solar panels on the roof and a meter in the lobby shows how much power is being consumed and how. I hope that this kind of transparency will start to become the norm rather than the exception. Add to this a range of measures like energy efficient lighting triggered by sensors, showers that mix in air to use less water (yet are still powerful!), 100% chemical free cleaning products and mattresses made from organic and natural materials and it becomes clear that here is a thoroughly eco minded hotel.
Working with eco-friendly local charities is another way Qbic gives back. FoodCycle collects out of date food and cooks it up into nutritious meals for homeless people and Bikeworks tackles social and environmental issues through community bicycle programmes.  To help raise money for Bikeworks, the hotel runs a monthly £1 room promotion, where winners are asked to donate £1 (or much more) to one of the charities they support.  
The location, virtually snuggled up behind London's Brick Lane and a hop skip and a jump from Shoreditch with its swirling metropolis of restaurants and bars, could not be better for a clientele seeking an affordable, yet stylish experience. It's worth noting that Qbic London does not yet have an alcohol licence, but this is to come.
What is for sure is that Qbic are way ahead of the curve on the budget design hotel front. With close to full occupancy the majority of the time, this is clearly an idea that strikes a chord with people today.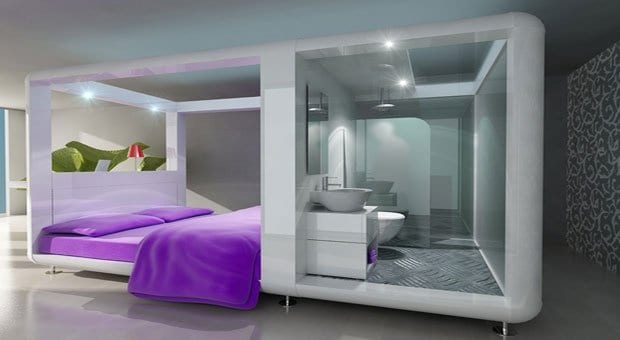 They have however only just got started and there is plenty more to come. A currently unused roof terrace oozes with potential, virtually begging to be converted into a bar/restaurant area. If this project goes ahead, I have no doubt that Qbic will become a destination in its own right, so much more than a hotel that already superbly serves the purpose it intends.
For more information, please click here.
Latest posts by Chere Di Boscio
(see all)