By Katy Caric
For most women, a great pair of vegan heels can instantly boost confidence. For me, it's a no brainer: if I have to choose between flat shoes that may be comfy, but make me feel squat and mousy, or heels that elongate my legs, accentuate my calves and make me feel taller, I'll take the heels every time!
'But wait!' I hear you say. 'Heels are just so…uncomfortable." And I get it – they certainly can be. But a well-crafted heeled shoe will make strutting simple. It should have a padded toe (since that's where your weight is), a sturdy metal-reinforced heel, and of course, a durable upper.
Personally, I find that a bit of a platform and a chunky heel are the two key qualities that make it easier to walk in heels – stilettos are tough for even the most experienced heel-lover, and they tend to get stuck in cobblestones, sidewalk cracks and sewer grates!
Willing to give some taller cruelty-free shoes a try? Here, I've rounded up 10 of the best vegan high heels to lift your spirits – and your style.
10 Of The Best Vegan Heels
All of Stella's shoes are vegan, but frankly, some of them are a bit too chunky for my taste. So finding these slinky, kitten-heeled mesh pumps really made me want to purr!
Designed to fit like a glove, they're made in Italy from all vegan materials. They look just as cool with jeans as they do with elegant dresses.
The style: Mid-heeled, pointy toed pumps that scream 'designer chic'! Price: Around $645
Night on the town? Big date? These vegan heels, which are made ethically in Thailand will be your new dancing shoes. They have a small built-in platform at the front that adds extra comfort and height – and just look at those sexy straps! 
Take on a tango or just look like you are about to – adjust the front straps to make sure your feet are firmly held in place. Dance the night away while others are limping home or massaging their feet!
Their anti-slip embossed rubber forepart also prevents the tip of the outsole from wearing down by creating a buffer between you and the ground. The sleek gold foil outsole is made from recycled rubber; I just love the gold soles!
The style: These T-straps are called the Looker – because people will definitely be checking you out when you wear them! Price: Around $150
Beyond Skin was born in 2001, to make shoes that were stylish and cruelty-free. Since then they've been putting vegan glamour in everyone's step (including avid fan Natalie Portman's).
They have constantly updated their manufacturing process with new sustainable techniques, and today, 70% of the soles of their heels come from recycled cardboard. They have also started to integrate recycled polyurethane into that purple lining. 
I love these glittery hologram vegan heels because somehow, they just seem a bit Cinderella-ish, right?
The style: Classic high-heeled pumps with a fairytale twist Price: $85
NAE Vegan makes all their heels with the best practices of an ethical/eco-friendly workplace. They produce their shoes at a CO2-free manufacturing facility in Portugal using sustainable materials like Oeko-Tex certified microfiber, cork, pineapple leaf fibres, and get this: recycled airbags.
My pick? The Adri sandal in black – for me, these evoke dancing the night away in sultry Buenos Aires.
The style: Delicate strappy sandals with an ankle strap for easier walking Price: around $120
Every shoe made by Nemanti Milano is a work of art, ethically crafted from vegan leather. Their newest collection uses Alcantara, a material that produces zero CO2 emissions. It's a faux leather that's derived from wate grain production and pellemela, a material based on apple cores.
Their classic Stresa ankle boot can also be worn as a heeled shoe – perfect for both jeans and dresses, no matter what the season.
The style: A sleek, low-cut, highly Instagrammable ankle bootie that's made of materials so natural, you can practically eat them! Price: around $250
Shoes of Prey is the perfect place for the design-led vegan, because you can basically design your own heels. First pick out your materials, then your style, embellishments, and your toe shape. Then they come up with a 3D model of the shoe before they make it. Prefer your heels a bit chunkier? You'll love the Lungo style, below. They certainly are more comfy and easier to walk in!
The style: A quirky, chunky heeled open backed pump with an elastic slingback Price: $150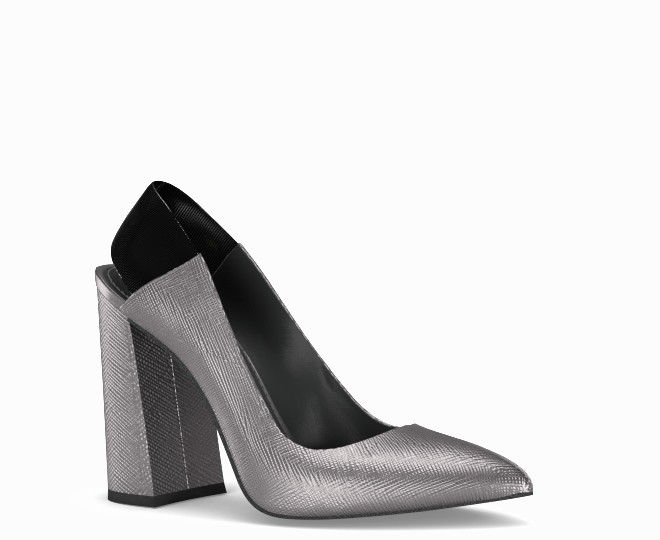 Looking for a vegan heel you can wear anytime, anywhere? Look no further! Matt & Nat was inspired by the idea of synergy between nature and the materials in nature. They started with stylish, practical, vegan bags – and now they also make stylish, practical, vegan shoes, like this sweet Block style below, made from smooth vegan PU. 
Their height is ideal for anyone not too used to walking in higher heels, and the classic pump style is always chic.
The style: An elegant but kick-butt pump with a heel that makes strutting your stuff much easier Price: $95
Susi Studio was started by Bianca Moran with the belief that women shouldn't have to compromise on style to uphold their ethical values. She now uses recycled microsuede to create banging 70's influenced designs, like these Emma platform shoes, below, which come in 7 colours – all of which are made by ethical suppliers in Hong Kong and Portugal.
Can't you just imagine these paired with a sexy Reformation maxi dress?
The style: A fun, disco-era platform with strong ankle straps to ensure they don't slip off Price: $115
T-barred and mid-heeled, Bhava Studio's Rooney shoe is perfect for the woman who loves a retro vibe. The brand creates shoes that provide a better alternative for animals, the planet, for the workers, and you – in fact, the maximum heel they produce is the highest doctors recommend you can walk in safely: 3 inches.
No closet is complete without a comfy black pump that goes with everything!
The style: A 30's inspired T-bar with a mid-height heel Price: $249
Why have one pair of shoes when you can have two? All Veerah heels come with the option of adding clip on accessories like straps, brooches, bows or fringes to make their basic pumps far more versatile. And of course, this vegan brand uses a range of amazing, planet-friendly materials like cork, apple, peel, and recycled PET plastics. 
The style: Chic, classic stilettos with a rock chick fringe Price: around $268
Main image and image 2: Veerah
This site uses affiliate links with brands we trust, and if you make a purchase using a link, we may receive a commission.
Did you enjoy this post? Want to show your gratitude? Please support us on Patreon!