By Chere Di Boscio
At the tender age of 15, Canadian teen Rachel Parent has already done more to help save the planet than most adults well beyond her age.
The environmental activist is the founder of Kids Right to Know,  an organisation that  campaigns for mandatory labeling of foods containing genetically modified organisms (GMOs). She has organised and rallies and given speeches about the impact of GMOs on the environment, but she is probably best known for her intelligence, poise and eloquence in debating.
In fact, she challenged investor and TV host Kevin O'Leary to a debate after he called GMO protesters "just stupid" and suggested on his show that they "stop eating" as a way to "get rid of them." Consequently, she appeared on "The Lang & O'Leary Exchange" and easily and confidently ran circles around O'Leary's floundering, flimsy (and rather condescending) arguments.
Here, in this exclusive interview, Rachel illuminates the issues around GMOs and tells us about her frustrations, and her passions.
How did you become interested in GMOs?
When I was 11 years old, I had to pick a topic for my public speaking assignment. My choices were: the environment, animal cruelty, poverty and GMOs. I decided to go with GMOs because that's when I first realised that GMOs actually affected everything else! The more research I did on this topic, the more concerned I got.
How do you feel when adults condescend to you, or try to dismiss your arguments because of your age?
I find that when people criticise or condescend me, I feel stronger and more confident that I'm doing the right thing. I realize that not everyone will support me. Everyone is entitled to his or her own opinion and I accept that. I think it's important for everyone to openly discuss this topic, whether they're anti or pro-GMO. What I don't think is necessary, is making cruel or condescending remarks.
Give us 10 good reasons you think GMOs must be stopped
The bee population is declining at an alarming rate.
The butterfly population is also declining at an alarming rate
Many other insects and animals in the ecosystem are dying off because of the pesticides and herbicides being used in GMO crops.
Our topsoil is being contaminated as the toxins leak from the genetically engineered plant to the ground.
More super-bugs are evolving due to the increased resistance to the pesticides being used in GMO crops.
Weeds are also evolving to become more resistant to the weed killers.
The key ingredient used in Agent Orange, is being used today in GMO crops to kill the weeds that are becoming stronger and stronger.
Digestive disorders, leaky gut syndrome, thyroid disease, tumors and allergies have all been linked to GMOs.
Infertility has also increased significantly ever since GMOs were introduced to the mass market.
GMOs are a prime example of irresponsible science and unethical progress.
You've overcome a lot of obstacles, but what's one of the biggest challenges you face today?
I'd say my biggest challenge so far is getting Rona Ambrose, Canada's Minister of Health to respond to me. She has spent so much time and money telling us Canadians how much she cares about our health and how interested she is in having a discussion with us about our concerns on issues such as food labeling. Yet, since October of last year, I have been reaching out to her and to this day, I've had no response whatsoever! I've sent her 2 letters by courier directly to her office. I have (sent her) an online petition on  www.change.org/gmolabeling  and 2 videos on YouTube, which you can see here and here.  
I also printed petition postcard that has been distributed in stores across Canada for the public to sign, supporting this initiative. I would like to have the opportunity to meet with her, to discuss food safety and GMO labeling in Canada. This is a big topic right now in food in my country and yet our government doesn't seem to show any interest in it. At least not with its citizens.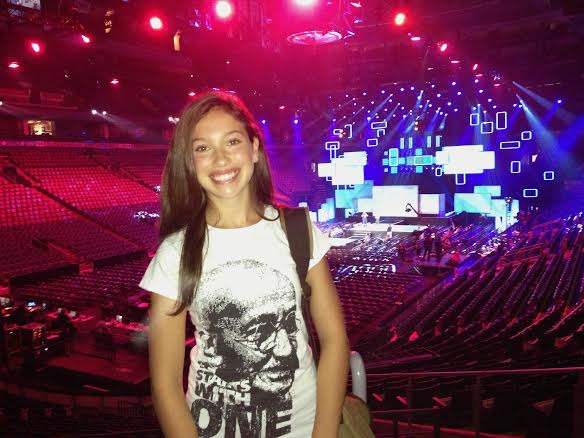 Despite a few setbacks, you've accomplished quite a lot! What are you proudest of so far?
This has been a long, tough battle and I know there's more to come, but there are many things I have accomplished along the way that I'm very proud of. One is being able to debate, face to face, on live television with Kevin O'Leary about GMOs. He is known to have extremely conservative views and is as pro-GMO as they come. I was able to keep my cool, make my arguments and share my message with millions of people all over the world. To this day, over 3 million people have watched the debate, which you can see in this video here.
Another, less publicly known accomplishment which I'm very proud of, is that so many people, including children, from all over the world, send me thank you letters telling me how I've inspired them to change and be more aware of what they eat, and therefore, avoid GMOs. As a result, they are now living much healthier, happier lives. That makes me so happy. It also makes all the hardships I go through for this movement, totally worth it.
To watch a fantastic video on the subject of GMOs, click here.
Latest posts by Chere Di Boscio
(see all)