Stuck for ideas on what to wear for New Year's Eve or another big bash? We've got some ethical evening dresses  and pantsuits that will make you light up the room!
By Diane Small
The festive season means loads of food, booze, gifts, friends…and parties. And parties mean: dressing up!
Personally, I love the chance to doll up a bit. After weeks upon weeks of sitting at home, mainly seeing people on Zoom calls, I really look forward to showing the world that I can scrub up pretty well. Especially if I'm wearing a gorgeous evening gown!
But, what makes the difference between an 'everyday' dress, and one you'd wear to an evening event, I hear you asking?
Well, lots of things, of course.
What's meant by ethical evening wear?
First off, it's all about the higher quality, slightly shinier, sparklier fabrics. Think: shimmery silks, satins, chiffons – with or without a bit of glitter.
Then there's the beautifully tailored, elegant cuts that show off just the right amount of skin: a well placed slit up to the thigh, or a low-cut back, for example.
Next, there's the 'wow' factor – that certain something that makes heads turn, and that makes you feel absolutely fabulous in what you're wearing. This could be a ruffled shoulder, a puffed sleeve, or maybe a subtle cut-out in the design.
Of course, we needn't stick with ethical evening dresses for a big night out; jumpsuits are making a huge comeback, too. But if you find one-pieces too uncomfortable, a pair of palazzo pants (especially high-waisted ones) are not only an elegant option, but a versatile one, as well.
Also, remember that sustainable evening wear is stuff that shouldn't be 'trendy'. These are slow-fashion garments that should look chic for decades.
Now, let's get to the 'ethics' part
If you're vegan, you'll want to look for recycled or deadstock fabrics. Another option could be plant based materials, such as viscose, cupro and organic cotton jersey.
Non-vegans will find silk just fine, but you should make sure it's naturally dyed and finished. And why not look for peace silk, which is an even more ethical option?
Whatever you buy, you should ensure that the garment was either:
made in a factory where the workers are guaranteed to earn a living wage
locally made by a company that pays above the minimum wage
vintage or rented
Whether you're ringing in the new year, on a big date, or going to a gala, I've found some ethical formalwear options that I think you'll love!
The Best Ethical Evening Dresses For A Big Night Out
Made ethically in Chile by female artisans, this stunning dress features a wrap cut. It marks a bit of a revival of the 70's trend for wrap dresses.
This slinky, silvery dress is one of the best ethical evening dresses for anything from NYE parties to weddings. It features an elegantly cut, deep V neck, but is ladylike enough to wear to the most formal events, thanks to its maxi length. It would look especially fabulous accented with a black clutch and vegan heels. Oh, and if you're wondering why it's called the 'Backwards Dress,' well, that's because there's a V cut in the back, as well as in the front.
Best for: Minimalist elegance; feeling like a million bucks
Price: Around $725
Expert cutting and draping show off exactly what skills Ms. McCartney has honed over the years. This uniquely designed dress features "nostalgic with the futuristic, connecting the experimental aesthetics of Y2K music subcultures and club kids to the digital youth of today." According to the designer, anyway. We just think it looks fun enough for any party, any season!
Best for: Those who really appreciate exceptional fashion design, and with the budget to buy it!
Price: Around $1100
Mini or maxi? Hmm…not sure about either? Try a universally flattering midi-length dress then, like this Livia model from one of our favourite sustainable fashion brands, Reformation.
We love the puffed sleeves, fitted bodice and the upcycled, blue velvet deadstock fabric. Very lush!
Best for: Since it's made from thick velvet, this is one of the best ethical evening dresses for not freezing to death in winter!
Price: Around $180
Save the $995 on a new Nicole Miller dress you'll likely only wear a few times and spend $75 to rent it instead! Even when you consider the delivery and dry cleaning emissions, renting clothing is still way more eco-friendly than buying it – remember that the delivery emissions will be the same for rented or bought clothing, and although dry cleaning does have an ecological cost, making a new dress has a much higher one! I'm in love with this classy, lacy gown with a sweetheart neckline. It's definitely a head turner!
Best for: Making a seriously deep first impression as you glide into the room
Price: $75 for a 4 day rental
Image credit here.
Red is such a festive colour, no? And the Kourtney by The Reformation boasts a gorgeous cherry hue! This midi length dress with a fitted bodice is super slinky. That's mainly thanks to its slim fitting faux wrap skirt with a high slit, and sexy, adjustable spaghetti straps.
In case you're wondering about the fabric, it's viscose made from sustainably managed beech wood forests.
Best for: Knocking 'em dead!
Price: Around $225
Kate Moss is well known for showing up to posh bashes in vintage frocks. In fact, she often attends her own birthday parties rocking a vintage dress. And why not? It's pretty certain that no one else will turn up in the same outfit, and you're bound to get tons of compliments and comments on your dress.
Luckily, there are increasing numbers of stores – both online and on the high street – that are offering beautiful designer vintage dresses that are perfect for a big night out, like this Dior number, below.
Sure, the prices aren't exactly low, but remember: you'll be participating in the circular economy. Plus, you can always re-sell something in great condition on sites like Farfetch or Vestiaire Collective!
Best for: Channelling your inner 1990s Supermodel
Prices: Start at around $500
I've said it before and I'll say it again: there's just no more universally flattering style than a wrap dress! This Butterfly frock, made of cupro, is one of the best ethical evening dresses for loads of other reasons, too. For example, it's practical enough to wear to work, but with heels and statement jewellery, it's ideal for a big night out, as well.
Price: $550
Best for: Flattering all figures
If you ask me, of all the ethical evening dresses to choose from, the slip dress is always in style. It's pretty much a wardrobe staple, and no wonder. The shoestring straps, mid-length hem and subtle V neck make it a versatile layering piece in winter, and a chic option on its own in summer.
This Aegean slip dress was ethically made using natural dyes and Ahimsa silk, also known as peace silk. In case you didn't know, unlike the conventional kind, Ahimsa silk does no harm to the insects that spin the threads used to make it.
PS: Want some hot tips on how to rock underwear as outerwear? Check this article out!
Price: $265
Best for: Seasonal versatility
Do ethical evening dresses get cooler than this? A black bandeau top with a tulip skirt make this dress super easy to accessorize. If the full on choker is a bit too much for you, doll it up with some elegant earrings and a jewelled clutch bag instead.
As for sustainability, this little number was made from soft, stretchy Lenzing ECOVERO viscose from responsibly managed forests. It's guaranteed to hug every curve!
Price: $25
Best for: Those on a serious budget
Main and second image: Reformation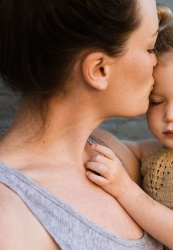 Latest posts by Diane Small
(see all)