Got an event after work? These 5 steps will take your makeup look from day to night in no time!
By Diane Small
We've all been there – working all day with a big night out on the horizon, but no time to go home a redo our office look for evening. But no worries – there are solutions!
To start with, ensure what you're wearing to work the day you need to go out is something that can easily be dressed up with accessories. And as for your makeup look, you'll have to bring a few things to the office to wipe the day off and prep for the evening. It's not as difficult as you may think, and all my suggestions are below.
Ready? Let's get started!
5 Steps To Take Your Makeup Look From Day To Night
1. Clean Up and Freshen Up
It's essential to remove the day's makeup and start again before going out. 
Start by using a micellar water like this one to wipe away any eye makeup that may have smudged, and touch up your foundation and concealer if needed. I love using Sond's Hydrating Face Spray for a refreshing, gentle moisture boost that instantly makes your complexion look brighter and it's great for sensitive skin that's prone to redness.  
No time to remove the day's makeup? Try using blotting papers like these green tea infused ones to remove any oils that may have built up during the day, paying special attention to your T-zone and any other areas where you're prone to shine.
2. Up Your Eye Game
For daytime, some eyeliner and mascara is all you need on the eyes. But for evening, apply a great eyeshadow to cleansed lids, like the Kjaer Weis's classic Magnetic shade. Use a darker shade than you would for daytime. Start on the outer corners of the eyelid, working your way in. To make the eyes look further apart, layer a little bit of shadow on the outer third of the eye, then blend inwards.
Then, use a liquid liner like Chantecaille's, starting with a thin line from the inner corner of the eye, then thicken it slightly as you go out towards the outer third by using the side, as opposed to the point, of the brush. If you find this tricky, you could try taking a personal makeup class to learn to do this right.
Avoid adding more mascara to what you wore during the day! When added on top of old mascara, this can cause clumps and make your lashes stick together. Instead, for a more dramatic look, apply some strip lashes, like the Agnes Dos Santos range of cruelty free, vegan friendly lashes, to create a bold statement eye look. Not handy with the falsies? Then simply use an eyelash curler like Eyeko's instead, to revive daytime lashes into evening.
Finally, tweak your makeup look by adding glitter or a some sparkly colour to your eyes. Just make sure it's 100% natural glitter like this one from Lily Lilo – otherwise you'll be hurting your health and the environment, too.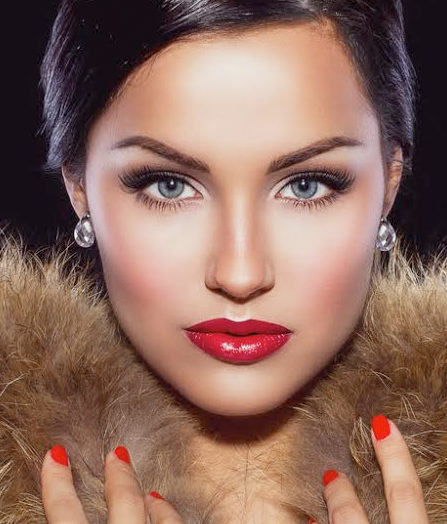 3. Get Cheeky
Your complexion risks fading away on a night out! Whilst blusher can make some look 'overdone' in the daytime, it's a must at night. Dot a bit of a creamy blusher like Kjaer Weis's just below the of the apple of your cheeks and blend upwards towards your eyes and outwards towards your cheekbones. Creamy blush is easier to carry with you throughout the day, as you don't need a brush and you can use it as a lipstick, too!
But if your skin is super oily or you don't like the texture of a cream blusher, make sure you carry a blush brush with you in your purse, and then apply a powder blush like Lily Lilo's. Start by loading the brush with the mineral powder, tapping excess off, smiling wide, then sweeping the product over the apple of your cheek and up towards the cheekbone. Blend well!
4. Get A Glow On
A bit of shine is one of the most important steps to take your makeup look from day to night. Yep – your nighttime look NEEDS a bit of sparkle to bring to life tired skin! So take a highlighter like Vapour Beauty's Halo Illuminator, and apply on your cheekbones, chin, forehead and neck.
Oh, and if your shoulder or collarbone is on show, add some there, too.
5. Pump up your pout
For an evening look, apply a lip shade that's a few shades darker than your natural lip colour, or go bold with a red statement lip. My favourite is Jean Queen by Lipstick Queen. Top it off with a high shine lip gloss for a little extra – glossy lips and lids are so on trend right now! A great, natural gloss is Lilah B's Lovingly Lip Tinted Lip Oil in b romantic.
Of course, if you decide to go heavy on the eyes, be careful not to overdo it on your lips.
And that's it – now that you've learned steps to take your makeup look from day to night, you're ready to shine on a big night out!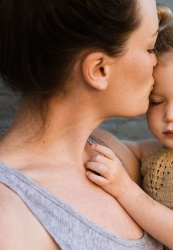 Latest posts by Diane Small
(see all)