By Chiara Spagnoli Gabardi
The fancy season means fancy vegan shoes are a must. And by fancy, I mean shoes that aren't plasticky. Shoes that are made with a high degree of quality and craftsmanship. Shoes that make other women stop you in the street and ask you where you got them.
To be honest, sometimes it's not easy to find those shoes in the world of vegan fashion. Often, they lack in style, and if they do have some style, they're made of nasty, synthetic materials. But here, I've found 10 fancy vegan shoes for big nights out that tick all the boxes: stylish, solid, comfy and glam-as-all-get-out.
Think these vegan heels look uncomfy because they're high? Wrong! They've got memory foam insoles to keep you dancing the night away. This dramatic pointy-toe pump with a pearlized patent finish is lifted by a gorgeous stiletto stamped in abstract snakeskin texture.
This Chelsea-inspired boot gives a timeless touch to a cutting-edge boot. The addition of glittery glam was designed to add a touch of elegance with everything, from a velvet maxi dress to a pair of tights with a nice, soft sweater.
These classic dark blue pointed pumps have a modern twist: their velvet effect! Luxurious and intense, it's made of sustainable viscose, keeping in line with Stella McCartney's ecological and cruelty-free philosophy.
Since its inception, this vegan friendly label based in Portugal has proposed a fair and animal-friendly alternatives against animal exploitation. Their Erica Grey ankle strap platform shoes are perfect for vegan fashionistas for big nights out this season.
Fine craftsmanship – along with a strong concern for animals – are at the core values of this Italian brand, which uses plant tissue to create its products. In fact, they often upcycle materials that are products of recycling or reuse. Their sophisticated black vegan patent leather sandal is a timeless classic to have in your collection, featuring a luxurious and comfy Alcantara lining.
How Cinderella-like are these? Sparkling, multi-sized crystals bedazzle the toe and drift up the sides of a dreamy illusion pump that perches your pins on slim, sexy stilettos that add some serious glamour to even the most basic LBD.
Prefer a lower heel? These Indian-style shoes still provide a load of elegance, thanks to their intricately detailed embroidery and crushed blue velvet uppers. Made ethically by artisans in India, these are special shoes that defy time and trends.
Los Angeles based brand Susi Studio has always aimed to promote conscious living, focusing on compassion towards humanity, animals, and the environment through creativity. Their latest model is an ode to femininity: their Nina pumps, made out of recycled PU, are named after the legendary Nina Simone.
Beyond Skin is a sustainable and sweatshop free brand that hand-makes all its items ethically in Spain. The stylish pointed-toe high heel vegan court shoes will make you stand out at any Yuletide gathering through the sparkle of its glamorous crystal peacock glitter. Plus, 1% of your purchase will help grass-root environmental and social projects.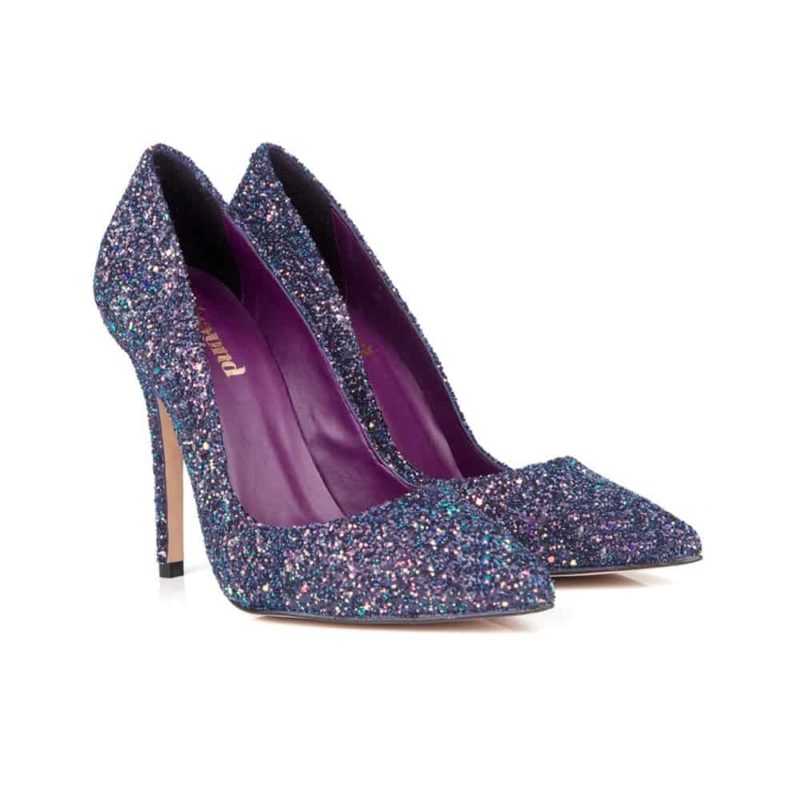 We love Veerah for so many reasons: they create classic vegan pumps with eco-friendly materials like recycled apple skins (yes, really!) and they also offer an array of detachable shoe accessories like ankle straps, bows and fringes, so one pair of shoes can become three, or more!
This site uses affiliate links with brands we trust, and if you make a purchase using a link, we may receive a commission.
Did you enjoy this post? Want to show your gratitude? Please support us on Patreon!