These vegan American recipes will make your 4th of July celebration and healthy, tasty hit!
By Lora O'Brien
Of course, here in the UK, we don't celebrate the 4th of July much. Or at all, for that matter. But the thousands of expats in the country do, and they do it large! Fireworks, picnics, BBQs and house parties will all be happening in a few days, and most of the guests will be Brits. But what to bring to such a shindig?
Ask most people what they believe constitutes 'American Food' and they'll almost invariably answer: hamburgers, hotdogs and fries. All of which actually have European origins. With two even being named after German cities (Hamburg and Frankfurt, home of the frankfurter, aka 'hotdog').
But the truth is, there's plenty of indigenous American food that's made its way across the pond – think: pumpkin pie, popcorn and pancakes – and plenty that hasn't yet, like succotash and okra.
But it's time for all that to change. Here, I've come up with a bunch of vegan American recipes that are perfect not only for the 4th of July, but any time you're planning a (plastic free) picnic, BBQ, or just feeling some love for the red, white and blue – be that for the American, French, Australian or British flags, too!
20+ Vegan American Recipes for the 4th of July
1. Smoky BBQ Carrot Dogs with Chickpea Salad
These look like a bit like fully loaded BBQ hotdogs, don't they? But they're a bit sweeter and mushier…because they're actually carrots! If you love the explosion of textures and flavours that come along with traditional hotdogs, then you'll love this recipe. It combines a spicy, chewy, meaty 'dog' with a hearty chickpea salad on a bun.
No hotdog buns where you live? Never fear: there's even a recipe for homemade ones here, too!
Get the recipe here.
2. Taco Stuffed Sweet Potatoes
Who doesn't love a sweet potato? It's like the blank canvas of the cooking world: you can do just about anything with them – and don't these look amazing? Stuffed with chickpea 'taco meat' and loads of creamy cilantro sauce, they're full of zesty SoCal flavours.
Get the recipe here.
3. Vegan Fried Okra
Not sure what this is? Well, okra is a Southern favourite vegetable that kind of looks a bit like a teeny tiny zucchini. It's normally stewed up with meat or chicken, onions and tomatoes, but it's pretty tasty on its own, especially when breaded and fried. Why not put a tasty dip on the side?
Get the recipe here.
4. Grilled Vegetable Summer Succotash Salad
'Sufferin' succotash'! That phrase, uttered in frustration by Sylvester the Cat in Looney Tunes, was the first time I had ever heard about succotash. In fact, being British, I had no idea what it actually was until I researched this recipe. But as a vegan, I must say: it looks pretty tasty! Chock-o-block with summer veggies and easy to whip up, too.
Just a note to our North American friends: if you are making any recipe with corn, PLEASE buy organic! In your country, this food is almost always GMO, and that's not good at all.
Get the recipe here.
5. Black Bean Burgers
There are lots of different vegan burgers: chickpea based ones, tofu and even nut. But black beans have the meatiest texture, are full of nutritional goodness, and taste wonderful with a tomato based sauce (that could be something you make yourself with cilantro, tomatoes, onion and pepper, or simply ketchup!)
Get the recipe here.
6. Vegan Mac'n'Cheese
For many, one of the hardest things to give up when going vegan is: cheese. There's just something irresistible about the combination of salty and creamy and hot that's sooo delicious. Luckily, this vegan recipe plays with all of those textures and flavours that we so love, and results in a hearty, healthy twist on an American classic.
Get the recipe here.
7. Broccoli Cornbread
Cornbread is essential a twist on Italian polenta. In fact, instead of saying 'polenta', many Americans refer to this as 'grits'. But no matter what you call it, it's tasty and filling and easy to share. Normally, this recipe calls for loads of butter and cheese, but after a huge search, I finally found a vegan version. Woohoo!
Just remember: American corn is normally GMO, so please ensure you buy organic or Italian polenta, or grits, or cornmeal, or whatever you want to call it!
Get the recipe here.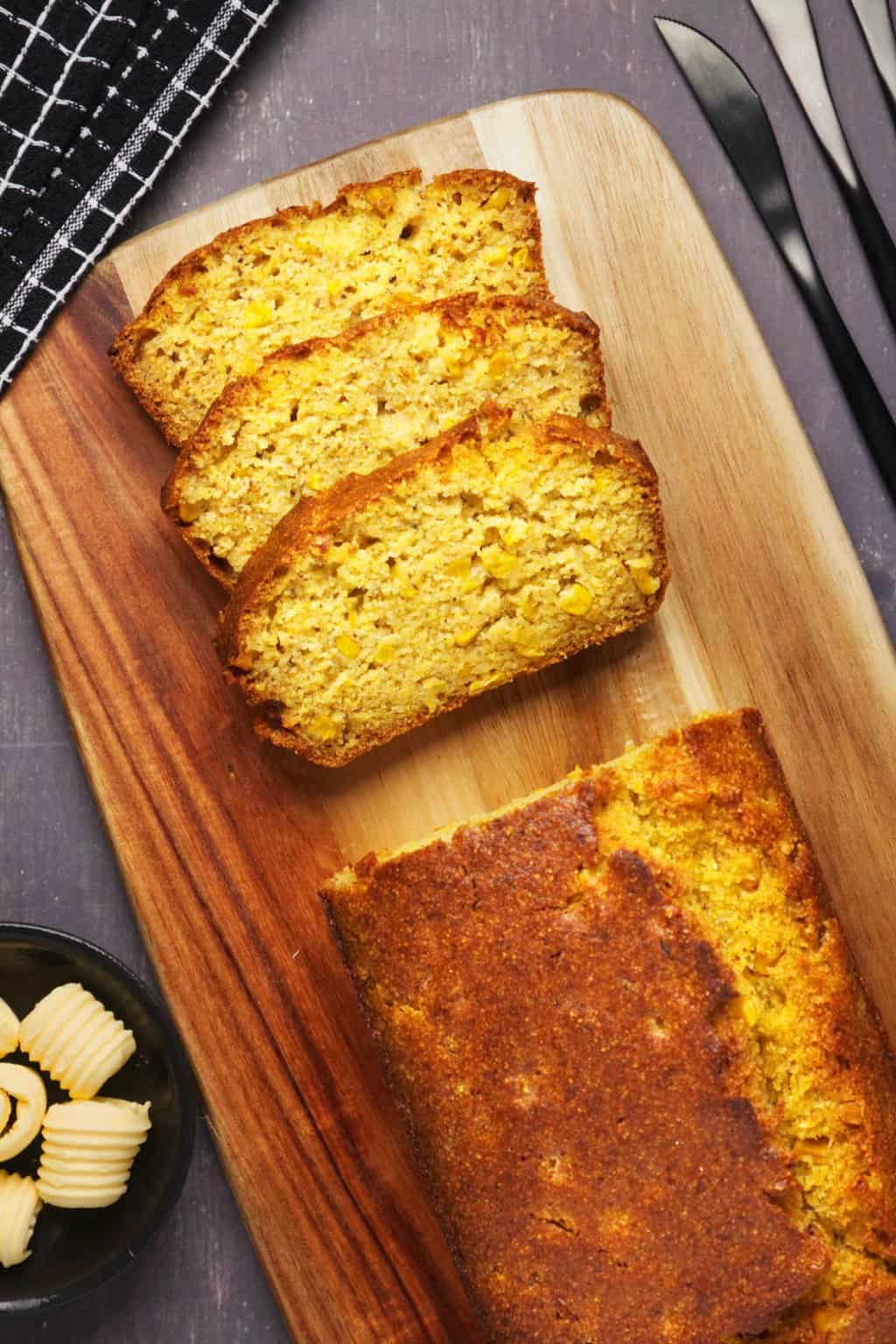 8. Carrot and Raisin Salad
Time to get more pure veggies into this list of vegan American recipes! This is a simple salad to make, especially if you have a food processor (otherwise, just use a cheese grater) and has the texture of coleslaw. It's tangy, crunchy, and a little bit sweet. Oh, and super healthy, too!
Get the recipe here.
9. BBQ Grilled Corn and Tofu
This is one of our easiest vegan American recipes! Corn on the cob is a popular street food in Latin America. It's also something Americans love so much, they even have little knobby things you can stick in the front and butt of the corn cob to let you eat it without getting your fingers all dirty. Truth!
To give basic corn a bit of a twist, this recipe gives the veg some Asian zing by adding some miso. Nice! (Note: Hate to bang on about it, but again, please make sure both the tofu and corn are organic to avoid eating GMOs.)
Get the recipe here.
10. Vegan Caesar Salad
It may have been invented by an Italian, but as it was created on the 4th of July, it has to be on our list! The recipe was originally made by restaurateur Caesar Cardini, who moved to San Diego from Italy. His daughter Rosa claims that her father invented the dish when a 4th of July kitchen rush in 1924 depleted the kitchen's supplies. Her dad made do with what there was, and voila – a classic salad was born!
This version shuns the original egg, cream and anchovies, making it 100% vegan friendly, but equally tasty.
Get the recipe here.
11. Black Bean Fajitas + Guacamole
For many, more than belonging in a list of vegan American recipes, this dish should be classified as Mexican. But for those in the American south west, this is pure Tex-Mex! The fajitas substitute traditional chicken or beef for veggies, all topped off with a nice, creamy guacamole.
Get the recipe here.
12. Quick & Easy Pasta Salad
Italians may recoil in horror: cold pasta! What? But pasta salad has become one of the most vegan American recipes – especially in the summer. Whilst this dish is usually quite 'processed', with tinned tuna, white pasta and tinned corn being the main ingredients, this version calls for lots of fresh veggies. It features onion, cherry tomato and olives, but you could also add parsley, kale or peas to make it an even healthier option.
And of course, you can sub in gluten free or whole wheat pasta to suit your dietary needs.
Get the recipe here.
13. Hash Brown Haystacks
This tasty recipe combines the best of two classics: the hash brown, a concoction of grated potato all fried up, and the haystack, a collection of leftovers piled up on each other. Crunchy on the outside, tender on the inside, what's not to love about this tasty side dish?
Get the recipe here.
14. Best Ever Fries
Let's face it: you just can't come up with a list of vegan American recipes without adding some fries! They may have been invented in Belgium, but they were perfected in America – especially when there's a huge dollop of ketchup on the plate!
And here's a tip: if you're oven baking your fries, follow these two steps to make them super crispy. First, pour boiling water on them and let them soak for ten minutes. Blot dry, then bake, with plenty of space between each chip. Flip when golden brown. Crunch!
Get the recipe here.
15. Easy Vegan Coleslaw
While it's tempting for me to go nuts in this article with the burgers, fries and dessert recipes, I think we need to stick to a few more super healthy vegan American foods. Like coleslaw! Minus the cream. Or mayo. Or whatever they normally put in it. This version is crunchy, savoury and creamy – but is also 100% dairy free.
Get the recipe here.
16. Peanut Butter Cup Pie
Peanut butter is an American staple. But it's kind of like the Marmite of North America: either you love it, or you hate it. But if you love it, you love it big time, especially when it's paired with chocolate or jam! This pie tastes just as delicious as it looks, and you'd never guess there's even a bit of tofu in it.
Get the recipe here.
17. Gluten Free Blueberry Pie
Ok, so I know the expression goes: 'As American as apple pie.' But apples are in season in autumn, right? So let's go seasonal and make another American classic: blueberry pie! This one is not only vegan, but gluten free, too, making it a guilt-free treat.
Get the recipe here.
18. Vegan Ambrosia Salad
I must admit, the first time I'd heard about 'ambrosia salad' I was a bit confused. What right does anything that contains whipped cream and marshmallows have to call itself a salad, after all? But this much healthier, all vegan version makes a bit more sense. And for some, this raw dessert is bound to evoke some lovely childhood memories. It's definitely one of the most nostalgic vegan American recipes on our list!
Get the recipe here.
19. Rosemary Lemonade
I couldn't do a list of vegan American recipes without drinks! Lemonade can be super healthy because it reduces acidity in the body. Thing is, as it's often full of sugar, which is acid-producing, and that's just not good. This recipe has a whole cup of sugar, but you can replace the sugar in this and most lemonade recipes with something like stevia or xylitol or another sugar substitute, though. Check here for sugar substitutes.
Get the recipe here.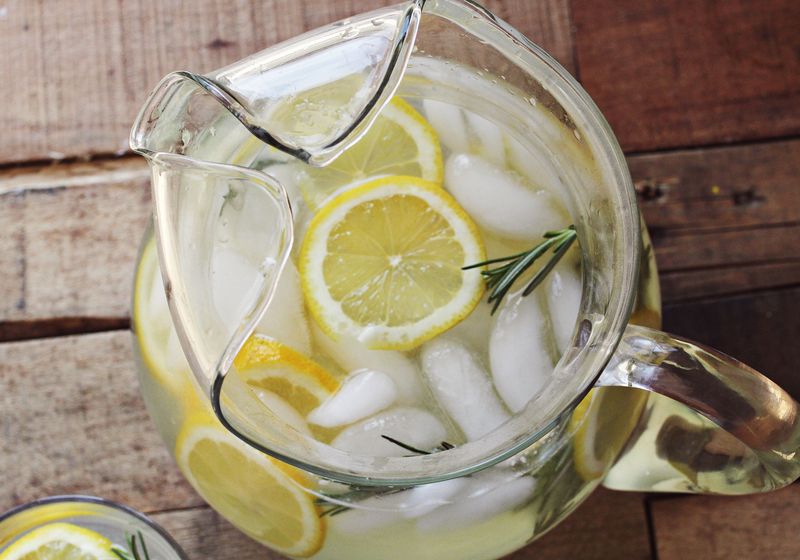 20. All American Apple Pie
This is one of those vegan American recipes that just has to be served up at a 4th of July celebration, am I right? This apple pie has got a gorgeously flaky crust thanks to the use of coconut oil. The sweet, fragrant apples combined with cinnamon is delish hot or cold.
Get the recipe here.
21. Red, White & Blue Popsicles
Watermelon, coconut and raspberry form the three layers of this recipe. It's one of the easiest vegan American recipes to make – even kids can do it! Personally, I would rather forgo the blue food colouring in the last layer and use blueberries instead, but you can make your own decision on this one!
Get the recipe here.
22. Chocolate Chip Cookies
The only vegan American recipes that are arguably more American than apple pie is possibly the chocolate chip cookie. And thanks to this great recipe, you can enjoy relatively healthy cookies with zero bad fats or eggs.
Get the recipe here.
23. Vegan 4th of July Cake
I think I saved the best of the vegan American recipes for last! I mean, how gorgeous is this cake? Impossible not to impress when you present this at your picnic or party! The frosting is all coconut and the base of the cake itself has a slightly lemony zing, which goes so well with the tartness of the fruit topping.
Get the recipe here.
Main image: Kathy Patalsky
Latest posts by Lora O'Brien
(see all)