To bring attention to the issue of single use plastics, we present this photoshoot, for plastic free July
By Chere Di Boscio
Let's face it – we all not only use more plastic in summer, but notice plastic waste. People have picnics and toss out plastic plates and cutlery. We get thirsty and buy plastic bottles of water. We notice plastic bags floating in waterways and plastic debris turns up on shorelines.
It's tragic, really. And that's why one photographer decided to draw our attention to the issue through a fashion shoot.
Lumo Creative Studio is a boutique photo production company that normally works with eco-friendly brands including Nuuwai, Barzelai, D.A.Z.H.E.,Mamma Tierra, Lana Organic and Loft and Daughter.
But this time, they created a photoshoot using upcycled plastic pollution to highlight the problem of our throwaway culture. "Single use items such as plastic bags account for 40% of the plastic produced each year and their lifespan on this planet can be hundreds of years," says photographer Ksenia Poliak.
"I wanted to create a photoshoot to show how one can transform single use items to something beautiful and creative and to get people to stop and think about where our waste goes to and can we reuse something to create something else, whether it is in fashion, in crafts or design," she continues.
We were delighted to see our writer, Noa, was used as the model for this wonderful shoot. But there were many more talents on the team, too. "I worked in collaboration with our designer Daria to create two different looks using all single use materials," Poliak says. "Our vision was simple, to show how you can create something that people just throw away into fashion."
We Need To Talk About Plastic
Since she's so passionate about ending plastic pollution – and since it is, after all, Plastic Free July – I thought I'd interview Poliak to learn more about her thoughts on the issue.
What forms of plastic are the most troublesome in the world today, do you think?
Disposable/Single Use Plastics are the most troublesome in the world   – Plastic Bags, Plastic Bottles and lids , straws, plastic wrappings, disposable cutlery, cups and plates, plastic lined coffee cups and lids and plastic takeaway containers
What are the best ways you think people can avoid using plastics?
Stop using plastic bags – use a reusable cloth bag
Never use a takeaway coffee cup – either sit in and have your coffee or buy a reusable coffee cup.
Never buy plastic bottled water – but a reusable water bottle.
Buy your fruit and vegetables loose without plastic wrapping.
Choose brands which use recyclable packaging
Use reusable food storage containers
Stop using plastic straws and plastic cutlery
Give up chewing gum. Gum is made of a synthetic rubber, aka plastic.
Compost food waste to avoid plastic garbage bags
Check labels of clothes to see what materials they are made of and choose more sustainable brands.
What are your thoughts on recycled plastic fibres for clothing?
Many of our clothes contain microplastic fibres such as nylon, polyester, polyamide. Every time we wash them, they drain out our washing machines through wastewater treatment plants, ending up in the sea and eventually ending up in our food chain. Therefore we should always look at the labels of our clothes are try to avoid materials which contain microfibres.
There are many innovative eco conscious materials being created by sustainable brands, such as Repreve, which uses plastic bottles recycles them and creates a fibre which is used to produce fashion and sport apparel. They have recycled 20 billion plastic bottles to date.
What about vegan bags made from PU plastic?
PU is another type of plastic used and most commonly used material to create vegan leather products. Fortunately industries are coming up with alternative materials such as cork, cactus, pineapple and even apple leather to create vegan leather without plastic.
How do you avoid plastic in your personal everyday life?
When shopping I always bring reusable bags. I have bought a reusable coffee cup and water bottle, which I always have in my bag. I bought reusable food storage containers which I use for my lunch and negates the need to use things like cling film for food.
When I shop for clothes and personal items, I look for brands with sustainable packaging. Also, I always look in secondhand shops or charity shops as it is amazing what you can find and you are reusing items already on the planet.
How was each item in the shoot created?
The Pink Dress was made using plastic bags and disposable tablecloths. The Black Choker Necklace and Belt is was made of egg carton boxes
The Turquoise Top and Trousers were created from plastic bags and disposable tablecloths. The Handcuff and Necklace were made from old Coca Cola cans.
The large Flower was made from plastic bags and wire
A Fantastic Plastic Photoshoot For Plastic Free July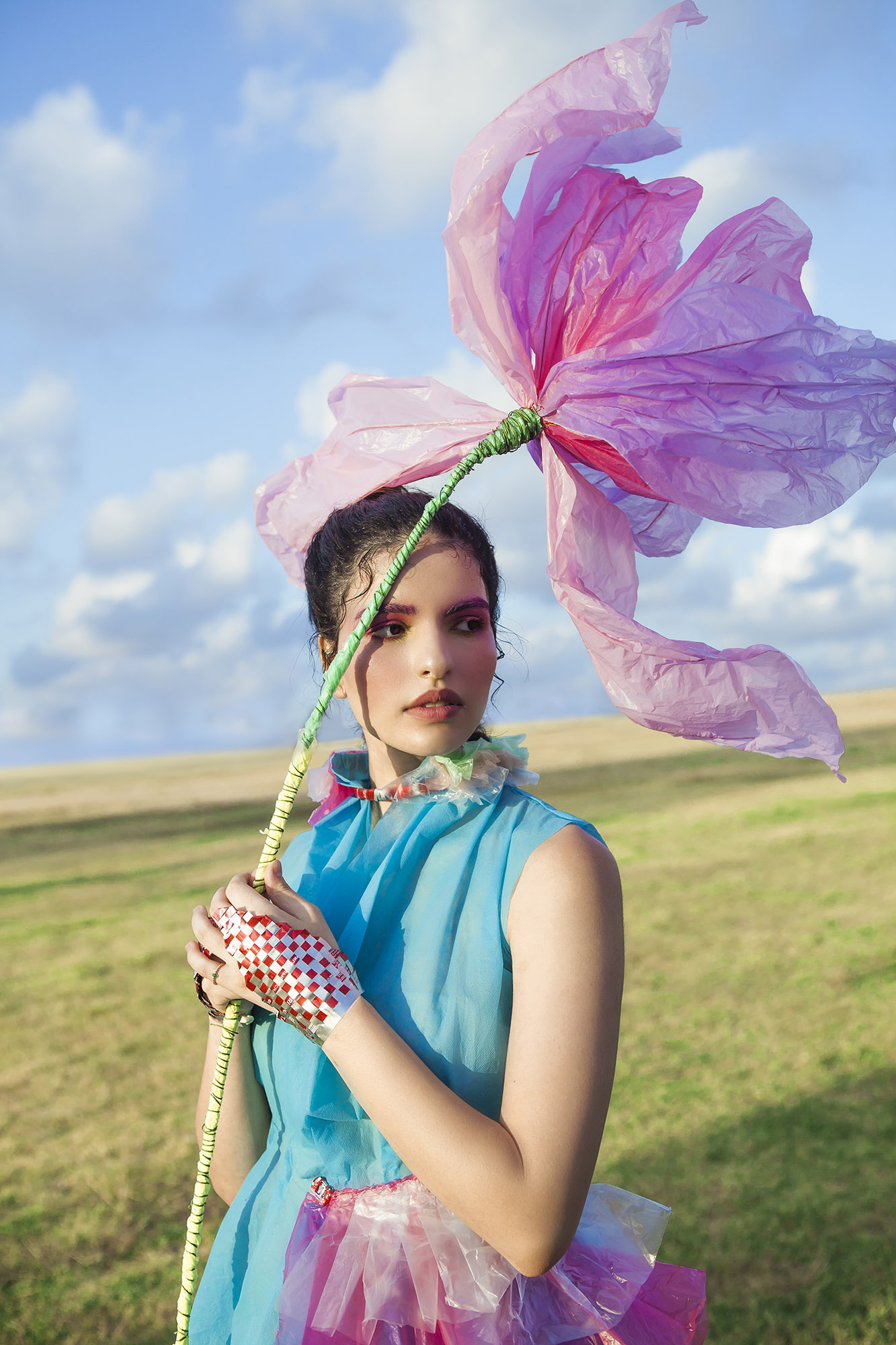 Check out the making of the shoot here:
Team:
Photo Production Company – Lumo Creative Studio @lumo_creative_studio
Photographer – Ksenia Poliak @ poliak_photography
Videographer – Natali Werba @nataliwerbaModel –  Noa Ben Moshe @style.withasmile
Designer – Daria Zheludov @d.a.z.h.e
Hair Stylist – Jane Mogilevsky @jane_mogilevsky.mua
Makeup Artist – Paula Fay @paulafaymakeupartist
Latest posts by Chere Di Boscio
(see all)