Bottletop fashion is taking the world by storm with its innovative upcycling technique, and strong ethics
By Chere Di Boscio
Considering their close connection to soda pop, it's not surprising that youth, art and music are all at the heart of the Bottletop Fashion Company. And this is a company with a lot of heart!
Founded in 2012 by Oliver Wayman and Cameron Saul, Bottletop fashion uses modern art and music to communicate messages to teens in Malawi, Mozambique, Rwanda, Brazil and the UK about HIV/AIDS, drug abuse and teen pregnancy.
But Bottletop isn't just about social work: ethical high fashion is at its core. Working with his dad, Roger (who just happens to be the founder of the British luxury fashion brand, Mulberry) Cameron Saul initiated the Bottletop Foundation in 2002 through a design collaboration with Mulberry.
At the centre of the Bottletop fashion campaign was a handbag made from recycled bottle tops from Africa that was lined with Mulberry leather from Europe. The unique design was applauded by the international fashion press for having generated local employment, encouraging recycling, and of course, raising essential funds for education projects in Africa.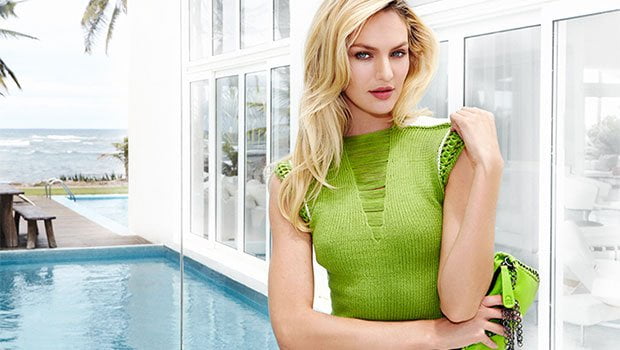 Retro Beach Vibes
Since then, Bottletop's Co-Director Oliver Wayman has channelled Paco Rabanne's hip, beachy 1970's vibe into a kind of aluminium chainmail that's held together through that eternally groovy technique, crochet. This fashion-forward foundation has led to the creation of several rich-hippy collections, the latest of which was shown at Estethica at London Fashion Week FW14 this month.
Shot with Victoria's Secret model Candice Swanepoel on location in Bahia, Brazil, the colourful Bottletop fashion collection features deconstructed knits, bright citrus hues and of course, that signature silver chainmail knitted and crocheted into bags and tops alike. There were even a pair of very sexy pants on offer.
The designers claim their main influences this season was a place they really cherish: "With summer 2014 bringing the World Cup to Brazil we wanted this collection to proudly sport the bold colours and carnival tones from this country that we hold so dear," they stated.
An Angel On A Mission
Swanepoel is just as enthusiastic about working in Brazil: "I felt that it was the perfect fit for me because I'm from Africa originally, but I grew up partly in Brazil as well. I went there when I was 17 years old," she says. The model was particularly thrilled to be helping youth in these two places that are so dear to her. "They have education programmes both in Africa and Brazil, so for me to be able to tie it all together and travel to both places was fantastic. Both cultures really inspired me."
Helping youth in need by buying gorgeous, upcycled fashion? We'll raise our caipirinhas to that!
To learn more about Bottletop fashion, their recent collaboration with Narciso Rodrigues and to see more pics of Candice, please click here.
Latest posts by Chere Di Boscio
(see all)