By Diane Small
Thanks to a certain cartoon, Madagascar is probably most famous for its animals. Due to the fact that this African island is separate from the rest of the continent, its species have evolved in isolation from other African animals and include a plethora of creatures most people have never even heard of, let alone seen, such as the tenrec, tomato frog, comet moth, and the aye aye. But the country is also the world's only home of the lemur.
Despite its unique geographical position, eco-tourism has come relatively late to Madagascar: in 2008, for example, only 8 people were recorded as having taken a guided tour of  the Maromizaha forest which is rich in biodiversity and home to at least 13 lemur species. In 2011, when the government trained guides and made an effort at marketing the country to eco-tourism, 208 visitors came, and since then, it has continued to grow.
But beyond exotic fauna, eco-tourists are further attracted to Madagascar for its pristine beaches, the most popular of which is Nosy Be. Eden Lodge is located 30 minutes by boat from this tourist haven at a breathtakingly beautiful spot called 'Baobab Beach'. Sugary  sand beaches bordered by lush virgin forests, dotted with hundred-year old baobab trees is the stunning landscape that greets guests on their arrival.
Eden Lodge provides a truly relaxing experience. There are no cars or roads; the island is populated only by a handful of locals. The pure air, open spaces and surrounding nature truly make it impossible not to open up the senses and allow the problems of city life to melt away.
Comprised of just eight lodges that are half bungalow, half luxury tent in style, Eden Lodge provides all the modern comforts we've become accustomed to, such as power showers, Dyson fans, and king sized, orthopaedic mattresses. The decor, conceived by talented stylist Frederique Glainereau, combines elegant colonial design with furniture made from local precious woods, all put together in a consciously ethnic and sustainable style.
In addition to taking guided eco-tours of the forests, guests here can also kayak, sailboard, learn traditional fishing styles, and of course, sample the pampering menu at the hotel's spa. For those who simply can't disconnect to the outside world for long, there is free wifi throughout the resort. And of course, there is plenty to eat!
In fact, Madagascan cuisine is a delicious fusion of local and French flavours, such as local fish seasoned with fruit, spices and herbs grown in the hotel's organic garden, as well as  a wide selection of exotic fruits, some of which will probably be completely new to many visitors.
Yet, no matter how many wonderful distractions there may be at Eden Lodge, visitors will always be most amazed at the startingly beautiful flora and fauna of this unique island, and just as well: due to a lack of environmental policing, the habitat of the local animals has been under constant threat, and as a result, some, such as the lemur, are amongst the most most endangered groups of vertebrates on the planet.
But if eco-tourism picks up, the fate of these creatures may be saved, and Madagascar could even rival its neighbours, Mauritius and the Seychelles, as a high-end tourist destination. After all, as the staff at Eden Lodge believe, "real luxury has nothing to do with the superfluous; it mostly means high quality service in a rare and long lasting environment."
For more info, please click here.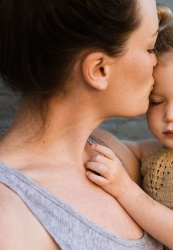 Latest posts by Diane Small
(see all)