The best Fairtrade chocolate brands make a perfect gift for Easter, Valentine's Day. Christmas, birthdays…any occasion, really!
By Katy Carik
Chocolate should make everyone happy, right? It's tasty, creamy, and just the right amount of sweet. Although it's pretty much a universally adored treat, be it in dark, milky or even liquid form, there is a shadowy side to chocolate, though.
Recent findings from Fairtrade International show cocoa production is an unsustainable and often inhumane industry. Firstly, cocoa production can result in environmental destruction: since it's a profitable crop, many farmers will cut down swathes of forest, often in rain forested areas, to plant cacao.
Secondly, the majority of the world's cocoa comes from four countries in West Africa – the Ivory Coast, Ghana, Nigeria and Cameroon. In Ghana and the Ivory Coast there are an estimated 2.1 million children working in the cocoa fields. And despite the high retail cost of chocolate, farmers in the Ivory Coast have an average income of around $2,276 per year – I did I double take when I saw that – how could that possibly be a fair wage? Cocoa farmers also have to fight through volatile and declining prices to even make that income. (Learn more about social injustice in cocoa farming in this recap of the World Cocoa Conference.)
GMO Nonsense
And finally, here's a bit of news that may shock the socks off you: major corporations are using the excuse of climate change to scare us into believing that 'chocolate is becoming extinct'. This 'threat' has been used since 2010 (with no apparent resulting decline in chocolate production, mind you), and corporate producers are pushing GMO chocolate as a 'solution'. But guess what? Several major brands, including Mars, Godiva, Lindt, Hershey's and Nestle, already use GMO ingredients in their products.
Honestly, before researching cocoa production for this article, I had no idea of the scale of the problems caused by chocolate! But never fear, there are solutions…
3 Simple Ways You Can Help Cocoa Farmers
The main thing to remember here is that there is still hope. Consumers are wising up – class-action lawsuits have been filed against Hershey, Mars, and Nestlé, because they failed to inform consumers of the slave labor used to produce the chocolate. Most promisingly, last year in the U.S,  sales of Fairtrade cocoa grew by 33 percent.
Here are some of the Best Fair Trade chocolate brands for you to try at home.
10+ Of The Best Fairtrade Chocolate Brands
This brand is co-owned by the 85,000 members of Kuapa Kokoo, a farm cooperative in Ghana that supplies the cocoa for each bar of Divine. As co-owners, cocoa farmers get a share in the profits, a say in the company, and a voice in the global marketplace. The quality of the rich and smooth cocoa and ethics behind the company are just divinely delicious!
Best for: This is one of the best Fairtrade chocolate brands for supporting women
Love animals? Endangered Species Chocolate combines delicious chocolate with education and advocacy. Each chocolate bar features a different endangered species, and the inside of the wrappers carry educational information on that animal.  They donate 10% of their net profits to their GiveBack Partners like the Xerxes Foundation and the African Wildlife Foundation, with over $1.3 million donated in the past three years alone.
Best for: Definitely one of the best Fairtrade chocolate brands for those who want to support wildlife
A selection of chocolate bars for the healthiest chocolate lover! Lily's Sweets uses stevia instead of sugar to reduce the number of calories per bite. Don't worry though, the bars still have all the rich flavour you'd associate with chocolate. I look at it as enjoying a good bar of chocolate without any added guilt!
Best for: Diabetics, since many flavours are sugarless
Tony's Chocolonely has one mission- to make slave-free chocolate. They use traceable beans purchased directly from partner cooperatives in Ivory Coast and in Ghana. Farmers receive "Tony's premium" on top of the fair trade premium for the cocoa they use to help farmers escape the cycle of poverty created by traditional cocoa farming.
Best for: Kids. How cute is this packaging?
One of the pioneering Fairtrade chocolate brands, Chocolate Stella originally set up their first Fairtrade chocolate in partnership with a Swiss sourcing company in 1991. They've continued to source their cocoa from El Ceibo in Bolivia and sugar from Alter Trade in the Philippines, and I love that they have a whole line of bars that are sweetened with agave nectar, too!
Bests for: Avoiding white sugar
Green & Black's name symbolises the two pillars of their brand: the 'Green' is their commitment to ethical sourcing and the 'Black' is the quality and intensity of their chocolate. Their signature lines are milk and dark chocolate, but I'm partial to their white bar, which doesn't lose the chocolatey flavour at all!
Best for: Finding easily. Green & Black is one of the most widely distributed Fairtrade chocolate brands around
Little Secrets gourmet chocolate candy is made with Premium Fairtrade Certified 55% Dark Chocolate Cocoa. Farmers receive a fair price, enabling them to follow good agricultural practices, and invest back in their communities. They offer a variety of mind-blowing flavours, from peanut butter to spiced pumpkin pie.
Best for: This is one of the best Fairtrade chocolate brands for those who like a bit of filling in their choccies!
Theo Organics is about as righteous as chocolate can get. It is, of course, organic, but is also soy-free, vegan-friendly, gluten-free, halal, non GMO and Fairtrade. And with 70% dark chocolate and organic almonds, this bar is practically a health food!
Best for: Purity. This is seriously healthy chocolate!
Not only is Alter Eco a chocolate brand that tastes good, but it also does good, too! Working hard to give back more to the world than their business takes, Alter Eco is closing the circle by using compostable packaging so that each product can give back to nature. They also work with their cacao partners to replant the rain forests where their beans are grown. 
Best for: A diverse range of chocolate. Whether you fancy burnt caramel or dark chocolate, there's a flavour for all.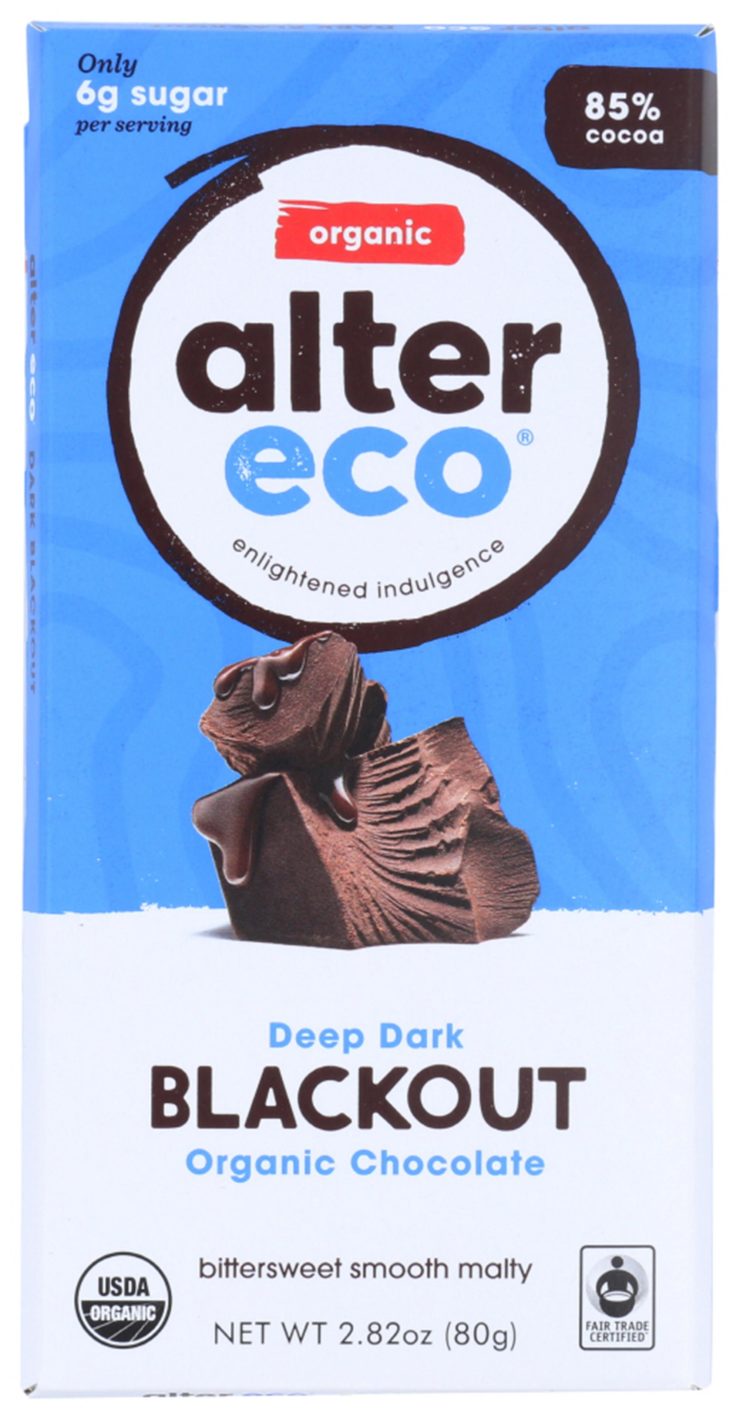 Did you know: there are so many health benefits to raw chocolate? The Raw Chocolate company harnesses those powerful antioxidants to make delicious and healthy chocolate bars. Instead of roasting their cacao beans, they are slowly sun dried instead, to keep them as close to their natural state as possible.
Best for: A healthy superfood boost!
Find a full list of the best, certified Fairtrade chocolate brands here.
Latest posts by Katy Carik
(see all)