Obsessed with avos? Eat 'em every day with these vegan avocado recipes!
By Lora O'Brien
If any vegetable is having a moment, it's got to be the avocado. Apparently, it's the most posted veg on Instagram, and celebs from Jennifer Aniston to Miranda Kerr have declared their love of it. Miley Cyrus even has a tattoo of one!
It's hard to believe that  not long ago, the avo was avoided; shunned due to its high calorie count, compared to other berries (yes, that's right – I said 'berries' – the avocado isn't actually a veg, it's a berry. But I digress). But those calories are due to the avocado's  monounsaturated fat. Don't worry – this is a 'good', unsaturated fat that can actually help lower your blood cholesterol levels and reduce your risk of a stroke or heart attack. Avos are also brimming with rich supplies of so many nutrients – there are  nearly 20 vitamins and minerals in ever serving, to be exact. These green beauties can also help you maintain healthy bones, better digestion, lower inflammation and even play a role in fighting cancer.
In fact, there are so many health benefits to this fruit, it's like, you have guac to be kidding me!  And why wouldn't you want to eat them when they're just SO damn creamy and tasty?  I mean, smashed avo on rye toast with a dash of lemon, salt, pepper and cilantro? It's basically a love affair.
For the sake of our health and our taste buds, let's all get adding more avo to our meals! Here are 32 perfect vegan avocado recipes to get your mouth watering and get your body on fleek.
35 Vegan Avocado Recipes
1. Orange Avocado Smoothie
Freezing your bananas the night before allows you to create a cold yet creamy smoothie, perfect for refreshing the palate after a hot, sweaty yoga class. Avocado makes it even creamier, and you can sneak in some greens like spinach, and it's like it's not even there. Well, except that it'll turn the whole thing green.
Get the recipe here.
2. Vegan Mango Avocado Smoothie
I love my smoothies with that tropical vibe. It just has me feeling like I'm lying back on a sandy beach someplace hot instead of hopping from foot to foot as I try to entice some warmth into my body. The mango and avocado combine to make this super thick and creamy, whilst the almond milk thins the consistency out just a tad. However, if you want to take this to a greater tropical high, switch out nut milk and coconut water and garnish with coconut instead of pistachios. You're welcome!
Get the recipe here.
3. Rich & Creamy Chocolate Chia Avocado Shake
I never would have ever considered a chocolate shake 'healthy' but it's all about what you put into it. This may look like one of those indulgent and calorific milkshakes, but it's actually nourishing and full of goodness. Banana and avocado give it that creamy milkshake consistency, whilst dark chocolate and raw cacao powder give it that chocolatey-ness. Wanna make it even sweeter? Throw in a couple of medjool dates for a boost from nature's 'candy'.
Get the recipe here.
4. Avocado, Blueberry & Mango Super Smoothie Bowl
That colour though! I mean, when food can look that vibrant why wouldn't you want to eat it?! And this smoothie is just bursting with fruit, superfoods and natural sweeteners. Blueberries give it that purple tone, whilst nut milk, mango and avocado give it that creaminess. Maca powder will give you the energizing boost you'll need to conquer the day head on. That sweetness? Almond butter and maple syrup.
Get the recipe here.
5. Avocado, Kale & Tofu Scramble
As much as I'm of smoothies for breakfast, sometimes I like to have a yummy savory breakfast instead. And when I'm feeling like this tofu scramble is my go-to. If you've never made vegan 'scramble' before now, you need to try tofu; it breaks up into egg-like pieces and you can even give it that eggy taste by adding in some black salt. Oh, and that gorgeous yellow? It's turmeric and just in case you've been living under a rock, you can learn more about it here.
Get the recipe here.
6. Tofu Scramble Toast with Avocado & Sauerkraut
The same great aspects as the recipe above but with a slightly tangy difference…sauerkraut! As  a fermented food, it's perfect for a healthy gut. The sauerkraut in this dish has been made using raw cabbage and beetroot, which not only gives this recipe a brilliant vibrancy, but also a  tangy sweetness.
Get the recipe here.
7. Avocado & Jalapeño Grilled Cheese Sandwich
I like to partake in a grilled cheese as often as I can. Why? Duh, it's a grilled cheese – it tastes AH-MA-ZING. And it's now easier than ever as there's no many brands introducing vegan cheeses now, we have so many to choose from! This is an assortment; peppered slices of faux turkey, avocado and spicy jalapeño cheese is stuffed and melted between two slices of rosemary herbed bread – but feel free to use whatever bread you have on hand.
Get the recipe here.
8. Vegan Avocado Pesto
Pesto is a wonderful thing to have on hand for when you're feeling lazy. You can use it as a spread in a sandwich, or simply combine some cooked pasta in it and top with tomatoes for a quick and easy dinner. You could even use it as a dip for some raw veggie crudites! But before you nip out to the shops, why not try and make your own? It uses only a handful of ingredients and  goes wonderfully with pasta, toast or even on tofu.
Get the recipe here.
9. Creamy Avocado Vinaigrette
I was so excited to try this avocado vinaigrette out, but now I can see myself using this one for a long time to come! The avocado makes it really silky in texture that you'll have a hard time convincing yourself that creaminess isn't from dairy.  Works perfectly over almost any kind of salad, too.
Get the recipe here.
10. Roasted Veggies with Goddess Avocado Dip
Anyone else have a fetish for dunking their potatoes in a rich, creamy dressing? I don't know what it is about slathering starches in something yummy but it just has my mouth watering and my taste buds dancing. The avocado is seasoned with a bunch of herbs such as chives, parsley, basil and salt and pepper. Serve on a platter with some fancy looking veggies for a simply and easy starter when entertaining.
Get the recipe here.
11. Avocado Pizza
In my humble opinion, you've not really enjoyed the wonderfulness of avocado until it's graced a vegan pizza. A simple, almond flour base, topped with vegan pesto, fresh tomatoes and avo slices? It's basically avocado food heaven. #AVOCADOS4LIFE
12. Roasted Chili-Mango Guacamole
I love me some guacamole. I've never even considered trying to spice it up a little as I always loved it the way it was. Until I found this gem of a recipe. Now I'm wondering how I lived with common guacamole before this! This guac has a wonderful sweet vs spicy element thanks to the mango and roasted chili. There's also a combination of textures  that's so great when used as a dip!
13. Kale Noodle Bowl with Avocado-Miso Dressing
This is a really quick and easy dish that takes simple noodles and transforms them into something yummy. This is the perfect recipe to make if you're in a rush of feeling a little on the lazy side. Kale and buckwheat noodles are massaged with a simple dressing of avocado, garlic, miso, olive oil, water and the juice from 1/2 lime which you can alter to suit whether you like a thick or watery dressing consistency. Top with sesame seeds and you're good to go!
Get the recipe here.
14. Spicy Southwestern Salad with Avocado Dressing
For too long people have believed that salads are just pieces of lettuce. Nuh-uh! They're SO good! And you can basically put whatever you fancy into one. Like this salad, which combines sweet potato chunks, black beans and crunchy corn with a yummy cilantro and avocado dressing. It does call for Greek yogurt, but just sub this for a vegan version, or even a vegan sour cream.
Get the recipe here.
15. Naan Avocado Toast with Dukkah & Pan Fried Chickpeas
Awesome idea – Indian food comboed with avocado! I can't wait to try this out for friends and family as a healthy starter. The combination of the soft, chewy naan bread topped with crispy chickpeas, creamy chunks of avocado and kale is super yum!
Get the recipe here.
16. Grilled  Avocado Stuffed with Chickpeas &  Tahini
Think you love avocado? You need to try grilling your avocado to really blow your mind. The grilled avos are stuffed with a combination of cucumber, tomato and crispy grilled chickpeas. Drizzle some tahini over them and you've got a delicious recipe you can use again and again. Perfect with picnic and BBQ season ahead of us!
Get the recipe here.
17. Creamy Vegan Potato Salad with Avocado Dressing
I'm a huge fan of potato salad. I don't know why, but it's kinda a comfort food, right? Yummy potatoes slathered in a rich, creamy dressing…mmmm! But if you're go-to is mayonnaise to make a killer potato salad, why not try using some avocado instead? It adds that creamy texture we love so much but also allows you to add flavour from the red potatoes, fresh dill, lemon and touch or sriracha sauce. Healthier AND still incredibly yummy!
Get the recipe here.
18. Chilled Artichoke Avocado Pea Soup
The colour of this soup is delicious in itself. But what's in it?! The main components are the peas, avocado and artichoke hearts. It's then blended with garlic, basil leaves, some chili pepper and seasoning with salt and pepper. Once blended, this soup is topped with coconut cream, chili sauce, a little more pepper and drizzle of olive oil (optional). Dive right in!
Get the recipe here.
19. Easy Sweet Potato Veggie Burgers with Avocado
When you ditch the meat you'll be surprised to find how much more flavour your food has. And nothing changed more for me than my go-to staple, the burger! I love to pack my burger buns with as many goodies I can fit into them, and chunks of avocado are always a winner. They  add a lovely creaminess to the sweet potato burgers, too.
Get the recipe here.
20. Chipotle Lentil Soft Tacos with Avocado Cream
If, before now, you thought lentils were bland ad boring – think again! They have heaps of flavour in this dish as they've been spiced up with chipotle seasoning  and then mixed with some avocado cream and chunks of tomato. Looking for a simple lunch or dinner to make? Voila!
Get the recipe here.
21. Pan-Fried Avocado Tacos with Pickled Onions
When making tacos, I tend to use a meat alternative, and never really considered just using veggies. Oh, how my mind has been changed. The pan-fried avocado is crispy and creamy and nestled in flour tortillas. They're then topped with pickled onions and a cool Mexican slaw, giving heaps of flavour and texture to this taco recipe, which is exactly what I look for when making Mexican food. Now, all we need is an ice cold beer, sand  and some sunshine!
Get the recipe here.
22. Creamy Avocado Mac & Cheese
When you're a lover green foods like I am, stuff like this truly delights you. Mac and cheese is such a comfort food, and when made without dairy, it can be super healthy – so why not give it an added nutritional boost with this green recipe? It's super quick to make, and cilantro and basil not only make it greener, they add heaps of extra flavour. You may have trouble explaining this one to the kids, but 'monster slime mac and cheese' is always a good one, no?
Get the recipe here.
23. Roasted Beetroot Fettuccine with Avocado Pesto
Have you ever seen fettuccine as gorgeous as this?! I mean, if you're looking to get technical, it's not really 'fettuccine' as there's no egg, but we're fine with that! But who really cares about technicalities when food looks this good, am I right or am I right? Avocado pesto dresses this recipe and really I'm still in awe of the fact this pasta is PURPLE!!
Get the recipe here.
24. Tomato & Zucchini Spaghetti with Avocado Sauce
I  like pasta but it can get pretty heavy, which is why I like to use zucchini noodles. But if you're not a fan of zucchini you can use spaghetti instead, OR, if you're feeling really daring like in this recipe – use both! It works pretty well as the whole wheat spaghetti is the base but zucchini bulks it up a little more and adds some colour and nutrition to the dish. But the real winner here is the creamy avocado sauce. 10/10!
Get the recipe here.
25. Baked Avocado With Chipotle Sauce
Potato fries are delicious, but are full of fat – the bad kind. These, on the other hand, have all the crunch and yum factor of fries, but the fat here is good – it comes from the avocado, which is baked, not fried. And that chipotle sauce? The perfect partner!
Get the recipe here.
26. Veggie Loaded Avocado White Bean Salad
I'm not sure what the best part of this recipe is: the high protein content? The varieties of different flavours bursting out? Or the fact that this is filling enough to make a meal? In any case, you'll want to try this one – did I mention each serving is under 300 calories, too?
Get the recipe here.
27. Avocado Chocolate Mousse
I  was never much of a mousse fan, but that has been revolutionized  since adding avocado into it. The avocado has zero impact on the flavour but adds this wonderful texture. With nut milk and cacao added in it just becomes this rich, delicious chocolate dessert. Caution: Make this once and you will become an addict for life. Just sayin'.
Get the recipe here.
28. Creamy Key Lime Pie
Key lime pie is one of my go-to recipes. I love the refreshing zinginess from the lime – it's just a delight on my palette. Traditional key lime pie is laden with a ton of sugar, not to mention eggs and dairy. You can use silken tofu to make a vegan version, but this recipe uses avocado instead, which results  the perfect, naturally green shade. Fork, anyone?
Get the recipe here.
29. Easy Avocado Truffles
Well, these look pretty fancy don't they? And I bet you would never hazard a guess that they have avocado in them! They're smooth, creamy and taste of the most delicious chocolate. Dish these up and impress your guests, or if you have little ones, these are easy enough for them to make themselves.
Get the recipe here.
30. Vegan Avocado Chocolate Muffins
If it can be used to make chocolate then I am automatically a fan. And this recipe is what dreams are made of. Healthy, guiltless chocolate muffins? HECK YES! The avocado replaces butter in this recipe and where eggs are milk are usually used, H20 was the perfect replacement but if you want them just that bit creamier you can use a nut milk. I can't stop drooling over the delicious photos.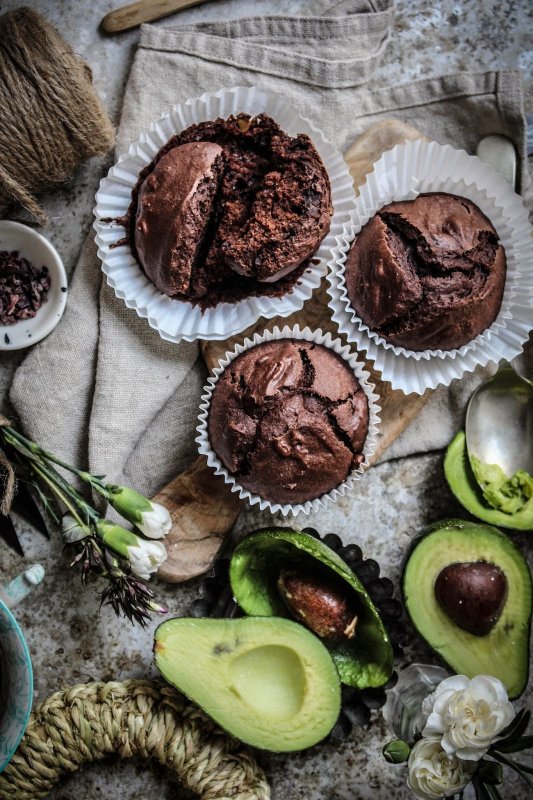 31. Berry & Avocado Salad with Mango, Lime Dressing
I  am a huge fan of the fruit salad. I've been known to  eat them at any time of the day as they make a great meal and also a great snack. And who doesn't love a bowl of juicy, delicious fruit? It's SO refreshing. This makes for a perfect breakfast, or why not serve this berry and avo salad up as a dessert? The different textures come together perfectly, and the dressing is zesty with a little bit of a spicy kick. Those who usually steer clear of fruit may just become a convert after trying this!
Get the recipe here.
32. Supergreens Avocado Ice Cream
I mean, c'mon, ice cream that is good for us? Count me in! But, let's face it – healthy doesn't always equate to being tasty. And I've had my fair share of gross, inedible 'healthy' ice creams, I can assure you. Well, girls, this is one for the recipe book! The avocado in this recipe lends this ice cream THE creamiest texture! And that colour? Green power at its best. Plus, the avocados mean this has a healthy dose of fats, meaning it'll be far healthier than any you'll find in a supermarket, without scrimping on flavour.
Get the recipe here.
33. Avocado Mug Cake
Way healthier than your average mug cake, but just as easy to make. Yeah, I know it calls for milk, but just sub for almond or coconut milk, obviously. Serve this up hot, with some avo ice cream for a super healthy treat!
Get the recipe here.
34. Avocado Cake With Buttercream Icing
Basically, you can treat the avocado as you would butter – it moistens cakes and can even be whipped up into a buttery, sweet frosting. Don't believe me? Just try this recipe, I dare you! It's hard to believe how healthy this is…
Get the recipe  here.
35. Raw Avocado Cheesecake
Perfect for summer, when both the main fruits here – strawberries and avocados – are in season. Also, since you don't need to bake this, there are no hot kitchens to deal with when the temperatures rise!
Get the recipe here.
Main image from here.