You can easily buy or DIY these macrame home decor ideas!
By Chere Di Boscio
For some, macrame may still represent all things hip and groovy from the 1970s. Images of hippy crash pads and Emmanuelle style peacock chairs may come to mind. But there can be no doubt that yet once again, macrame is making a huge comeback – both in terms of fashion and interior design.
When I say 'yet once again', it's because the knotted art actually dates back several centuries. Its origins trace back to the 13th century, when Arabic weavers used it to make blankets and decorative objects. The Moorish conquest took the craft to Spain, then Italy, especially in the region of Liguria, then it spread through Europe. Later, in the 17th century, it was popularised when Queen Mary II of England became obsessed with the craft. It took awhile for it to catch on again, and in the counterculture world of the 1970s, it became as essential as bell bottoms and psychedelic rock.
Today, its vintage appeal makes macrame the perfect choice for those who lean towards a more boho feel to their decor. Macrame is practiced by several indigenous communities, such as the Mapuche in Chile, and their incredible designs have been borrowed and updated by the likes of Milla Novo, whose work can be seen in the image below. Each piece is unique, and gives your home an eco friendly touch, since most of the rope used is made from jute, hemp or cotton.
Loving these interiors ideas? You can make these macrame home decor ideas yourself, or buy most of them by clicking on the links.
Image credit below here.
Macrame Home Decor Ideas
One of the easiest ways to get a macrame home decor look for your house is with small accents such as cushion covers. Though normally made from white, black or neutral hued fibres, you can, of course, choose more colourful rope to match your decor scheme.
To have a lamp gently illuminate your household through this craft provides a sense of utter serenity. This pendant is made out of biodegradable cotton yarn, matches any interior design scheme, and will truly provide some vintage charm to your home.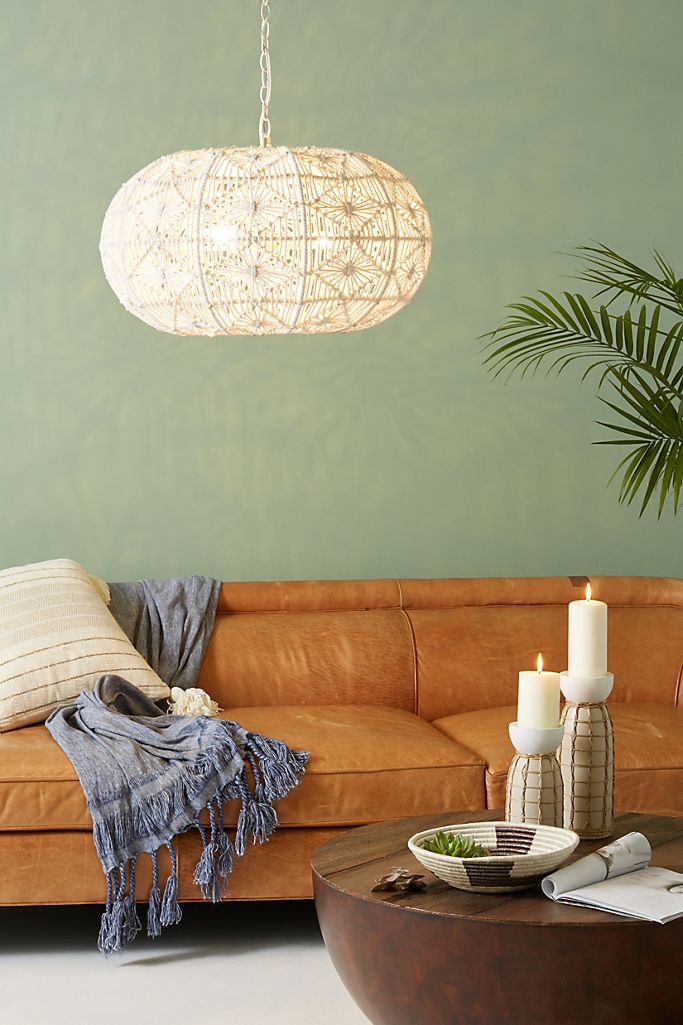 Nineteenth-century British sailors who travelled to the New World popularised hammocks in the West. Still today on some ships, these act as beds! Today, you can bring this hanging hardware to your home to act either as a place to lie down and lounge on outside. Or, if you hang it with less tautness, it becomes a gorgeous swing chair.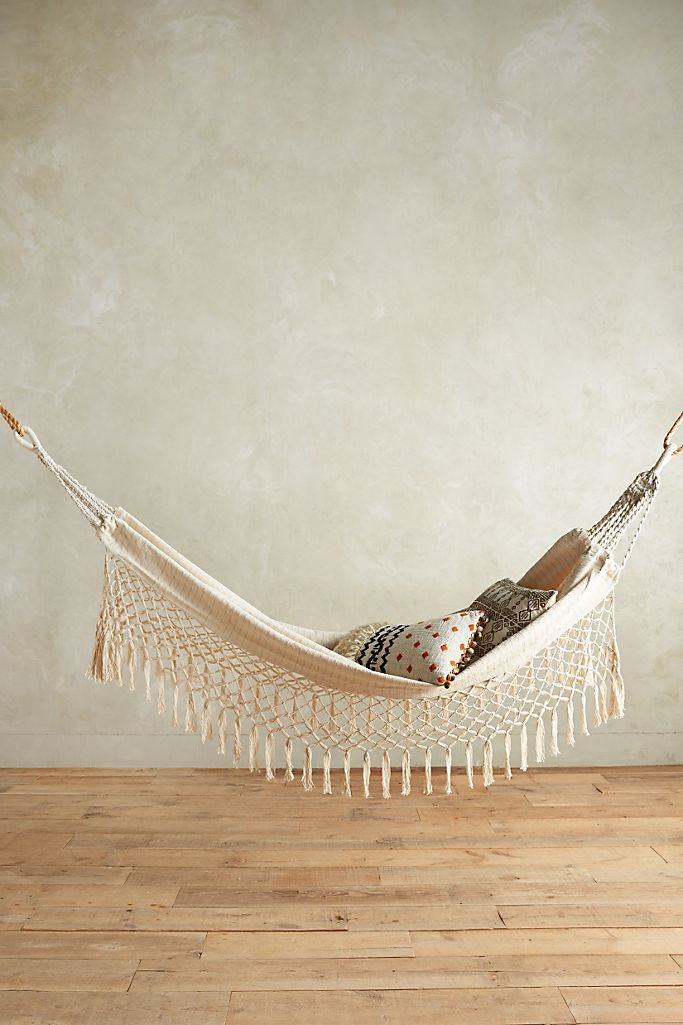 This beautifully handcrafted macrame runner offers a stylish foundation for your table wear and cutlery, but it's versatile, too!
For example, you can also use this to accent your bed. Just throw it at the foot of your duvet or bedspread to add an artisanal touch to your room.
This is perhaps the most common way you will see macrame home decor! In fact, they're usually the first project macrame beginners will attempt.
Plant hangers are easy to make, and of course allow you to display some greenery. For me, plants always provide a joyful and healthy touch to every home. And let's not forget: they clean the air, too!
We found some incredible Bohemian bedroom decor ideas in the Design Ideas Guide, which you can see below.
If you move into a new home and want to embellish it with a delicate touch, such pieces will be just what you were looking for. Each piece is unique, yet when they're all made from the same fabric, they look gorgeous when grouped together! These are easy to make, too.
Add more artisanal touches to your table with hand knotted macrame placemats and coasters! They're more natural than the plastic ones most commonly used, and you can make them to fit any sized plate or cup you desire.
If you're just beginning to get the hang of macrame yourself, why not start out with something easy, like making a fringe detail you can sew on to existing blankets, duvets or sheets? Of course, if you prefer, you can also buy them ready made.
If a fringe just isn't enough and you're craving more macrame beauty in your bedding, why not go for an entire blanket or throw? As a DIY project, this will take some more time, but the results are worth it. This could be an heirloom to pass down through generations!
I love how versatile macrame is! You can use the technique to make ropes to hold just about anything, from plants, to table tops! This is an easy DIY project if you fancy taking it on, or if not, you can buy a ready made hanging bedside table by clicking the link above.
A curtain made entirely from macrame isn't likely to keep much sun out, since the weave is usually loose. But oh my – a macrame fringe for a curtain really does add a lovely boho touch to a room!
Again, this is an easy DIY project you could probably do in a day. Plus, you can make your fringe to either match or contrast existing curtains.
I saved the fanciest for last! A room dividing screen on a neutral wood frame makes for a beautiful, intricately knotted headboard. This is a stunning room feature that really stands out.
If you're handy with the knots, you can try making your own; these are not yet easy to find commercially, though a few producers on Etsy do offer them from time to time.
This handmade macrame hanging swing chair may well be our favourite of all the macrame home decor ideas!
It's perfect for reading, socialising, or just hanging out with your cat. It wouldn't be too easy to make, but you could pick one up for a song at Etsy. It's ideal for boho interiors, but can also be used outdoors on terraces, patios, balconies, or in gardens.
Product image credits to be found by clicking the headline links. Other images via Design Ideas Guide
Latest posts by Chere Di Boscio
(see all)