Sustainable home wear matters – for your health, and the planet's. Here are some of the best eco-friendly textiles for your home, from carpets to curtains
By Chiara Spagnoli Gabardi
As we've mentioned before in Eluxe, textiles can have effects on your health. In fact, some studies have shown that the most frequent dermatological complaints are related to adverse reactions to substances contained in fabrics. When we say 'fabrics', you're probably thinking of clothes. But this could also refer to common materials found in the home, such as bed sheets and towels. 
Like clothes, these home textiles are in contact with your skin every day. But even those that aren't, such as napkins, tablecloths and tea towels, should be chosen with care. The reason? When you dry off plates and cutlery, you might be leaving you may be leaving behind microparticles of polyesters.
You might not notice the effects of these microplastics initially, but many studies have shown they can cause health issues ranging from obesity and reproductive harm to organ problems and developmental delays in children.
Luckily, there are plenty of healthy textile options for your home. Organic cotton, hemp, linen and TENCEL branded fibres are but a few that not only protect your health, but make your home look beautiful, too. In fact, the TENCEL brand has partnered with several home partners to produce eco-friendly bed sheets, mattresses, pillow covers and even carpets and upholstery.
Purchasing home items consciously benefits our wellbeing and comfort, as well as that of our planet Earth, so here we recommend how to give your abode a green makeover with these pure and safe products.
The Best Sustainable Textiles For Your Home
Carpets are a vital part of the home to get right, as the medium that can tie a room together these focal pieces are sometimes made with all kinds of toxic solvents. Fortunately, the surface of the carpet is where we have a choice!
A great alternative are the stunning carpets Jacaranda makes from TENCEL branded fibres. Their Satara Carpets Collection is entirely handwoven and comes in a variety of beautiful hues to match your decor.
When you're taking a nap on the sofa, ensure your cushion is as eco as can be! Ian Snow's floral embroidered FairTrade cotton cushion cover looks awesome in any living room. Not only is it sustainable, but its embroidered flowers and rich colour scheme add a joyous flare to your decor.
'Japandi' design is the newest big thing in interior design. That is, the combination of Scandinavian functionality and Japanese rustic minimalism. The fusion between these two cultures creates the perfect blend between function and form, instilling a feeling of art, nature, and simplicity.
At the popular British shop Next, you can find beautiful curtains, made with TENCEL Lyocell fibers, that come in a delicate floral print, to add a Japandi touch to your home.
If you want to feel like you're sleeping in a 5 star hotel every night, you need to buy some quality sheets!
Boll and Branch makes sure that every top sheet, fitted sheet and pillowcase is meticulously hand-finished with close attention to detail. Founders Scott and Missy Tannen opted for organic cotton, sourced by fairly paid farmers in India, to create their high thread count sheets. Their range of colours and textures brings timeless elegance to any bedroom.
Alternatively, AKEMI has opted for TENCEL with its Virtuous collection, one of many TENCEL collections they have. These bedding products come in different patterns and colours for endless, ecological choice.
The Bearaby weighted blanket is one of the coziest bedroom accessories you'll ever find. This brand uses certified organic cotton or recycled polyesters to create its snuggly blankets. The recycled fibres create a chic velvet effect, while the cotton option is more rustic.
And if you're wondering: why weighted? The reason is because heavier blankets actually reduce anxiety, stimulate sleep hormones, and assure you a longer, more comfortable rest.
Your duvet cover acts as the centrepiece of your bedroom design. And we love this one dreamt up by Peggy van Neer and Erik van Loos! They have created a clever motif on Oeko-Tex certified cotton. Their idea was to give the sleeper the relaxing sensation of floating in a koi fishpond. It's a cute, and calming, idea, and the neutral colour scheme will match most bedrooms.
It's super important that your baby is surrounded by the most non-toxic textiles. And that's why it's important to pick healthy bedding for them, such as WestElm's  coverlet with using the TENCEL branded fibers. This comes in blue or pink and was made in collaboration with Pottery Barn Kids. 
TENCEL textiles for your home are perfect for babies' beds, thanks to their absorbency and silky softness.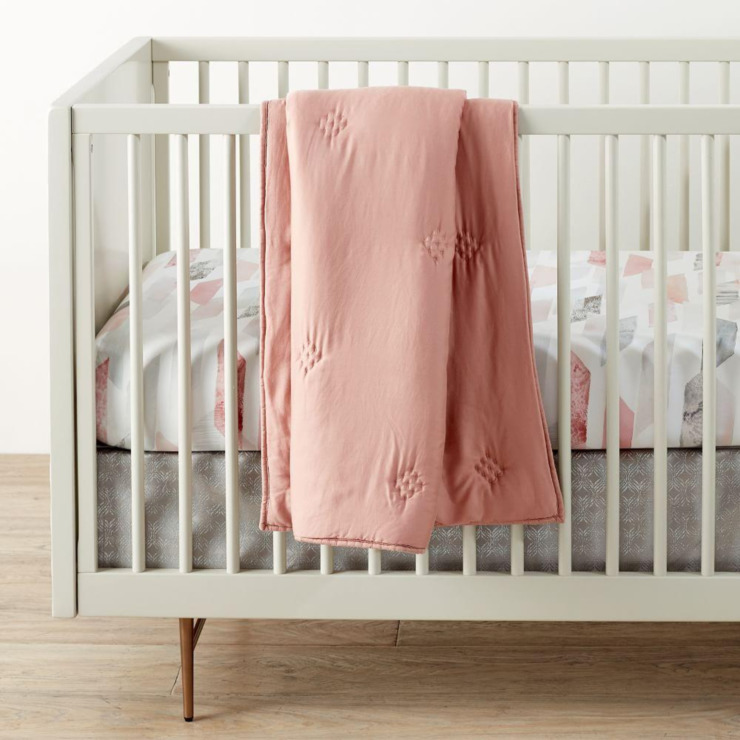 As you step out of your bathtub or shower, your feet's first encounter will be a gentle one with this TENCEL Modal Bath Mat by QE Home. It's incredibly soft, thanks to the buttery textured fibres, which are derived from sustainably grown beech wood, blended with cotton. This mat is strong, durable, and extra absorbent. Plus, it comes in a range of trendy hues that make it an easy style upgrade for your bathroom.
Main image: Liesa Diederich Photography. All other images courtesy of the brands
THIS POST WAS SPONSORED
Latest posts by Chiara Spagnoli Gabardi
(see all)