Love Island got it right. Now get some sustainable patio decor for your own garden!
By Diane Small
If, like me, you've been glued to the set, watching Love Island (yes, it's my guilty pleasure!) then you may also have been admiring the stunning gardens and patios these beautiful singletons have been enjoying. They boast features like charming string lights, loads of potted plants, a fire pit and plenty of comfy seating.
It got me thinking: how can I get that vibe for my own outdoors space? And can I do it without spending a mint? And above all, how can I ensure I have a sustainable patio decor?
We can't all be lucky enough to have the foliage of Mallorca in our own backyards, but we can indeed lift a few interiors ideas from the popular TV show. Here, I've come up with 15 tips to get the gorgeous decor of the Love Island patio, but in a totally sustainable way.
15 Tips For Gorgeous & Sustainable Patio Decor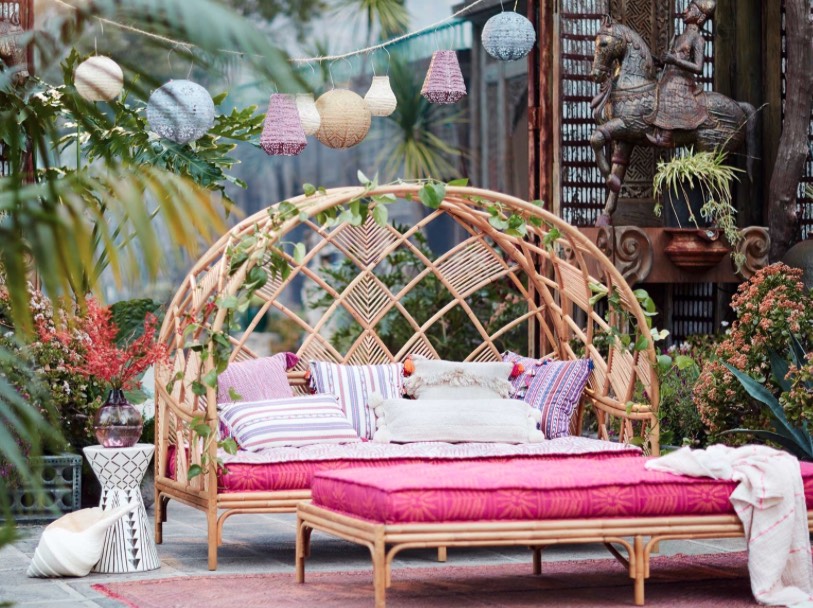 1. Get Furnished First
If you're going to spend time outdoors, you'll need a place to sit, and I can think of no more sustainable place than on a comfy rattan 3 piece patio set like this one below. It's made from durable, quick-growing rattan and features weather-resistant seats and back cushions to provide optimal comfort as you lounge with friends over a chilled drink.
2. Now Make It Pretty
What really pulls a bunch of patio furniture together is the accessories: namely, a great outdoor rug and some cushions.
These recycled and reversible indoor/ outdoor throw rugs prove that beauty and sustainability can intersect! Their intricate designs, which were inspired by traditional rugs, are given a colourful and eco-friendly twist, as they're made from 100% recycled plastic bottles, containers, and packing materials.
Every mat is a one-of-a-kind décor addition, as each is finished by hand under conditions that adhere to best fair trade and environmental practices. These rugs are perfect in any space where you'd like to add a little low-maintenance, sustainable patio decor underfoot.
3. Keep It Light
After the sun goes down, some mood lighting for your patio is a must.
These bright lights from SolarPuff are perfect for adding some ambience to an evening and getting that sustainable patio design you've always dreamt about. They function fully on solar energy – just charge them by keeping them outside! And then place them in your garden or patio at whichever strategic points you think are best: along your walkway, on tables, or you can even float them in the pool!
But I couldn't resist adding some even more gorgeous lights!
The solar powered lace lanterns (at the bottom of the first pic) can provide up to seven hours of light after charging in the sun, and look absolutely stunning hanging (and charging!) from tree branches during the day, too.
4. Turn Up the Heat
You know those heaters fancy restaurants use when you're dining outdoors? They are hell on the environment! The amount of energy they consume is absolutely off the charts, but if you want to stay cozy on chillier summer evenings, there is a solution!
A firepit is a great and eco-friendly way to heat up your garden patio. You can easily make your own by following these instructions, or you can buy a ready made one like the one below, here. It's perfect for gathering around with friends, or you can even cook on it!
5. Invite Some Wildlife
The best part of being outdoors is the flora and fauna! So sustainable patio decor should involve a nod to our fine feathered friends. Why not encourage some birdies to visit your patio with a few bird feeders? I love these ones, below, which are made of colourful recycled glass. They are light and easy enough to hang just about anywhere.
6. Don't Go Broke
One of the greatest of all summer pleasures is eating outdoors. But your usual china and glasses are risking their lives by going outside, and using acrylic, plastic or worse, styrofoam is a definite no-no if you're at all conscious of the environment. Instead, use these plates and cups made from bamboo, cornstarch and wood fibres. They've been beautifully painted by Dutch designer Femke Zwaan with a jungle theme.
7. Add A Touch of Zen
Transport tranquility to your sustainable patio design with a stone Buddha. He will exude a meditative presence and calm into any space, and will remind you to take deep breaths, slow down, and appreciate the beauty around you. This statue has a rubberised base and can thus be brought inside or kept outdoors in nature. Get yours here.
8. Set Up Some Storage
With all this tending, tidying and garden renovation, the chances are that you're going to need some additional garden storage. If you have room, then a shed makes the perfect place to store garden tools and will also be handy come next winter when you may want to stow your garden furniture and summer accessories out of the wind, rain and cold weather.
If you don't have room for a garden shed, then there is still a wide range of garden storage options available including things such as compact storage boxes that come in a variety of different sizes to suit your requirements. Save money when shopping online for your garden by using a voucher code from NetVoucherCodes.co.uk
8. Plant It Small, Plant It Big
Even if you're surrounded by plants outdoors, this hand painted cement planter will add a spotlight touch of green in your space. Smaller pots of plants should feature something special, in my opinion: your favourite flowers or some herbs, for example. Please this planter on a table as a conversation piece, or place it in your garden and let nature reclaim it to exude the feeling of Roman or Greek ruins.
Is your garden cemented or timbered over? What a pity! You need some green in there – isn't that the whole point of a patio? If you can't plant directly in the soil for whatever reason, the next best option would be to buy a load of big pots, like these rattan and iron ones below, and get gardening!
10. Play Like A Kid
Put down your smartphone when you're outside and play with your friends and family instead! Bring the family together for some larger-than-life competition with these oversized dominoes. They're hand made from sustainably sourced pine wood. Each set comes in a rustic cloth drawstring bag and includes 28 dominoes, from double blanks to double sixes.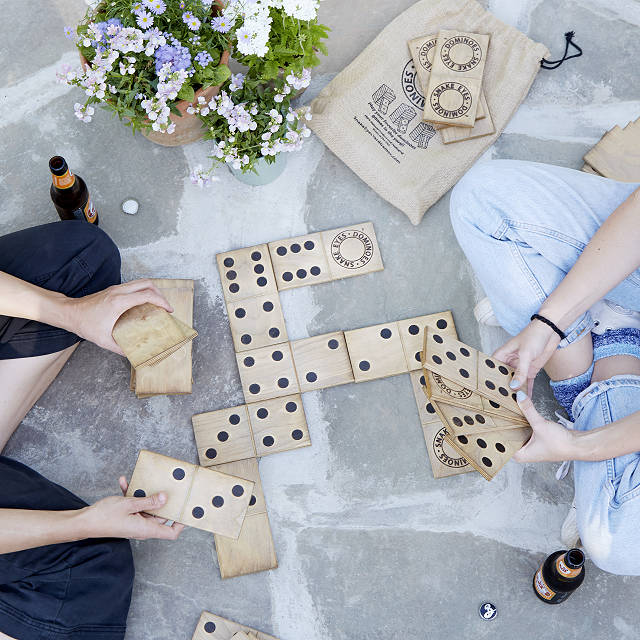 11. Remember The Walls
A bit of wall decor outside goes a long way, and macrame wall hangings are perfect for outside. Macrame is making a huge comeback, and that's great news. It's eco-friendly since it can be made from hemp, linen or organic cotton. It's cheap, and is a great way to feature – yep, you guessed it – even more plants! These macrame plant holders lie flat, meaning they look amazing when nailed to an outdoor wall. But if you know how to do this craft, why not make your own?
12. Sit Pretty
Loads of cushions make any space more comfy – but outdoors you'll need some pillows that are weather resistant. These colourful ones below are made from recycled plastic and rubber, so they'll survive wind, rain and sun, whilst giving your bum a lovely place to chill.
13. Bring Out The Bar
A bar cart can be really useful outside. You can serve drinks on it, of course, but it's also great from bringing out snacks. I've found one that's made from eco-friendly rattan again, and
14. Swing It!
Here's some macrame again – but this time, it's in the form of a comfy, swinging hammock! Chilling in this is a great way to spend a summer's day, with an intriguing book and a chilled drink. If you have the wall support, you can even use this inside.
15. Sweet Sounds
We've considered comfort. We've considered visuals. But what about sound? Adding some gentle sound is considered good feng shui, since sound vibrations create a kind of energy that produces a physical and mental sense of calm. You can bring that positive energy to your patio with some wind chimes, like these below.
So there you have it, everything you need to turn your house in to the Love Island villa! Whilst we can't promise the sun or the singletons, your garden will definitely feel transformed with these sustainable patio must-haves.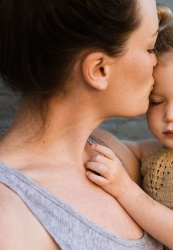 Latest posts by Diane Small
(see all)