Wondering how to draw more 'oohs' and 'aahs' from your home decor? Read our tips on how to make your home more Instagrammable, below!
By Chere Di Boscio
Here's a fun fact: the homes and gardens sector was the fastest growing area of consumer expenditure during and after the pandemic, Mintel has revealed. And sales of home and garden products are expected to rise a further 37.4% over the next five years, as older millennials prepare to leave their parents' nest and turn to Instagram to get home decor inspiration.
"Offering Instagram-friendly value-oriented homeware will become increasingly important as millennials finally begin to set up homes of their own. Indeed, fashion retailers including Zara and H&M are already increasing the number of homeware products they offer. We're also seeing a rise in gardening spend due to warmer weather," Mintel's Jack Duckett said.
Yep, it seems more and more of us are spending time making our homes look prettier. Or, 'Instagrammable', if you will. So, how can you make your home more Instagrammable? We asked interior design expert Jackie Bonham for some tips.
Image credit below: buzzkee.com Main image: @thedesignchaser
How To Make Your Home More Instagrammable
1. Add plants
"This is pretty much 'how to make your home more Instagrammable' 101", says Jackie. Most IG influencers have picked up on this and feature one bold plant in a large planter. Alternatively, you can cluster smaller plants, such as succulents, in matching pots. What you shouldn't do? Display dying or dead plants, or too many mismatched pots.
Image below: @totemroad
2. Stick with one colour scheme
Jackie says this doesn't have to mean one colour; it's one colour scheme. So, for example, if you like light colours, ensure your background is all ice-cream, pastel shades. Love something cheerful? Go for Crayon-box hues of yellow and orange. Drama queen? Choose dark blues, purples and black. The point is, the colour scheme should be coherent.
Image below: stylinbyaylin.com
3. Clear the clutter
This is the most fundamental tip for making your home more Instagrammable. No one wants to see half-drunk coffee, used tissues or visual clutter in your IG post. Keep it clean!
4. Open the space with mirrors
"This is another old trick," says Jackie. "But it's also worth taking into consideration what it will be reflecting." For example, if you set a mirror at a height where it reflects a point of interest, such as a chandelier or a vase of flowers, it is much more visually appealing than a view of what stylists like Jackie call dead space.
5. Add one 'conversation' piece
Jackie insists one of the best ways to make your home more Instagrammable is to add an accent piece that will get your followers chatting. This could be an awesome piece of art, a unique light, or an unusual piece of furniture, for example.
Image: Margo and Plum
6. Keep it odd
"Did you know that visually, odd numbers of decorative objects on shelves looks best?" says Jackie. Three candles are better than two; a bunch of books on a shelf look better than four in a row. Fact! Mix it up, in terms of size, shape and texture.
Image: Matta de Atmo 
8. Use Edison bulbs for an industrial chic look
Jackie says this is one trend that's not going anywhere. We used to promote LED lights as being more eco-friendly, since they take up less energy and last longer. But guess what? They use blue light, which harms your eyes and delays sleep. So…no thanks!
Image: Pinterest
9. Add hairpin legs to any table to give it an upgrade
They're a bit retro. They're simple to do. And they'll definitely help make your home more Instagrammable! Remove the legs off a cheap table and swap them out for 50's modernist-style hairpin legs instead. Chic!
Image credit here.
10. Add a feature wall
White walls are soooo boring! Especially when given the incredibly artistic wallpaper choices we're given these days. "Make your home more Instagrammable by picking a dramatic wallpaper that reflects your personality. This could be huge flowers; a 'painted' picture; or a forestral scene, for example," says Jackie. Not a fan of wallpaper? Paint one wall a dramatic shade you love!
Image credit: livingetc.com
11. Think about texture
Make your home more Instagrammable by displaying loads of different textures. Think: a table made of knotted, scarred, recycled wood, combined with a fluffy vegan 'fur' throw and some fresh flowers. Mix it up!
Image: @volanni_floral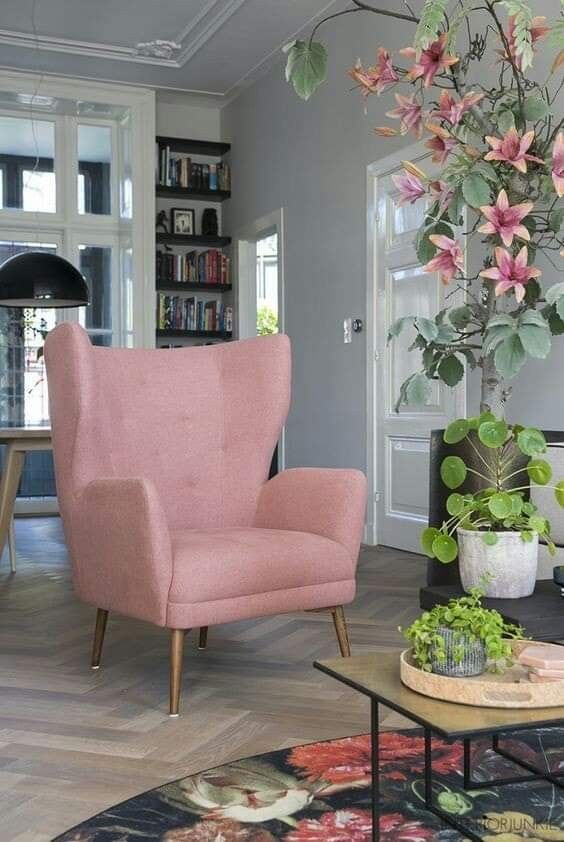 12. Store stuff in baskets
First of all, this will help you get rid of clutter, one of our main tips for making your home more Instagrammable. And secondly, you'll show off your eco kudos with some straw or rattan baskets! Much better for the planet than plastic storage, right?
Image: deco-shop.co.uk
13. Add fun lights
Sure, Edison bulbs, mentioned above, are super trendy. But neon or fairy lights can also make a big difference when making your home more Instagrammable. Soft lighting on the left and right will make you look better on the 'gram than direct overhead lighting, too.
Image: Margo and Plum
14. Consider your surfaces
Taking a pic of objects? "Be sure you snap them on a pretty carpet, quirky table, or colourful tablecloth,"Jackie states. "Preferably with a menage of other attractive objects like flowers or plant leaves artfully arranged around them."
Image: Margo and Plum
15. Add some art
This is related to point 5. Art can be comprised of one standout piece, or a collection of smaller works and postcards you love, grouped in sweet little frames. In either case, you're going to be expressing your taste and style in a big way!
Image: Anthropologie
Latest posts by Chere Di Boscio
(see all)