Feeling a bit dull or down when you're at home? These easy ways to change the mood in your home with lighting may help!
By Diane Small
As anyone who has suffered through a grey, rainy day knows – light affects our mood pretty strongly. But while there's nothing we can do about the weather, we can at least control the lighting in our homes through mood lighting.
This is something many people – even professional interior decorators – often get wrong. But when they get it right, mood lighting can create any atmosphere you want – romantic, energising, calming, or warming, for example.
It's easier to do than you might think, and you won't have to break the bank to completely alter the vibe in your home. In fact, getting the lighting right in your dwelling is one of the easiest and cheapest ways to give your home a makeover.
Here are some simple ways to change the mood in your home with lighting and punctuate the space in a trendy and relaxing way! 
8 Ways To Change The Mood in Your Home With Lighting
1. Install a Dimmer Switch
This is pretty much the most basic, but important, tip for making the lighting in  your home ever – perfect. If you're attempting to create a calm atmosphere then you can soften the lighting by turning it down, or if you're after an air of energy and excitement (or to get people to leave), switch that baby up. It's a trick that restaurants and pubs often use – and as anyone who has faced the horrors of the lighting going from dark to 'oh my god!' in a pub or nightclub knows, it's highly effective at changing the mood!
2. Create Light 'Layers'
Another way to ensure a room is never too dark or too bright is to add a number of lighting layers to your space. Place floor lamps behind large furniture pieces and table lamps on any unlit surfaces such as console tables or sideboards. As for any tricky corners or recesses, there's a massive amount of wall lights available from a variety of stores both on the high street and online. Spotlights are a great idea for alcoves or to brighten up the sides of a chimney, and wooden wall lights with warm bulbs can add more texture and a grounded feel, as seen in our main image.
To easily layer light, combine plenty of lamps and floor lamps, fairy lights, and even candles at different levels (floor, wall and ceiling), with different wattage bulbs to vary the mood in your home: much, much more interesting than a single, lonely pendant light, or a ceiling full of indiscriminate down lighters!
Image: Etsy
3. Choose the Right Bulbs
It's incredibly important that you choose the right light bulbs for the job! No matter how well you may have layered your lighting, it could all be ruined by a harsh white-bluish bulb or a mucky yellow colour. To prevent this, make sure to read up on which bulbs best suit the look you're going for, but as a rule, remember that fluorescent and energy-saving bulbs may give off some of the ugliest lighting around. They also contain mercury, meaning they're not all that 'eco friendly' after all!
Image: John Lewis
4. Know the Impact of Light on Your Mind
Did you know that cool, white lighting makes you want to move, and helps you eat less, whilst warmer, yellow light encourages you to slow down and eat more? This is important to know when lighting your kitchen or dining room. Also keep this in mind for the bedroom, and ensure you have layers of light here: turn on the brighter, whiter lights in the morning to get you moving, and at night, switch on a yellow – hued lamp to encourage melatonin production.
Avoid using coloured light bulbs unless you really want to make a strong statement: blue can feel very cool, green can induce nausea for some, whilst red lends a highly sexy, mysterious hue to a room that may be best left to bars and nightclubs!
5. Create a Sense of Drama
Spotlighting or down lighting key objects in your house, such as artworks or core pieces of furniture, can create a sense of glamour and drama in your home – think of how luxury furniture showrooms do this, or even museums, and try to emulate that vibe when planning your lighting layers. Here are some great tips for particularly highlighting pictures and other objects d'art in your home.
6. Merge Indoors with Outdoors
Don't abandon the garden just because the nights are drawing in; invest in some lighting that draws the eye out of the interior to the spaces beyond. This will extend the view from indoors, making the room feel larger whilst making the garden look great and ensuring it's bright enough to enjoy well into the dark nights.
7. Consider Lighted Decorative Objects
This is an ideal for anyone who likes a sense of fun in their home. Neon signs or lighted objects not only punctuate the space they are placed in, but also add to your light layers, whilst making a statement that literally illuminates your decor. You can also buy useful objects that just happen to have lights in them, to create a bit of a vibe. For example, some clocks, picture frames and even essential oil diffusers come with LED lights which, in conjunction with aromatherapy they breathe out, can really change the mood in a room. 
Image: Uncommon Goods
8. Use Lighting Bundles
If you've found one lamp that looks chic, imaging ten of them! Creating lighting bundles not only lights up the room more, but also adds a sculpture element to your decor. These bundles look especially delightful when placed over tables or in hallways. Definitely one of the most stylish ways to change the mood in your home with lighting!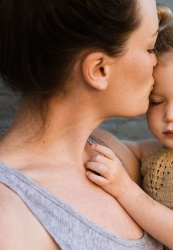 Latest posts by Diane Small
(see all)