Want to save energy – and money? These stylish solar lamps do both
By Chiara Spagnoli Gabardi
When you think 'solar lamps', what comes to mind? Ugly black panels or clunky plastic, right? But that's a pity, because there are actually loads of lovely interior and exterior designs that show how solar energy can be both practical and beautiful.
Practical, because they'll save you money on electric bills, and also because they'll light up, even if there's a power outage. Perfect for those who live in the countryside, or for your cottage.
These designs are also beautiful, not only because they've been designed by some of the cleverest and most talented industrial designers on the planet, but because many of the brands below also donate to good causes with every purchase, too. Nothing's more beautiful than helping those in need!
Here are some of the most stylish solar lamps to light up your home, indoors and outdoors.
10 Stylish Solar Lamps For Indoors & Outside
This sweet product is incredibly popular with children for its captivating sunflower design. It's an eco-friendly lamp that was designed to shine in some of the poorest areas of the world, and it's powered entirely by the sun!
It can be used both indoor and outdoors – all it needs are five hours to fully charge the battery in order to keep diffusing light for fifty hours! The first four hours have the highest brightness, perfect for kids in developing countries to study by, or the perfect nightlight for kids in richer nations.  
These hand-blown glass tealights evoke the feeling of catching sunlight in a jar! These are gorgeous whether they're displayed on your patio table, nestled amongst your flagstones, or hung in the shrubs surrounding your home. And with every purchase made, Uncommon Goods will donate to American Forests!
Each light's silvery cap conceals a solar panel, which powers the long-lasting, energy-efficient LED bulb inside. A sensor in the lid automatically turns the light on when it's dark. The brightness and duration of the light will vary depending on the amount of light exposure it has received.
German-based artist Olafur Eliasson and engineer Frederik Ottesen's pocket-sized, featherweight lamp radiates a sparkling glow thanks to its faceted, jewel-like lens.
It comes with a built-in stand that makes it a great for reading before bedtime, or, you can exchange it for a lanyard and take it camping. For every five hours of charging in the sun, you'll get five hours of bright light, then some long-lasting softer light, too. Best of all, your purchase helps fellow B Corp Little Sun (Olafur and Frederik's company) to offer these lamps to villages without affordable electricity.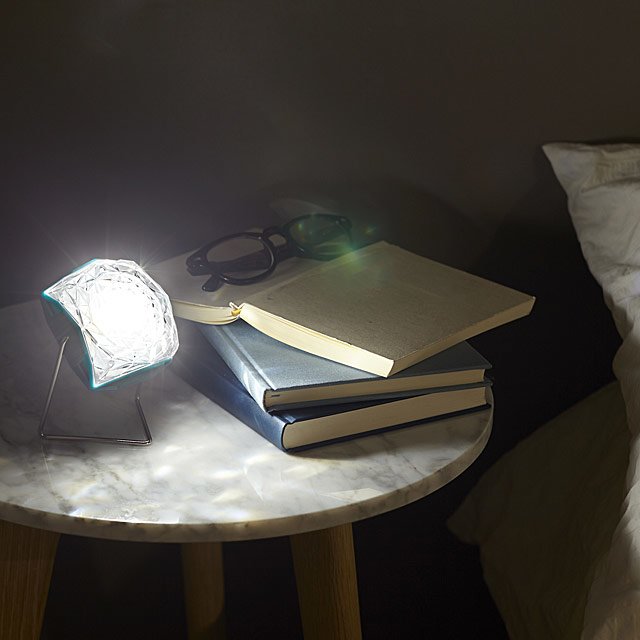 This beautiful, origami-inspired lantern floods any room with warm light—and get this: it charges your phone, too, making it perfect for camping!
It's tough, light, and folds flat, making it the perfect piece of high-design gear for camping, pool parties, or just reading, whether you're indoors or out.
To charge it, face the two solar panels toward direct sunlight. When evening arrives, hang it by one of its elastic handles or attach the two strong magnets to any metal surface.
Do people find it hard to find your house? No more, with this solar lit house sign! It's obviously customizable, allowing you to order not only your correct house number or name, but also to choose the design you like the most. Select from t hree designs (beach, lake, or grass and fireflies) and three hand-painted, weather-resistant colours (rust, green, or white). Artisan Chris Crooks will handcraft your order from steel in his Arizona workshop.
Add a touch of fun to your backyard with these intricately patterned, lacey looking lanterns! They may appear to be delicate, but their ultra-strong, weather-resistant fabric and low-heat LED bulbs can handle the elements with ease. Of all the stylish solar lamps here, these may well be the prettiest, and their unique design makes a high impact on your patio's decor, while making a very low impact on the planet.
These Smart Solar Crystal Glass Stakes, with their colourful LED lights, create a lovely ambience of kaleidoscopic fun. This is an elegant sun catcher and ornament that will add some sparkle to your environment.
Sold in a pack of four, these solar powered garden lights are perfect for marking pathways and garden features, and are light enough to be easy to pick up and  move around the garden. You can scatter these discs around your lawn and move them about until you get just the right distribution of light – and even better, you can take them inside to use as soft indoor mood lighting.
This well designed lamp can be used to read at night after it's been charged during the daytime. Sunlight is converted to electrical energy through tiny solar panels and stored in rechargeable batteries. The photosynthetic potted light is truly gentle to your vision and the environment, since no wiring or additional power supply are required.
Apparently, its minimalist, chic design has become so popular, you have to be careful you don't buy one of the many fakes that are flooding the market!
These fun, luminescent decorations are suitable for any kind of festivity, or just a mood boost, what with their bright, solar lit spheres irradiating joy. They're also dead easy to install: you simply put the stake onto the tube at the back, find a place for the lights with clear and full exposure to the sun, insert the stake into the ground (or a potted plant, indoors) and voilà!
With a full charge of six to eight hours during the day, the battery will provide up to ten hours power at night. Let the party begin!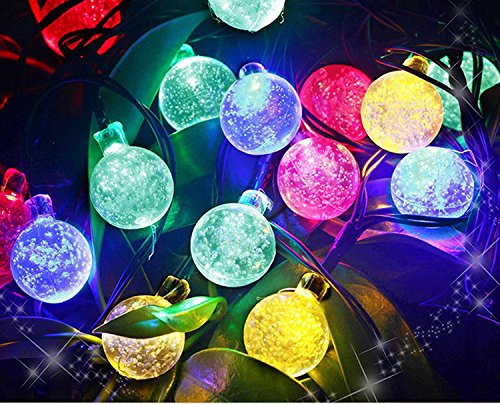 If you ever wished to capture sunshine in a bottle, the Consol Solar Jar will make your dreams come true! This green high-tech technology welds ingenious functionality with fairytale wonder – all within a traditional Mason jar.
The Sun Jar stores energy during the day and releases many hours of a soft, yet bright light at night. Not only does the environment benefit by the Consol Solar Jar, but people in need do, too: this South African invention was originally developed for people in areas without electricity, and has created jobs for over 50  previously unemployed men and women from the townships Alexandra and Soweto.
These can be used on the ground outside, on furniture, or as hanging lamps. For more info on solar pendant lamps, click here.
Latest posts by Chiara Spagnoli Gabardi
(see all)