By Tazine Bogue
Summer holidays are coming to an end for many, but for those of us who stayed behind in the city, it's time to plan for the next big holiday period – winter!
And you know what?  Winter holidays can even be better. Staying in town in summer is just about bearable, thanks to longer days and better weather. But who wouldn't want to swap dark, cold winter days in the city for spectacular sunsets on a beach? Even if you're a fan of the snow, it seems somehow far more beautiful when dusted over commanding mountains rather than  say, blocking your  front walkway.
No matter where you go to get away, it's always a good idea to vote with your wallet and choose an eco-friendly hotel. New luxury resorts are popping up around the globe fast – there are the vast properties developed by Steve Wynn and new chain hotels by the likes of Starwood and Marriott, for example. But with climate change affecting all of us, wouldn't you feel better about choosing a vacation property designed to minimise its impact on the environment?
Here, we've found a selection of luxury 'hot' and 'cold' eco friendly resorts that will suit all tastes and preferences for holidays this winter.
High in the Swiss Alps, merging seamlessly with its pristine alpine surrounds, lies Whitepod. This wonderfully other-worldly resort consists of pods: spherical tents perched on wooden platforms, representing a modern-day twist on the classic igloo. Thanks to their ingenious design, the pods themselves can be dismantled at any time, meaning that there is no long-term impact on the stunning alpine environment. Good to know, right?
At Whitepod you'll enjoy all the comfort and luxury of a hotel, in a far more enchanting setting; during the winter months the whole resort is blanketed in snow, making it perfect for a romantic ski-retreat. Indulge in a relaxing spa treatment or a massage, or hit the slopes for some alpine adventure: there are seven kilometres of blue and red runs reserved exclusively for Whitepod's guests, and you can also go dog sledding or 'snowscooting' to explore fairytale icicled woodlands and vast snowy fields. Dreamy!
Discover a magical world of snow and ice at Iglu Dorf. The quintessential winter wonderland, at Iglu Dorf the bars, restaurants, and hotel-igloos are all exquisitely hand-crafted from snow and ice, with intricate finishing touches added by international artists to create a breathtaking world of winter beauty. Iglu Dorf is quite literally the coolest resort in the mountains. And, just like Whitepod, the use of ice and snow as building materials means that the environmental impact is pretty much as low as you can get.
Snuggle up in your own Romantic Igloo Suite, which is tastefully furnished and comes with its own in-built music system and private Jacuzzi. Visit the wellness area to admire views of towering snow-capped peaks from a steaming hot-tub, sip delicious mulled-wine at the Iglu-Bar and Restaurant, and dine on rich fondue. Of course, you might want to fit in some skiing or snowboarding too, if you have time in-between all the blissful relaxation.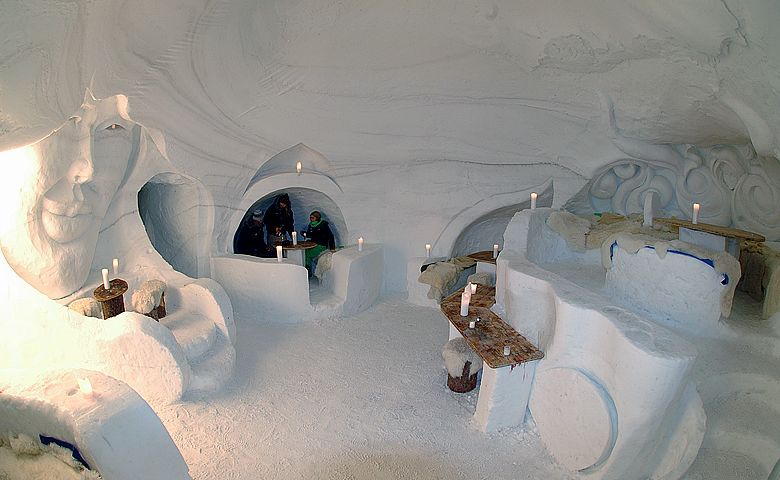 South America might not be the first place that springs to mind when looking for a cosy winter retreat, but guess what? They have a ski season too! Patagonia, a region at the southern tip of South America, has a ski season that runs from June to September, and sometimes even into October. Nestled amid Northern Patagonia's thick forests, in the shadow of the imposing Andes Mountain range, a strange and magical kingdom rises up out of the soil…
At the Huilo Huilo Biological Reserve, you can sleep in a colossal woodland mushroom, or cross a swinging rope bridge into a volcano-shaped lodge that occasionally 'erupts', sending water cascading down its mossy exterior. Both Lodge Reino Fungi and Montaña Mà¡gica Lodge offer beautifully furnished rooms luxuriously equipped with modern amenities, providing the perfect base from which to explore the biologically-rich rainforest that surrounds these truly surreal constructs. Be sure to hike some of the forest trails to learn more about the area's fascinating flora and fauna, and about the work being done to protect the area's rare habitats and endangered species.
It might be winter here in the UK, but it's always summer somewhere. You just have to find it… Down under in Australia, the summer season runs from December through to February, with temperatures averaging at around 26 °C. So, if you're looking to escape the chill of winter, Australia could provide the perfect solution.
Described by Ecotourism Australia as 'arguably the most unique rainforest resort of its type in Australia', The Mouses House Rainforest Retreat offers guests the chance to enjoy their own private piece of rainforest, whilst also preserving this precious natural resource for future generations to enjoy. The resort's 13 wooden chalets are linked together by a system of connecting boardwalks, passing over land and water and helping to protect the natural habitats below. Each chalet is named for a different fairytale character, and comes decorated with bespoke furnishings for a wildly romantic finish. Light up the log fire, relax in your private massaging Spa bath and look out over the rainforest, listening as the soothing sounds of native birdsong fills the air…
If you're more of a water-baby than a forest-dweller, Eumarella Shores Noosa Lake Retreat could be the destination for you. Enjoy your own private lakeside retreat, with a stay at the romantic lakefront cottage, the stylish contemporary lakehouse, or the luxurious and award-winning 'absolute lakefront' accommodation. Whichever you choose, you'll have wildlife right on your doorstep, including kangaroos, koalas and an abundance of birdlife.
The area surrounding Eumarella Shores has been designated both a Nature Refuge and a 'Valued Habitat', and the lodge itself is proudly accredited by Ecotourism Australia in recognition of its work to conserve its natural environment. Eumarella Shores is your very own slice of paradise in itself, but there's also plenty more to see beyond your private lakefront retreat: discover the white beaches and rolling dunes of Queensland's Sunshine Coast, dine at outstanding restaurants, and explore stunning natural parks and wildlife refuges. At the end of each day, return to your own 'home away from home' to watch the moon rise over the lake's shimmering waters.
Sunny Costa Rica is the perfect place to escape the icy shackles of winter. Finca Rosa Blanca, a luxurious inn situated on a charming coffee plantation, was the country's first certified sustainable hotel and, over the last two decades, has become Costa Rica's highest ranking member in its 'Certification for Sustainable Tourism' programme. Finca Rosa Blanca truly provides the ultimate luxurious and sustainable boutique hotel experience.
At Finca Rosa Blanca, spring is perennial; wander through beautiful tropical gardens, take a tour of a beautiful cloud forest, or relax with an organic Citrus Milk Bath Soak at the peaceful Targua Spa. At the end of each day, return to your elegant suite or villa to enjoy a glass of sparkling Chilean wine on your private veranda.  As you look out over the lush valley and the distant volcanoes that mark the horizon, you're sure to fall deeply in love with your own exclusive Costa Rican hideaway.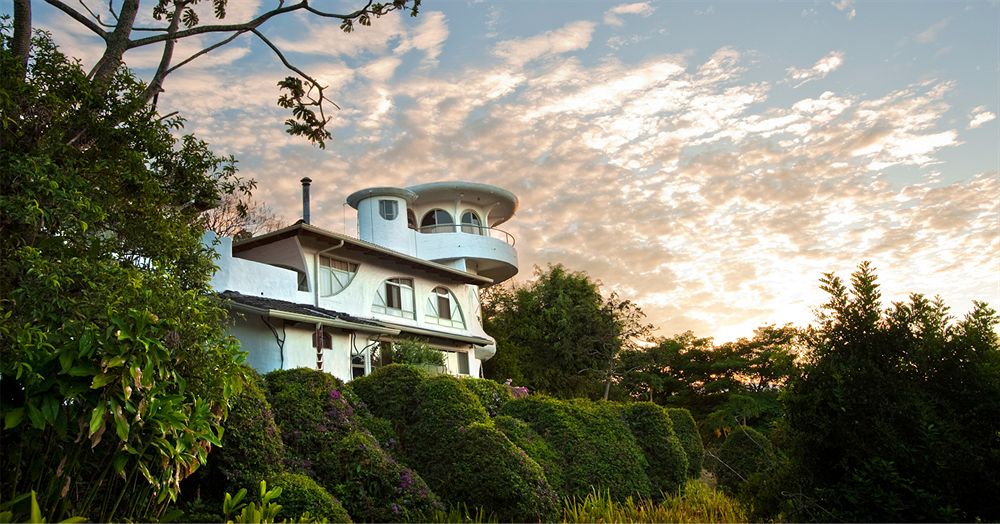 Tazine Bogue is  Editor-in-chief of Eco Companion.
Related articles across the web
This site uses affiliate links with brands we trust, and if you make a purchase using a link, we may receive a commission.
Did you enjoy this post? Want to show your gratitude? Please support us on Patreon!