Gender divisions are more blurred now than ever, and these all natural unisex perfumes are an example of the zeitgeist
By Annie Gillman
Calvin Klein was the first to introduce a unisex scent back in the 90s with CK One. And since then, some of the best – and sexiest – fragrances on the market have been designed to be worn by both women  and  men.
The chemicals in male and female skins always make the perfumes smell slightly different, meaning you'll never smell 'manly' and he'll never smell like you. But there is something sensual about sharing the same scent with the one you share kisses with…
Of course, we've only chosen natural scents here. That is to say, brands that contain no nasties typically found in perfumes like phthalates, ethyl acetate, methylene chloride, and more. Toxins like these can not only irritate the skin, cause headaches and disrupt hormones, but can even cause cancer.
Not only that, but by using conventional perfumes, you may be making those with chemical sensitivities around you ill. Just like they are with cigarette smoke, some people are highly sensitive to these chemicals, and wearing toxic perfumes around them could cause them nausea, headaches and feelings of disorientation. Talk about the perfect way to ruin a romantic moment!
These natural unisex perfumes are not only so clean that even the most sensitive people won't be affected, but they're perfect for gifting to – or sharing with – the one you love.
15 Delightful All Natural Unisex Perfumes
Marrakech Intense is one of AESOP's best sellers, and no wonder! It begins with a woody oriental blend balanced by fresh floral top and heart notes, with a big dose of mystery.
AESOP made this heady fragrance with the help of renowned  French perfumer Barnabe Fillion, who was inspired by the interplay between innovation and tradition, and a deep respect for the intelligent marriage of science and nature.
We love this fragrance because it evokes devotion and the delights of travel, and lasts all day without reapplication.
Price: $82

This all natural interpretation of a classic eau de cologne blends creamy Australian sandalwood, cedar and notes of dewy oakmoss, with a subtle undertone of green lavender and sunny citrus accents. It's an uplifting fragrance that will remind you that hope is inspired by the belief that all good things are worth waiting for.
We love the simple, recyclable, minimalist packaging that looks great on his bathroom shelf or yours.
Price: Around $65
With powerful base notes of oud and  sandalwood, this is a highly unique, intense fragrance by the Organic Pharmacy for both genders to indulge in.
Gorgeously intoxicating cardamon hits you first, with black pepper adding a bold spicy top note to an already fresh spicy exotic aroma. This is an  interesting scent with a more than impressive staying power. The luxurious, heavy glass bottles lend a further touch of decadence.
Price: Around $200
This unique perfumier really brings something 'extra' to their perfumes – namely, the energy of colour vibrations and naturally derived oils. Packaged in a bi-coloured bottle, Aura Soma's 75 is one of our favourites. It packs a citrusy punch of orange and neroli, spiced up with patchouli, and softened by just a whisper of vanilla.
According to the brand, its colour combinations of magenta over turquoise encourages communication from our hearts through the 'feeling side' of our inner being. When those two colours or energies interact, we also have the possibility to really enter into the flow in life. This also encompasses the relationships within ourselves, like our intuition and analytical aspects.
In short, this is the perfect fragrance for the rich hippy in your life!
Price: Around $100
Organic British skincare brand Neal's Yard offers a simple, clean 100% natural fragrance that arouses the senses. Packaged in a minimalist bottle, this is an intense yet very soothing fragrance based on pure, soothing frankincense that lasts for ages.
It has added touches of lime and bergamot to make this a truly comforting yet exotic scent for both genders. Note: Our editor says this is her husband's favourite, and she often, erm…'borrows' it!
Price: Around $70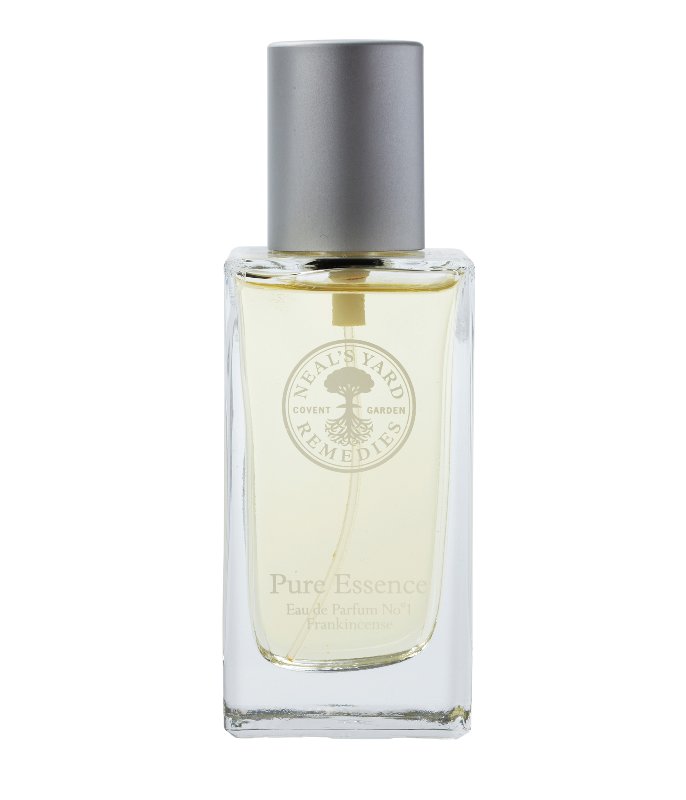 This Oriental, spicy scent for men and women can best be described as sensual and mysterious. Warm, dark top notes include rare wormwood, cognac, rosemary, tobacco, myrtle and amber. Its middle notes are softer and slightly sweeter: there's a hint of velvety red rose, black locust honey, cedar, iris, sandalwood and slate.
Base notes are laurel, incense, camphor, agarwood, vetiver, and labdanum, making this highly unique Italian scent a sensual, heady delight for colder weather.
Price: Around $150
This unisex scent is exactly what you'd expect from the name; it's earthy, rich, and warm, opening with a fresh citrusy tang with petitgrain, quickly followed by a heart of vetiver and finishing with a light patchouli scent, complimented by some creamy amyris.
Dare we say: it's quite reminiscent of Hermès Terre, (which I love) but a lot more natural and ethical. 
Price: Around $60
This well known  French label has created a unisex, vegan friendly scent that's 100% natural. Dewy grass and minty leaves make up the heart of the scent, whilst base notes include musk, cedarwood and tarragon, evoking the freshness of a garden after a storm.
We love that these perfumes are housed in recyclable packaging, but after having tried and tested a few different scents, I can say that their longevity is medium – reapplication is necessary every few hours or so.
Price: $84
This is another one of my personal favourites, of all the natural unisex perfumes!
Le Labo rose to fame for their eco-friendly cardboard and tin can packaging, as well as for their natural formulae.
Each unique perfume is hand-mixed in the brand's studio using high-quality ingredients sourced from Grasse, France. 'Baie 19' was inspired by the scent of rain after a long, hot day.
It opens with top notes of sensual patchouli, fresh juniper berries. It's base is then revealed: heady ambrox, cade and musk. I've tried and tested this perfume myself many times, and can tell you it lasts for hours, and attracts many compliments!
Price: $192
Each of the all natural unisex perfumes created by this brand were meant to be gender neutral, and this one is no exception. It features fresh juniper, verbena and yarrow to stimulate creativity. There's also the presence of subtle chamomile oil to give the fragrance a gently sweet undertone.
Seductive ylang-ylang lends a celestial note to this long-lasting fragrance, which takes on a different character depending if it's worn by a man or woman. I've tried and tested this one myself, and can attest that it lasts for around two hours on the skin.
Price: $70
Blended from aromatherapeutic Bach Flowers, this is the first perfume in the world to use these natural essences. Specific healing flowers and herbs were chosen to help boost your wellbeing and enhance your positive energy.
This fragrance begins with clean woody notes that never turn musky- you could best describe this as smelling 'fresh' and 'vivacious'. It does give the impression that it is a more masculine scent, thanks to the woody notes; however, there's also rich, spicy under note that is slightly floral.
The heart of the fragrance has white chestnut, olive and hornbeam with base notes being larch and mustard. This is a really uplifting scent that's perfect for both day and night.
Price: Around $30
Who doesn't love a refreshing G&T? It's tart, it's tangy, it's citrusy and it's refreshing.
All of those qualities we love the most from this cocktail have been perfectly captured by Art de Parfum. These fragrances are crafted in France by a young French perfumer using only the best raw materials gathered from around the world.
Its top notes boast grapefruit, lemon zest, cucumber peel and of course, juniper berry, while its heart notes are of gin and tonic accord. There's a musky base to give this light, cruelty-free perfume some gravity.
Price: Around $150
The name of this, one of our favourite of the all natural unisex perfumes, says it all! A touch of smoke meets white cedar absolute in this deeply comforting, slightly sexy scent. This perfume is actually one of the few that was originally designed to be unisex.
It's meant to evoke the beauty of how sunlight streams through a forest of warm trees in the late afternoon. There's a touch of green here, thanks to the hint of Virginia cedarwood and fir, but generally, I would classify this as woody fragrance all forest lovers will appreciate.
Price: $75
This rich perfume oil intends to take you on a journey to the Far East. Its exotic top notes include smoky sandalwood, tangy yuzu and fresh ginger, all softened by a wee hint of vanilla.
According to the creator, Lina Hansen, these essential oils were chosen specifically for their abilities to refresh the mind, enhance motivation, and boost confidence. The fact that this scent is based on rich oils means it lasts for hours and hours, too.
Price: $90
This is a light, peppery fragrance that's perfect for summer. It's bursting with fresh citrus top notes, which then warm to vetiver and black pepper extracts, followed by a hint of bergamot.
Since 1790, D.R. Harris has maintained a long heritage of grooming excellence, and their 'Windsor' Eau de Toilette expertly mixes tradition with vibrant notes.
This subtle but lasting fragrance is ideal for both genders.
Price: $50
Main image: Eaux de Bach