Irritating plastics? Toxic parabens? These natural sex boosters have none of those nasties!
By Lora O'Brien
Doubt that women need natural sex boosters now more than ever? Well, here's a shocking fact for you. Over 80 percent of the sexually active adults in one survey said they actively avoided sex sometimes over the past year. And women were far more likely than men to do so.
In fact, there seems to be a definite disconnect between men and women when it comes to sex. For example, nearly 60 percent of the men in that survey said they thought about sex at least once a day. That's a lot when compared with only 19 percent of the women. Men are also far more likely than women to say that sex is highly important to them (64 percent vs. 47 percent).
Why do women want sex less than men?
I guess there are lots of reasons for this.
One, we do get hormonal. Depending on the time of month, we may want sex more – or less.
Secondly, we're still usually the primary caregivers for babies. Which, believe you me, means a LOT less sleep. And who's horny when they're sleep-deprived and cranky?
Thirdly, sex has more consequences for us. Namely, potential pregnancy. Unless you're feeling confident your birth control is working, it's pretty hard to just relax and enjoy.
Finally, there's the whole issue of many men not understanding female sexuality. Fed on a steady diet of internet porn, they have the rather mistaken notion that 'wham-bam-thank you ma'am' sex is what we always want. While that may be fine once in awhile, who wants a steady diet of just that?
It's time to cater to female sexuality, ladies! OUR sexuality! And these natural sex boosters can help.
While turn-ons vary wildly from person to person, there are some things we ALL find to be sexy. For example, the confidence we won't get pregnant or stuck with an STD, to start with. Once we're relaxed about that, we can then get everything oily and lube-y, ensuring there's zero pain and more pleasure.
And if all that doesn't work? It's time to take matters into our own hands!
Here, I've found seven different natural sex boosters that I think will ensure everyone has a better time in the bedroom!
Seven Different Natural Sex Boosters
1. VEGAN CONDOMS
We all know the phrase no glove, no love, right? And no matter how spicy things are getting in the bedroom, safety should always come first! However much of a buzzkill they can seem, condoms are way less of a mood killer than catching an STD, you feel me? Condoms are not only an important contraceptive device, but they can prevent anything from HPV to HIV!
The only problem? Not all condoms are vegan. And some are even made from lamb intestines…which is just as gross as an unwanted dick pic, imho! Luckily, more vegan brands are catering to making cruelty-free condoms. Here are some of the best options, below.
These are a sustainable and healthy alternative to mainstream condoms. Created to deliver a more satisfying, safer sex experience while using sustainable ingredients and cruelty-free practices, they contain zero harmful chemicals and can be used with any water or non-oil based lubricant. Free from gluten, parabens, spermicide, benzocaine and glycerin, GLYDE is the first certified non-toxic, ethical and even Fair Trade condom. It's also the only condom certified by the Vegan Society!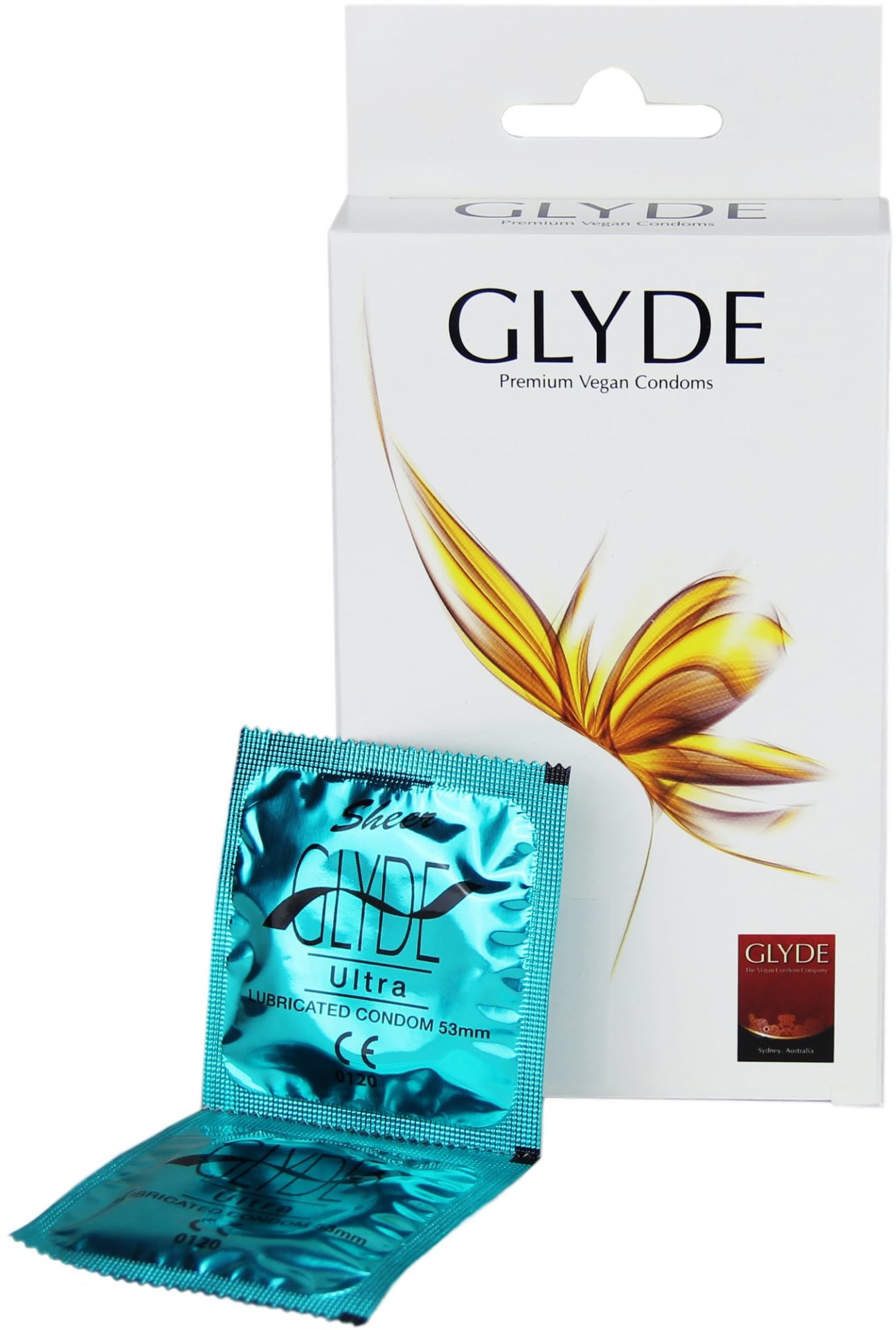 The very posh sounding Sir Richard's Condom brand saw a gap in the market, and aimed to fill it; producing a quality, safe vegan condom while also addressing the global health crisis of lack of condom accessibility. That's right: for every condom bought, they donate a condom to a developing country.
They're made from 100% natural latex,  and we love that they're pre-packaged with one of the best natural sex boosters: a premium lubricant that's free of parabens, glycerin and spermicide. These are designed for optimal gliding when used. Oh, and they're also manufactured to ensure they have a minimal latex odour. Yay! You won't be hit with that repugnant plastic scent when using.
Sir Richard's Condoms are one of only a handful of condom brands that have been certified by the American Vegetarian Association (AVA) making consumers confident that the brand is both 100% vegan and user-friendly for daily consumption. The brand is also PETA-certified, too!
2. ORGANIC LUBE
My two pieces of advice to any woman having sex is always 1. Lube up, and 2. Pee after sex! My delicate area is super sensitive, and I've had more UTI's in my 29 years of existence than I care to remember. The vaginal area is obviously highly delicate and prone to tearing, so a good lube is one of the best natural sex boosters, ever.
However, so many lubricants contain synthetic chemicals, polymers and lots of other nasty crap that has no business being near your nether regions. Avoid lubricants that contain petroleum or other chemicals, and switch over to one that is eco-friendly and made with both safe and organic ingredients. This is going inside your body, after all!
Tip: As well as switching to a natural lube, drink plenty of water to keep your body hydrated, as this will help your body to retain moisture, alongside a balanced diet. And remember to stimulate your sexual organs. Lube helps, sure. But foreplay is always recommended to get your body relaxed. Go slow, take your time!
This certified organic range of intimacy products have been designed for maximum pleasure, all while being safe for both the planet and health. Unlike toxic brands that can cause drying and discomfort, this luxurious oil-based lubricant from YES is rich in natural ingredients to both nourish and condition the skin, enhance sensitivity and intensify intimacy. Cocoa and shea butter keep the body smooth, while almond and sunflower emollient oils give a silky texture. YES is also free from added colours, fragrances, tastes and residues.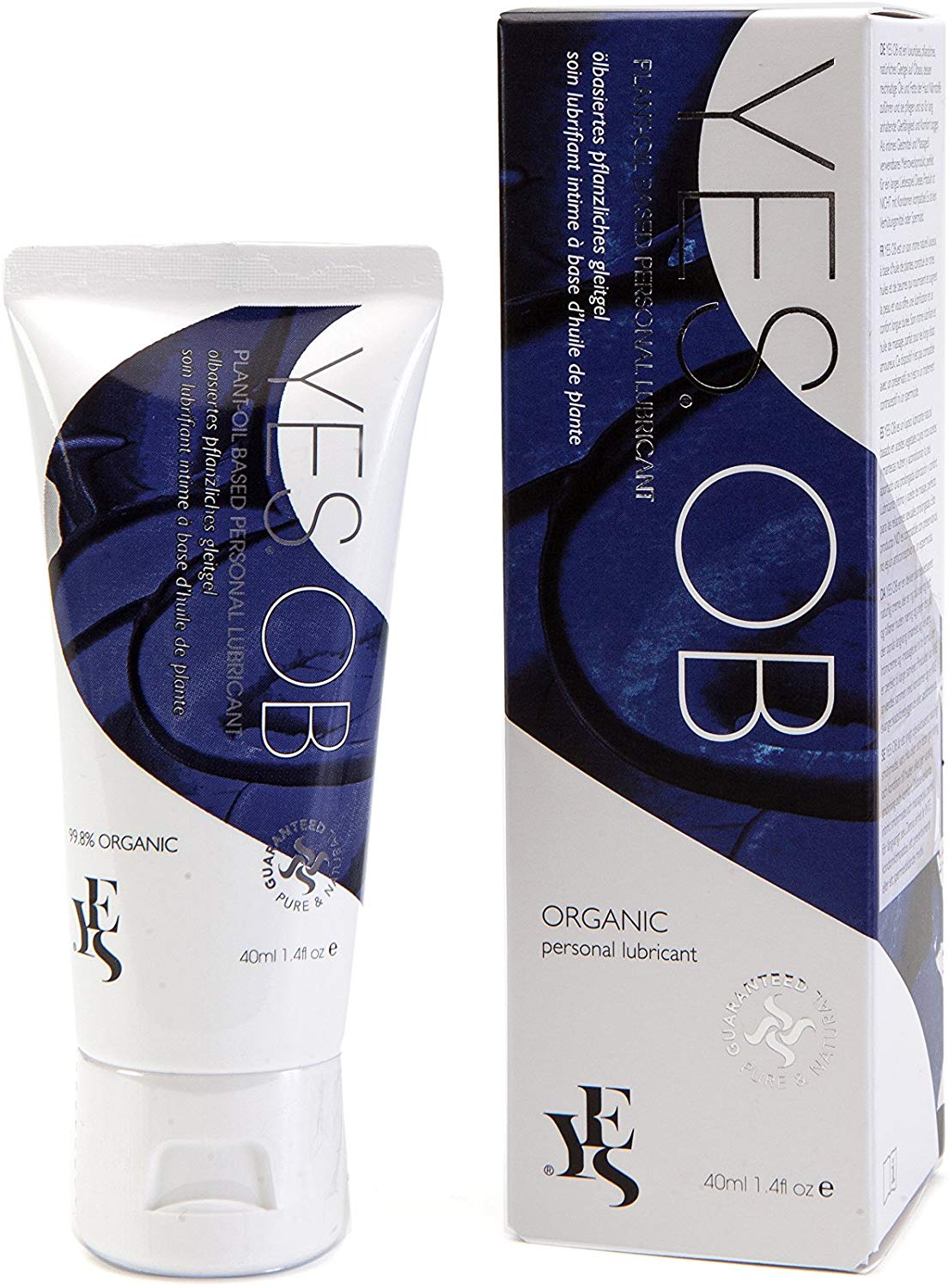 Ladies, vaginal dryness is more common than you think, and it's absolutely nothing to be embarrassed by. In fact, it's believed that 75% of women suffer from vaginal dryness at some point in their lives, so relax, it's totally normal. While there can be lifestyle factors contributing to dryness (stress, anxiety, menopause and pregnancy to name a few) some of us just need a helping hand.
Aloe Cadabra know that what you put onto your skin will be absorbed into your bloodstream – scary, right? So Aloe Cadabra uses 95% organic aloe vera in every tube, and is FDA-cleared for safety. They have a range of flavours, too, like pina colada, or you can buy one that's unscented.
This lubricant not only helps to restore natural vaginal moisture, but it absorbs into delicate tissues easily so there's no mess. It's safe to use with almost all condoms, and can also be used as a topical cream to moisturize, soothe, and lubricate dry vaginal tissues.
3. NATURAL BIRTH CONTROL APPS
Birth control is a way for women to practise safe sex without the risk of an unwanted pregnancy. So, technically it's green by nature, simply because it works to control the population, which then impacts our environmental impact on the planet. But the form of contraception you're using may not be very green at all! Many women opt for the pill because of its convenience, but whether you use the pill, the patch or hormone injections synthetic estrogen makes its way into our water. It's even been shown to alter the gender of fish. Scary, right?
Not to mention all of the excess packaging that comes with forms of birth control, like the pill. And who even wants to consider how many condom packages and wrappers end up dumped in the ocean when people get rid of them by flushing them?
Aside from the detrimental impact it has on our planet, hormonal birth control can be far from healthy. Over long periods of time, taking synthetic forms of contraception can be pretty bad for our health. But there are ways to use contraception without it takes its toll on your body or health thanks to new, tech assisted birth control methods that are kind to your body and ACTUALLY work.
One of the best natural sex boosters is knowing you're not going to get preggers if you don't want to. And Natural Cycles was the world's first medically approved contraceptive app. It's a modern-day alternative to synthetic contraception that appeals to so many women. Natural Cycles works on the fact that whilst each and every cycle is different, one thing remains the same: you can only get pregnant on up to 6 days in one cycle.
Natural Cycles finds those days for you, giving either a red or green day to determine whether or not you need to use extra protection. All you have to do is measure your temperature in the morning, relay this into the app and it will do all of the work for you. The app will provide you with updates based on the information you enter every morning. It tells you when you're in a fertile phase, when ovulation is detected and predicted, and when to expect your period.
It's fast, efficient, and easy to use on the go. Just pop the basal thermometer into your handbag when travelling so you'll never be without it.
Another popular way to manage your birth control via an app is Flo. If you don't already use Flo, you'll likely know someone that does, as millions of users log in daily to use it. This smart, simplistic app tracks your period, ovulation and fertility. It turns the date entered into useful graphs that show exactly what your body is doing, and when. And if you're looking to get pregnant, it also turns into a fertility tracker.
4. NATURAL APHRODISIAC SPRAYS
Sure, food is a sure way to boost your libido naturally. But using senses beside taste can turn the heat up, too! Another of our top natural sex boosters is to use scent. Smell is one of the most powerful senses we have, and these natural sprays can use the power of aromatherapy to boost your libido in ways you never imagined!
Transform the atmosphere of any space with this all natural room and linen mist! Free from synthetic fragrances, alcohol, parabens and SLS, these natural scents are designed to freshen the air and lift the mood using the therapeutic properties of organic essential oils.
The Love Mist is especially effective when it comes to bringing a little sensual mood back to the bedroom. A sweet floral blend of organic rose, geranium, rosewood, patchouli and vanilla are known to have aphrodisiac properties, all while bringing comfort, joy and emotional balance to your home.
It has a reputation as being bland, but in fact, vanilla is a successful aphrodisiac. Phil Lempert, a trend-watcher and food industry analyst, told United Press International, "The smell and flavor of vanilla is believed to increase feelings of lust, but some studies show vanilla can raise levels of catecholamines, or adrenaline, in the blood."
The takeaway? Vanilla is more powerful for turning us on than many people give it credit for! So why not try spraying this organic romance mist, which also features patchouli and tangerine, on your pillows?
5. A GREAT MASSAGE OIL
If your partner tends to want to take things a bit too fast, pop out some natural massage oil and I guarantee he (or she) will take it way, way slower! This is one of the simplest – and most effective – natural sex boosters. Rub some oil between your palms and tart massaging them slowly. Then, squirt some all over your own body – they should take the hint!
Safe for your most sensitive areas – and won't stain your sheets! This natural oil was specifically designed for your pubic hair and skin. Meaning – it's perfect for using 'down there' on sexy nights in!
6. HYPOALLERGENIC VIBRATORS
Ok, now we're getting down to the nitty gritty of what natural sex boosters truly means! And ladies – don't be embarrassed. Sex toys are a fun way to explore your body, as well as your kinks and fantasies.
But when searching for a sex toy, you need to pay attention to what it is made from. The same way you would when choosing, say, cosmetics. Many women are still unaware of the fact that some sex toys pose a danger to their health due to the type of materials they are made from, and where they are manufactured. If you've ever suffered irritation, burning, stinging or even thrush after using a sex toy, you could have experienced an allergic reaction to the material the toy was made from.
Sex toys can be pricey, but in this case, you really do get what you pay for. If you buy cheap and cheerful, you're probably going to end up splashing the cash on an anti-thrush cream to heal your swollen vag!
Materials Matter
Try to avoid buying rubber toys. The material used to make these type of sex toys haven't been clinically tested. They can contain all kinds of nasties, such as phthalates or worse, PVC, both which are super harmful to your health.
Phthalates are used to make plastics and rubber softer, enabling it to be moulded and therefore more flexible. The material is prone to breaking down and falling apart over time, which makes the product a hazard for hygiene.
Not sure how to tell if you've bought a jelly/rubber based sex toy? The strong plastic smell when you open it will be a huge indicator. Don't be fooled by manufacturers who use perfumes to mask the scent. And those perfumes can also cause irritation to what is already a sensitive area.
Another material that people may suffer from is latex. If you have a latex allergy, don't assume that a sex toy is latex-free just because. Many sex toys are mass-produced in factories where the exact same mould for latex and non-latex toys are used. These moulds are not sterilised, and latex particles can become embedded in the supposedly 'latex-free' products.
The best bet? Look for sex toys that are made from silicone, like those below. Silicone is a hypoallergenic material and a great option for those sensitive users. Glass and metal toys are also really great options to invest in. Plus they're easier to clean and are free from harmful chemicals that can leech inside of you when buying cheap sex toys that have been chemically dyed.
What's so great about the shape of this natural silicone based vibrator is that it can tickle you (or your partner) anywhere that feels good. Its firm teardrop fits perfectly in the hand, allowing you to stroke over any external sweet spot to arouse it with one of its seven settings. And the best part? It's a totally silent toy, so you can be super discreet!
Happy Rabbit Vibrator
Remember that Sex in the City episode when Charlotte got all addicted to her vibrator? Well, this was the model, ladies! The Happy Rabbit is made from natural silicone, is easy to clean, and the best part? It boasts two motors to power your most sensitive spots, and a whopping 15 modes of vibration ensure mind-blowing orgasms. Its natural shape and a non-intimidating size means this is the perfect sex toy for beginners.
Did we miss any of your favourite natural sex boosters? Let us know in the comments below!
Latest posts by Lora O'Brien
(see all)