These delish vegan aphrodisiac recipes practically guarantee a sexy night in!
By Lora O'Brien
This Valentine's Day, forget oysters and whipped cream – there are lots of cruelty free foods to feast upon for sexy feels. Oh yes, we're talking vegan aphrodisiac recipes!
Plant based foods have surprisingly sexy effects, as PETA tried to explain in their advert titled 'Last Longer' which showed a split screen of two men having sex. One was vegan, the other a meat-eater, and the message was clear:  vegan men last longer in bed than those who chow down on meat.
The ad was created to alert male viewers to the fact that eating foods high in cholesterol, such as meat, eggs and dairy products, hits them where it hurts; their sex drive. Such foods have long been linked to artery blockages that cause inadequate functioning of not only a man's heart, but also his other vital organs, whilst also slowing down the flow of blood to their you know where.
On the other hand, a vegan diet can actually help boost sexual performance, get our blood flowing and keep the hormones we need to feel horny alive. The top three vegan foods to do so? Vegan chocolate, champagne and asparagus – but there are plenty more; just look below.
Vegan Aphrodisiac Recipes For Sexy Nights In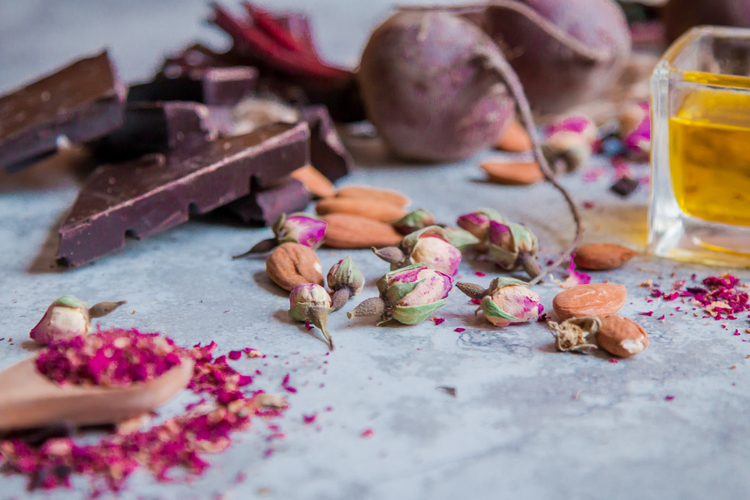 Aphrodisiac Spices To Try
Aniseed:  If you love the sweet flavour of aniseed and its cousin, licorice, then you can expect an increase in female sexual arousal, as these help boost female hormone balance.
Cinnamon: Have you ever eaten cinnamon and felt is physically give warmth to your body? Well, it can have the very same effect downstairs, too!
Cardamom:  Adding cardamom to your food will also have an impact on the blood flow down there.
Chili peppers: You may want to suffer through the spice, as it causes the brain to release endorphins – the chemicals that give us those feel-good vibes!
Ginger:  Similar to chili peppers, adding ginger to your food will increase circulation and body temperature, getting you in the mood.
Garlic: Okay, so you may not want to gorge on garlic right before a make-out session, but eating garlic can increase the blood flow, which helps to improve stamina and sexual energy.
Some Vegan Aphrodisiac Foods
Pomegranate seeds: These jewel-like seeds  can be added to salads and desserts, and you'll reap the rewards as these seeds not only increase blood flow, but also sensitivity 'downstairs'.
Pine Nuts: Men, if you're looking to boost your testosterone and stamina, then you might want to start sprucing up your meals with some of these.
Asparagus: Whilst it's true, asparagus may make your wee smell a little funky, it's also celebrated for its abilities to increase circulation and make you hella horny – maybe because of its phallic shape?
Watermelon:  This common fruit has recently been hailed as the new Viagra, as it has similar effects on blood vessels throughout the body, especially for men.
Pumpkin seeds:  Forget slurping back oysters – pumpkin seeds also happen to be high in zinc, which is essential for maintaining both healthy sperm production and preventing testosterone deficiency in men.
Celery: The vegetable contains androsterone and adrostenol, two chemicals  that help you get aroused. Eating celery also increases the pheromone levels in a man's sweat, making them more desirable to women.
Figs:  Figs were one of Cleopatra's favourite foods, and have long been hailed as being an aphrodisiac due to their uncanny resemblance of the female sex organs.
Maca:  This caramel tasting superfood has been used to treat both fertility and lack of arousal. By adding some maca to your diet, it can boost your sex drive and even help men suffering with erectile dysfunction.
Chocolate: Vegan dark chocolate contains phenylethylamine (PEA) which works to stimulate the very same hormone that your body releases during sex. Now you know why you love chocolate so much!
A Magical Aphrodisiac Powder?
If your sex drive needs a little jump start, Moon Juice Sex Dust has proven popular (and effective!).
Moon Juice's Sex Dust is a powdered blend of natural, plant-derived ingredients proven to boost your energy levels and help to recover those feel good vibes. Rich in he shou wu (commonly used in Asia to promote youthful 'vigour'), it also has organic cacao, shilajit (renowned for its ability to support fertility), maca, organic schisandra, cistanche, epimedium and organic stevia. This has a warm, slightly bitter/sweet flavour – just sprinkle on your cereal, soups, stews or even in the smoothie recipes below for more mojo!
So, now you know which vegan foods can help to boost our sex lives, it's time to get cooking up a storm in the kitchen.
With 7 in 10 people preferring to be cooked for on a date night than being taken out for dinner, you'll be in need of some killer recipes to cook, right?
We've got 25 vegan recipes below that will help you to plate up some passion. And with 22% of people admitting that their romantic evening has resulted in 'eating too much' we've kept these recipes indulgent yet light, so nothing will get in the way of your intimate evening ahead. So throw on some sexy lingerie and an apron (va va voom!) and get cooking – in more ways than one!
Sexy Vegan Aphrodisiac Recipe Ideas
1. Aphrodisiac Smoothie with Cacao & Maca
Now, when it comes to smoothies, this one is pretty sexy. The chemicals in the raw bean of cacao stimulate the senses, which heighten those feelings of joy and pleasure. Throw in some cinnamon and maca, and you've got yourself the gift that keeps on giving.
Get the recipe here.
2. Cardamom, Cinnamon & Turmeric Iced Tea
Inspired by a Thai iced tea, this gorgeously vibrant vegan beverage is super creamy thanks to the turmeric and coconut milk. The cardamom, ginger and cinnamon taste lovely together and are all natural aphrodisiacs, though you may have to knock a few of these back before you start feeling those sexy vibes.
Get the recipe here.
3. Fig, Walnut & Vegan Honey Breakfast Tartine
Figs have been enjoyed for thousands of years, and I can see why. They're so wonderfully sweet, plump and jammy – they make a great addition to any recipe, from a salad to this breakfast tartine. Combining the figs with walnuts and vegan honey atop some freshly toasted bread will give you a foodgasm for sure.
Get the recipe here.
4. Sugar-Free Cinnamon Cardamom Plum Jam
Fresh plums are cooked with cardamom, ginger and cinnamon – a potent aphrodisiac blend – to create an aromatic, brightly coloured purple plum jam. Scoop it onto toast, yogurt, ice cream – or him!
Get the recipe here.
5. Maple Roasted Figs
Is there anything better than ripe, gooey figs? Yep – figs that have been roasted in a maple syrup, cinnamon and sea salt mixture. Why not hand-feed these to your lover, and share with a nice glass of red?
Get the recipe here.
6. Aphrodisiac Bliss Balls
These bliss balls are one of the easiest vegan aphrodisiac recipes t make. They look pretty and pink, perfect for Valentine's Day – but they're not just a pretty face! They're also infused with libido enhancing superfoods and herbs. Ooh la la!
Get the recipe here.
7. Easy Sesame Glazed Tofu
These tofu chunks are glazed in a spicy, sweet and smoky tangy sauce that is easy to whip up at a moments notice! Pair with noodles and vegetables and it looks pretty fancy, and will definitely impress your Valentine this year. And don't forget that tofu is high in phytoestrogens, those plant-based female hormones that help us get our libido up and running….
Get the recipe here.
8. Asparagus & Mushroom Vegan Quiche
This quiche is the perfect recipe for either a breakfast, brunch or even dinner! It's loaded with that key aphrodisiac, asparagus, as well as loads of vegetable based proteins that will leave you feeling satisfied, perhaps in more ways than one.
Get the recipe here.
9. Spiralized Beet Salad With Creamy Garlic Dressing
If you're trying to wine and dine your significant other this Valentine's Day, then why not whip up this beetroot salad as a starter? It hosts a blend of natural aphrodisiacs thanks to the garlic, pumpkin seeds and avocado.
Get the recipe here.
10. 5 Minute Basil Pesto Raw Zucchini Pasta
Vegan aphrodisiac recipes don't get much easier than this! Not only is basil an anti-inflammatory, but it's also said to combat a lowered libido alongside any malfunctions when it comes down to the nitty gritty.
Get the recipe here.
11. Mushroom & Asparagus Barley Risotto
When it comes to stamina, you can give your resources a boost by adding some zinc-rich mushrooms and asparagus to your plate. This risotto is super rich and creamy without the need for dairy.
Get the recipe here.
12. Cajun Chickpea Burgers
Cajun spices are meant to put some fire into your sex life, so why not make a red-hot cajun chickpea burger to reap its rewards? These burgers take just thirty minutes to make and are packed with both texture and flavour, thanks to the onions, peppers and spices.
Get the recipe here.
13. Vegan Cream of Asparagus Soup
By now, we're all aware of the huge benefits asparagus can have when it comes to our sex lives. Looking for more delicious ways to enjoy asparagus? Why not make this soup? It's creamy, peppery and pretty easy to make!
Get the recipe here.
14. Chipotle & Chocolate Pumpkin Chili
Not keen on sweets, but want to reap the benefits of chocolate's feel-good chemicals? Sprinkle a little bit of bitter chocolate into this dish – it pairs perfectly with spices and chili peppers, and also has wondrous benefits to your love life.
Get the recipe here.
15. Pan-Seared Watermelon Steak
This is a bit of an unusual recipe, but it's delicate, beautiful and easy to feed to your partner! Don't forget that watermelon is especially great for the male libido. And by the way: if you want to make this fully vegan, sub in agave syrup for honey and some vegan cheese for the feta.
Get the recipe here.
16. Pizza Amore
Just when we thought pizza couldn't get any better….! Artichokes, avocado and red pepper flakes are the three main aphrodisiac ingredients on this pizza, which was specifically formulated to boost the sex drives of those who eat it.
Get the recipe here.
17. Roasted Squash, Pecan & Pomegranate Salad
Bejewel some roasted veggies with delicate pomegranate seeds to bring a sensual touch to a sweet, nutritious winter salad. I would personally add some celery here for some texture, and to enhance the female response to male pheromones.
Get the recipe here.
18. Vegan Tuna Nigiri
Sushi has always been considered a sensual dish, and when the mercury-laden fish is removed and replaced with finely sliced watermelon, it's even more so. Feed each other these little morsels by hand and see what happens…
Get the recipe here.
19. Tofu Brochettes with Sesame Seeds
During a romantic dinner, the last thing you want is to be fiddling with food. So these brochettes are perfect: just slowly pop the bites of hormone-boosting tofu into your mouth, one by one.
Get the recipe here.
20. 3-Ingredient Easy Watermelon Granita
This is one of the lightest, most refreshing vegan aphrodisiac recipes! It's a light dessert that will get his motor running – especially if you do what I do, and add a shot of champagne or red wine to the mix.
Get the recipe here.
21. Rose Petal Dark Chocolate Bar
This not only tastes delicious, but it looks beautiful, too. Making this combines those two Valentine's classics – roses and chocolates – into one wonderful gift. And come on, seriously – isn't this one of the prettiest vegan aphrodisiac recipes you've ever seen?
Get the recipe here.
22. Avocado Chocolate Mousse
Sexiness in food isn't just about the taste or ingredients; it's also about the texture. And what could be more sensual than a thick, rich, creamy, smearable chocolate mousse? Scoop some on your finger and pop it into his mouth….
Get the recipe here.
23. Licorice Ice Cream
This may not be the black ice cream of your childhood. But it does indeed come packed with a nice hit of bittersweet licorice, which helps female libido. For an added touch of sexiness, why not sprinkle some pomegranate seeds on top?
Get the recipe here.
24. Pomegranate Sangria
Two aphrodisiacs combine in this pretty drink to make you fully relaxed and in the mood! Consider it to be a tasty, boozy, vegan love potion…
Get the recipe here.
25. Rose, Beetroot and Chocolate Brownies
This is one of the most stunning vegan aphrodisiac recipes! It's that chocolate/rose combination again, one that is bound to win hearts – and stomachs! This recipe does call for eggs, but you can replace them with flax eggs (see how to do it here).
Get the recipe here.
The second image of Vegan Aphrodisiac Recipes is by My Moroccan Food.
Latest posts by Lora O'Brien
(see all)