By Arwa Lodhi
Japanese designers have always understood the value of paper; they've used it for everything from lanterns to walls. But now more creators around the world are discovering how this versatile and eco-friendly material can be transformed into delicate, modern clothing.
With origami as the inspiration behind several styles, these imaginative fashions have been shown on runways and in magazines alike, demonstrating how intricately constructed styles can be made from one of the simplest of materials. The garments are both elegant and unexpected in the way they fold, bend and mold an everyday item into something sublime.
We're thrilled to see such wonderful examples of how aesthetics can so wonderfully merge with sustainable   design ideals, and hope that more fashion designers will be motivated by the beauty of these pieces to give up using toxic dyes and synthetic materials in favour of working with textiles that are at least similar to paper – think: organic cottons, raw silks, hemp and reclaimed fabrics.
Our Top 10  Paper Fashion Designers
Ok, so our first pick isn't just about one designer; it's several. For a unique project, Pratt design students draped, dressed and adorned Pucci's 'Girl 2' collection of abstract, featureless mannequins in paper. Only white paper was used to create dramatic designs using a variety of techniques including folding, fraying and crumpling.
This Swedish designer layers paper creations on top of each other to create imaginative three dimensional works of (almost) wearable art.
The folding, wrinkling and crimping techniques used by this sustainable fashion designer remind us of the incredible 3D printed works of Isabel de Hillerin.
This Trinidadian designer uses origami-based concepts to create voluminous dresses that recall the artisanal methods for creating pleats.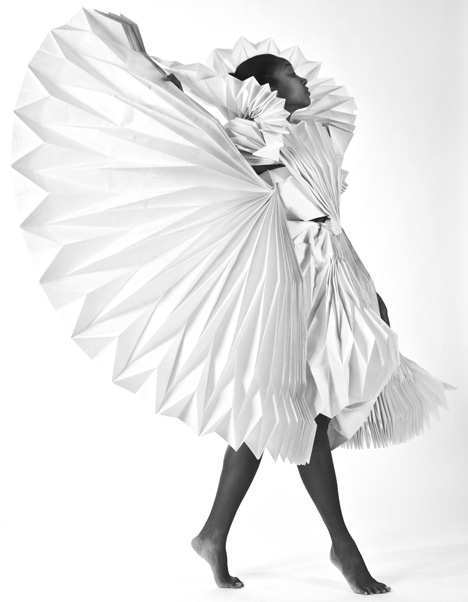 Feminine and a wee bit sexy, Lia Griffith's work is made for a modern Paper Bag Princess. We love the little touches of colour – perhaps you could colour in your own dress!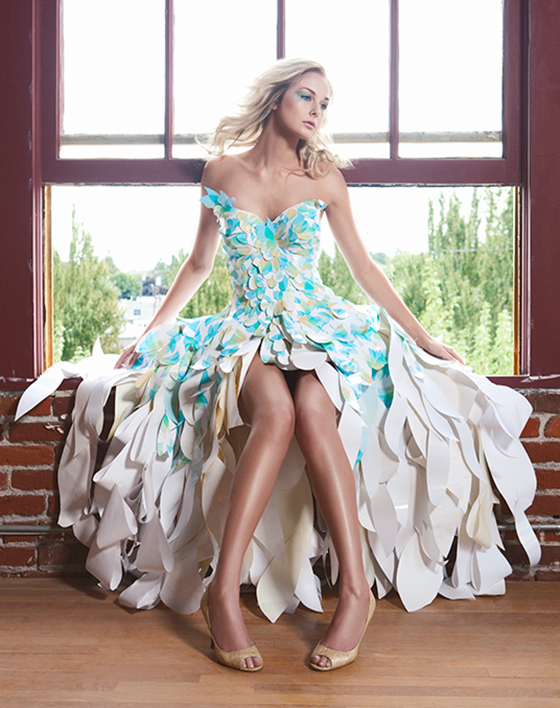 Precise geometry defines this rather famous Russian artist, film maker and fashion designer's style.
Hailing from Korea, Soon Tong's fantastical creations and striking silhouettes are the stuff of dreams…and sometimes nightmares!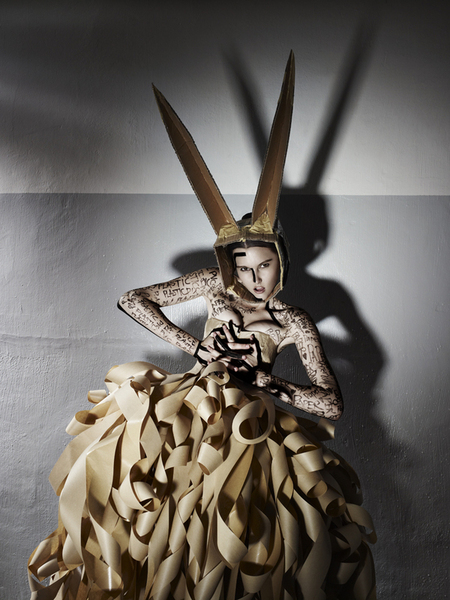 Delicately feminine and intricately cut, the detailed designs of Kristina Sevostyanova sit over conventional clothing to add an unexpected touch.
Using laser cutting, carving and folding techniques, this Brazil-based designer is famous for his intricately detailed creations – which he gleefully destroys at the end of each fashion week. We can only hope he recycles all that paper!
Latest posts by Chere Di Boscio
(see all)
This site uses affiliate links with brands we trust, and if you make a purchase using a link, we may receive a commission.
Did you enjoy this post? Want to show your gratitude? Please support us on Patreon!