These incredible paper fashion designers demonstrate innovation, creativity, and sustainability at its best
By Chere Di Boscio
Japanese architects and designers have always understood the value of paper. They've used it for everything from lanterns to walls. But now more creators around the world are discovering how this versatile and eco-friendly material can be, and are transforming it into delicate, modern clothing.
With origami as the inspiration behind several styles, these imaginative creations by paper fashion designers have been shown on runways and in magazines alike. They demonstrate how intricately constructed styles can be made from one of the simplest of materials on earth. Their garments are both elegant and unexpected in the way they fold, bend and mold an everyday item into something sublime.
We're thrilled to see such wonderful examples of how aesthetics can so wonderfully merge with sustainable design ideals! It would be wonderful if more fashion designers will be motivated by the beauty of these pieces to give up using toxic dyes and synthetic materials in favour of working with textiles that are at least similar to paper. Think: organic cottons, raw silks, hemp and reclaimed fabrics.
7 Awesome Paper Fashion Designers
Ok, so our first in our list of paper fashion designers isn't just about one designer; it's several. For a unique project, Pratt design students draped, dressed and adorned Pucci's 'Girl 2′ collection of abstract, featureless mannequins in paper. Only white paper was used to create dramatic designs. Students used a variety of techniques including folding, fraying and crumpling.
"Every student had a different way of manipulating paper,' said Rebeccah Pailes-Friedman, Chair of the Department of Fashion design at Pratt Institute. "They curled it or folded it, or braided it or wrinkled it. Sometimes, so much so, it became like soft fabric." One student, Dara Rosen, laser cut the paper into small circles and wove them together like knitted fabric, and from that draped a sheath dress, Pailes-Friedman said.
Clearly, the students were really able to abstract the material and create incredible textures and forms with this humble material. WE adore the magical use of toilet rolls, as seen below!
The folding, wrinkling and crimping techniques used by this sustainable paper fashion designer remind us of the incredible 3D printed works of Isabel de Hillerin.
Based in Zagreb, Croatia, Morana Kranjec works with several different unusual textile based techniques. In doing so, she creates new materials, such as this leathery looking paper, below. She also merges elements of her own artistic, fashion, and cultural inspirations as part of a broader conceptual practice.
Besides being one of the most innovative paper fashion designers, this Trinidadian designer is also an architect and an artist. All of her training and skills are evident in her highly structure fashion work. In that, she uses origami-based concepts to create voluminous dresses that recall the artisanal methods for creating pleats.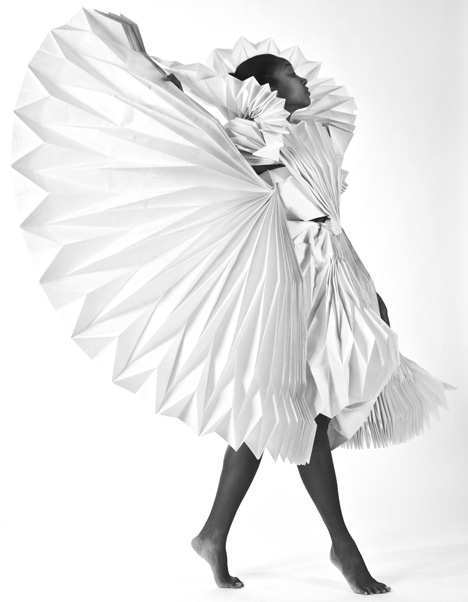 Griffith has organised runway shows to exhibit her wonderful paper crepe dresses in combination with frocks made from other paper materials. She says: "I am forever learning, and creating these wearable art pieces is an amazing way for me to observe and acknowledge my growth as a papercrafter."
She has expanded her zero-waste work to include hats, and also sells handcrafted paper flowers en masse for big events like weddings.
Feminine and a wee bit sexy, Lia Griffith's work is ideal for a modern Paper Bag Princess. We love her use of colour!
Check out the video below to see a compilation of clips from the recent photo shoot for Griffith's new aubergine dress, modeled by her own daughter.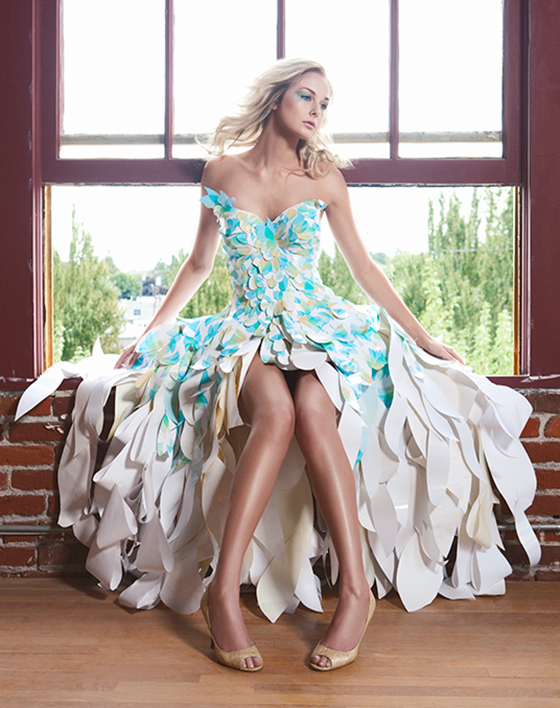 This is one of the most fantastical of all the paper fashion designers. Hailing from Korea, Soon Tong's fantastical creations and striking silhouettes are the stuff of dreams. And sometimes, nightmares!
From brown paper, toilet paper and tracing paper to old magazines and newspaper, this series (below) draws attention to the prevalence of paper used in modern life. It is also an indictment of its waste.
Other materials, including gum tapes, raffia string, tinfoil, cling wrap, egg trays, bubble wrap and trash bags assisted in creating these looks.
Ashburn Eng and his design assistant spent two weeks conceptualising and experimenting with these designs and materials. Then, it took another 364 hours to complete the outfits. Each one was painstakingly put together through multiple fittings. They were added to models piece by piece of recycled paper, commanding the attention to detail worthy of fashion's best.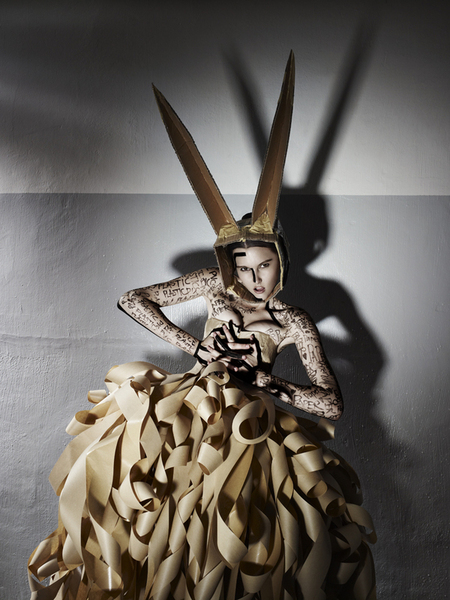 One of our favourite paper fashion designers is Jum Nakao from Brazil. He designs dresses made of paper that have been laser-cut, carved, folded, and laced. The result is a beautiful collection of fragile paper couture dresses.
Nakao showed off his collection for the first time on the São Paulo's Fashion Week in the summer of 2005. He made the collection in 700 hours, and used almost 1 ton of recycled paper. The show, on the other hand, was only seven minutes. And get this: right after the show, the garments were torn apart! "This action is in itself an expression of art in its purest form," Nakao said.
We can only hope he recycles all that paper!
Latest posts by Chere Di Boscio
(see all)