These 12 ways to spot a fake Birkin bag could save you from being duped!
By Chiara Spagnoli Gabardi
Singer, actress and fashion icon Jane Birkin became synonymous with luxury handbags after a serendipitous encounter in 1981 with Jean-Louis Dumas, the late chief executive of Hermès, on an Air France flight from Paris to London. The story goes that Ms. Birkin was busy rifling through her straw tote bag, spilling its contents all over her seat partner, Mr. Dumas. After lamenting that no one made bags big enough for all her stuff, Jane inspired Mr Dumas, the great grandson of the founder of the Hermès brand, to create a bag that would be suitable for jet-setting women who don't travel light. And voilà – the Birkin bag was born!
Today, it's  still one of the most cherished and yearned for accessories around the world – but its cost makes it unattainable to most, and the prices are rising every year, making the purchase of any Birkin an excellent investment.
The proof? The world's most expensive Birkin so far (a little fuchsia number with 18 karat gold and diamond hardware) was sold at a Christie's auction house in Hong Kong for $222,000, smashing the previous record in Dallas, when a red Porosus crocodile Birkin with 18-carat white-gold and diamond 'hardware', sold for $203,150 ( £129,355). Some investment experts are actually advising that purchasing a Birkin generates a better return than buying gold!
Given the incredible value of the bags, it makes sense that there are plenty of fakers out there trying to profit from the brand name, leading to several major arrests in recent years.
But if you're a vintage bag lover, savvy investor or obsessed fashionista, never fear. We turned to Hermès bag expert Catherine B, who told us 12 smart ways to spot a fake Birkin bag.
How To Spot A Fake Birkin Bag In 12 Steps
1. Birkin Bag Posture
Catherine says one of the easiest ways to spot a fake Birkin bag is to check its "posture." It should stand up as straight as a ballerina, never slouching. The bag remains so erect thanks to the quality leather that keeps it in constant shape. The same should go for the handles, too – these should stand straight up. Oh, and don't forget to check the shape of your bag inside! Birkins feature two interior pockets: a zipped pocket, and an open pocket.
2. Birkin Bag Leather
Don't be embarrassed to sniff for the authenticity of your bag – the scent of leather will be one of the first giveaways that it's an original. Each year, Hermès creates different colours in different leathers, the quality of which is so refined that it should never have a leathery smell. In fact, the leather takes up to an entire decade to dry out! Also note that any colour dyed into the leather should match the highly limited and exclusive Hermès palette.
Catherine explains: "The main difference between vintage Birkin bags and the ones that are made today is in the leather. When the first Birkin was released in 1984 they were made on demand. Today, the number of requests is so high that different materials must be used to fabricate the bags more quickly. That may mean leather of a lower quality. But it will still be a higher quality than what most other brands use. Just never buy bags that have a strong scent of glue!"
3. Handmade Stitching
Stitching is ALWAYS done by hand by experienced artisans, so the thread may have some tiny inconsistencies. But it will never, ever be messy, uneven or hanging. Take a further look at the stitches on the Birkin and you will see that they are slightly angled, tight and precise.
Catherine says: "The best way to recognise a fake Birkin is to look at the stitching, which is usually done by workers with many years of experience. Their know-how is the guarantee of Made in France products."
4. Lining of the Interior
The lining and interior of every Birkin is made with chevre leather, a goatskin that is grained and not smooth. Some bags may feature other material as the interior or lining, but they will always be of a high quality and similar to the leather of the exterior. Always check the colour schemes on the Hermès website to ensure the authenticity of the colour of the inside of your bag.
5. The Turnstile Lock/Key/Clochette
This is one of the great hallmarks of all Hermès bags. Since 2000, both lock and keys have been stamped with the brand's name and numbered. Remember that the numbers on the lock correspond with those on the keys. Don't be misled by the style of numbering which has changed throughout the course of Hermès' history.
For some reason, counterfeiters seem to like to use the numbers 121, 212, and 102. The movement of the toggle should be super smooth, so if you stick the key in and feel it's a bit stiff, this is a definite red flag.
Hermès attaches keys directly to a leather band: they are enclosed in a leather clochette that loops through the bag's handle. So if you see key rings, run away! Finally, you'll also know the bag is fake if the clochette is made up of two pieces of leather sewn together on three sides. Real bags are always made out of one piece of leather, folded at top and sewn at the sides.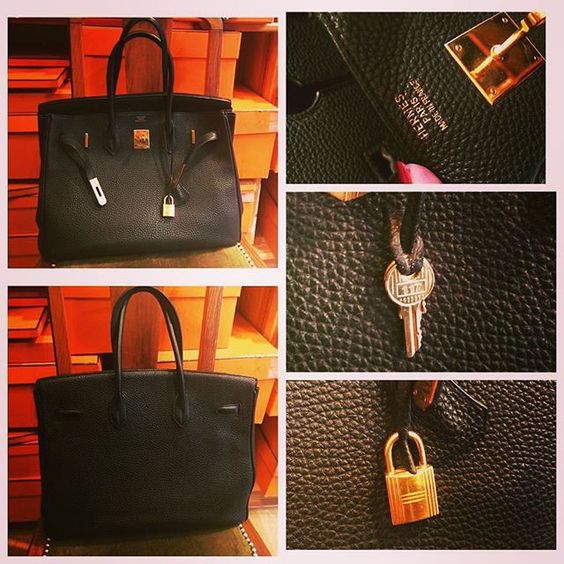 6. Zippers & Hardware
Catherine says that: "when you spot engravings that don't have a crisp and refined look, that's another clue that the bag may be fake. Also, the straps that close the bag are decorated with hardware that must perfectly weld with the leather. 
On the zipper of an authentic Birkin, the name Hermès is engraved on the metal pull with its lower half toward the leather pull. Zipping a real Birkin implies a motion that flows effortlessly. Hermès zips never flop down or hang down at a 90 ° angle from the zip line: they should remain parallel to the zipper at all times.
Authentic hardware on Hermès bags is either in gold or palladium, and features small markings to indicate it is a precious metal and will feel heavy and of a high quality. The hardware on authentic bags should never  tarnish. Rarer bags feature brushed gold, silver, brushed silver, or ruthenium finishes.
The straps that close the bag are decorated with hardware that must perfectly weld with the leather. 
7. Hermès Logo
Another of the most important ways to spot a fake Birkin bag is to look for the Hermès logo. This is a stamp on the bag that reads "Hermes Paris Made in France". It is featured in a delicate and neat font that is not affected by the texture of the leather, and is properly centred, so if it looks blocky, irregular and placed unevenly, you've probably found a fake. The location of the logo can also be a giveaway: it should always be embossed just below the stitching. Many stamps of fake bags may be printed on or pressed in too far from the stitching.
The label stamp can have additional markings, such as those indicating an exotic leather or a special order, like a horseshoe. Another secret giveaway of the Birkin's authenticity is the accuracy of French grammar. The Hermès accent must always be grave, that means pointing to the left and upward: "è."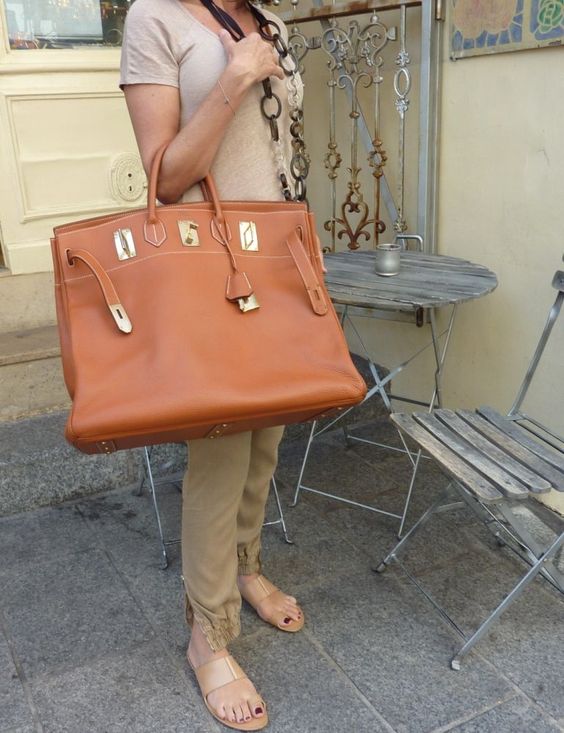 8. The Second "Blind" Stamp
A secret stamp was introduced by the French brand in 1945, to date bags with letters of the alphabet. It began that year with A and ended, 25 years later, in 1970, with Z. Then the cycle began again, with the addition of a new notation. From 1971 through 1996, letters of the alphabet were surrounded by a circle. And from 1997 until very recently, the letter has been surrounded by a square. This "blind" stamp also featured the artisan's ID and an indicator of exotic skins (if applicable). However, everything changed in the last couple of years, surprising collectors, and confounding counterfeiters.
9. Authenticity Card & Serial Sticker
Authenticity Cards do not exist in the world of Hermès! The brand never ever issued them. So if you're given an orange authenticity card or hang tag while purchasing a Birkin bag, you'll know it's coming from counterfeiters.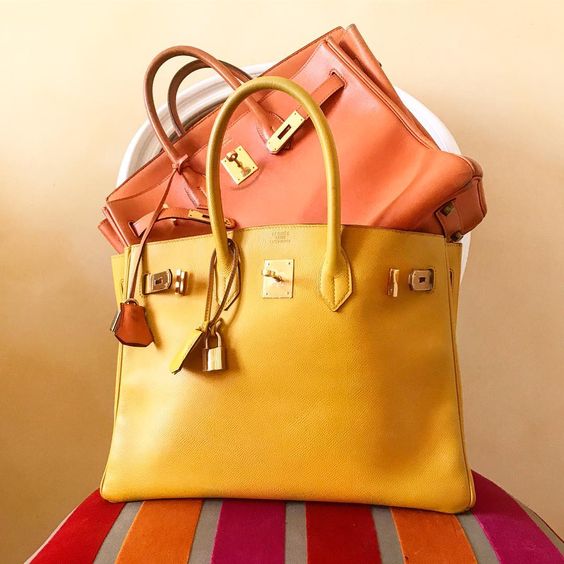 10. Dust Bag
Hermès bags are never wrapped in plastic, as it suffocates the leather and causes cracking and damage to the material. Birkins will come in a dust bag, which is of high quality and will feature a neat stitch count. The colour of the dust bag is tan velour, whilst newer ones are orange cotton flannel, and post-2007 dust bags are a beige and light brown Herringbone Toile.
They usually have a dark brown Hermès logo on the material. Fake dust bags often come in grey with a burgundy stamp. Another important trait is that the drawstring is always brown and made of 100% cotton. Depending on when the dust bag was made, some may feature the Hermès logo inside either one or two rings. Last but not least, Hermès dust bags come with a rain cover, which is soft to the touch.
11. Say No To Low Prices
There is no way you'll find a real Birkin bag for cheap! The most affordable second hand bags may range around $10,000. If you find a Hermès bag for a couple thousand dollars, either you've found a highly damaged bag, a really stupid seller, or a fake item.
12. Size Matters
As for the measurements, they are usually 25, 30, 35, 40 and 45 centimetres. And this is important to know. According to Catherine: "Another important detail is the size of the bag. A 30 cm Birkin will never be 1 cm longer or shorter. Take a measuring tape with you. The size of the bag should be very precise!"
Final Tip For Avoiding A Fake Birkin Bag: Buy From The Right Person
As obvious as it may seem, always buy from a trusted dealer. Eluxe has long advocated consulting and buying from the #1 expert in the field of vintage Chanel and Hermes: Catherine Bernier. She is a highly regarded private collector,who runs the Parisian shop Les 3 Marches de Catherine B. at n °1 rue Guisarde in St Germain, Paris.
Catherine has been collecting Hermès and Chanel pieces for over twenty years and owns the first ever Birkin Bag, which was displayed at MoMA during the exhibition "Is Fashion Modern?"  She won the very bag that was first owned and commissioned by Jane Birkin at an auction in 2000, when the actress sold it to raise money for an AIDS charity.
While admiring it in her shop, you can observe the globetrotting life it enjoyed with its previous owner; it's a bit battered and is marked  adhesive residue, as Jane loved pasting travel stickers on her Birkin. This is also the only Birkin bag to have a shoulder strap  – Jane asked for one so she could carry it on her shoulder whilst holding her baby.
While Catherine isn't, of course, the only place to buy authentic vintage Birkins, she is the best source for serious collectors, and she certainly knows all the ways to spot a fake Birkin bag – in fact, she says some of the world's leading Birkin experts come to her on how to do so!
All images: Courtesy Catherine B
Latest posts by Chiara Spagnoli Gabardi
(see all)