These vegan briefcase brands are just what you need to make an impression at work!
By Chiara Spagnoli Gabardi
After carrying canvas totes and straw bucket bags around the beach all season, it's time to go back to work or school. And that can only mean one thing – we've got to dig out our vegan briefcases and bags! Ok, unless you work at home, of course. But let's face it: even those of us who spend time at the home office than corporate HQ will, at some point, have to go to a face-to-face meeting or two.
The truth is, the briefcase is, for the moment, being replaced in favour of other styles. Sure, they're still ideal if you work in one of the more traditional professions like law or engineering, for example. But in most other fields, carrying a backpack or tote looks just as polished.
All you really need is a bag that's large enough to fit in laptops, phones, notebooks, pens and any other essentials you'll be using from 9 to 5. It should have compartments to better organise your stuff, be super-sturdy, and easy to keep clean.
Here, I've found some vegan briefcase brands that I think fit the bill! They tick all the boxes mentioned above, but come in a variety of styles and colours to ensure there's something for everybody.
Vegan Briefcases You'll Be Proud To Take To Work
We love, love LOVE this brand! And for so many reasons!
First up, Bobobark (pictured above, in our main image, and below) is made from eco-friendly cork. This means the bag is not only waterproof, but it's super easy to clean, too.
Secondly, the bag is designed to absolute perfection. There is a padded section inside to keep your laptop safe; a zipped pocket to allow you to easily access (and charge) your phone; and a zipped pocket inside for cash and cards.
The bag is also three in one: add straps on the back to make it a backpack, or hook on the shoulder strap if you prefer. Of course, it can also be used as a briefcase if you just use the small handle on top, too!
Best for: A taste of Parisian chic at the office
Price: $225
Main material: Cork
Another of the vegan briefcase brands we'd be super proud to take to work is Lo & Sons.
Their Rowledge bag, pictured below, features enough room for your laptop, a bottle of water, cell phone and charger, and even a change of shoes. But if you're not a fan of that style, never fear: there are plenty of other chic designs to choose from, too!
Lo & Sons' bags are made from sustainable materials like organic cotton canvas, and recycled plastic bottle polyester.
Best for: Travelling. Some of Lo & Son's bags have been designed to fit over suitcase handles, so your bag stays put on business trips.
Price: From $100
Main material: Recycled polyester and canvas
Looking for vegan work bags with a luxe touch? Black-owned brand Tote & Carry makes a gorgeous laptop case. This is one of the best vegan briefcase brands for both men and women, as their work styles are deliberately gender neutral.
Their Apollo Bag is stylish, functional, and made with high-quality details. Embossed with a snakeskin pattern, it comes in six colours, including electric blue, grey, black, mustard and tangerine.
Best for: Pairing with matching luggage
Price: $119
Main material: PU leather
When it comes to vegan briefcase brands, nobody does it better than Matt & Nat! The popular vegan bag brand has distinguished itself for their elegant, timeless, and often unisex designs. I love the fact that they are using increasingly sustainable materials like cork, and line their bags with recycled materials.
My pick for work is the Trey vegan sling bag model from their Vintage collection. This is a piece that will look stylish for ages, and has convenient exterior pockets for your devices and cash.
If you prefer a backpack to take to work, they offer several, such as the Purity model below, as well. All of them come in modern, trendy tones, and are made to last a lifetime.
Best for: Affordable, unisex style
Price: From $90
Main material: PU leather, recycled polyester
Looking for the best vegan briefcase brands for professionals? Doshi offers modern briefcases, bags, backpacks, belts and accessories for the ambitious worker. The sleek, chic brand was created out of the belief that fashion lovers shouldn't have to give up quality and style to be friends to the environment, and their unisex briefcases is a great illustration of this.
If you prefer something with a more feminine touch, Doshi also makes sleek backpacks in a range of vibrant colours, from candy floss pink to scarlet red.
Best for: A serious business vibe
Price: Around $225
Main material: PU leather
Frustrated with the lack of animal friendly accessories for the workplace, Theresa Jentzsch launched a high-end vegan fashion label in Amsterdam: Osier. Her first capsule collection included four bags, ranging from wallet to backpack, made from Italian materials and crafted by hand in a small factory in the heart of Bucharest.
This PETA certified, slow-fashion startup coalesces eco-consciousness with quality. They've recently started using one of our favourite materials to create their accessories: apple leather! Their New-West backpack, particularly offers style and practicality for the workplace. We love their apple leather laptop sleeves, too.
Best for: Genderless, modern minimalism
Price: From $90
Main material: Apple leather
If you're looking for one of the best vegan briefcase brands with a feminine touch to take to work, look no further! This PU-leather bag comes with multiple carrying options – use it as a shoulder bag, wear it crossbody, or just carry it.
We love the removable bow decoration, and vintage gold-tone metal hardware, too. These are truly unique vegan briefcases that are a bit more lighthearted than the average. And the best part? They're all priced under $100!
Best for: Highly affordable work bags with a feminine touch
Price: From $59
Main material: PU leather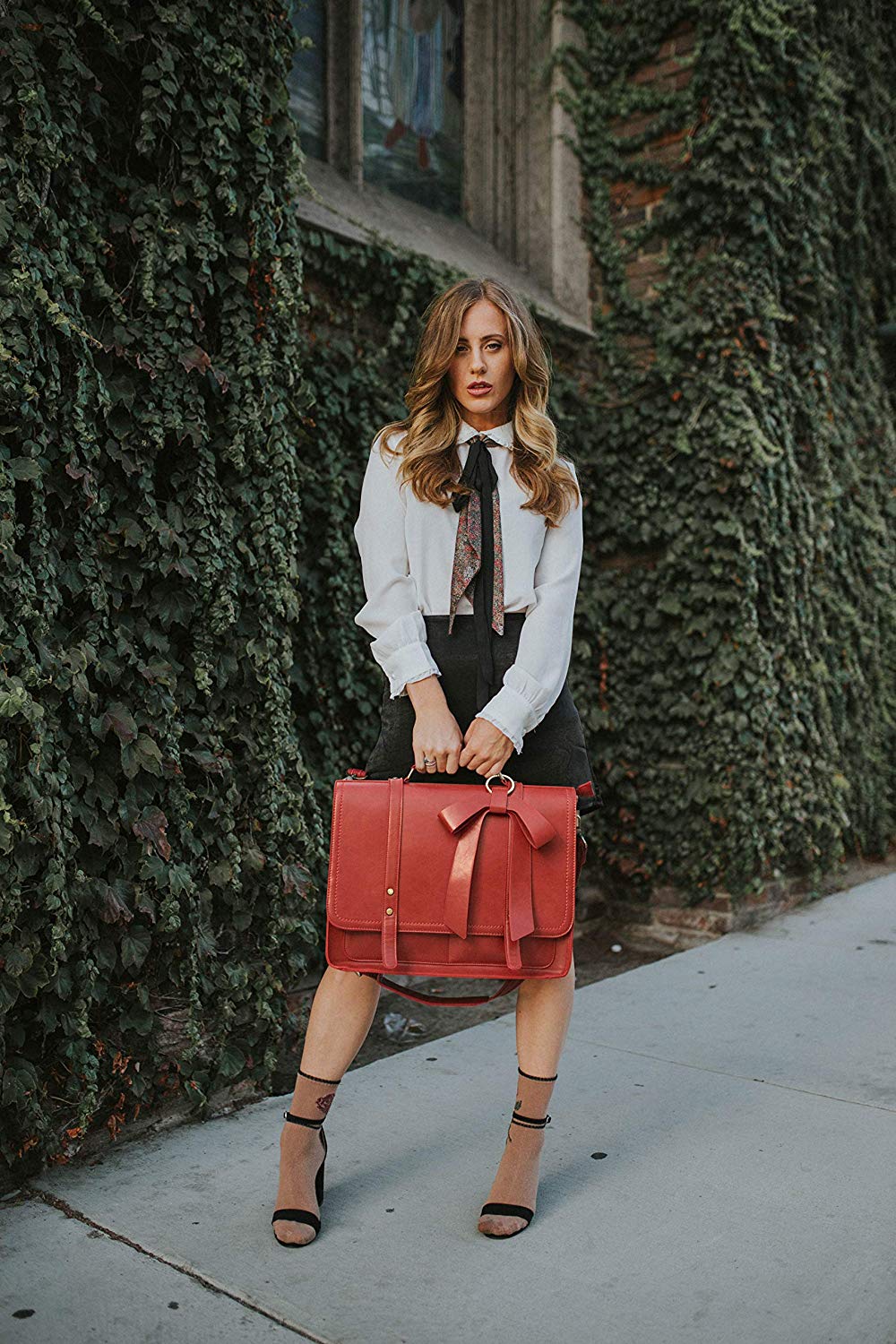 This Australian vegan accessories label was founded by long time vegan Cathryn Wills. She wanted to create a stylish yet practical brand that would avoid the use of any animal products.
The result is a range of chic unisex totes, backpacks and crossbody bags constructed from eco-PU and other noble materials. Our picks for work are the Classic Gadget Bag, below, which features exterior pockets for your phone, and the he Liaison Backpack, pictured above, which features alligator-textured vegan leather and a super-convenient exterior pocket.
Best for: Keeping your stuff organised
Price: Around $225
Main material: PU leather
Sharp and sophisticated, Ela Handbag's chic, minimalist styles come with a strong vintage influence. This vegan bag maker hails from Canada, and produces something we're coveting hard, that's perfect for work: the Editor's Pouch.
It's basically a laptop sleeve lined with the brand's signature purple 100% recycled plastic bottle fabric interior. Your laptop, paperwork, and basics like keys and cards will all fit in. Do you really need to pack in anything else? It's basically the ideal unisex vegan 'briefcase' to effortlessly take you from serious meetings to dinner with friends.
Best for: Versatility. Is it a briefcase? A clutch? You decide!
Price: On sale now for $59!
Main material: PU leather
If you have the kind of job where you really need to make an impression, Veganwear is one of the best vegan briefcase brands for you to know!
Produced in ethical factories, these bags feature a very considered design, which includes:
The ability to expand to fit in two laptops, an umbrella, lunch, notebooks, and more.
An easy-reach front pocket
Three central pockets, a pen holder, and a rear paper pocket.
What more do you need?
Best for: Although their briefcases are marketed to men, we think this is the ideal accessory for anyone in the classic professions.
Price: $229
Main material:
Main image: Bobobark
Latest posts by Chiara Spagnoli Gabardi
(see all)