By Chiara Spagnoli Gabardi
After carrying straw totes around the beach all season, we all need to go back to work or school, and that can only mean one thing: it's time to dig out your vegan briefcase!
But if you don't already have a much-loved backpack or briefcase that you take to the office, we've found a bunch of vegan briefcase brands that are not only cruelty-free and stylish, but also ultra-practical, too: they're able to fit in laptops, phones, notebooks, pens and any other essentials you'll be needing from 9 to 5 and beyond.
Vegan Briefcase Brands You'll Be Proud To Take To Work
This Australian vegan accessories label was founded by long time vegetarian Cathryn Wills who wanted to create a brand that would avoid the use of any animal products. The result is a range of unisex bags constructed from eco-PU and other noble materials. Our pick for work is the Noir Pebble Dossier Tote, whose innovative style works both as a backpack and a tote.
Frustrated with the lack of animal friendly accessories for the workplace,Theresa Jentzsch launched a high-end vegan fashion label in Amsterdam: Osier. Her first capsule collection includes four bags, ranging from wallet to backpack, made from Italian materials and crafted by hand in a small factory in the heart of Bucharest. This PETA certified, slow-fashion startup coalesces eco-consciousness with quality, and their New-West backpack particularly offers style and practicality for the workplace.
Of all the vegan briefcase brands, this is probably the first one you thought of, right? And why not? If you really want to make a statement that screams not only 'prestige' but also 'vegan' at work, look no further than a Stella McCartney! We love her Falabella Backpack. It's big enough for all your essentials, and is an eternally stylish piece that's easy to wear any season.
If you're looking for a vegan briefcase brand with a feminine touch to take to work, look no further! This PU based bag comes with multiple carrying options – use it as a shoulder bag, wear it crossbody, or just carry it. We love the removable bow decoration, and vintage gold-tone metal hardware, too.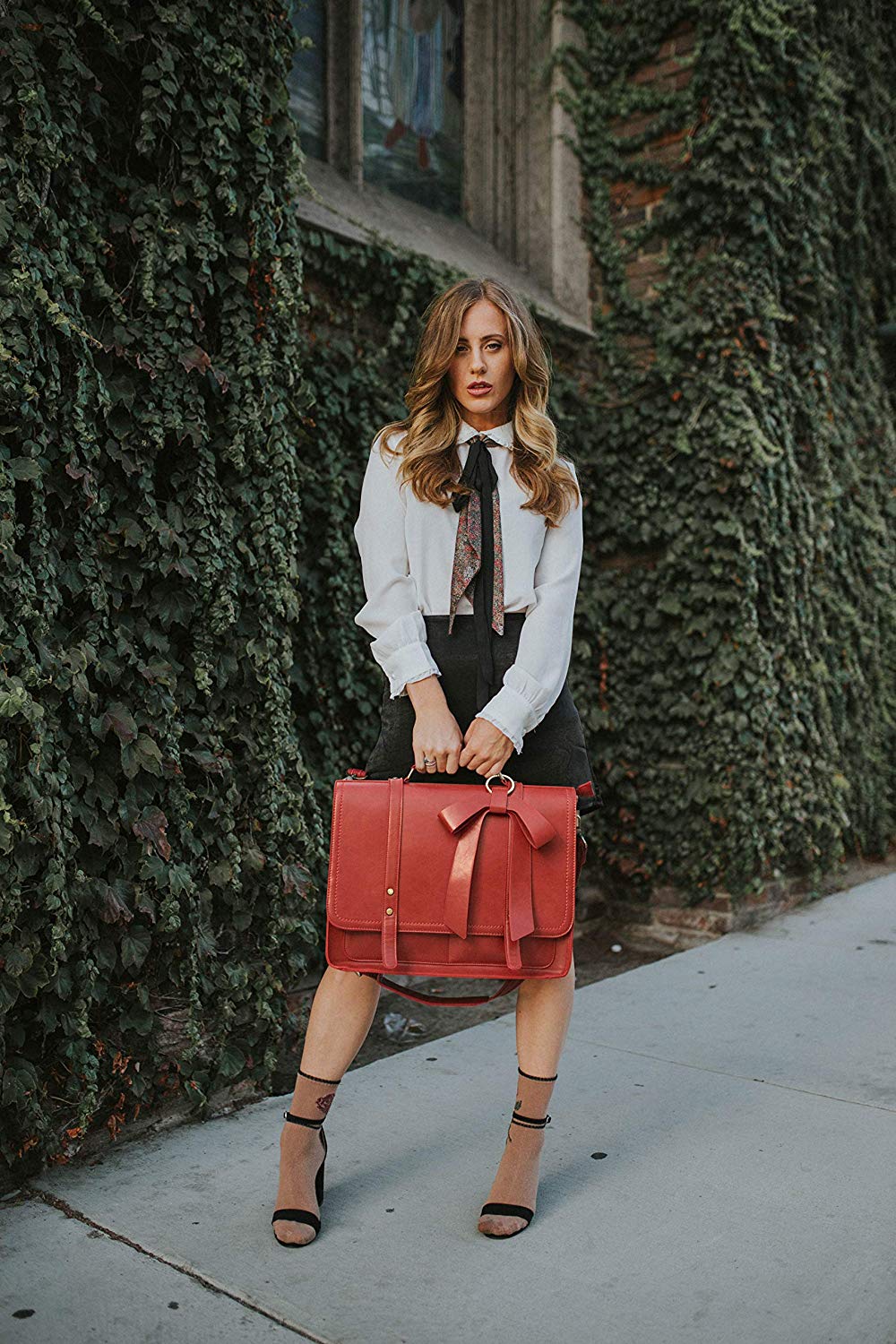 The Boita Bag company crafts modern, eco-conscious bags manufactured to the highest ethical standards without sacrificing style, function or durability. Every luxury accessory they make is vegan-friendly, recycles 15 plastic bottles – helping keep oceans and landfills cleaner – and prevents 22 balloons of CO2 from entering the atmosphere, returning 234 bottles of clean filtered water back into the ecosystem. Plus, of course, they're ultra-stylish, professional, and suitable for both men and women to carry to work.
Bag Affair is a feminist eco-brand for working women. Their large Cork Bag will make heads turn for the exquisitely sustainable materials used, its minimalist design and the smartly organised interior that can fit a 17-inch laptop, folders, notebooks and more. Additionally, the various external and internal pockets with card and key holders will allow you to keep every personal item neatly assembled.
When it comes to vegan briefcase brands, nobody does it better than Matt & Nat!  The popular label, which is committed to upcycling materials and being cruelty-free, has distinguished itself for their elegant, timeless, and often unisex designs. My pick is the David Chili style from their Vintage collection – a piece that will look good and last for a lifetime.
Doshi offers modern vegan briefcases, bags, backpacks, belts and accessories for the urban professional. The brand was created out of the belief that fashion lovers shouldn't have to give up quality and style to be friends to the environment, and their unisex briefcases is a great illustration of this.
The Philadelphia-based luxury start-up recently launched a cruelty-free, ethically-made briefcase that received rave reviews rom ABC, Fox, CBS, and other mainstream publications. Their vegan case has the look of the traditional briefcases that our fathers used to go to work with, but since times have changed, young girls will probably want one of these stylish pieces too!
Made from exquisite workmanship, every inch of this vegan briefcase was designed by the folks at The Clownfish to give you the most functional yet fashionable briefcase around. Keep your computer inside the padded bag and you'll never have to worry about dirt, scratches or smudges damaging your laptop again. The unisex style also comes in a variety of colours, and the best part is: there are plenty of backpack styles if you prefer to wear your mini-office on your back.
Main image: Matt and Nat
Latest posts by Chiara Spagnoli Gabardi
(see all)
This site uses affiliate links with brands we trust, and if you make a purchase using a link, we may receive a commission.
Did you enjoy this post? Want to show your gratitude? Please support us on Patreon!