Eat on the go a lot? These are the best vegan fast food options at the biggest chains
By Lora O'Brien
Once upon a time, eating out at a fast food joint was hellish for vegans.  The best vegan options at fast food restaurants were usually, well, fries. And maybe an iceberg salad with some cardboardy tomatoes.
Thankfully, the world is slowly changing.
Knowing that many people avoid their restaurants due to concerns for animal welfare and climate change caused by animal husbandry, many popular fast-food chains are now offering loads more plant-based options.
That's not to say that it's a great idea to frequent these joints – after all, Burger King alone is responsible for cutting down horrifying amounts of the Amazon so they can obtain feed for their cattle, and ALL of these chains are still responsible for the suffering of unimaginable numbers of animals and devastating amounts of plastic pollution from their packaging.
But the reality is that 68 million people eat each year at McDonald's alone, making it pretty clear that demand for fast food is high, and isn't going to drop off too dramatically any time soon.
So, if you really, really do need to grab some food on the run, at least make sure it's vegan!
I've done some research to seek out the best vegan options at the biggest fast food chains, and was pretty happy to see there are quite a few.
The Best Vegan Fast Food Options At The Biggest Chains
Chipotle
The chain has always offered loads of vegetarian options, from bowls and burritos to tacos and guac and chips. But this year, Chipotle impressed vegans with Sofritas, burritos stuffed with a mixture of chipotle-braised tofu and veggies.
Sofritas are an organic, shredded tofu braised in chipotle chilies, roasted poblanos and a "blend of aromatic spices." In mho, this is one of the best vegan options at fast food restaurants, ever.
Tofu-maker Hodo Soy Beanery will supply the new soy-based protein to Chipotle stores in Arizona and 23 other states around the country. The Oakland, Calif., company does not use genetically modified organisms in its foods.
We asked members of The Arizona Republic staff to gives us their take on sofritas in tacos, burrito
The prevalence of veggie options popping up on fast food menus mirrors the rise of the vegetarian population.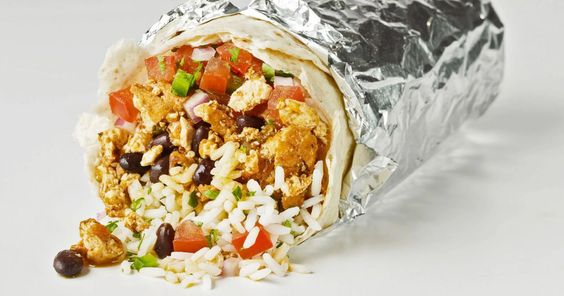 Harvey's
Canadians are living the vegan dream after Harvey's added a plant-based burger to their menu full-time. Based on the Beyond Burger patty, the Lightlife Burger is a 3.5-ounce patty made with 18 grams of plant-based protein. It also has no GMOs, soy or gluten and is made with fewer, familiar ingredients such as beets and pea protein. The burger cooks and tastes like a beef burger, so much so it even looks like meat; the beet gives this patty a pink meat-like hue. While the burger itself is vegan, there is the risk of cross-contamination as they cook the burgers on the same grill as the meat-burgers, but you could request it be cooked on a segregated part of the grill which they're happy to do if they can.
Harvey's also sell a Veggie Burger which has been around since 1999 and attracted a loyal following. The veggie burger can be served in a regular or multigrain bun as these are both vegan, or if you're looking for a lighter option you can have this veggie patty served over fries, rice or lettuce. The fries and onion rings are both vegan-friendly as well, and make delicious comforting sides!
Papa John's
Why are some pizza chains still failing to cater to vegans? I mean, how hard is it to throw some vegan cheese on a pizza? Luckily, Papa John's is not only giving us vegan options, but is making them damn tasty! Since the beginning of 2019, the chain has extended their menu to include not one but THREE vegan pizzas, making this chain one of the best for vegan fast food options.
Order the Vegan Sheese and Tomato for a gooey cheese and tomato slice, or the Vegan Sheese Garden Party pizza, which is topped with veggies as well as vegan cheese. And if you're looking for some spice, then the Vegan Sheese Hot Pepper Passion pizza, topped with peppers, chilli and jalapenos, will be right up your street.
Oh, and Papa John's are killing it with their vegan sides, too! These are some of the best vegan options at fast food restaurants. Not only do they offer two variations of Vegan Sheese Crinkle Wedges – one with vegan cheese, the other with added jalapenos – but in the UK at least, they're offering Vegan Sheese and Marmite Scrolls. With Olympic medalist Dotsie Bautsch campaigning for the pizza chain to add more vegan options to its US menus, it's probably only a matter of time before these dishes go worldwide.
McDonald's
In a world where it seems you can't go far without spotting the neon glow of a McDonald's sign, it's good to finally see meat-free options on the menu. In fact, veganism has even hit the famous Happy Meal! Yep, now one of the best vegan options at fast food restaurants is actually one designed for tots: a veggie wrap that comes with a toy!
Want to kick things up a bit in the adult world? The Spicy Veggie Wrap, available on the main menu, is made with red pesto veggie goujons, crisp lettuce and a spicy relish. You can also order a Vegetable Deluxe Burger and make it vegan by requesting no mayonnaise.
There are rumours flying around that The Impossible Burger is heading to the USA branches of McDonald's soon in the form of a vegan Big Mac, but we'd advise against eating that GMO atrocity! (See Burger King, below, for more info)
Subway
The Holy Grail of sub shops has just added multiple vegan options to its menu! Start off with either Italian or 9-grain wheat bread to keep it dairy-free. If you're looking for a quick and easy vegetarian sub, then ask for a Veggie Delite which is available worldwide. Made with lettuce, tomatoes, spinach, green peppers, cucumber and red onions, it's packed with bold flavours that are deliciously meat-free – but it does have egg white.
Looking for something purely vegan? Subway has recently released a Beyond Meat Meatball Marinara features vegan meatballs specially developed for Subway and can be ordered vegan by omitting cheese and on Italian or 9-Grain Wheat bread.
For now, it's only available in selected North American locations, as well as a Vegan Sub made with a vegan patty, loaded with sweet peppers, red onions and garlic aioli. This one is only available permanently in the UK at the moment, but it has been trialled in America and Canada before, so hopefully, it'll be on their menus permanently very soon!
Burger King
A Morning Star veggie burger has had a place on Burger King's menu for the last couple of years. It may not be 100% vegan as yet, but by 2020 it will be, as the chain says it will remove the egg that holds the patty together.
Until that happens, one of the best vegan options at fast food restaurants is Burger King's shaker fries. These are seasoned with BBQ spice and fried in vegetable oil – away from any meaty items. And if you live in the UK, you can order the Veggie Bean Burger, which is made with breadcrumbs, vegetables and grains. Whilst the patty is 100% vegan, the burger itself does come with cheese and mayo though, so you'll have to ask for these to be removed when ordering to make it totally vegan.
Finally, there's the controversial Impossible Burger.
If you missed the hype about it back in 2018, then let me update you. Impossible Foods debuted their plant-based burger patty that was SO close to a real meat burger that it had loads of vegans freaked out. With the smell, texture and juiciness of the burger eerily similar to beef, it was a revelation for vegans. The Impossible Burger used 1/20 the land, required 1/4 the water and produced 1/8 of the greenhouse emissions in comparison to its cow-based rival, so it's no wonder people were ecstatic to try it, right?
Um, well, there was some controversy after it came to light that although the burger was 100% vegan, the groundbreaking 'heme' ingredient that gave the burger its beefy taste was actually tested on rats, understandably causing a divide between vegans.
Not only that – the burger is really bad for you, being comprised mainly of GMO soy (which is heavily sprayed with deadly glyphosate), and a GMO yeast that has never before been consumed by humans. YUK!
If you don't mind being a guinea pig for GMO foods, great – Burger King has an Impossible Whopper. Me? Well, I'll stick with the Veggie Bean Burger, thanks.
Big Boy
Big Boy may be a 1950s retro style diner but its menu is moving into 2019! The restaurant now offers a vegan burger thanks to one of the company's long-serving waitresses: Megan Brophy.
A vegan for six years and waitress at the diner for 18, Brophy pressured the chain for three years to convince them to add a vegan option to its menu, and finally, they've obliged.
Simply named the Vegan Burger, the burger uses a yummy vegan patty from meat-free brand Hungry Planet. The grilled patty is topped with lettuce, tomato, and red onion and served on a vegan-friendly bun. Currently only available in its California store, there's hope that if the demand for vegan options increases then they'll add the burger to all its restaurants across the country.
White Castle
White Castle may sport a logo based on the Middle Ages, but its menu is totally modern! For example, the noble, yet completely addictive Veggie Slider is 100% vegan, and you should definitely order, like, 10 of them as they only cost 99 cents!
The Dr. Praeger's veggie patty is made from a mix of carrots, onions, string beans, soybeans, zucchini, peas, broccoli, corn, spinach, red pepper, garlic and parsley, so it's not only pretty low cal, but it's pretty healthy, too. It's topped off with sweet Thai sauce and is served on White Castle's signature slider bun. This is one of the best vegan fast food options if you're on a budget, for sure!
In 2018 another vegan option joined White Castle's menu – The Impossible Slider. The patty is topped with pickled and onions and can be made 100% vegan when ditching the cheese. Nonetheless, we wouldn't recommend this option, as the Impossible Burger is made of all kinds of nasty, artificial and GMO ingredients. Stick with the natural veggie patty instead!
Taco Bell
Taco Bell is one of the most vegan-friendly fast-food chains, since many of their popular dishes can be customised to suit a vegan lifestyle. The 'Make It Meatless' feature on their website and app makes it super easier to order vegan grub to your door and the 'Fresco style' option automatically replaces dairy-toppings with pico de gallo.
Looking for some menu inspiration? Keep it simple with a Bean Burrito –  Taco Bell's refried beans are vegan-friendly, so skip the cheese and add some extra veggies and salsa to bulk it out.
A Veggie Power Burrito can be made plant-powered when the cheese, sour cream and ranch sauce are ditched in favour of some extra black beans, pico de gallo, lettuce and guacamole. Looking to cut down on carbs and opt for a lighter option? The Veggie Power Bowl can be made vegan-friendly: just swap the cheese and sour cream for avocado instead.
Some other vegan-friendly options are Black Beans and Rice, Chips and Guacamole, and if you're looking for a tasty dessert, the Cinnamon Twists here are vegan. Heck, Taco Bell has some of the best vegan fast food options I know of!
KFC
I'm sure vegans never thought they'd see the inside of a KFC ever again, but, surprise! The Colonel has answered our fast food prayers and released one of the best vegan fast food options ever, in the form of a vegan chicken burger. The Imposter Burger is a 'chicken' breast fillet made with Quorn and coated in the famous KFC seasoning blend. Served with vegan mayo, fresh iceberg lettuce in a soft-glazed bun, this burger was trialled in selected restaurants earlier this summer before being released onto the menu thanks to its incredible popularity.
That being said, vegans can rest assured they can eat fries in any of the restaurants, as they're cooked in veggie oil, separate from the chicken. There's also corn on the cob, green beans and salads, too.
Sadly, the Imposter is only available in the UK at the moment and only in selected restaurants, but hopefully, popular demand will change that.
KFC is also in the process of developing vegan chicken wings and nuggets in the US, and if these are successful, they'll be rolled out worldwide. Beyond Meat is partnering with the chain to create those options, and will package them in green boxes instead of the trademark red and white.In trial restaurants, the vegan chicken sold out in just five hours, which is hopefully a huge sign to the restaurant to add plant-based chicken to its menu full time!
Carl's Jr.
Until recently, the menu at Carl Jr wasn't that adventurous for vegans, but now they've teamed up with the company Beyond Meat to bring a second vegan burger, the Beyond BBQ Cheeseburger, to its menu. Inspired by the chains popular Western Bacon Cheeseburger and targeted at 'flexitarians' the burger isn't naturally vegan – you'll need to omit the cheese slice and onion rings (which contain whey) to keep it 100% meat and dairy-free, but oncem ade vegan-friendly it's still totally delish!
The second burger came after the popularity of their first vegan-friendly burger, the Beyond Famous Star (which can also be made vegan by omitting mayonnaise and cheese) which has sold 4.5 million burgers since its launch. And what's not to love? A vegan patty topped with lettuce, tomato, sliced onion, dill pickles and a special sauce all served on a sesame seed bun – yum! You can get these vegan-friendly burgers are both the US and Canada stores.

A&W
Oh man, I remember how much I LOVED the root beer here as a kid! And they still have that, plus root beer lollies, which are vegan friendly, of course. But now I love A&W even more for serving their Beyond Burger veggie burgers. You'll need to specify that you don't want the mayo and another dairy-based sauce to make it vegan though. Their fries and sweet potato fries are both vegan unless you dip them in their  chipotle mayonnaise sauce. Sadly, their onion rings contain milk, too.
Del Taco
Craving a meaty taco without the, uh, meat? Del Taco has us vegans covered! It's no secret that I love me some Mexican food, and Del Taco is fast becoming a haven for vegans, after adding two dishes to their menu that use pea-protein based Beyond Meat. This option is available in tacos, burritos and salads.
So why not try the Beyond Avocado Taco, which is completely vegan and totally loaded with plant-based goodness? The Epic Beyond Cali Burrito (below) can also be made vegan. When you order it without sour cream, the tortilla is stuffed with vegan beef, crinkle-cut fries, guacamole, tomatoes, onions and lots of yummy seasoning.
Other vegan options are the Avocado Veggie Bowl which is avocado, seasoned black beans and fresh veggies served over cilantro-lime rice. The Beyond 8 Layer Burrito can be made vegan when you ask for no cheese or sour cream. The Bean and Cheese Burrito can be made vegan and bulked out when you order it without cheese and ask for french fries inside the burrito. Fancy a tostada? Order the CrunchTada Tostada with no cheese and it'll be vegan-friendly! Is there any doubt Del Taco has some of the best vegan fast food options, ever?
Image: www.peta2.com
Did we miss anything? Let us know in the comments!
All images courtesy the restaurants unless otherwise specified
Latest posts by Lora O'Brien
(see all)