Last Updated on
By Lora O'Brien
Wedding season is upon us, and whether you're getting hitched this year or planning ahead, you'll know that what you serve to your guests is a big deal. And if you're vegan, you'll be wanting to stick to your ethics and keep the food cruelty-free, whilst ensuring your guests are suitably 'wowed' – so no wonder vegan wedding recipes are more in demand now than ever.
According to wedding trend predictions for this year, smaller, more intimate 'do's are going to be much more popular than huge, formal sit-down dinners (apparently we can thank Meghan Markle and Prince Harry for this – everything about their nuptials, from the number of guests to the size of their lemon-elderberry cake was smaller than William and Kates).
What that means is that instead of having a huge catering company dictate what you'll be eating on the big day, instead, you can present a more bijou caterer with a list of recipes you'd like to serve.
Whether you want an elegant, sit-down meal or just one big buffet, I've found some of the most perfect vegan wedding recipes to make your reception meal a very memorable – and tasty – one.
30 Vegan Wedding Recipes
1. Vegan Mac & Cheese Bites
Mac and cheese is real comfort food and it may not be the first thing to spring to mind when you think of a wedding, but I guarantee these gooey vegan canapes will be in high demand. Simply put a cocktail stick into them and serve on a tray for guests to grab easily.
Get the recipe here.
2. Mushroom Bruschetta Toast Bites
These may sound simple, but they're packed with bite-sized flavour! The garlicky crostini is topped with a mixture of caramelized scallions and savoury mushrooms glazed with balsamic vinegar. Hand these out before dinner is served, and your guests will be snapping at your heels for more.
Get the recipe here.
3. Sweet Potato Avocado Bites
These vegan sweet potato and avocado bites are the perfect crowd-pleasing appetizer for any wedding! The sweet potato slices are tossed in olive oil, cumin and paprika before being roasted until they're nice and tender. They're then topped with creamy avocado and lime, and garnished with tomato and radish sprouts. Vibrant, zesty and elegant!
Get the recipe here.
4. Savoury Cheese Log
Whether you're looking for a starter dish or a buffet option for your wedding, a cheese log is a much more beautiful way of serving cheese. Serve this pistachio crusted vegan cheese in slices with crackers, or present it as a centrepiece with an assortment of crusty bread, crudites and grapes on each table after dinner.
Get the recipe here.
5. Kickass Vegan Sausage Rolls
I've yet to go to a celebration where a vegan sausage roll hasn't been a huge hit. Sure, fancy food is lovely – but finger food is the best! These delicious vegan tofu sausage rolls are encased in golden flaky puff pastry. Serve alongside some dipping sauce on trays or at a buffet table.
Get the recipe here.
6. Cornmeal Blinis with Vegan Caviar
Who said vegan food couldn't be fancy? These cornmeal blinis are topped with vegan caviar made from black quinoa seasoned with soy and dulce to give it that salty, fishy flavour. It pairs perfectly with the tangy tofu scallion cream.
Get the recipe here.
7. Vegan Crispy Chick'n Caesar Salad
I've been to many weddings where the starter has been a Caesar salad. Unfortunately, thanks to the cream, egg and anchovies, it's far from ideal for vegans. Well, now everything is a winner thanks to this crispy chick'n salad. It's all plant-based and cruelty-free, and even better than the real deal!
Get the recipe here.
8. Vegan Lettuce Cups with Coconut Bacon
Why serve salad when you could serve these? They're lettuce cups that act basically as a posh vegan BLT, without all the heavy carbs. And the best part? This recipe uses a coconut bacon that's simply delicious!
Get the recipe here.
9. Sun-Dried Tomato & Basil Pinwheels
Pinwheels are a real crowd pleaser and are SO easy to make! These flavorful sun-dried tomato and basil pinwheels take just 15 minutes to make and use only 8 ingredients. These are especially great to serve if you have children coming to your wedding, as they're fuss-free and easy for little hands to grab.
Get the recipe here.
10. Vegan Deviled Eggs
These vegan deviled egg canapes are simple to make, and are perfect for any wedding. Surprisingly, they have the same texture and flavour as the 'real' deal.
Get the recipe here.
11. The Ultimate Gazpacho
Got a summer wedding coming up? Keep soup on the menu but ditch it in favour of a gazpacho. The chilled soup is super refreshing and will be a welcome course for hot, thirsty guests.
Get the recipe here.
12. Vegan Grilled Feta Watermelon Salad
If you're serving a starter at your wedding then you'll want to keep it light. No one wants to feel sluggish when they've got the dance floor beckoning! The saltiness of this vegan feta pairs well with the crisp red onion and juicy watermelon. It's a super light and refreshing dish, great for summer weddings.
Get the recipe here.
13. 'Mozzarella' Dippers
Cheesy, melty, stringy vegan mozzarella sticks coated in crispy breadcrumbs. Need I say more? Garnish these with a sriracha mayonnaise drizzle and fresh herbs and they'll go down a real treat.
Get the recipe here.
14. Cucumber Avocado Rolls
If you're planning a big meal for your big day, the last thing you're going to want to do is to spend money on food that people are too full to enjoy. These cucumber avocado rolls are not only refreshingly delicious thanks to the creamy avocado, fresh basil and lime, but they're also super light and the perfect snack for your guests to graze on between the wedding and main meal.
Get the recipe here.
15. The Best Vegan Jalapeño Poppers
Add a little spice to your wedding buffet! These jalapeño peppers have a real bite to them, and can easily be served as finger food or served at a sit-down meal as a starter. They're even covered in a creamy sundried tomato aioli, yum!
Get the recipe here.
16. Mini Tacos
Tacos are life, but they're also really messy! So why not make them adorably cute and conveniently bite-sized? They may be small, but boy are they mighty! They've got everything you need from a taco: vegan 'beef' crumble pieces, refried beans, gauc, salsa and vegan cheese. Think of these as little fiestas for your tastebuds.
Get the recipe here.
17. Vegan Smoked Salmon
This vegan smoked 'salmon' is made from something you definitely didn't expect: marinated carrots. Serve with vegan cream cheese on crackers, and garnish with fresh dill.
Get the recipe here.
18. 'Chorizo' Seitan Hot Dogs with Caramelised Cider Onions
Another popular trend for weddings is to hire a food truck – but they can cost a small fortune! If you want the food truck vibe, why not serve up recipes like these seitan hot dogs yourself? You could even set up a toppings station where people can grab a hot dog and top them with whatever they want, from crispy onions to vegan cheese and garlic aioli.
Get the recipe here.
19. Tofish & Chips
Fish and chips has become something of a hipster staple at events, and this vegan version is no exception. It uses tofu in place of the fish, and thanks to the nori, it even has that fishy flavour, too. Serve it up in newspaper with chunky chips, lemon wedges and mushy peas for an 'artisanal' vegan meal.
Get the recipe here.
20. Mini Beet Burgers with Avocado Yogurt Sauce
Sometimes, whatever the occasion, you just need a damn good burger! While burgers may not be chic enough for some to serve up, these gourmet mini beet burger sliders are totally adorable and transform the popular fast food into something a little more wedding friendly.
Get the recipe here.
21. Pistachio-Crusted Tofu with Horseradish Cream
If you're having a sit-down meal at your wedding then you'll be looking for vegan wedding recipes for entrees that will not only be crowd-pleasers but will look the part, too. Tofu itself isn't usually too fancy, but this pistachio-crusted tofu definitely is! Serve on a bed of horseradish cream and a couscous salad.
Get the recipe here.
22. Tofu Steaks with Coriander Cream & Asparagus
Still think tofu is just bland, white blocks? Ha, think again! Serve your guests these tofu steaks and watch as they steal the show. This recipe serves them with rice, but you could also provide a bed of quinoa for a more elegant menu, or with a summer salad for a lighter meal.
Get the recipe here.
23. Vegan Chicken Dinner
Forget the fancy, pretentious dishes: a popular meal for many at a wedding is a roast dinner. Who'd have thought? This vegan roast has carved tofu 'chicken' slices served with dauphinoise potatoes, topped with a creamy mushroom sauce.
Get the recipe here.
24. Seitan Steaks with Mashed Potato & Shallot Gravy
If you're looking for vegan wedding recipes that are great as a main course, then this hearty seitan steak is the perfect option. The seitan steaks are juicy and chewy and doused in a flavoursome shallot gravy and is best served with a side of mashed potato and sauteed veggies.
Get the recipe here.
25. Vegan Tiramisu
This can be served whether you're planning a sit-down meal or a buffet. If you're going for the latter, simply make these in shot glasses and serve on a tray for guests to grab easily. And from the Kahlua and coffee soaked sponge to the vanilla and coffee mascarpone filling, no one will ever guess that this indulgent dessert is vegan – it's that good!
Get the recipe here.
26. Lavender Lemon Vegan Macarons
Macarons are one of my favourite desserts. The slightly crisp outside combined with the burst of flavour from the silky filling is just so elegant! And, of course, macarons are fabulous for weddings. Stack them and serve them at a buffet, or bring them out as the dessert if you're having a sit-down meal. You could even give them to your guests as wedding favours!
Get the recipe here.
27. Vegan Mandarin Orange Tarts
These mandarin tarts are so sweet creamy! They're a pretty, sophisticated dessert, and the citrusy flavours are oh-so refreshing for summer weddings.
Get the recipe here.
28. Mini No-Bake Vegan Chocolate Cheesecake
Vegan wedding recipes don't get more gorgeous than this! Turn the popular sweet treat into these elegant bite-sized desserts perfect for any event. These are super creamy and chocolate perfection, but you could opt for a different flavour if you wanted. White chocolate and raspberry is equally delicious!
Get the recipe here.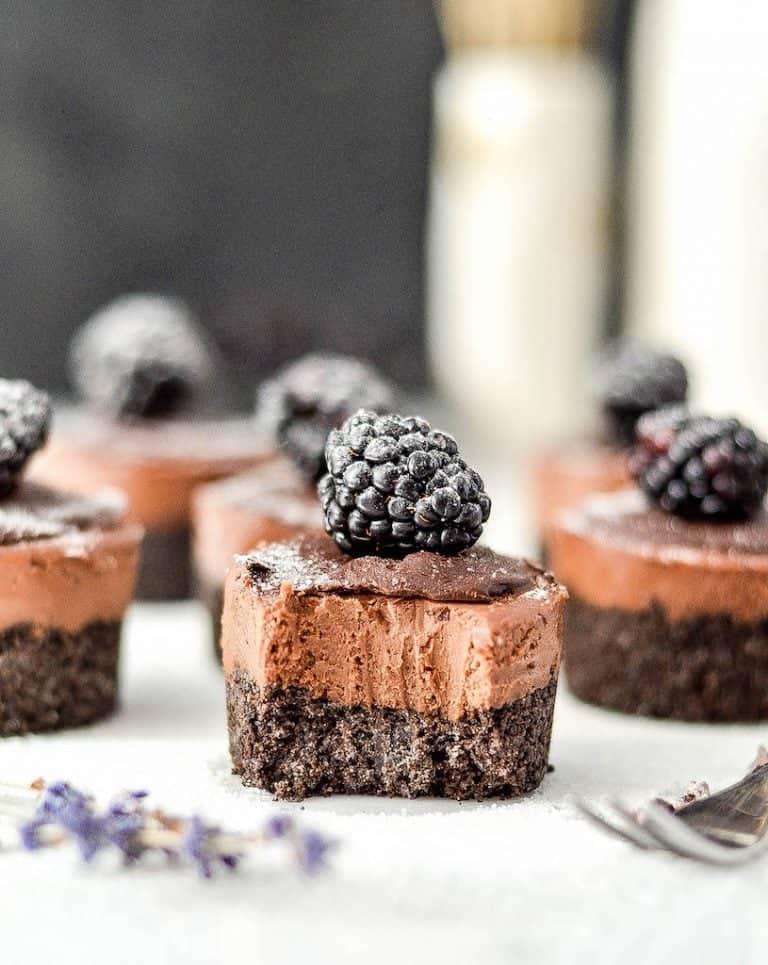 29. Piña Colada Panna Cotta
This panna cotta is such a beautiful dessert to serve to guests, especially if you're having a sit-down meal. Served with grilled pineapple and coconut shavings with added rum and vanilla, this is literally summer flavour on a plate. To make it even more gorgeous, top it off with some edible flowers.
Get the recipe here.
30. Easy Raw Vegan Cake Pops
I'd recommend serving a gorgeous cake like the one below, but also having cake pops available after the cake cutting event. They're a real crowd pleaser! Serve them on sticks so that your guests can grab them without getting chocolate cake all over their outfits. Wanna kick things up a notch? Why not make a cake decorating corner where guests can choose what toppings to go on their cake pop? Kids AND adults will love it.
Get the recipe here.
31. Matcha Pistachio 3 Leches Wedding Cake
What's a wedding without a cake? This gorgeous 3 leches layer cake uses nut and coconut milk for its icing, and the sponge is 100% vegan, too. All you need to do is decorate it with flowers and you've got yourself a wedding cake guests will be putting all over Instagram – before devouring it, of course!
Get the recipe here.
Main image: Elderberry lemon vegan wedding cake. Get the recipe here.
Latest posts by Lora O'Brien
(see all)
This site uses affiliate links with brands we trust, and if you make a purchase using a link, we may receive a commission.
Did you enjoy this post? Want to show your gratitude? Please support us on Patreon!